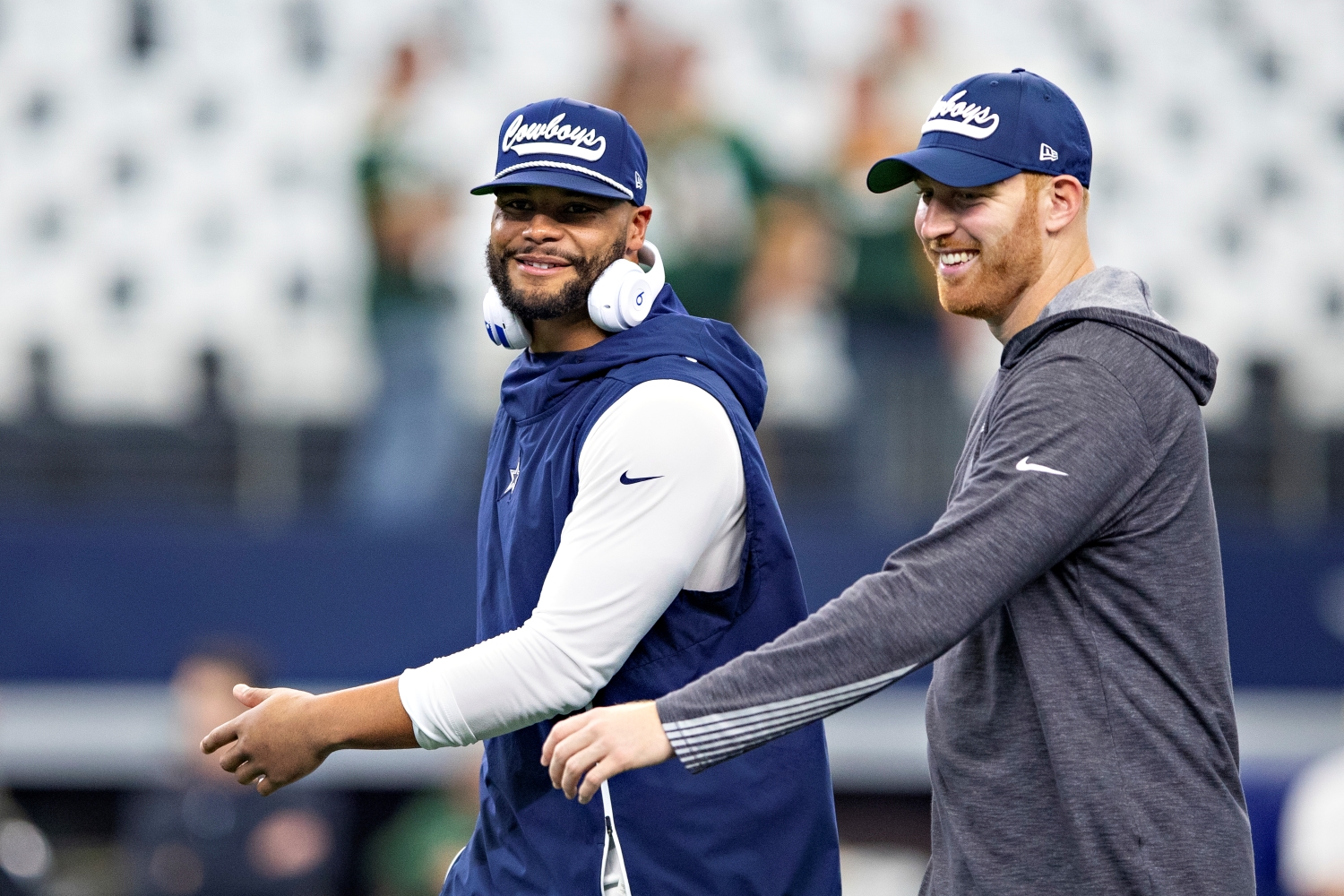 Despite Dak Prescott's Injury Concerns, the Cowboys Have Made a Risky Decision That Could Lead to Disaster in Dallas
Even though Dak Prescott's health remains a concern, the Cowboys have made a risky decision that could lead to disaster in Dallas.
Dak Prescott suffered about as gruesome an injury as you'll ever see in the NFL when he sustained a compound right ankle fracture and dislocation in Week 5 of the 2020 season. And once their star quarterback went down, the Dallas Cowboys essentially watched their Super Bowl hopes go up in smoke.
Of course, Prescott's health became a much-discussed topic over the last few months due to a shoulder injury that raised questions about his availability heading into the season.
Yet despite their starting signal-caller's injury concerns, the Cowboys have made a risky decision that could lead to disaster in Dallas.
Dak Prescott's health remains a key concern heading into the 2021 season
The Cowboys lost their unquestioned leader about a third of the way through the 2020 season. To no surprise, the first year of the Mike McCarthy era ended with a losing record and major questions about the future of the franchise.
With Prescott coming off the first significant injury of his NFL career, Dallas still decided to give him a life-changing raise. The star quarterback signed a four-year, $160 million contract extension with $126 million guaranteed.
However, it didn't take long for Prescott to sustain a setback.
Although his surgically-repaired ankle held up well, his shoulder did not. A strained latissimus muscle forced the two-time Pro Bowler to miss valuable practice time this summer. Put on a progressive throwing program, Prescott has worked hard to get himself ready for the Cowboys' season opener.
While Ian Rapoport reported Friday that the 28-year-old will take the field against the Tampa Bay Buccaneers in Week 1, the fact Prescott missed the majority of last season and a large stretch of training camp with separate injuries should raise mild concerns about what lies ahead for the Cowboys.
Despite Prescott's injury concerns, the Cowboys have made a risky decision that could prove disastrous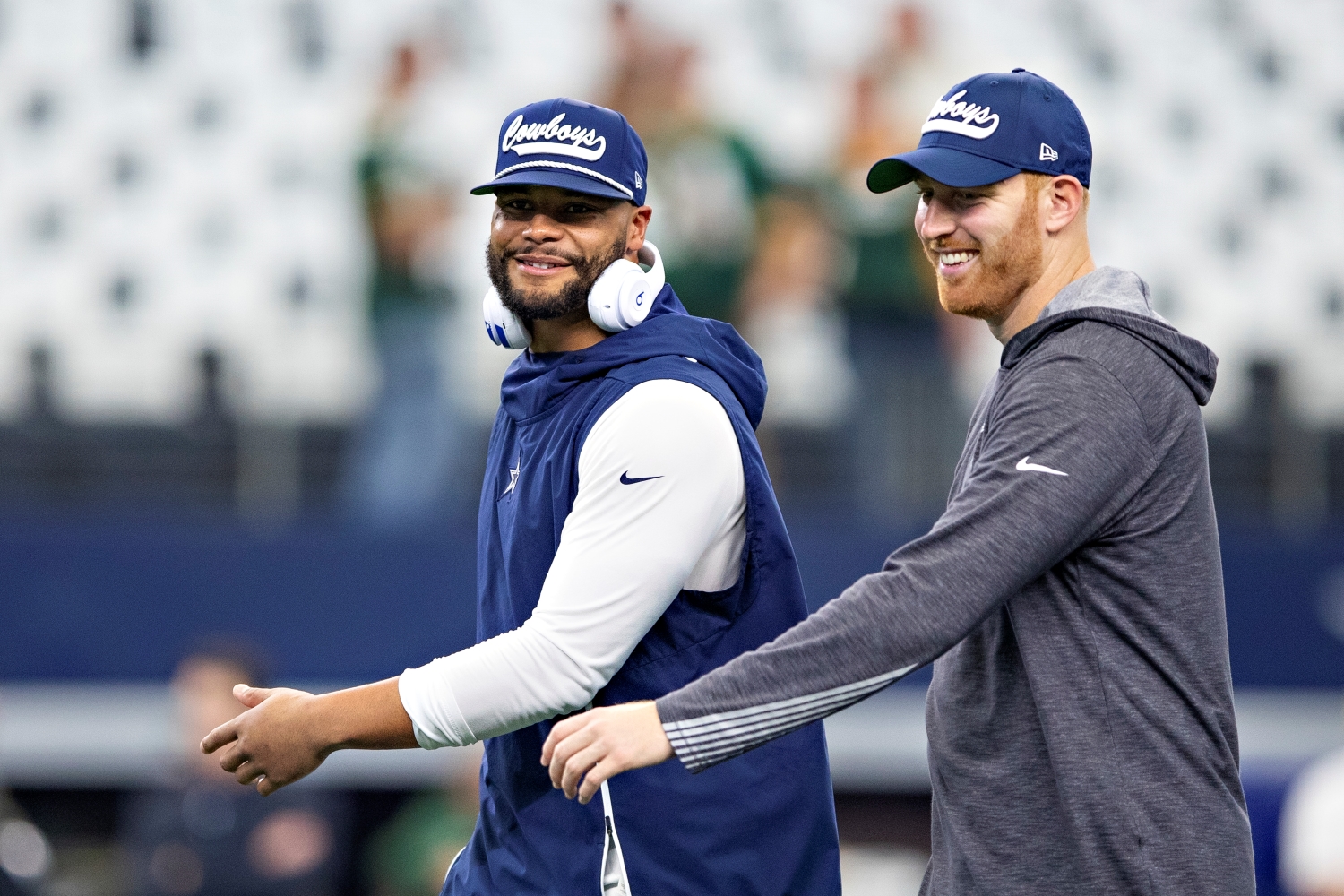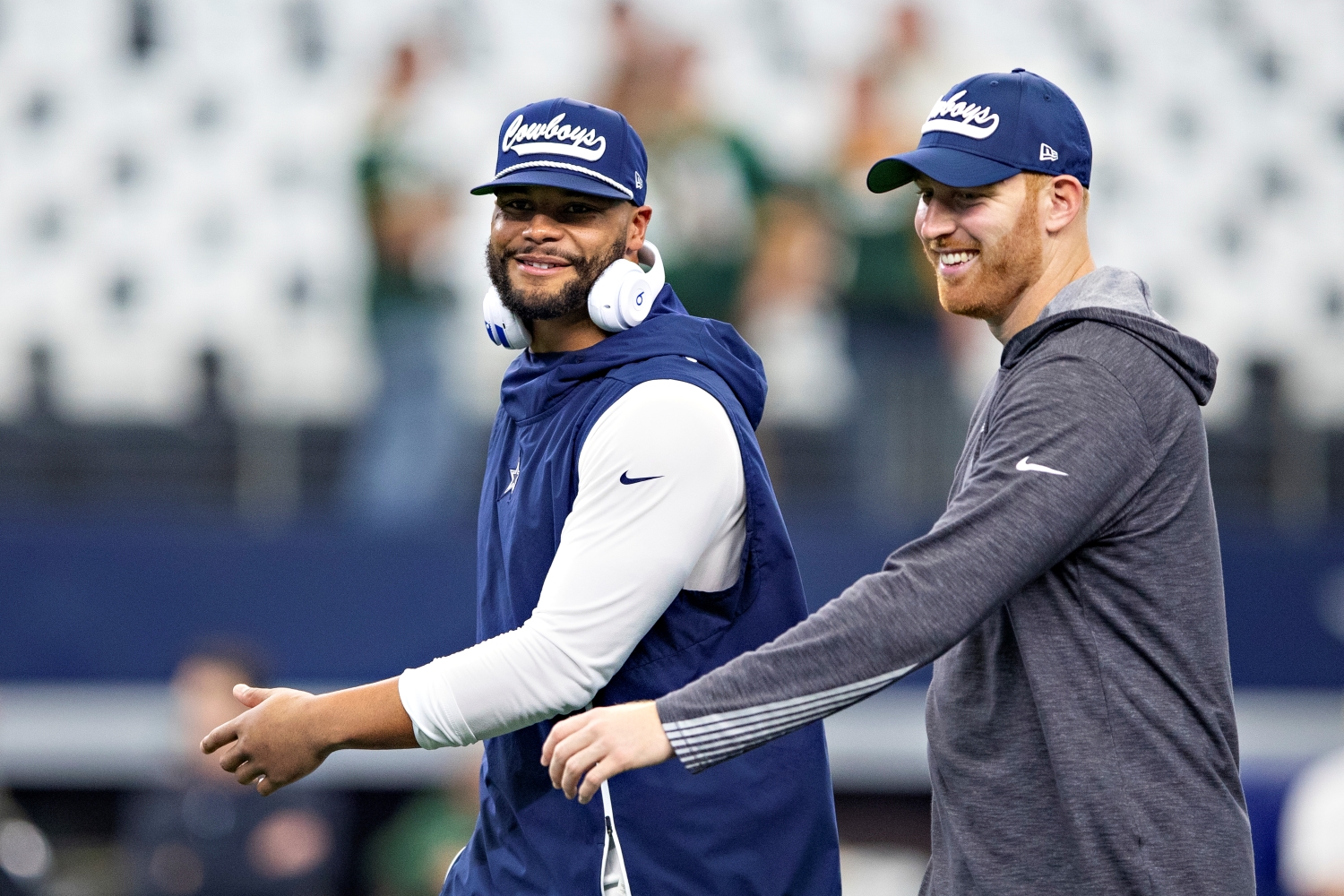 Apparently, Dallas didn't learn the importance of having quality depth at quarterback.
At least, that's the takeaway based on how the team decided to stack its depth chart.
Despite Prescott's durability concerns, the Cowboys appear set on entering the 2021 season without a top-end backup for their highly-paid starter. Instead of making a trade for Gardner Minshew (who only cost the Philadelphia Eagles a sixth-round pick) or bringing in a veteran with starting experience, they currently have Cooper Rush and Will Grier on the roster.
That simply isn't good enough.
Rush joined the organization in 2017 as an undrafted free agent. The 27-year-old has never started an NFL game. In fact, he's only attempted three passes since he entered the league. Needless to say, going from Prescott to Rush would be a huge downgrade on multiple levels.
As for Grier?
He may have been a big-time recruit out of high school, but Cowboys fans shouldn't get too excited about the idea of him filling in at some point. After all, the Carolina Panthers — a team desperate for a franchise quarterback — released Grier at final cutdowns. Considering they spent a third-round pick on him in the 2019 NFL Draft, that doesn't speak highly of his NFL future. Plus, with four interceptions in two career appearances, Grier doesn't have any track record of success at the pro level.
Ultimately, if Prescott misses time, the Cowboys will suffer the consequences of not having an experienced backup. After what they went through a year ago, it makes little sense to take that approach.
Who can Dallas pursue as a legitimate backup quarterback?
Could Dallas improve its backup quarterback situation before Week 1 arrives? That depends on the team's willingness to part ways with a draft pick or two.
Between Rush and Grier, the Cowboys have two players with essentially no in-game experience. Rather than relying on untested backups, why not make a deal for a signal-caller who knows what it's like to win a championship?
Nick Foles remains a top trade candidate, but the Chicago Bears have yet to deal the former Super Bowl MVP. The 32-year-old has gone 28-27 as a starter since he entered the NFL as a third-round pick in 2012. Although his career has tailed off, he still has value as a backup.
Does Foles offer great upside?
Probably not.
However, he certainly has a more impressive resume than either of Prescott's current backups. Plus, with the Cowboys' talent at receiver, Foles would get to work with a much stronger cast of weapons than he did in Jacksonville or Chicago.
Dallas should at least inquire about how much it would take to acquire the battle-tested veteran. Even if Nick Foles would be an obvious downgrade from Dak Prescott, he would be a major upgrade over Cooper Rush and Will Grier.
All statistics courtesy of Pro Football Reference. All contract data courtesy of Spotrac.