Despite Receiving Trade Interest From NFL Teams, the Cowboys Are Making the Right Call by Holding on to a Valuable Member of Their Injury-Prone Offense
Jerry Jones loves making deals. While some have backfired — most notably the ill-fated Roy Williams and Joey Galloway trades — the Dallas Cowboys have also gotten important contributions over the years from players they acquired from other teams.
Ironically, Jones currently finds himself on the other end of the spectrum. But even though other franchises want to do business with the Cowboys, they're smartly holding on to a valuable member of their injury-prone offense. And given the way things went in 2020, Dallas needs to maintain as much depth as possible if it plans on making the playoffs this season.
Dallas should get back to dominating the line of scrimmage in 2021
Cowboys fans got used to seeing new faces in the lineup during the 2020 season. After all, injuries tore apart a Dallas team that looked like a potential Super Bowl contender heading into Week 1. While Dak Prescott's gruesome ankle injury forced Mike McCarthy to dig deep down his quarterback depth chart, he also dealt with a number of issues along the offensive line.
But after relying on lesser-talented players to protect whoever lined up under center, McCarthy should feel confident about his team's chances of controlling the line of scrimmage in 2021. In fact, it wouldn't be a surprise if Dallas gets back to dominating in the trenches — at least on the offensive side of the ball.
Tyron Smith and La'el Collins should form one of the best tackle tandems in the league. The former has seven Pro Bowl selections on his resume and has plenty of motivation to prove he still belongs in the conversation as an elite blindside protector. The latter has the physical tools to be one of the best right tackles in the NFL.
Four-time first-team All-Pro Zack Martin remains entrenched at right guard. The 30-year-old missed six games in 2020, but considering he played all 16 games in five of his first six seasons, there's little reason to doubt that Martin won't earn his seventh Pro Bowl berth.
Meanwhile, 2018 second-round pick Connor Williams and 2020 fourth-round pick Tyler Biadasz project to start at left guard and center, respectively. That gives the Cowboys two young players with upside to go complement the veteran trio of Smith, Collins, and Martin.
The Cowboys are making the right call by holding on to a valuable member of their injury-prone offense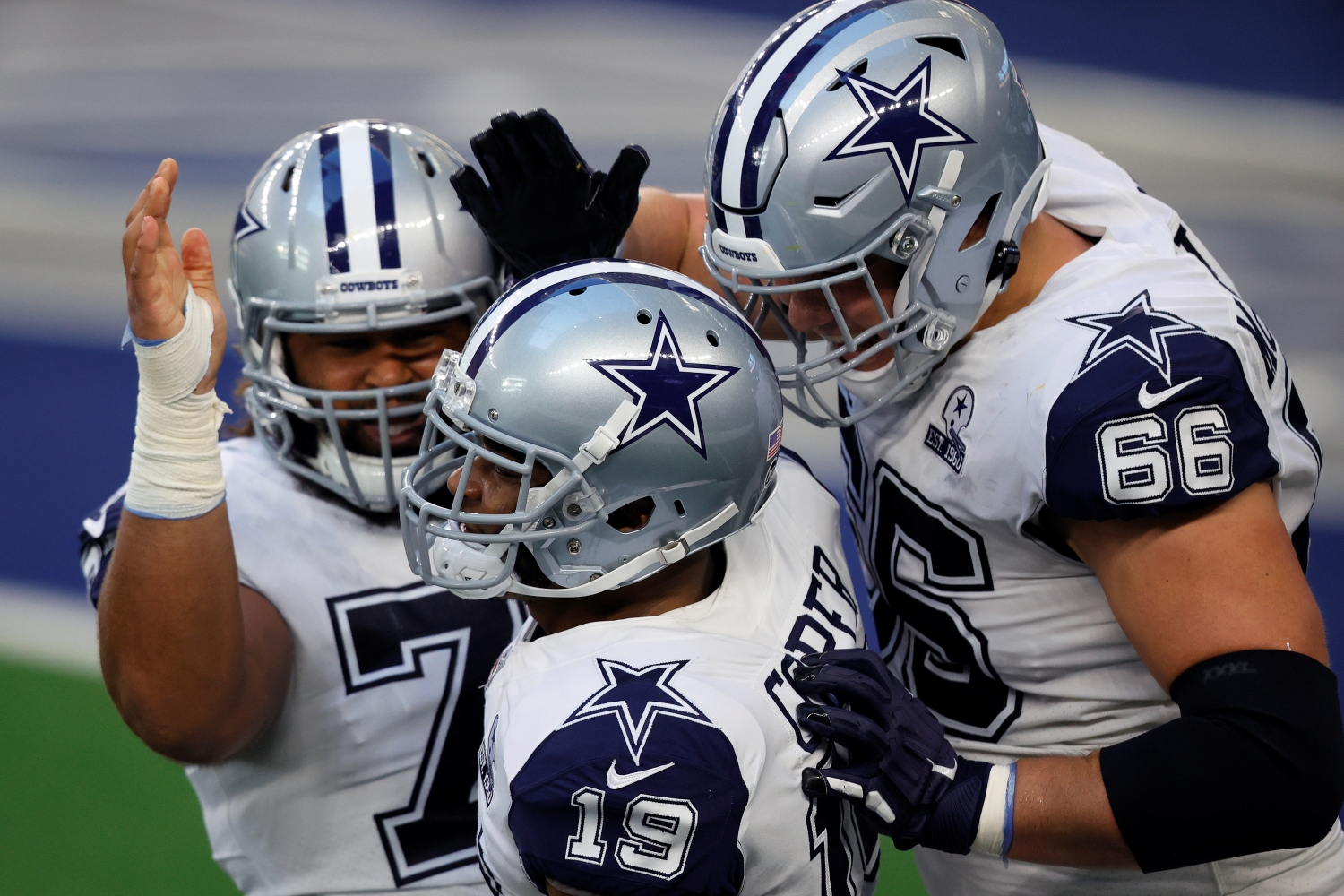 Think the Cowboys learned a lesson about the importance of quality depth?
After dealing with injuries to Smith, Collins, and Martin a year ago, Dallas seems serious about having better fallback options available. In fact, the team deserves credit for holding on to a valuable member of their injury-prone offense.
On Friday, ESPN's Todd Archer delivered an update on a Cowboys player who has caught the attention of teams around the league.
"Teams are eyeing a move for Connor McGovern in a potential trade, but the Cowboys would be reluctant to deal him," Archer tweeted. "They see him as a starter even if he does not open season as one. Mike McCarthy: "He had a tremendous finish as far as his growth as a player throughout last year.""
Dallas selected McGovern with the 90th overall pick of the 2019 NFL Draft. After missing his rookie season due to a torn pectoral muscle, the Penn State product appeared in 14 games (eight starts) in 2020. Although he may be a backup at the moment, McGovern is by no means expendable.
With Martin on the wrong side of 30 and Williams set to hit free agency after the season, the Cowboys need to start thinking about the future of the guard position. Instead of parting ways with a young player with upside, it makes more sense to retain McGovern as an insurance policy.
If injuries strike again, they can insert him into the lineup and make necessary changes to keep the offense rolling. Plus, given their history of developing offensive line prospects into high-level starters, the Cowboys are taking the smart route of continuing to work with a player who could become a long-term fixture in Dallas.
Will injuries prevent Dak Prescott and Co. from living up to their potential?
Maintaining depth along the offensive line is a sound strategy for a Cowboys team that clearly suffered from not having enough starting-caliber players during their disappointing 2020 season.
Then again, injuries struck at other positions, which certainly played a significant role in Dallas finishing 6-10. Will that happen again? Or can the Cowboys stay healthy and live up to their potential?
On paper, Dallas has a top-five offense. The line looks strong. Ezekiel Elliott appears to be in tremendous shape. And you won't find a better trio of receivers than Amari Cooper, CeeDee Lamb, and Michael Gallup.
Of course, Dak Prescott's nagging shoulder injury remains an obvious concern. And given Tyron Smith's durability concerns, the team should have cautious optimism about him making it through the season unscathed.
However, if everyone stays healthy, the Cowboys absolutely have the pieces in place to dominate defenses on a weekly basis. But until they prove they can consistently stop opposing offenses, don't expect to see Jerry Jones' team in the Super Bowl.
All statistics courtesy of Pro Football Reference.