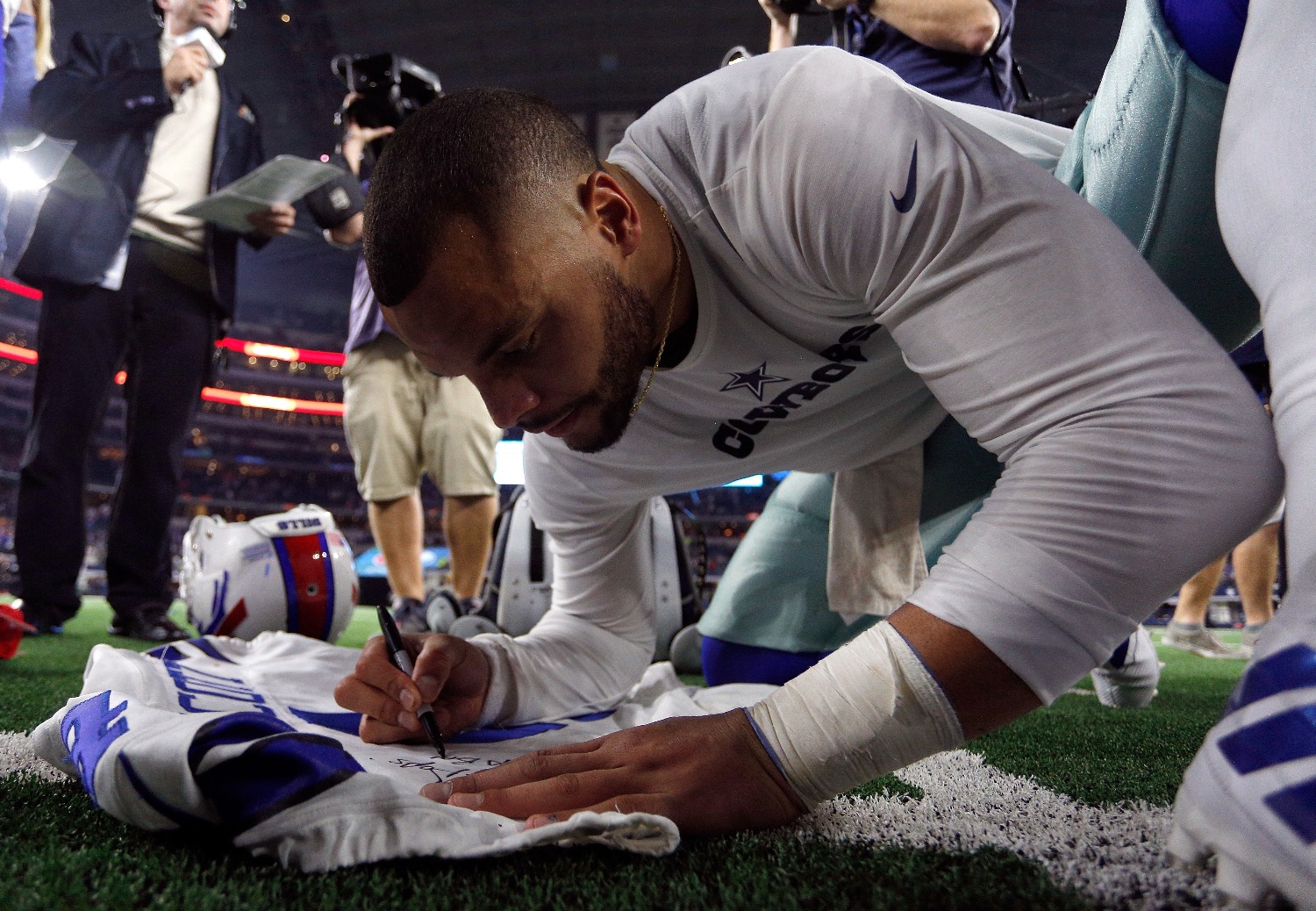 Dak Prescott Delivers Powerful Message to Save Death Row Inmate's Life
Dak Prescott is not just a leader on the field. The Dallas Cowboys quarterback just wrote a letter that could save a man's life.
Some people liken an NFL game to war. We often refer to players as "going to battle" or "fighting for their lives" for 60 minutes on Sundays. But in reality, every NFL game is just that—a game. On the other hand, when you are a death row inmate, your life literally is on the line. But thanks to Dak Prescott, one Black death row inmate may avoid his death sentence.
The Julius Jones case
The Julius Jones case has captured the attention of celebrities, athletes, and countless other people all over the world. Viola Davis produced a documentary series called The Last Defense that covered the controversial case surrounding the 1999 murder of Paul Howell, a white businessman from Edmond, Okla.
Though Jones has maintained his innocence, he got convicted of first-degree murder in 2002 and got sentenced to death. Many have suggested racial bias and a flawed investigation resulted in Jones landing behind bars.
Stuck on death row for nearly two decades, his story has drawn the attention of several star athletes. Blake Griffin, Russell Westbrook, Trae Young, and Buddy Hield have all written letters on Jones' behalf. Westbrook's letter to the Oklahoma governor's office shed light on the issues at hand. (H/T ESPN)
"[Jones'] conviction was tainted by a deeply flawed process. As more details come to light regarding his situation, I join with many voices to express sadness and profound concern regarding his conviction and death sentence."
With support from high-profile figures like Baker Mayfield and even Kim Kardashian, the Julius Jones case has become a hot-button topic that involves many issues like race, the death penalty, and criminal justice reform.
Dak Prescott writes letter calling for Jones' release
Dak Prescott often lets his play do the talking. But with a man's life on the line, the Cowboys quarterback put pen to paper to make a concerted effort to save Julius Jones. According to Time, Prescott sent a letter to Oklahoma Governor Kevin Stitt and the Oklahoma Pardon and Parole Board advocating for Jones' release.
"Current events are shining a much-needed light on deep-seated prejudices and systemic mistreatment of black people, and it is my sincere hope that the cultural movements of today will lead to significant social changes that will create a better tomorrow," writes Prescott, 27, who is entering his fifth NFL season. "To that end, you all are in the unique position of being able to make a direct impact by addressing a specific miscarriage of justice."
At one time, athletes may not have felt comfortable speaking publicly on such a divisive issue. After all, when it comes to the death penalty and criminal justice system, advocates on both sides of the fence carry strong beliefs. However, today's athletes wield tremendous influence in the social media age.
Plus, the Black Lives Matter movement has inspired athletes like Prescott to use their platform to make a difference in the world. The Cowboys signal-caller sent a crystal-clear message about what he believes needs to happen in order to give Julius Jones justice.
"I firmly believe the wrong person is being punished for this terrible crime; furthermore, an evaluation of the process that led to Mr. Jones' conviction raises serious legal and ethical concerns.

I implore you to right this wrong. Please don't let another innocent black man die from the systemic mistreatment that has plagued our nation for far too long."
Prescott's leadership on the football field should lead to massive payday
Dak Prescott's letter on behalf of Julius Jones demonstrates why he garners tremendous respect from his teammates. Despite entering the league as a fourth-round pick, Prescott showed right away that he had the mental maturity and football intelligence to handle the pressure of playing in Dallas.
Though he has not experienced much playoff success, the two-time Pro Bowler has posted a 40-24 record. Prescott has never missed a game in four seasons. He certainly has far fewer off-field incidents than his highly-paid teammate, Ezekiel Elliott.
Despite far outplaying his draft status and rookie contract, the Cowboys did not sign their star quarterback to a long-term contract. Jerry Jones failed to lock up Prescott this offseason, but that should change sooner than later.
With a deep cast of receivers at his disposal, Prescott should shatter his previous career-highs in 2020. That should set him up for a huge payday next offseason. Only time will tell whether the Cowboys open up their wallet to make Dak Prescott a long-term fixture in Dallas. If not, expect the 27-year-old to break the bank elsewhere.