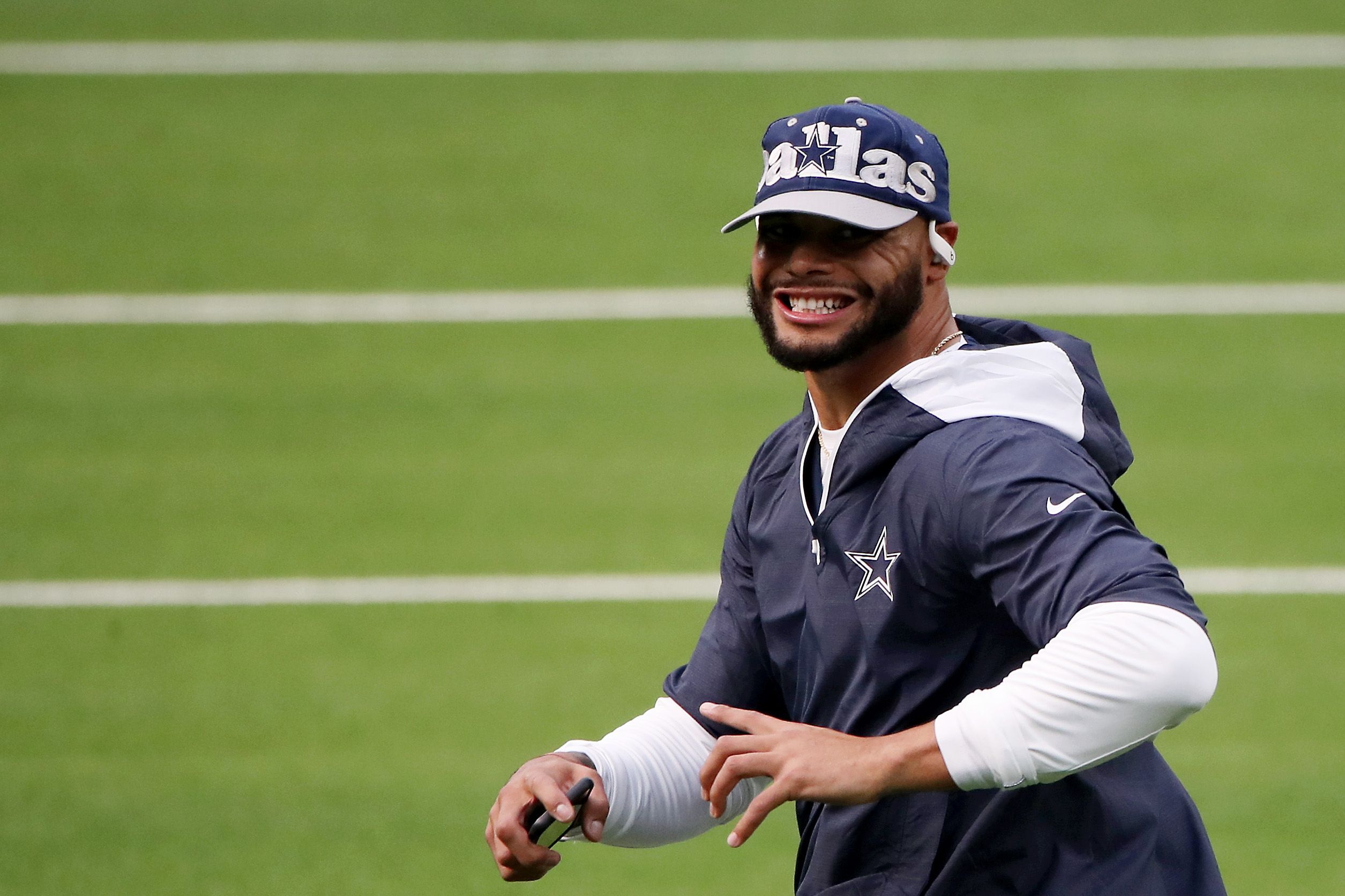 Dak Prescott Remains a 'Mama's Boy' Seven Years After His Mother's Death
Dallas Cowboys star quarterback Dak Prescott remains a 'mama's boy' seven years after the death of his mother.
Dak Prescott has always proved his doubters wrong. His mother, Peggy, taught Prescott to believe himself simply by believing in him. It's been nearly seven years since Peggy Prescott passed away from colon cancer at the age of 52. Prescott, the Dallas Cowboys quarterback, remains a "mama's boy" even though his mother died in 2013.
Dak Prescott's rise to stardom
Dak Prescott wasn't supposed to be the leader of America's Team, at least not in his rookie year. After playing his college football at Mississippi State, Prescott was drafted by the Dallas Cowboys in the fourth round of the 2016 NFL draft. He was expected to be the third-string quarterback at best.
With Tony Romo cemented as the starting quarterback, and Kellen Moore a solid No.2, Prescott was just hoping to make the team as a rookie. Moore went down with a broken tibia very early in camp. Romo then suffered an injury during the third preseason game. Prescott was named the starter for the regular-season opener and has never looked back.
Prescott is in his fifth season as the starting quarterback for the Cowboys. He went 13-3 as a starter and made the first of his two Pro Bowls in his rookie season. He has never missed a start in those four-plus seasons. Prescott has thrown 98 touchdown passes and racked up more than 16,000 passing yards in his career.
Peggy Prescott was a huge influence on Dak's life
When Dak Prescott was a sophomore at Mississippi State, his mother, Peggy, passed away from colon cancer. It was a devastating blow to the young quarterback who had such a strong relationship with his mother. Peggy is the one who helped get Dak to where he is today – a talented quarterback for the Dallas Cowboys and a good man off the field.
"When you lose your mom, it's not that easy," Prescott said to Fox Sports in 2018. "That's something you've got to wake up every day, looking yourself in the face and knowing that you've got an angel. You've got an angel that has expectations for you to do and you've got to go out there and do them each and every day."
Mom would be very proud of son today. Although she's not physically here to see her son's success on the football field, Dak knows she's there with him. He said there would be a lot of tears going through the ups and downs of being an NFL quarterback. "My mom's definitely an emotional woman," Prescott said, speaking in the present tense.
Prescott still considers himself a 'mama's boy'
It's been nearly seven years since Peggy Prescott died, but Dak Prescott always makes sure he still talks to her. "Being a mama's boy, (she was) my number one best friend, the best coach I ever had," Prescott said in an interview with Graham Bensinger. 'Her expectations for me were, I'd say, the only ones that were higher than I have for myself. Because she believed in me is the reason I'm able to do what I want to do every single day with a positive attitude."
Prescott said he still writes to his mother. "I write to my mom and I don't know if that'll ever stop," he said. "I talk to my mom more than I ever write to my mom. Those are usually the big times – the big football game, the start of something. She's always with me. I try to make sure that when people see me, they see my mom's work."
Bensinger asked him what he usually writes. "It depends," Prescott said. "Uusually it's 'thank you' or 'I love you, I miss you.' I make sure I let her know how thankful I am because she believed in me."