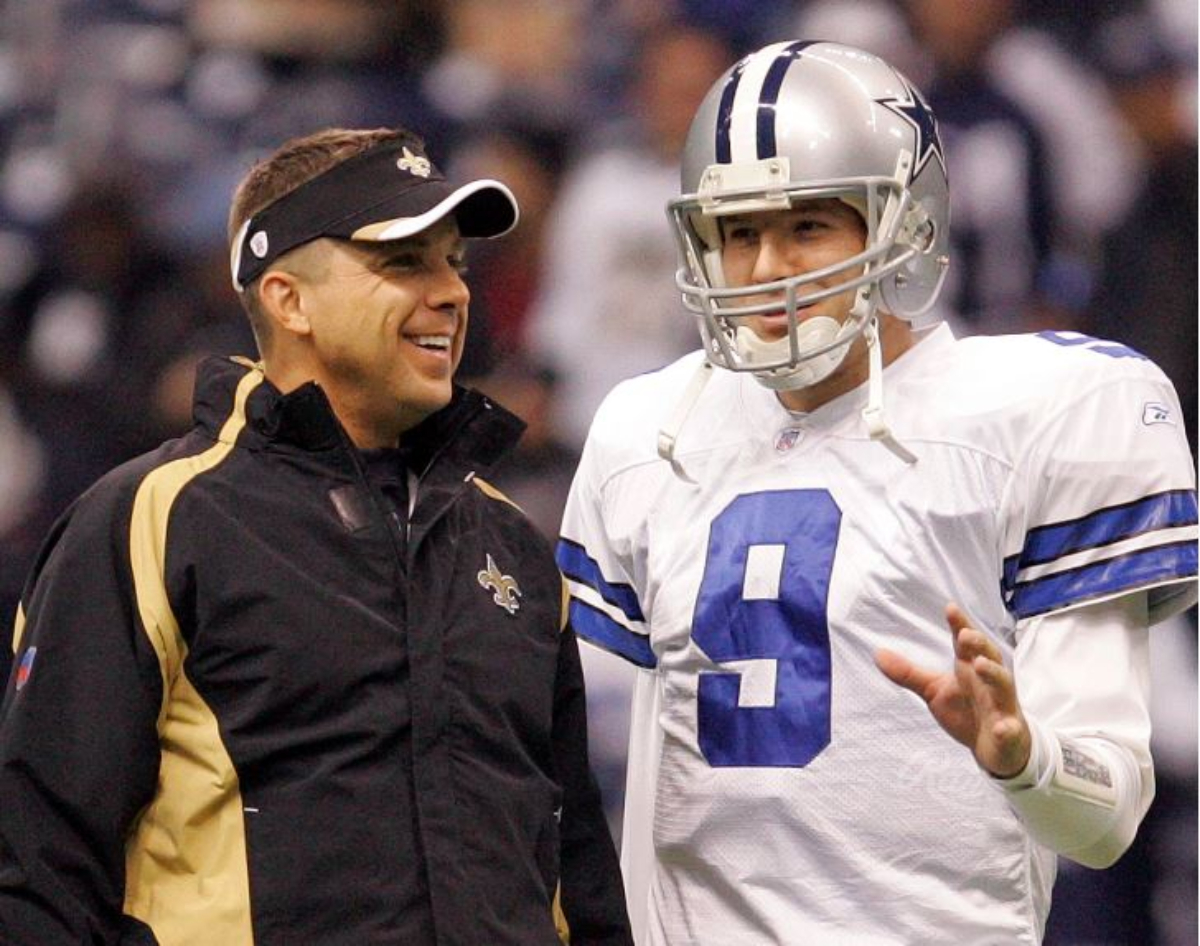 Tony Romo Finally Got His Money Sean Payton Owed From Their Cowboys Days
Former Dallas Cowboys quarterback Tony Romo finally gets his money from New Orleans Saints head coach Sean Payton.
They are two quarterbacks who played at Eastern Illinois. They went on to enjoy success in the NFL. Tony Romo was a quarterback for the Dallas Cowboys and has gone on to become the highest-paid sports analyst. Sean Payton is one of the best head coaches in the NFL. When Payton was working as an assistant coach with the Cowboys, he cost Romo a little bit of money. He finally paid Romo back earlier this year.
Tony Romo's football career
Tony Romo played his college football at Eastern Illinois before hooking on with the Dallas Cowboys as an undrafted free agent in 2003. He was used as the holder on field goals until he finally caught a break in 2006 when he was the backup quarterback to Drew Bledsoe. Romo played his first game against the Houston Texans in 2006, throwing two passes and completing both, including a touchdown pass to Terrell Owens.
He got his first start during a Sunday Night Football game against the Carolina Panthers that year. Romo guided the Cowboys to a 35-14 win and then wound up starting 10 games for the rest of the season. He went 6-4 as a starter that year and threw for 2,903 yards and 19 touchdowns. He made the first of his four Pro Bowls.
In each of his four Pro Bowl seasons, the Cowboys made the playoffs. Romo went 2-4 in postseason play. During his 13-year career as the quarterback for the Cowboys, Romo went 78-49 in the regular season and he finished with 248 touchdown passes. Romo also completed 65.3 percent of his passes in his career. Romo retired after the 2016 season and has gone on to become one of the game's top football announcers.
Sean Payton's coaching career
Like Tony Romo, Sean Payton played his college football at Eastern Illinois. Also like Romo, he went undrafted. In 1987, Payton was a player who crossed the picket line when NFL players were on strike. He played for the Chicago Bears for three games, going 8-for-23 with no touchdowns and an interception.
Payton began his NFL coaching career as the quarterbacks coach for the Philadelphia Eagles in 1997. In 1999, he held the same position with the New York Giants and then was promoted to offensive coordinator in 2000. In 2003, Payton joined Bill Parcells with the Dallas Cowboys as assistant head coach. There, he was responsible for signing undrafted free agent quarterback Tony Romo.
Payton got his first, and only, head coaching job with the New Orleans Saints. In his 13 seasons with the Saints, he has gone 131-77 in the regular season. He has a playoff record of 8-7 and has won a Super Bowl in the 2009 season. In September of last year, Payton agreed to a five-year extension with the Saints.
Payton finally pays Romo
During a recent interview with Tony Romo, Graham Bensinger handed Romo an envelope that was given to him by Sean Payton. Payton asked Bensinger to pass it along to Romo during the interview. Inside the envelope was a check for $10,000. Romo immediately laughed and then explained what the money was for.
Romo said when he was an undrafted free agent, he was involved in bidding wars with teams for minimal amounts of money by NFL standards. "Some teams offered me 50 (thousand), then it went to 20, then 25. The Cowboys and Sean Payton are at 10 and I'm like can we do 20? Sean says, 'let me go ask Jerry (Jones).' Sean goes there and Jerry says, 'you really like this guy?' and Sean says, 'yeah, I really do.' Jerry says, 'OK then, let's give him 20.' Sean says, 'Nah, I got him for 10.'
"He comes back out and Sean says, 'Yeah, I can only do it for 10, but I really think you should do it.' I was like OK, money doesn't matter. I tried for a sec. OK, I'll go there. So I've always joked with him that he owes me 10 thousand dollars. He's the only reason I didn't get an extra 10. He finally paid me the 10. That just goes to show you how much he's getting paid over there in New Orleans."
Stats courtesy of Pro Football Reference.