Bill Belichick Raves About Dak Prescott and Could Bring Him to the New England Patriots in 2021
It's been a long time since Bill Belichick has had to worry about who will play quarterback for the New England Patriots. Outside of the 2008 season in which Tom Brady went down with an injury and a four-week stretch in 2016 when he was suspended, Belichick has known who would be under center for the last two decades.
But with TB12 taking his talents to Tampa Bay, Belichick will now rely on Cam Newton to take the snaps, or may even run a platoon system with Newton, second-year backup Jarrett Stidham, and veteran Brian Hoyer. Naturally, he's not giving up many details just yet because that's just what Bill Belichick does. But with Newton signed for just the 2020 campaign, the Patriots will have another quarterback decision to make next year.
Some thought the Pats could tank to get Trevor Lawrence but with Newton on the roster, it's likely they finish somewhere in the middle of the pack this season, which would take them out of the running as the Clemson superstar will likely go No. 1 in the 2021 draft. Seeing as how he hasn't had to deal with quarterback issues on a year-to-year basis for quite some time, it's likely that Belichick would want to find a long-term option soon. It just so happens that there is a quarterback out there looking for a long-term deal and just can't seem to get one done with his current team: Dak Prescott.
Dak Prescott still hasn't gotten the long-term contract he's looking for from the Dallas Cowboys
For more than a year now, Dak Prescott and the Dallas Cowboys have been trying to come to terms on a long-term contract and obviously haven't been able to get it done. The length of the contract, not the money, seems to be the biggest issue as it's believed that the Cowboys are looking for a five-year deal while Dak is looking for four years. The two sides were unable to come to an agreement before the July 15 deadline and Prescott will play the 2020 season under the franchise tag, which will pay him $31.4 million.
Dak Prescott remains adamant that he wants to be a member of the Dallas Cowboys for his entire career but everyone knows that's what he's supposed to say and many fans aren't overly enthusiastic about his long-term future in Big D.
Bill Belichick loves Dak Prescott
Ahead of last season's Week 12 matchup between the Patriots and Cowboys, Bill Belichick raved about Dak Prescott, who he'd actually scouted very heavily before the 2016 NFL draft as he has many connections at Mississippi State, where Dak broke numerous passing records. Belichick had a chance to draft Prescott with the No. 91 overall pick that year but instead opted to select Jacoby Brissett, who was traded the following year to the Indianapolis Colts. Prescott fell to the fourth round and was taken by Dallas at No. 135.
Over the last four years, Dak Prescott has developed into a very good and, perhaps more importantly, a very durable quarterback. The two-time Pro Bowler hasn't missed a single game in his young career and has compiled a very respectable 40-24 record as a starter. In 64 games, he's thrown for 15,778 yards with 97 touchdowns against just 36 interceptions and has completed 65.8% of his passes. He's apparently made quite the impression on Bill Belichick, who had nothing but great things to say about him ahead of their aforementioned meeting last year (h/t NBC Sports).
"Right now, he's super impressive. This guy can throw the ball. He's very accurate, he's got great poise in the pocket, stands in there. He can extend plays and run if he has to, but he doesn't do much of that unless he really needs to.

"He has great poise and discipline in the pocket, gets his eyes downfield. He's a great intermediate to deep-ball thrower. 

"Just a great, great quarterback. Sideline throws, inside throws, in-cuts, posts, over routes, flag routes; you name it."

Bill Belichick on Dak Prescott
It sure sounds like Bill Belichick wouldn't mind having Dak Prescott in a red, white, and blue uniform. But could that actually happen?
Bill Belichick could conceivably make a real run at the two-time Pro Bowler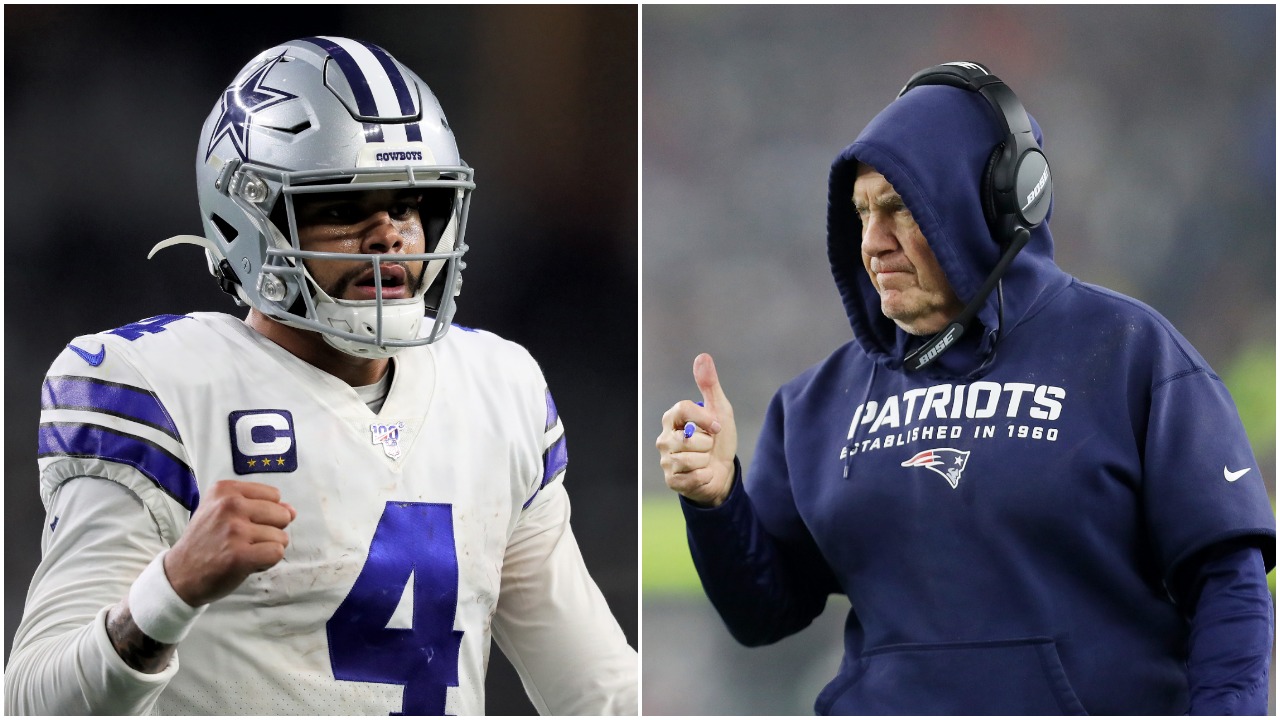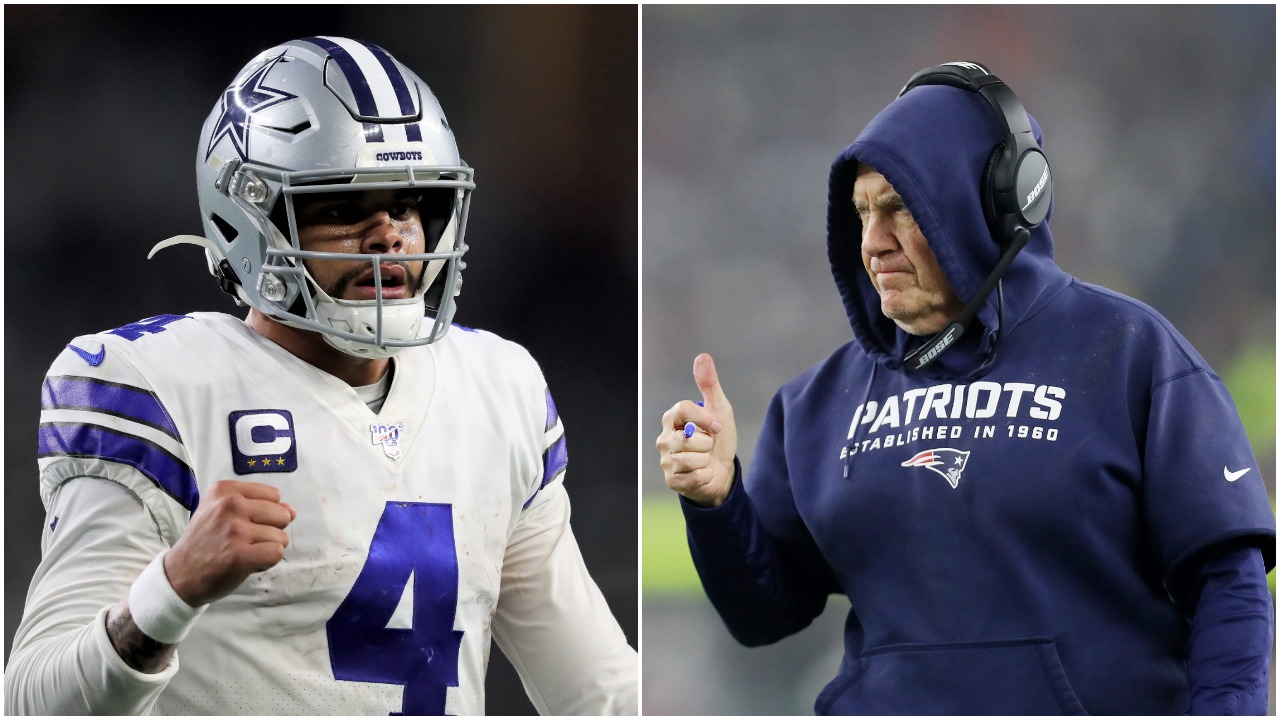 It might sound a little crazy but Bill Belichick could potentially make a run at Dak Prescott in the offseason. Yes, there are a lot of factors to consider but it is possible. First, however, let's look at some reasons why it wouldn't happen.
For one, there's the chance that Bill Belichick simply falls in love with Cam Newton and signs him to a multi-year deal. Newton's incentive-laden contract seems to signify that he's out to prove to the rest of the NFL that he's past his injury problems and can still perform at a high level, which he's clearly hoping will lead to a much bigger contract. Whether or not that contract is with the Patriots remains to be seen. And nobody obviously knows just yet how well he'll even perform this season. But even if he does play well, Belichick always likes to keep his options open.
Then there's the matter of Dak Prescott. Once this season is over, maybe he finally signs that long-term deal with the Dallas Cowboys and this entire discussion becomes irrelevant. If the two sides still can't come to an agreement, Dallas could always slap the franchise tag on him again. But next season, that would cost them $37.69 million as the collective bargaining agreement would require the Cowboys to give him a 20% raise by tagging him a second time.
Jerry Jones might not want to pay that much if it gets to the point where he finally feels a long-term contract won't get done. In addition, the Cowboys are going to have some salary cap issues heading into next season as is, the same of which can't be said for the Patriots, who should have a ton of money to spend.
According to Over the Cap, the Patriots will have just over $75 million in cap room for the 2021 season, the second-highest amount in the NFL. Yes, it's likely that the number goes down when the new salary cap is set, which all depends on just how much revenue is lost due to the COVID-19 pandemic. But the balance of that shortage will be spread out over the next four years and the 2021 cap will not go below $175 million and could be higher once the amount of the shortage is known. But even if it drops to $175 million, the Pats will still be in great financial shape.
55 players are already signed for 2021 to the tune of $124 million, which means that if Dak Prescott is available, Bill Belichick could legitimately take a real run at him. He's not used to having to pay such a big amount for a quarterback given the fact Tom Brady gave the team so many hometown discounts over the years but it's clear that he has a lot of respect and admiration for Dak and will have to play the big-money quarterback game at some point. Why not start with the guy you already know you like?
Again, a lot of different pieces have to fall into place for this to happen but Dak Prescott joining Bill Belichick and the New England Patriots isn't as crazy as it sounds.