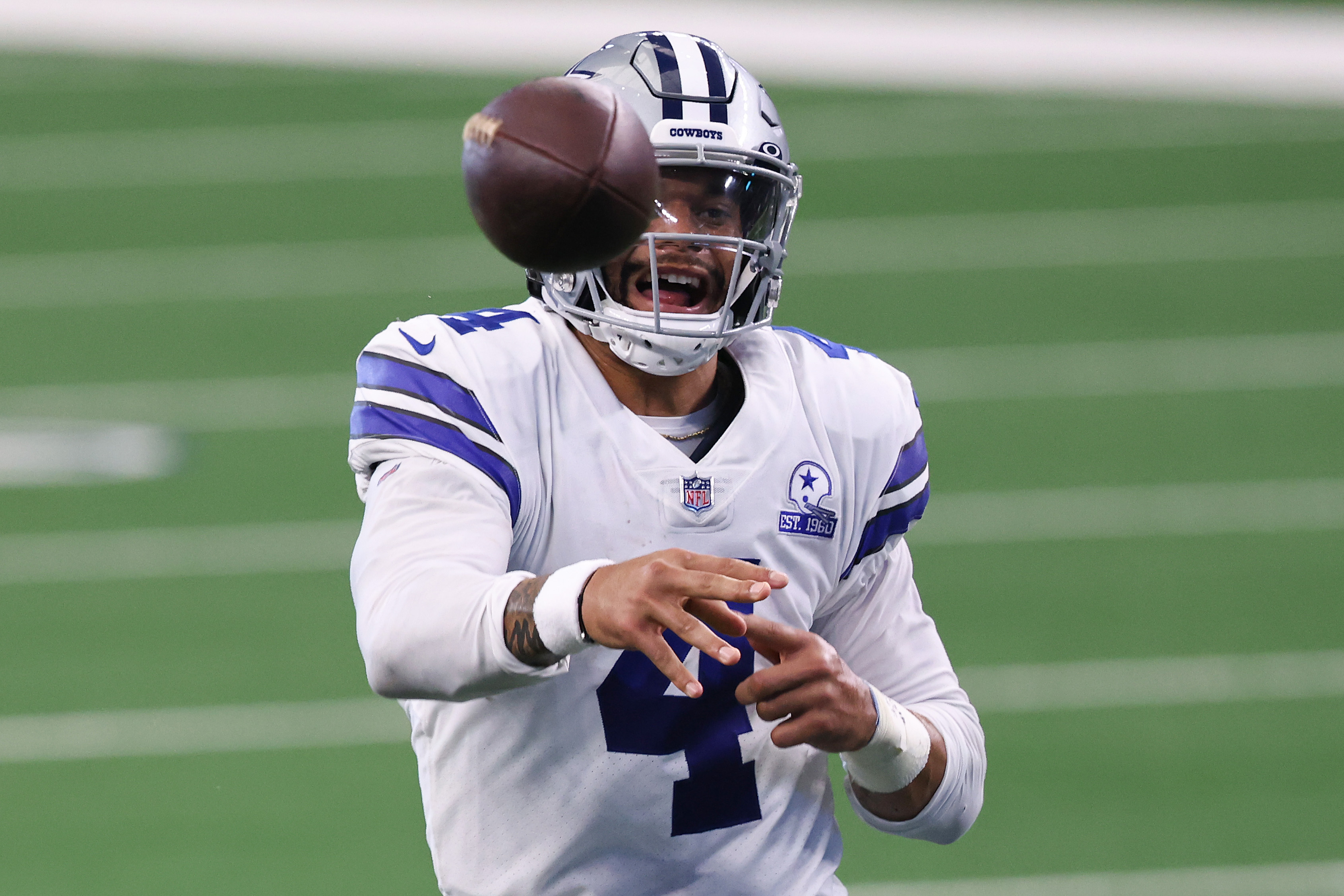 Dak Prescott Absurdly Thrown in the Same Sentence as Tom Brady — Twice
Stephen Jones and Michael Irvin have foolishly compared Dak Prescott to Tom Brady.
The Dallas Cowboys have locked up their man. Quarterback Dak Prescott inked the richest deal in Cowboys history by signing a four-year deal worth $160 million, including $66 million guaranteed. Prescott, owner of zero Super Bowls, was foolishly mentioned in the same sentence as Tom Brady, owner of seven Super Bowls, by Cowboys CEO Stephen Jones and former Cowboys wide receiver Michael Irvin.
Dak Prescott makes history with the Dallas Cowboys
Things have turned around quickly for Dallas Cowboys quarterback Dak Prescott. Nearly five months after suffering what some thought could be a career-ending injury, Prescott has finally got his long-term deal with the only NFL team he's known. Prescott officially signed his four-year, $160 million deal Wednesday. He's getting $66 million guaranteed.
"I'm excited to be here, to never leave, and excited for what this organization, what this team, what the fans are going to get," Prescott said, according to ESPN. "Excited just to go do it and just to know that this is my home, I'm not leaving. I'm a Cowboy and this is only the beginning."
Prescott has been seeking a long-term deal since 2019, the final year of his rookie deal. Last year, the Cowboys used the franchise tag on him and he played for $31.4 million. "From the very beginning we have certainly said that our future is with Dak," Cowboys owner Jerry Jones said. 
Prescott's injury caused great concern
During a Week 5 win over the New York Giants, Dak Prescott went down with a serious ankle injury that brought back memories of Joe Theismann's gruesome broken leg. There wasn't much doubt Prescott's season was over, and some questioned whether he'd be able to return to football at all.
Prescott is still rehabbing the injury. He's coming off a second surgery in December and insists he's coming along just fine. "I'm healthy," Prescott said, according to ESPN. "I'll control what I can control. I'll follow the doctor's orders the whole time. Put my own work ethic into it. I'm healthy, I'm getting close. I'll be ready when it matters."
Prescott said he has to be smarter now when he's on the field. "Before the injury, going back to high school, I was told to be smarter on when I want to demonstrate my physicality or when I want to try to make a point in the game or change the momentum. That's no different. I have to be smarter," he said. "With this investment, with my health being jeopardized at a certain point, it makes a whole lot more sense to me about being smarter and why people have said that."
Stephen Jones, Michael Irvin compare Prescott to Tom Brady
 RELATED: Dak Prescott Makes a Point Every Time He Scores a Touchdown
Stephen Jones, the Dallas Cowboys CEO and Director of Player Personnel and son of owner Jerry Jones, was ecstatic when the team signed Dak Prescott to a four-year deal. He may have even been a little too excited when speaking about the contract. Jones mentioned Prescott and Tom Brady in the same sentence, although he did preface it by saying the comparison might be unfair.
"Well, you want (Prescott) in your foxhole, number one," Stephen Jones said, according to WEEI in Boston. 'The right guy has the biggest piece of the pie, as I said earlier today. He just checks every box in these key categories of leadership, this insatiable appetite to want to be the best, to outwork everybody. He's got that Michael Irvin quality to him, in terms of outworking and competing. It's totally unfair to compare him to somebody like this, but, obviously, Tom Brady has that. He's just a fiery competitor… a winner and a leader. An insatiable appetite to be great."
Jones wasn't the only one making the Tom Brady comparisons. Irvin had done so as well. "We have the closest thing in the National Football League to Tom Brady," Irvin said to ESPN. "Dak Prescott has the ability to do what Tom does, and he has the leadership like Tom."