Why Does Dak Prescott Go by 'Dak' and Not His Actual Name?
Some big-time NFL players eventually get so popular that they become household names. Sports fan or not, everyone knows who Tom Brady is. They also know the name Patrick Mahomes, and they, most likely, know the name Odell Beckham Jr. Additionally, many people know who Dak Prescott is, as almost every Dallas Cowboys player becomes a household name at some point. However, "Dak Prescott" is not his actual name. So, why does he go by "Dak"?
Dak Prescott was a superstar at Mississippi State
Prescott played in the SEC for Mississippi State in college, and he had an excellent college career.
After spending time as a short-yardage and red-zone quarterback in his redshirt freshman season in 2012, Prescott got more playing time in 2013 as he was a part of a two-quarterback system, according to Mississippi State's team site.
Prescott threw for 1,940 yards, 10 touchdowns, and seven interceptions that season. He was also outstanding when he ran with the ball as he gained a team-best 829 rushing yards to go with 13 rushing touchdowns.
During the 2014 season, though, Prescott had a breakout year. He was an Honorable Mention All-American, and he set 12 school single-season records. He ended up running for 986 yards and 14 touchdowns that season, and he threw for 3,449 passing yards and 27 touchdowns. Mississippi State had an excellent season as a team that year too, going 10-3 and finishing 11th in the final AP poll.
Prescott continued to have success in 2015, throwing for 3,793 yards and 29 touchdowns, compared to only five interceptions. He also ran for 588 yards and 10 touchdowns, and he helped lead Mississippi State to a 9-4 record and a win in the Belk Bowl over North Carolina State.
He has become a household name for the Dallas Cowboys
The Dallas Cowboys selected Prescott in the fourth round of the 2016 NFL draft. He has ultimately become a steal for the Cowboys too, playing more like a first-round talent.
Prescott threw for 3,667 yards, 23 touchdowns, and only four interceptions in his rookie season, and he ultimately earned a Pro Bowl selection. Prescott also led the Cowboys to a lot of success as a team that year, as they went 13-3 overall, but lost to the Green Bay Packers in their lone playoff game.
During the 2017 season, Prescott threw for 3,324 yards, 22 touchdowns, and 13 interceptions. The Cowboys, however, went 9-7 and missed the playoffs. During the 2018 season, though, Prescott led the Cowboys to a 10-6 record, got them to the playoffs again, and they ultimately won a playoff game. Prescott threw for 3,885 yards, 22 touchdowns, and eight interceptions that year.
The Cowboys then had an extremely disappointing 2019 season, going 8-8 and missing the playoffs, but Prescott had an incredible season. He threw for 4,902 yards, 30 touchdowns, and 11 interceptions.
What is Dak Prescott's actual name, and why does he go by 'Dak'?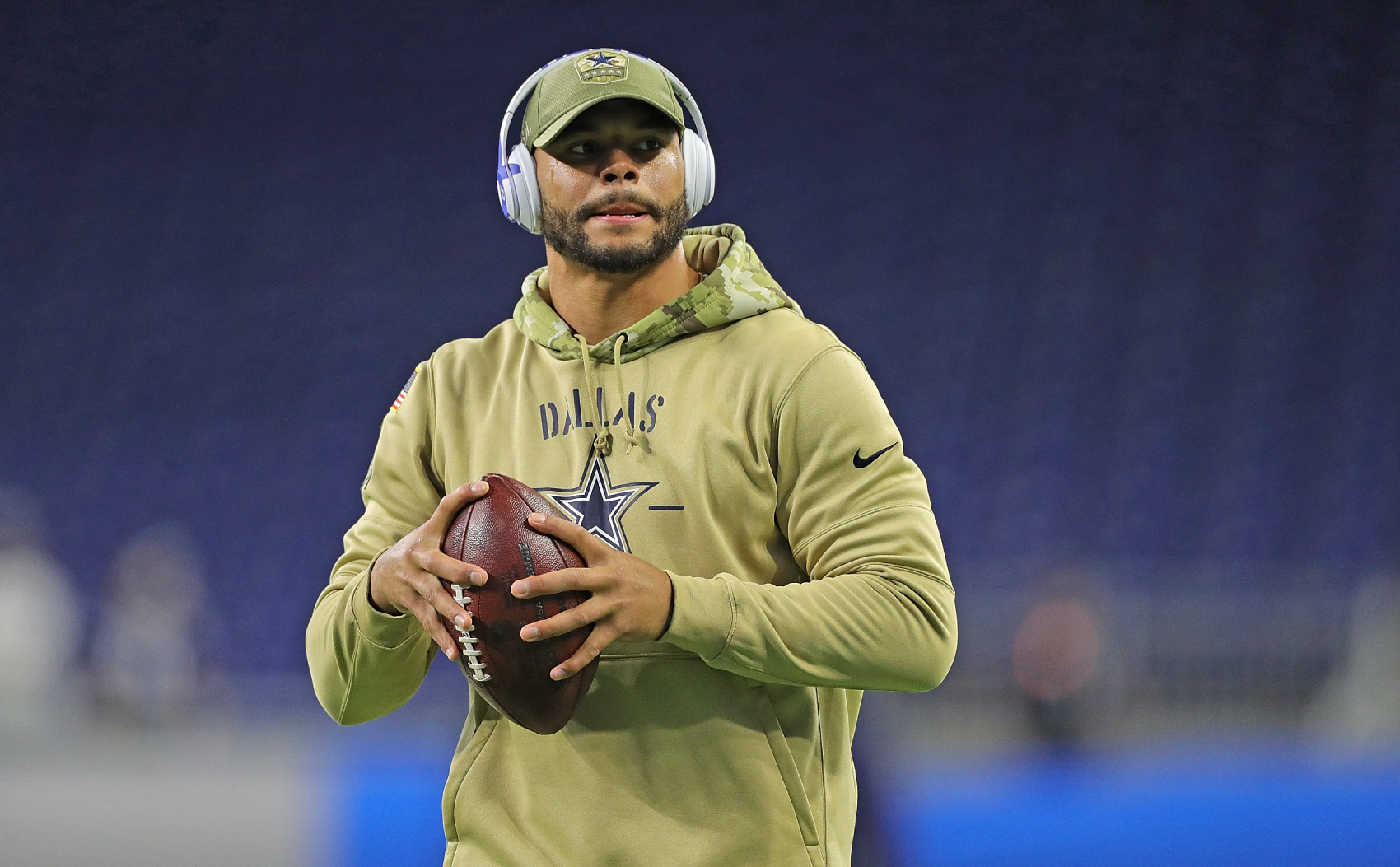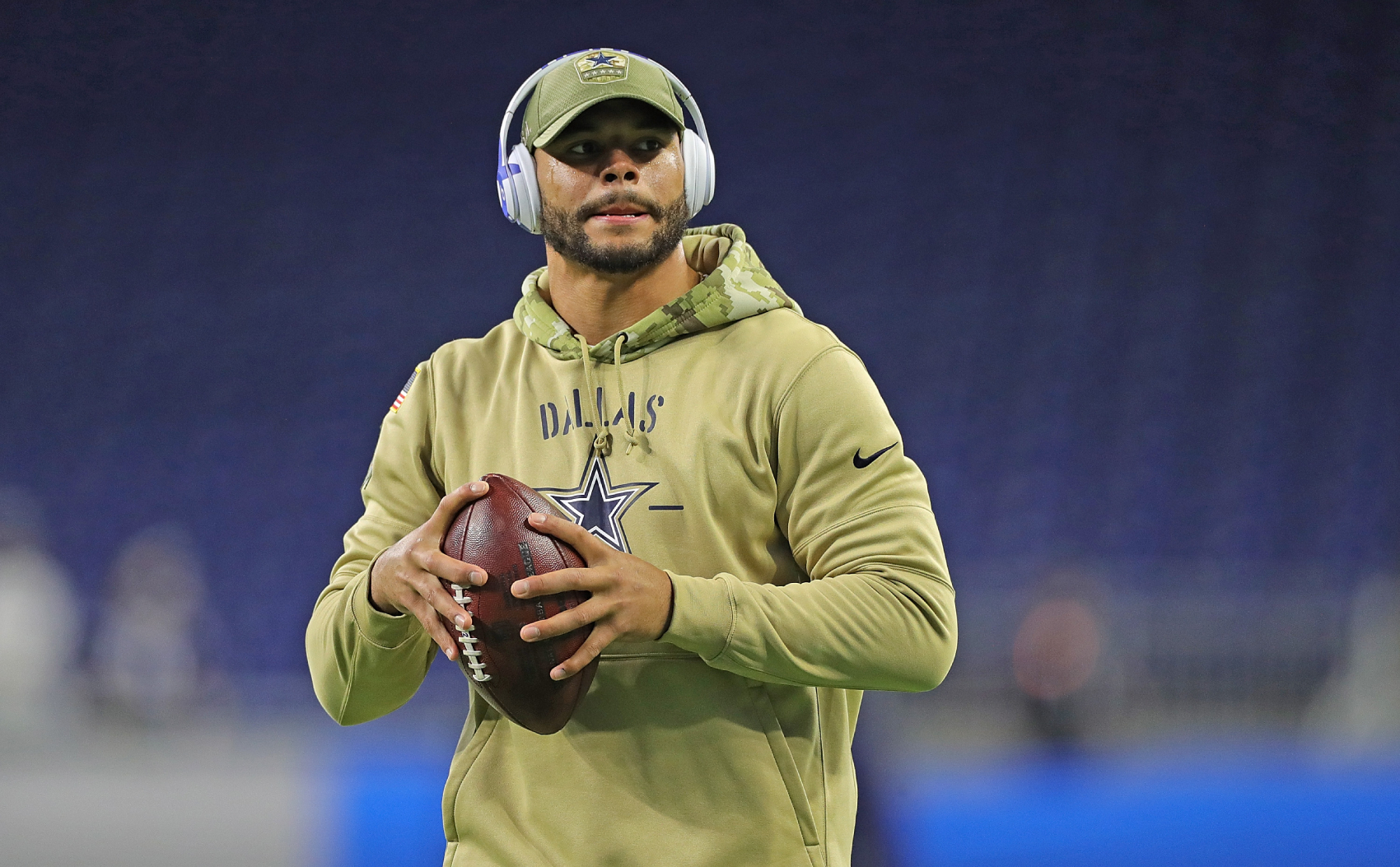 So, while Prescott's play has helped him become a household name, Dak is actually not his first name.
Prescott's full name is Rayne Dakota Prescott (it is pronounced like rain). So, why does he go by Dak?
"Just from the get-go. Immediate rejection. When I started off school, they would always call me Rayne [RAINY] or Rayne [RYE-KNEE] or something — they'd (be) like, 'This is a girl's name,' so I just always went by Dakota, but I was given Dak by birth, so my family's always called me Dak," Prescott said on the Shan & RJ show in 2016, according to The Dallas Morning News. "Nah, I'm good with Rayne. I love Rayne now. I've grown into it. I've grown to like it. I might go just by Rayne Dakota one day, skip the last name."
So, there you have it.
Even though he is OK with Rayne now, though, there probably aren't too many fans out there who will start calling him that instead of Dak.
Stats courtesy of Sports Reference and Pro Football Reference