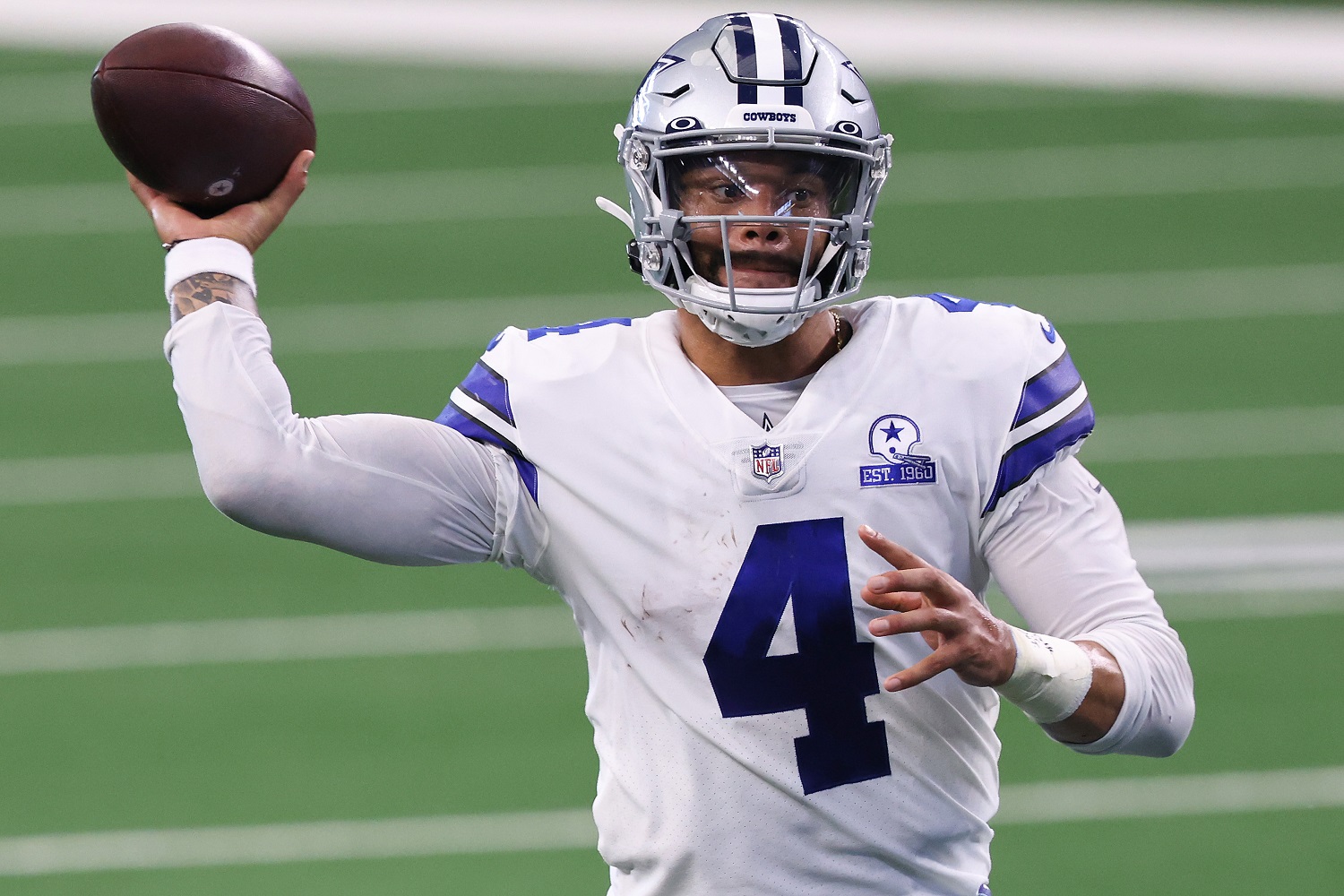 Dak Prescott Wears No. 4 For the Most Heartbreaking Yet Heartwarming Reason
A look at the heartbreaking yet heartwarming reason why Dak Prescott changed his jersey number to No. 4 as a rookie with the Dallas Cowboys.
Dak Prescott was never meant to wear No. 4 for the Dallas Cowboys. It actually makes sense given the fact that he was taken in the fourth round of the 2016 NFL draft but that's not the reason he dons that particular digit. And he didn't wear the number in college so that's out as well. In addition, it's not even the number he was given when he first joined the Cowboys in training camp.
So why does Dak Prescott wear No. 4? Well, it's for the most heartbreaking yet heartwarming reason: to honor his late mother.
Dak Prescott wore No. 15 at Mississippi State to honor Tim Tebow
During Dak Prescott's historic run at Mississippi State, he wore No. 15 to honor one of his idols, Heisman Trophy winner Tim Tebow. Prescott served as the backup quarterback to Tyler Russell as a redshirt freshman in 2012 and only became the starter as a sophomore when Russell suffered a concussion during the Bulldogs' 2013 campaign. Dak Prescott certainly made the most of the opportunity. He threw for 1,940 yards that season with 10 touchdowns and was named the MVP of the Liberty Bowl.
As the full-time starter in 2014, Prescott had Mississippi State in the No. 1 spot in the rankings for the first time in school history and led the team to the Orange Bowl. He set single-season records for passing yards (3,449), passing touchdowns (27), and total touchdowns (41). As a senior in 2015, he set new single-season marks with 3,793 passing yards and 29 passing touchdowns. He left Starkville holding 38 school records and ended his college career with 9,376 passing yards, 70 passing touchdowns, 2,521 rushing yards, and 41 rushing touchdowns.
Despite all of his success, Dak Prescott still says that Tim Tebow is the best college player to ever wear No. 15.
He was given No. 10 as a rookie with the Dallas Cowboys
After being taken in the fourth round of the 2016 NFL draft, Dak Prescott was almost immediately issued No. 10 by the Dallas Cowboys, which actually made quite a bit of sense.
Prescott was seen as the successor to Tony Romo, although he obviously got the starting job a little earlier than expected. Although Dak wasn't the Cowboys' original choice, he was thought of as the next great quarterback in Big D and his jersey number somewhat reflected that. Troy Aikman wore No. 8 and led the Cowboys to three Super Bowl titles. After a number of forgettable quarterbacks, Tony Romo was the most prolific Cowboys' QB since Aikman and wore No. 9. So No. 10 was just the next in line it seemed.
But Dak Prescott had something else in mind.
Dak Prescott wears No. 4 to honor his late mother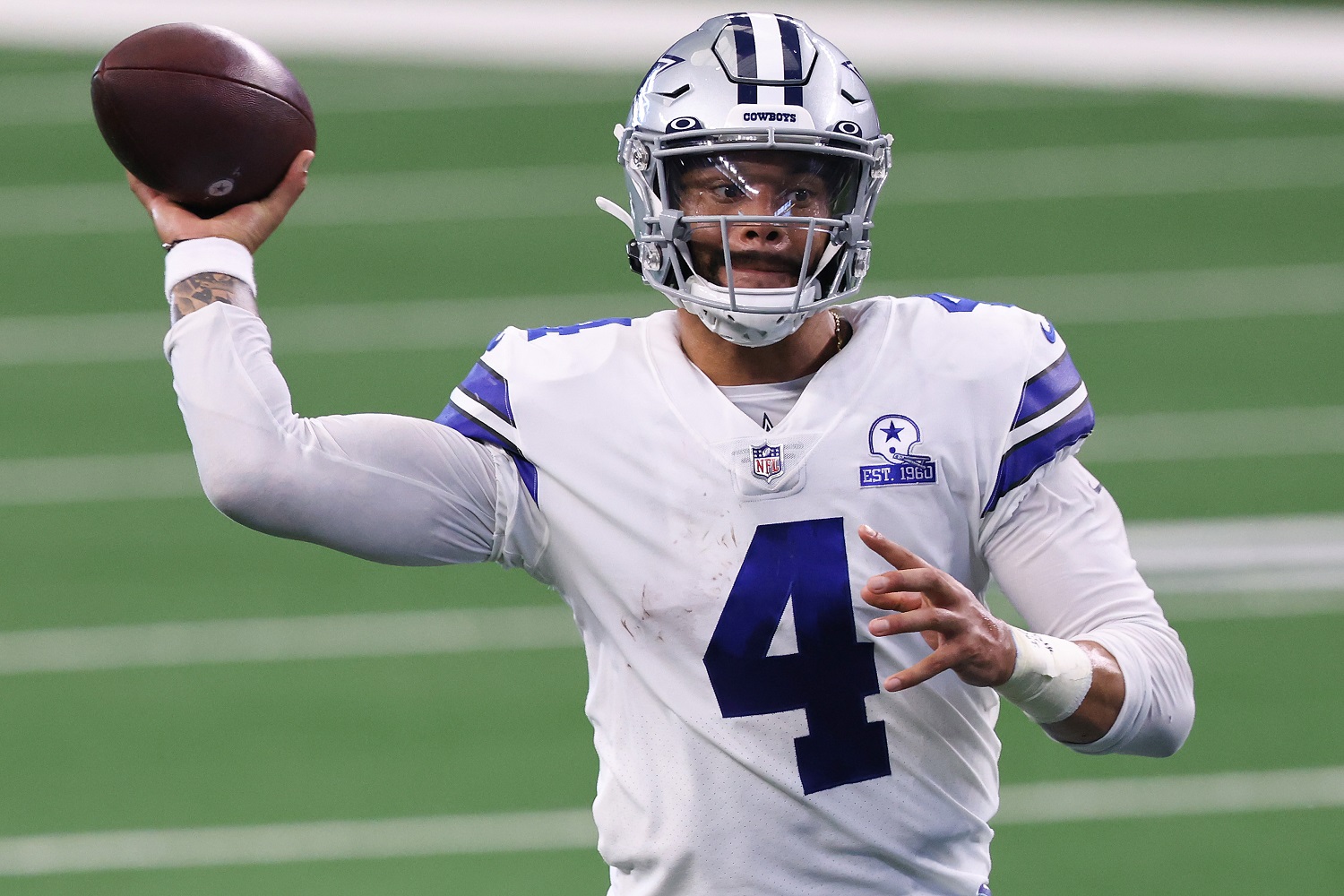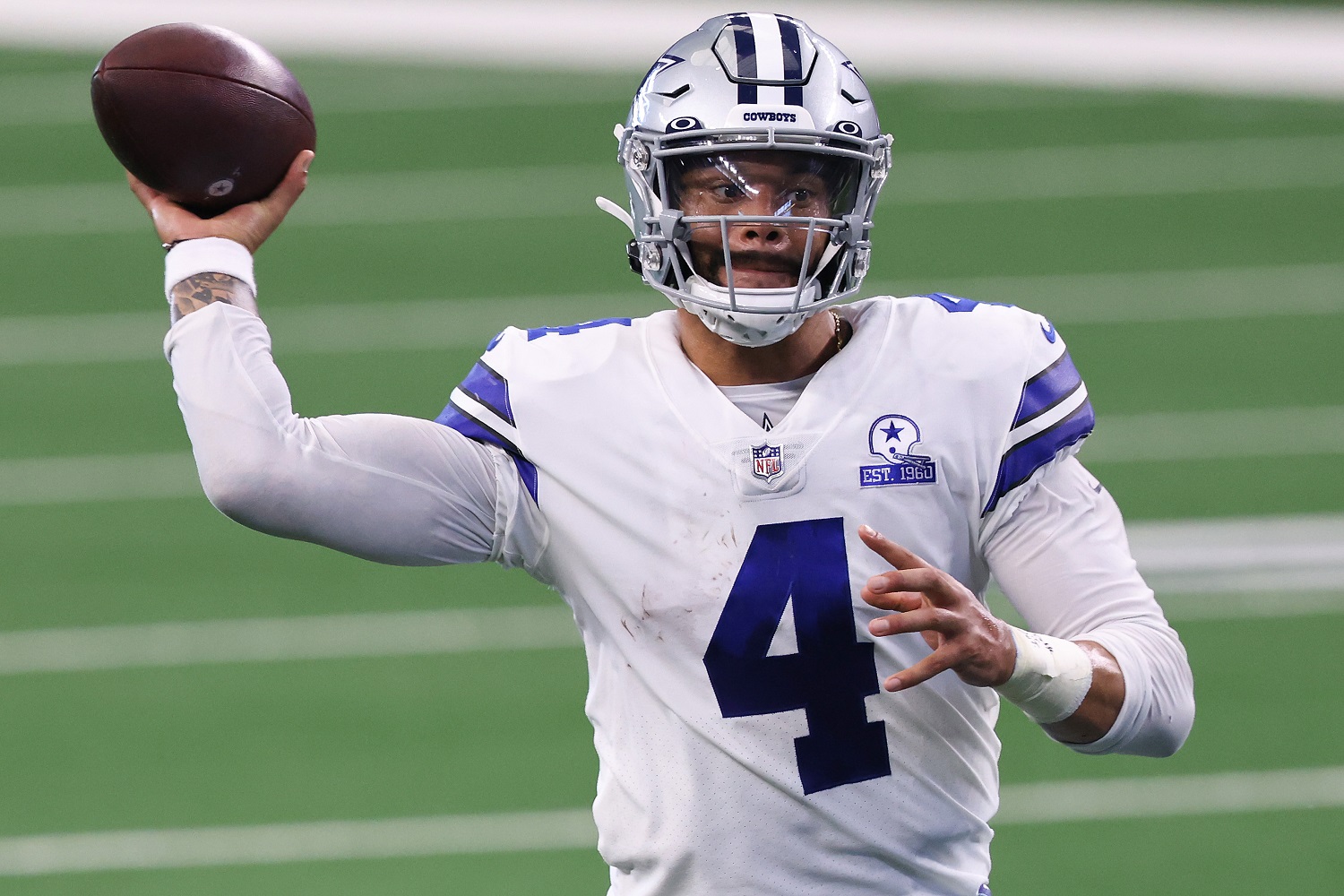 Before he ever took a snap for the Dallas Cowboys, Dak Prescott requested a change to No. 4 to honor his late mother, whose birthday was September 4. Peggy Prescott, whom Dak was very close to, passed away in 2013 following a long battle with colon cancer.
But wearing No. 4 isn't the only way Dak Prescott stays connected to his mother. 247 Sports once reported that Prescott writes letters to his mom before games to calm himself. He wears special wristbands in her honor and also has a tattoo that celebrates her.
All stats courtesy of Sports Reference