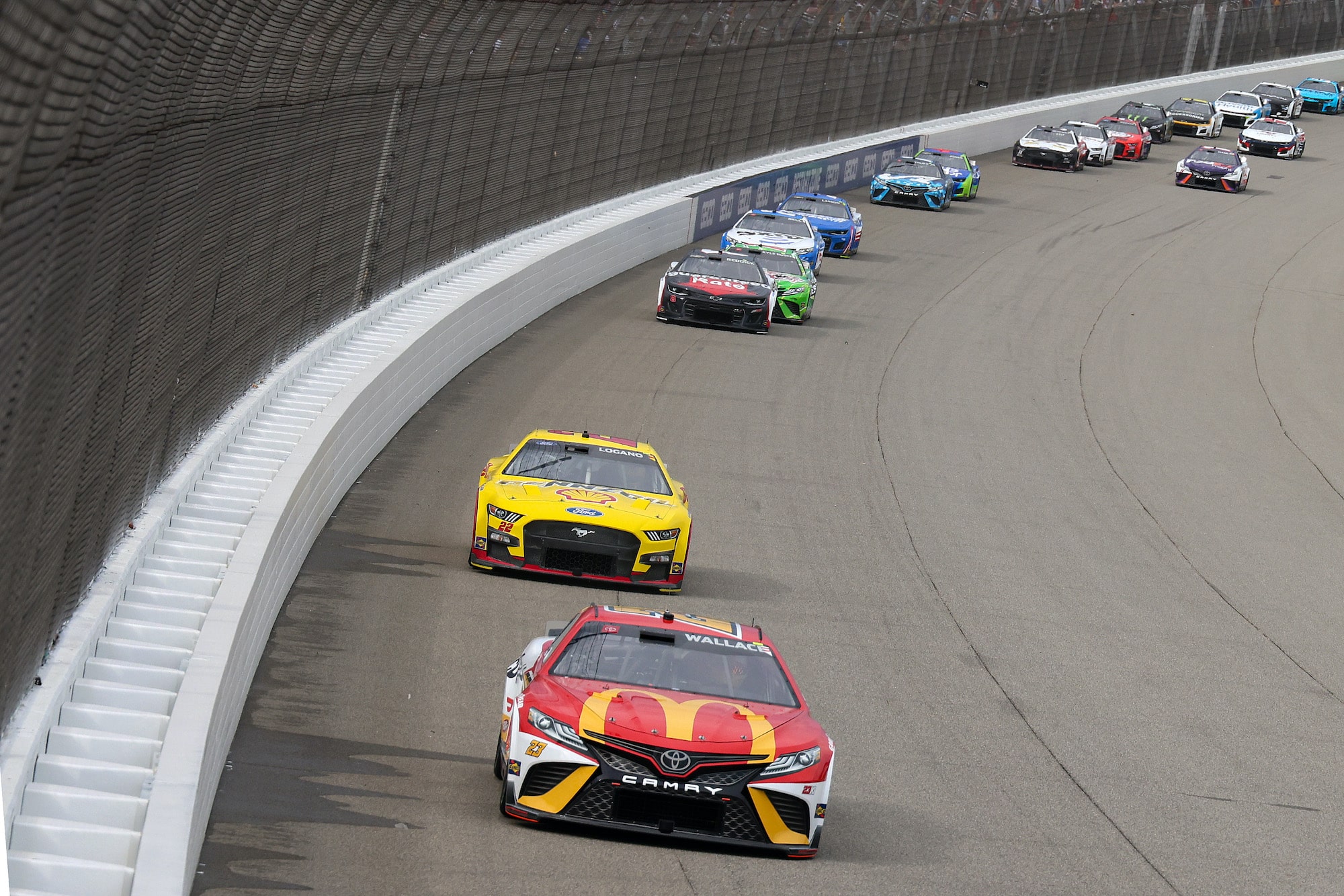 Dale Earnhardt Jr. Addresses Bubba Wallace Haters and Driver's Emotional Postrace Reaction at Michigan
Dale Earnhardt Jr. talked about Bubba Wallace's reaction at Michigan after finishing second, including what he hopes the driver's critics take away from the emotional moment.
Bubba Wallace proved throughout the weekend at Michigan that he had one of the best cars. He claimed his first-ever NASCAR Cup Series pole and then backed it up with a second-place finish. However, instead of being excited about the positive result, the 23XI Racing driver beat himself up and referred to himself as a failure multiple times. 
This week on the Dale Jr. Download, Dale Earnhardt Jr. talked about Wallace's race and his emotional postrace interview that followed. The NASCAR Hall of Famer also brought up the driver's critics and what he hopes they realize after seeing his reaction in Michigan.   
Bubba Wallace emotional after finishing second at Michigan
Bubba Wallace led from the drop of the green flag until the competition caution 20 laps into the race at Michigan. He shuffled back on pit cycles, but eventually made his way back to the front. In the last stage, it came down to a final restart where the No. 23 lined up on the inside with Kevin Harvick on the outside. 
Harvick got the jump while Wallace battled with Kyle Larson and Joey Logano for position. The 23XI Racing car eventually moved past the Hendrick Motorsports car but struggled to get past the No. 22. Eventually, he cleared the Penske car, but it was too late as Harvick had surged out to an insurmountable lead.    
After the race, NBC's Parker Kligerman caught up with Wallace and asked him about his day.
"Replaying everything I could have done. Took the top there on the restart," Wallace said. "Thought I could hang with the 4 and just got to racing the 5 and the 22. The 22 did a good job of getting another Ford contract, helping a Ford win. All in all an incredible weekend. Appreciate my team. Wish we could have got Toyota in Victory Lane. Wish we could have got McDonald's back in Victory Lane. She was fast all week. I'll wear this one on my heart for a while. I failed everybody."
Dale Earnhardt Jr. felt bad for Wallace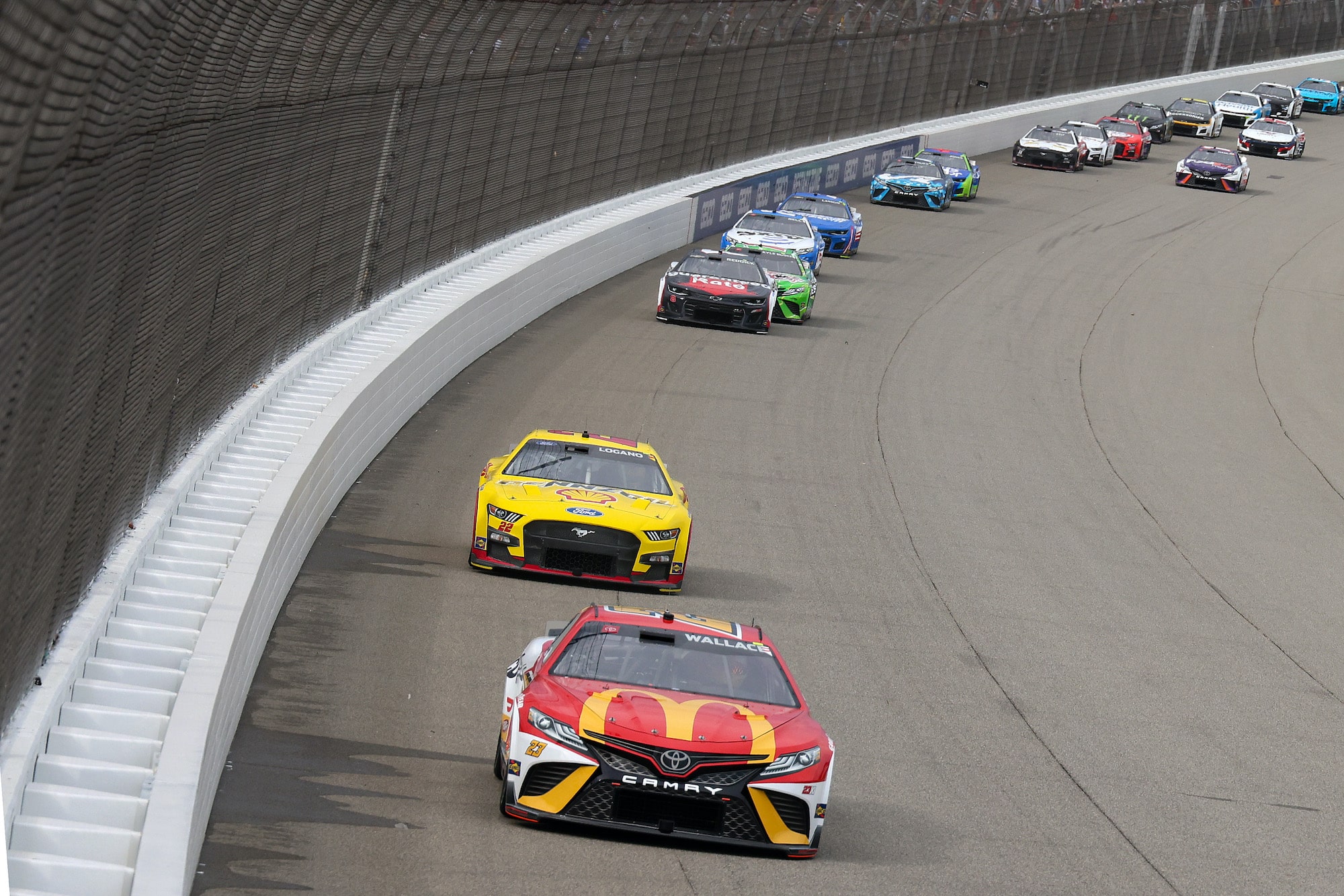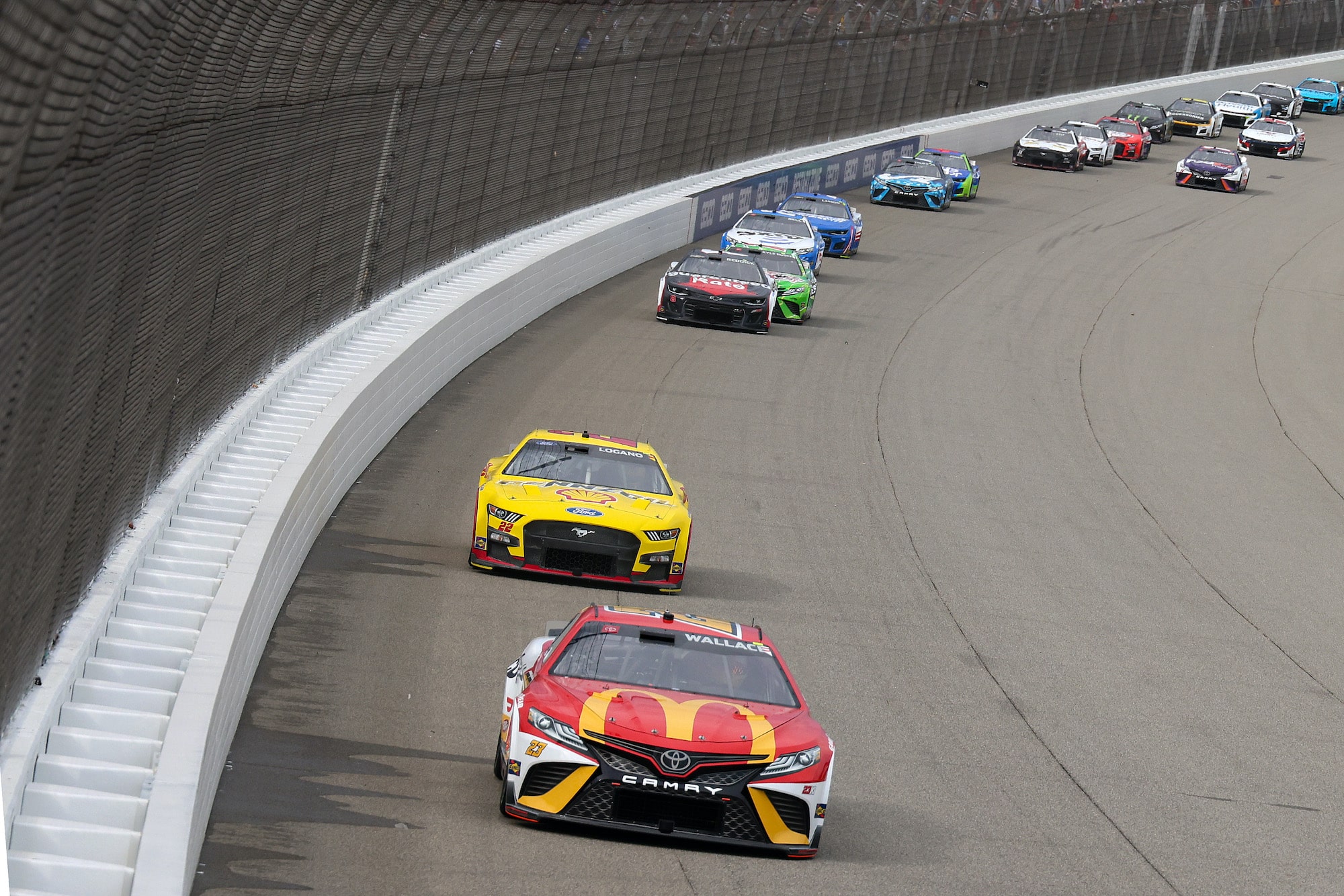 Each week on his podcast, Dale Earnhardt Jr. recaps the previous week's race. This week he talked about the main story from Michigan, Kevin Harvick ending his 65-race winless streak and claiming a spot in the postseason. He also talked about Bubba Wallace's strong second-place finish, and more specifically, what he said in his postrace interview.
"We saw an emotional interview from Bubba Wallace," Earnhardt said. "I feel like as hard as it was to see Bubba in that emotion — of course, when you're watching somebody feel that way, you can't help but go, man, I want to put my arm around that guy and say, 'Hey, maybe this is the point of view you should take.' 
"But I hope that it was a moment for everyone else to be a witness to the pressure that this guy is under. Because man there wasn't nothing fake about that. That was as genuine as someone could be in a moment like that. I am hoping that for the people that put a lot of pressure on Bubba and give him a lot of time and feed him a lot of criticism, particularly online, I hope that those people can see really what this guy is dealing with on a daily basis. I felt pretty bad for him, man."
While Earnhardt acknowledged how hard it was to watch Wallace's emotions, he also provided guidance on what the 28-year-old driver might do differently going forward.    
"And it's easy for me to say, but I said it after the race on our broadcast, I've been in this position and I wasn't good at this so it's a bit hypocritical for me to say this, but you got to look at the last couple of weeks," the NASCAR Hall of Famer said. "They were great runs, top-10 finishes, and look at the day where you just ran second to Kevin Harvick, who is dominant at this race track. He was running him down a little bit at the end. You could say he had a good enough car to win the race. You got to look at those things and go, 'Well, you're close. Not I failed everybody.' He felt so small. He should take a moment and go — and I think he probably has after the last couple of days — where you go, look, we are close. We are right there. We're on the threshold of getting that win at a non-plate race track."
Similar reaction at 2018 Daytona 500
Although Earnhardt was sincere in suggesting what Wallace might change in the future, it's not something the driver doesn't already know. He admitted as much at Michigan. 
"There were a lot of positives from this weekend, but I'm a person that looks more at the negatives and I need to change that," he said.
Those emotions have been synonymous with Wallace, dating back to the first race in his first full-time season with Richard Petty Motorsports in 2018, when he ironically finished second at the Daytona 500. He broke down in the postrace press conference moments after his mother congratulated him on his performance.
"It's a sensitive subject. I'm just so emotional over where my family's been the last two years that I don't talk about it," he said through tears. "It's just hard so having them here to support me is…Pull it together, bud. Pull it together. You just finished second. It's awesome."
Bubba Wallace is a race car driver. He's also emotional. While it's hard to watch, it's also refreshing to know he is so passionate about what he does and fully understands how challenging it is to win at NASCAR's highest level, which sometimes means his emotions get the best of him. And that's OK because it shows not only is he talented, but he's also human just like everyone else, despite what his critics might say.
Like Sportscasting on Facebook. Follow us on Twitter @sportscasting19 and subscribe to our YouTube channel.