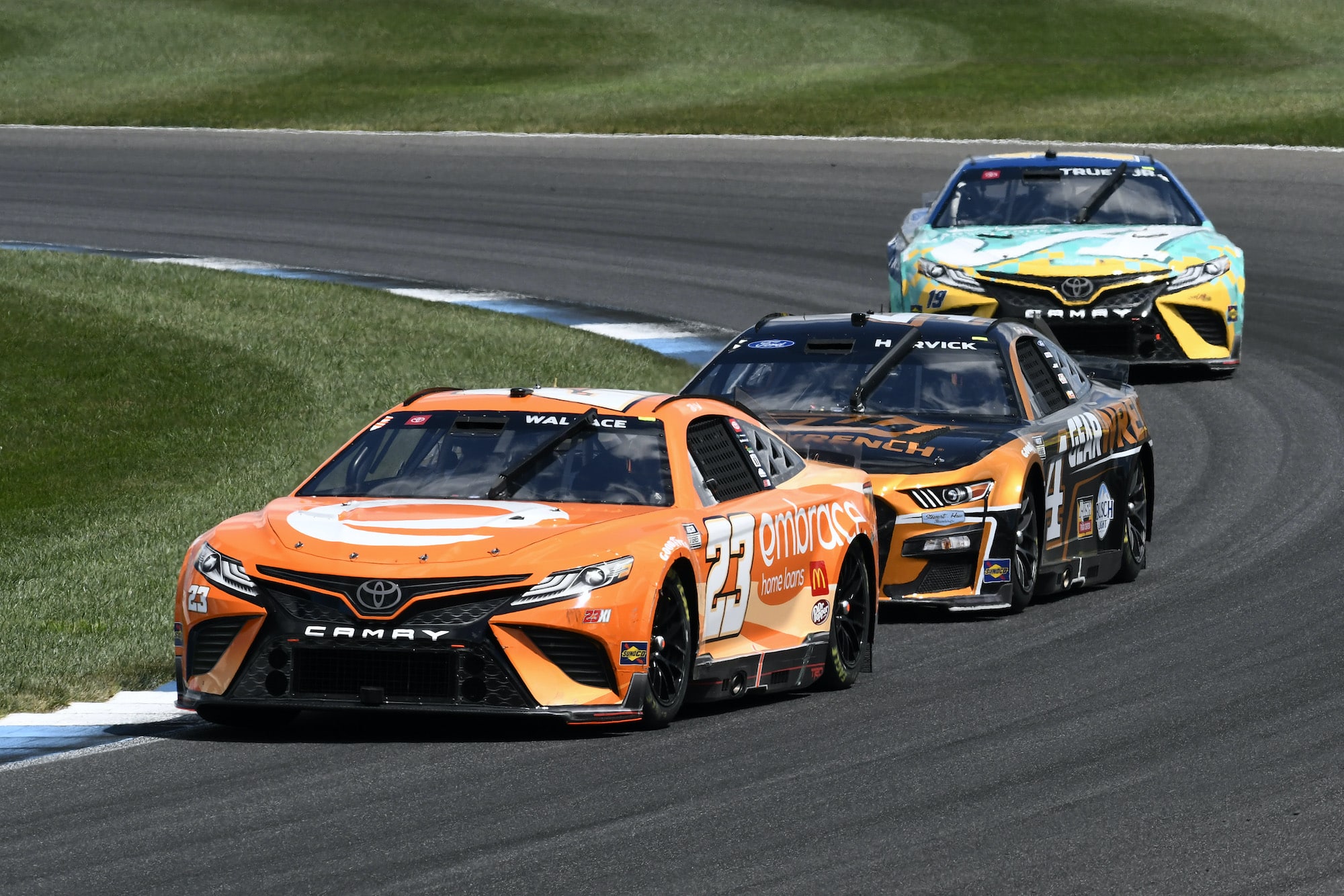 Why Did NASCAR Not Penalize Bubba Wallace at Indianapolis for Shortcutting the Course After Punishing Him a Year Earlier for Making a Similar Move?
Bubba Wallace cut off a portion of the Indianapolis Road Course Sunday but didn't receive a penalty. It was a far different outcome from a year ago when he made a similar move and got penalized.
To say Bubba Wallace has struggled on road courses this year would be a major understatement. Heading into the Indianapolis Road Course, his best finish on a circuit with right turns was an abysmal 35th at Road America. 
Things dramatically changed Sunday. The 23XI Racing team, which has experienced more than its fair share of misfortune this season, had several things go its way, including a late no-call after the No. 23 cut across the grass to avoid chaos in Turn 1. It was a flashback to a year earlier when things didn't go his way and NASCAR officials penalized him for doing something similar on a different portion of the track.   
Bubba Wallace penalized a year ago for shortcutting track
Late in last year's Cup Series race at Indianapolis, after the curbing in Turn 6 had already destroyed multiple cars and forced a red-flag delay, Bubba Wallace and the field restarted and headed toward that same treacherous portion of the track. The 23XI Racing driver entered the turn three-wide on the right-hand side with Cole Custer sandwiched between him and Alex Bowman.
Realizing he couldn't make the turn and didn't want to hit the curb that had already caused multiple cars to get airborne, Wallace drove the No. 23 car out wide to the right, into the grass and returned to the track even with Bowman and just ahead of Custer, who had slowed trying to avoid a spinning Michael McDowell. Austin Dillon slammed into Custer, sending both severely damaged cars sliding off the track. Wallace and Bowman somehow managed to avoid McDowell and maintained their positions. 
Except it was short-lived for the No. 23 team when NASCAR officials radioed that he was being penalized for cutting the corner. 
"We got to go all the way to the tail here," then-crew chief Mike Wheeler informed his driver over the radio.
"What?" Wallace questioned.
"Shortcutting the course," Wheeler replied. 
"They're going with that?" the driver asked.
"Yes, that's what they're saying," his crew chief answered. 
"When the same motherf***** in the No. 33 does the same thing?" an understandably frustrated Wallace pointed out. "What a f****** joke. What do I need to do here?" 
Bubba Wallace cuts corner and isn't penalized
This year on the Indy Road Course, with three laps remaining, Wallace started in the middle of the pack when the field crossed the start-finish line but quickly shuffled back when cars like Joey Logano dove down on the inside and made it five-wide going into Turn 1. 
Logano's move set off a chain reaction. The last domino to fall was Kyle Busch, who got spun on the outside and into the grass by Chase Briscoe. During the spin, the Stewart-Haas Racing car got collected in with the Joe Gibbs Racing car and spun, too. 
Wallace, who was directly behind Briscoe when the contact started, moved beside him when the Nos. 14 and 18 made contact, ran into Briscoe himself, before bouncing off and going forward through the grass. He rejoined the track and had gained multiple spots, but only after numerous cars had slowed going into Turn 2 to avoid spins between Chase Elliott and William Byron. 
Unlike last year, Wallace was not penalized, and according to Fox's Bob Pockrass, NASCAR deemed the move legal because he was trying to avoid an accident. 
"For those asking about Wallace move late in race on the next to-last caution … He's beside Harrison Burton entering T1 & NASCAR determined his slide through the grass was legal to avoid an accident," Pockrass tweeted.
Earns best road course finish of Cup career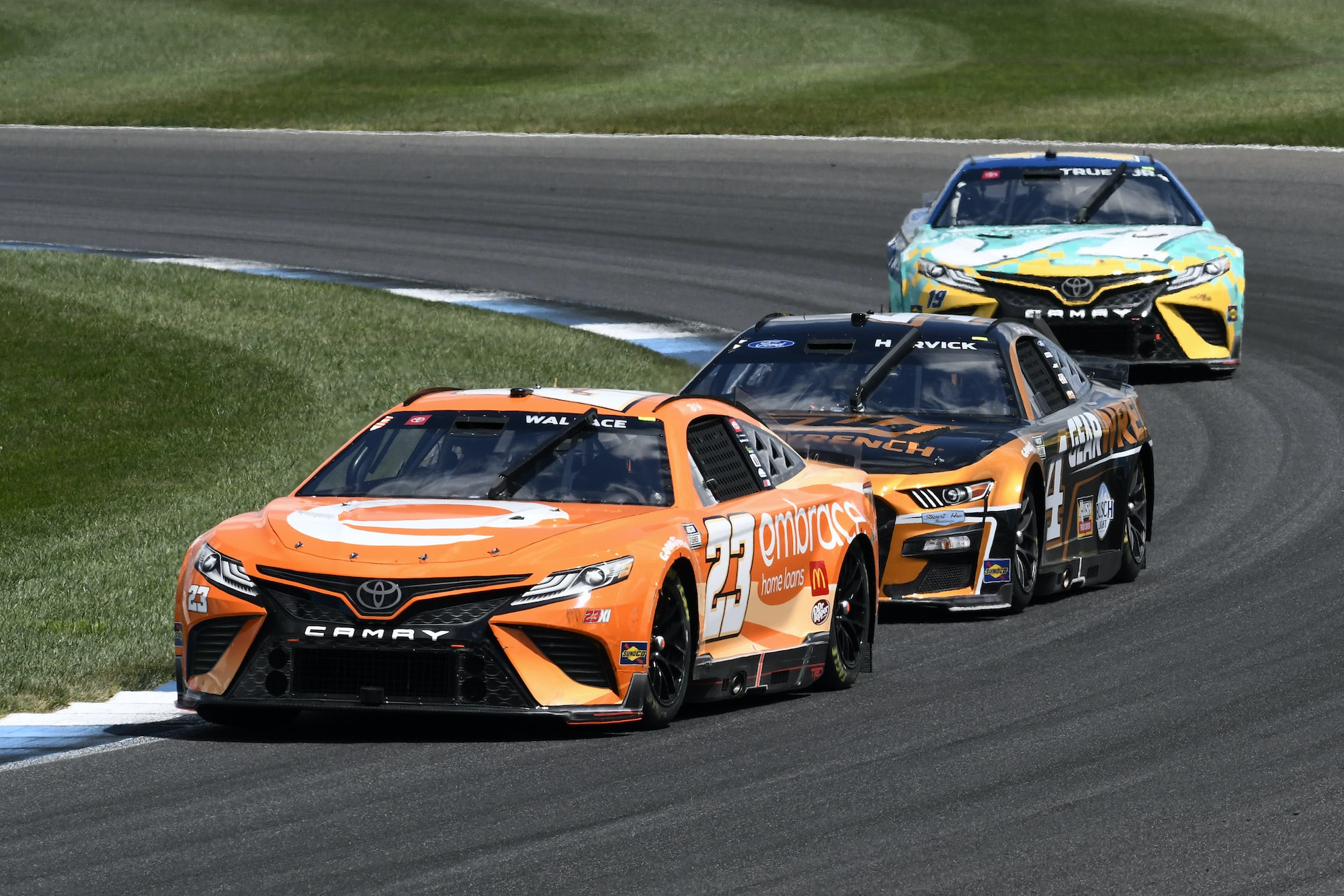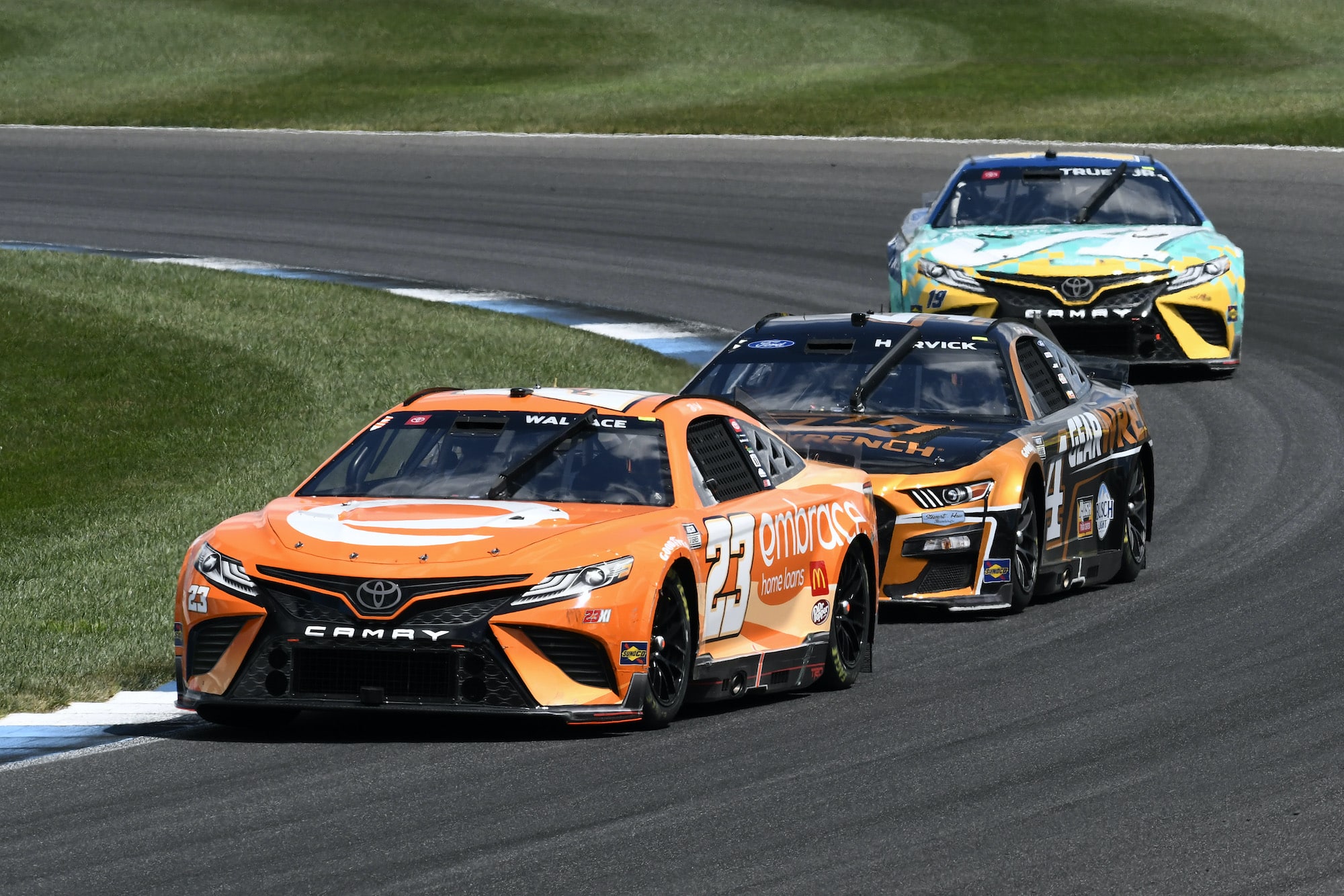 Several minutes later, during the overtime restart, Wallace found himself in a similar position on the outside going into Turn 1, directly behind Ross Chastain. As everyone witnessed, the No. 1 car didn't make much of an attempt to make the turn and took a shortcut through the access road and rejoined the field up in front with leader Tyler Reddick.
The two cars battled before Reddick eventually pulled away and raced to victory. After the race, NASCAR assessed the Trackhouse Racing driver with a 30-second penalty and he finished 27th. 
Wallace scored a fifth-place result for his best-ever road course finish and his second top-five in three weeks.   
Like Sportscasting on Facebook. Follow us on Twitter @sportscasting19 and subscribe to our YouTube channel.