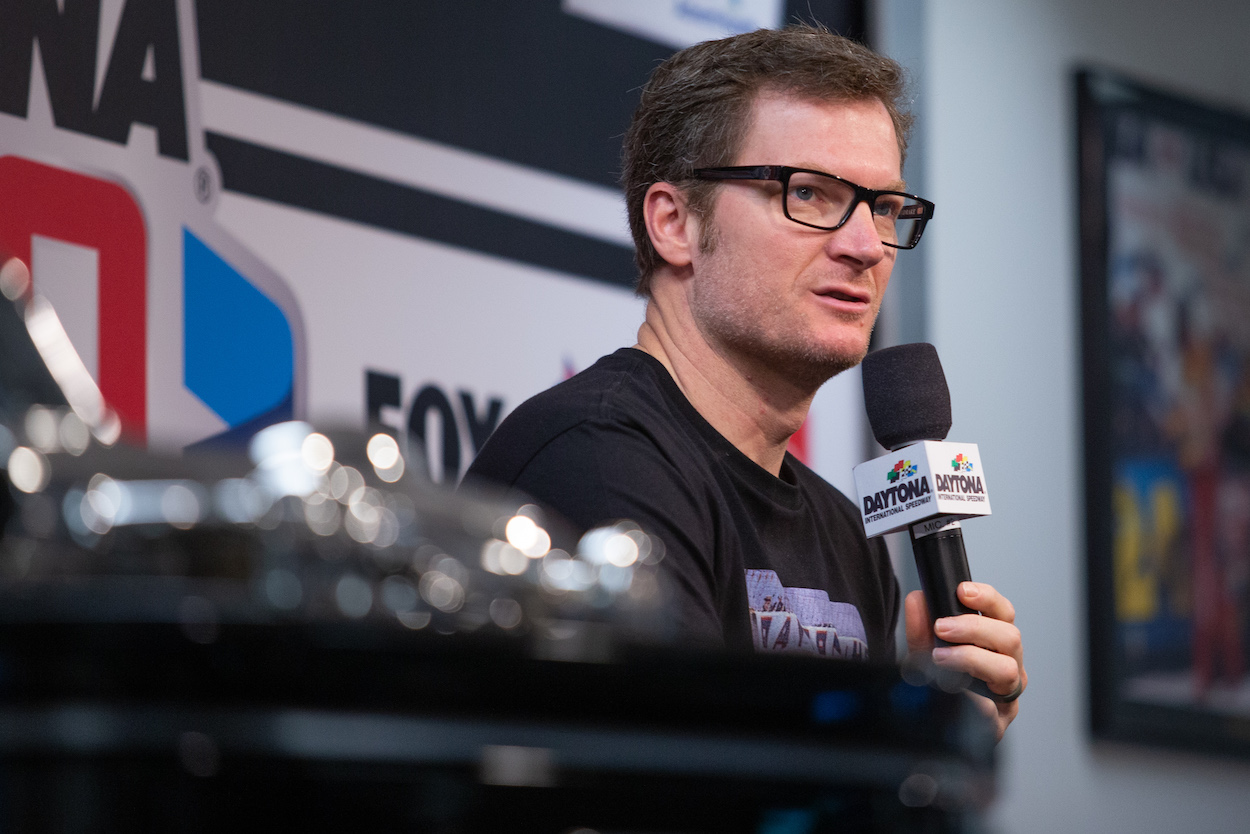 Dale Earnhardt Jr. Doesn't Sugarcoat What He Thinks About NASCAR Potentially Racing on Streets of Chicago
Dale Earnhardt Jr. got brutally honest during his latest podcast, revealing what he thinks about NASCAR racing on a Chicago street course.
Dale Earnhardt Jr. is unquestionably one of NASCAR's biggest ambassadors. While he's big on promoting the sport through his podcast and other means, he's also not afraid to criticize the organization when he doesn't agree with something.
During the latest episode of the Dale Jr. Download, the newly-inducted Hall of Famer did just that when talking about rumors of a potential race on the streets of Chicago.
Dale Earnhardt Jr. not excited about Xfinity Series Portland race this year
Last year just days before NASCAR officially announced its 2022 schedule, Dale Earnhardt Jr. shared on his podcast what he thought about the Xfinity Series racing in Portland, which last hosted the Truck Series in 2000. 
"We've been out there before. I don't even know what shape the place is in. It's a road course. It doesn't do anything for me," Earnhardt confessed during the "Ask Jr." segment of his Dale Jr. Download podcast. "If you're out in Portland, you're excited about this. I'm happy for you. If you want to go to the race track and you're thrilled that they're coming there, that's a good thing. That's the whole point. But for me, it's just adding another road course, and we've added a lot of road courses over the year."
The two-time Daytona 500 winner acknowledged that adding multiple road courses is not what he expected after visiting on the podcast with NASCAR President Steve Phelps a year earlier. 
"We're getting back, not to our roots, but we're not going to try to reinvent the wheel," Earnhardt said. "I took it as we're not going to try to introduce a lot of new. We're going to try to bring back some of the old. That made me think, OK, well, we're going to maybe introduce a couple of short tracks. We're going to do less mile-and-a-halfs. We're not going to try any kind of new gimmicky thing. But it just seems like there's a few new gimmicks coming down the pike."
Earnhardt doesn't want to race on Chicago street course
This week, a fan asked Junior a question on the podcast about rumors of a potential street course race in Chicago. He didn't sugarcoat his answer. 
"I watched a little bit of the IndyCar over the weekend in St. Pete," he admitted. "I guess I need to ask, what's fun about watching cars racing around a street course? I can't answer that question for me. I can't sit here and go, 'Man, I wish we really had a street course because I don't know why street courses are better or different.' What's different about a street course as opposed to a road course like Watkins Glen or Sonoma? What do drivers think about street courses? 
"I know nothing about them. So they look challenging, difficult, frustrating a bit. Watching the driver try to figure out how to navigate them, it's fun because you see the drivers are struggling. It's frustrating to sort of work around there. But that's with IndyLights and IndyCars. I will say in my experience in the virtual world on iRacing with the Chicago course didn't make me more excited. I didn't think that our cars went around there very well. But that's the virtual world and the real world is going to be a little different. So I'm still not eager for it."
Continues to beat drum for more short tracks
What would Earnhardt want instead? For those who've followed him or listened to his podcast for any length of time, they know the answer.
"Give me more short tracks," Earnhardt said, transitioning away from the street course discussion. "We added multiple road courses last year. We got seven road courses now, or we had seven last year. I don't know how many we got this year. We got enough. 
"We didn't add more short tracks. Dirt Bristol don't count. We already have Bristol. I don't care if it's asphalt, dirt, concrete. You didn't add a new track. The Clash don't count. I want a new short track. I want a North Wilkesboro, a Nashville Fairgrounds, a South Boston. I want a legit short track added to the schedule."
At the end of his "rant," Earnhardt returned to racing in Chicago.
"Chicago road course. I'd rather go back to the Chicago oval," which the Cup Series last raced on in 2019. "Great race track. I'd rather go race there if we're going to Chicago."
Earnhardt has said his piece. It will be interesting to see whether or not NASCAR listens.
Like Sportscasting on Facebook. Follow us on Twitter @sportscasting19.