Dale Earnhardt Jr. Embarrassed and Ashamed He Mocked His Father's Fatal Accident Just Days After It Happened
Dale Earnhardt Jr. finished second at the 2001 Daytona 500 behind teammate Michael Waltrip. Tragically, behind the excitement of the finish line, Dale Earnhardt. Sr. was involved in a terrible accident on turn four that killed him. 
A week later, Jr. was involved in a hard and eerily similar crash at the Dura Lube 400 on turn four of the first lap. Interviewed about it later, the younger Earnhardt admitted how terrible he felt about his own wreck because he felt like he was mocking his father. 
Dale Earnhardt Sr. dies at Daytona 500
February 18, 2001, will always be remembered as one of the darkest days in NASCAR history. The legendary Dale Earnhardt Sr. had won his one and only Daytona 500 just three years earlier. He would have loved to add a second trophy to his collection, but circumstances forced him to make a business decision late in the race and he decided to protect his teammates, Michael Waltrip and son Dale Jr., who were running first and second, respectively.
During the final lap, Dale Sr. had a front-row seat as he blocked the rest of the field and watched Waltrip and Junior battle for the win. Unfortunately, he never saw the finish.
He was involved in a last-lap accident that sent his car shooting up the track and crashing hard into the outside wall on turn four. He collected Ken Schrader in the process. Both cars slid down the banked track and stopped on the infield. That's when Schrader made the gruesome discovery that his fellow competitor and friend was in bad condition. Earnhardt was pronounced dead at the hospital a short time later. 
Junior has eerily similar accident a week later
No one would have blamed Dale Earnhardt Jr. if he had decided to take time off from competition and grieve for his father. No one would have been surprised if he had walked away from the sport altogether. He did neither. 
Earnhardt strapped himself behind the wheel of his No. 8 car the following weekend and raced at the Dura Lube 400 at Rockingham. Unfortunately, it didn't last long. 
Junior made it three-quarters of the way around the track on the first lap before getting hit from behind. What happened next was a bizarre and scary moment for fans watching as Earnhardt's car shot up the track to the outside wall, slamming hard on the right side. It was eerily reminiscent of the scene on the final lap a week earlier that ended in tragedy.
After the accident, in-car cameras caught Earnhardt alert and moving around. Once he exited the vehicle, fire officials helped the limping driver make his way down the track for a visit to the infield care center.
Dale Earnhardt Jr. embarrassed he mocked his father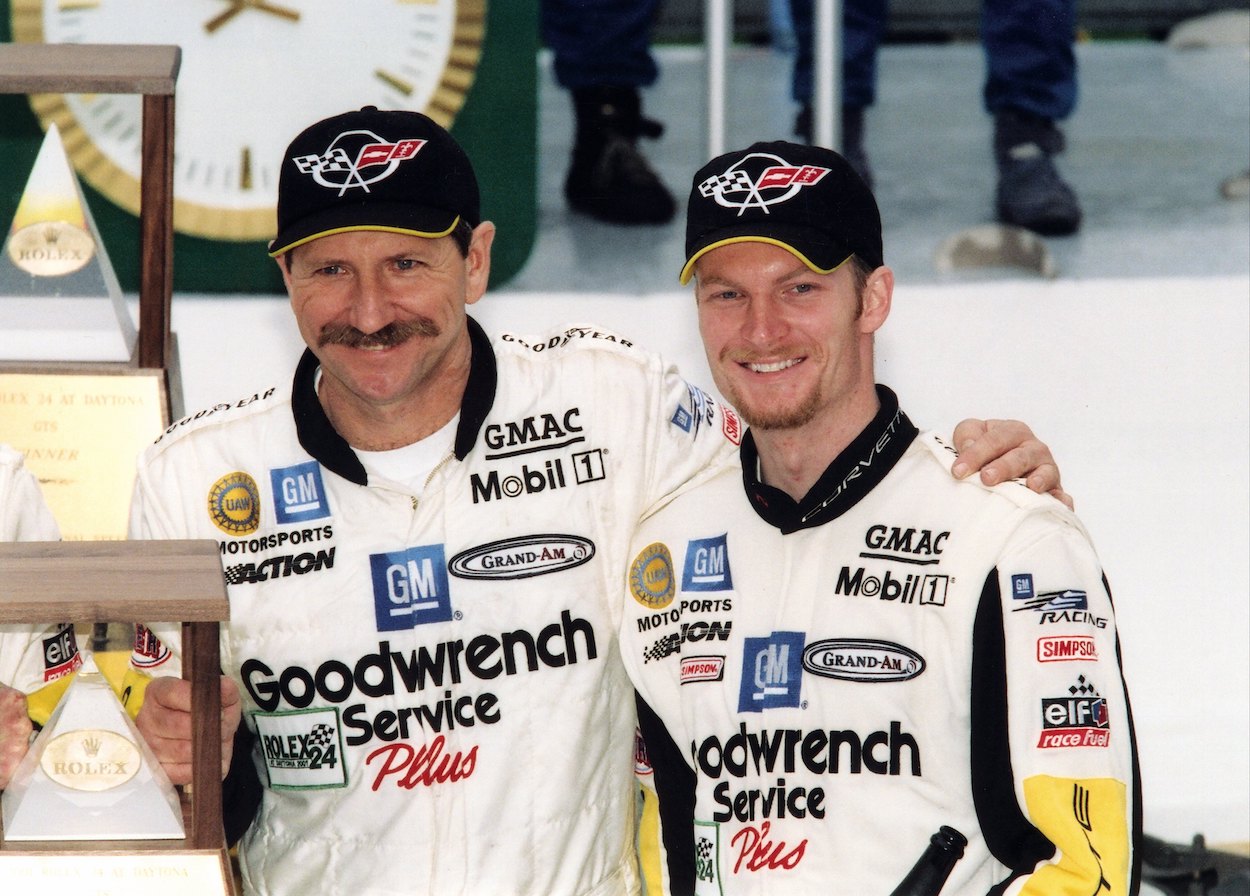 In September 2001, Playboy featured a lengthy interview with Dale Earnhardt Jr. He talked about everything from his childhood growing up, how he manages his way around a race track, his thoughts on that tragic day in February, and a surprising conversation about his own accident the following week.
"A guy just plowed into me. Zipped me right into the wall. Everyone talked about how it looked just like my dad's wreck. That was embarrassing," Earnhardt admitted. When asked if he was simply embarrassed because it looked similar to his father's accident, he said yes, then offered up an interesting reply.
"I was ashamed that I had mocked my father," he candidly said.
That was Earnhardt's personal opinion of himself. It's fair to say that his fans and most in the racing community never viewed it that way. The overwhelming majority of fans were compassionate and felt sorry for him that he had to endure so much in a week.
He rebounded that season and ended up winning three races and finishing eighth in the points standings.