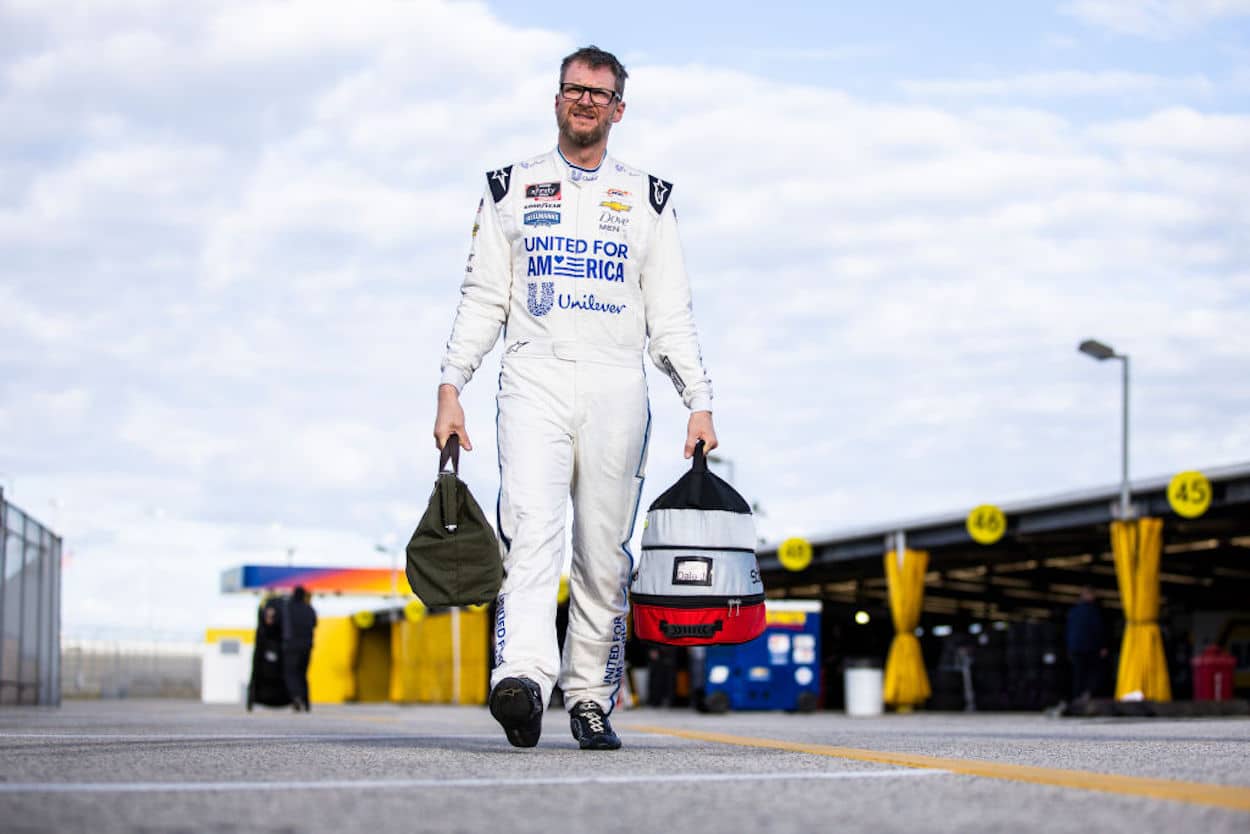 Dale Earnhardt Jr. Is Going Late Model Racing Again, and This Time He's Also Spreading Some Wealth
Not only will Dale Earnhardt Jr. be getting back behind the wheel, but he'll be adding some additional money to the pot. Talk about a win-win.
When Dale Earnhardt Jr. competed at North Wilkesboro Speedway in late August, ending a quarter-century hiatus from Late Model Stock racing, it was all about having fun. 
However, when NASCAR's 15-time most popular driver straps in a Late Model later this month at Florence Motor Speedway in South Carolina, it will be about both having fun and spreading some wealth among his fellow competitors.
But before diving too deeply into that, let's first review Earnhardt Jr.'s Late Model experience at North Wilkesboro — a fabled North Carolina short track that his efforts have helped revitalize after more than two-and-a-half decades of dormancy.
Dale Jr.'s return to Late Model racing couldn't have gone any better
Even before Dale Earnhardt Jr. decided to hang it up from full-time NASCAR Cup Series competition at the end of 2017, the third-generation driver and two-time Daytona 500 champion had already declared his intention to at some point in the future return to the grassroots racing he grew up doing at short tracks around the Southeast as a teenager and in his early 20s.
It seemed like that might never happen until earlier this year when North Wilkesboro — a .625-mile track Earnhardt Jr. hadn't raced on since 1995, two years before he entered his last Late Model event — reopened its doors and hosted the CARS Tour Late Model division. When Sun Drop, a longtime corporate partner and friend of the Earnhardt family, wanted to get on board and sponsor Earnhardt Jr. for the race, the 26-time NASCAR Cup Series race winner simply couldn't say no.
And Earnhardt Jr. is certainly glad he didn't, considering how his experience at North Wilkesboro played out. Despite harboring understandably low expectations for his return to Late Model racing after such a prolonged absence, Earnhardt Jr. finished third in a full field of cars competing in front of a packed grandstand that more than approved of his performance.
Making it even more memorable was the car he got to drive: a No. 3 Chevrolet splashed in Sun Drop colors and patterned after a Late Model that Earnhardt Jr. raced at the track in 1993 on the same weekend his dad was competing in the Cup race there.
The car was fielded by JR Motorsports, the Mooresville, North Carolina-based racing organization that Earnhardt Jr. co-owns.
"I had such a great time at North Wilkesboro — a blast on the race track with all those guys beating and banging," Earnhardt Jr. said on a recent episode of The Dale Jr. Download podcast that he co-hosts each Tuesday with friend and business associate Mike Davis.
And with that, Earnhardt Jr.'s appetite for making more Late Model appearances was officially wet.
"I had a blast," he said on The Dale Jr. Download. "If I didn't have fun, I wasn't ever going to do it again."
Dale Jr. is helping boost the payout for South Carolina Late Model race
Dale Earnhardt Jr.'s next Late Model excursion will come on November 19 at Florence Motor Speedway, a track where he raced Late Models multiple times a year from 1994-1996. And just like at North Wilkesboro, he'll be campaigning a throwback paint scheme on a No. 3 car — this one sporting the colors of Bass Pro Shops and appearing as a virtual mirror image of the gold No. 3 Bass Pro Shops-sponsored car his father drove in the 1998 NASCAR All-Star Race at Charlotte Motor Speedway.
"I'm excited, man," Earnhardt Jr. said on his podcast, where he formally announced his plans. "I've been looking forward to getting back behind the wheel of our Late Model cars. I go right back to the same thing [I said before North Wilkesboro]: I just want to see the checkered flag, man."
The race, scheduled for November 19, is formally dubbed the South Carolina 400 and will feature a full 40-car field. More than 50 drivers and teams have already filed an entry for the race, meaning not everyone will make the cut for the main event. One of the biggest drawing cards is the total purse money, which is more than twice the amount that was up for grabs at the 2021 edition of this race. 
The purse money is also incremental, which means additional prize money for everyone from the winner to the last-place finisher. The last 20 finishers will receive more than double the amount they would have earned a year ago.
"With us supporting this event, we were able to add some additional funds to the payout," Earnhardt Jr. said on his podcast. "There will be a little bit more money for the winner, but the majority of the additional investment going into this event will go to the middle and the back of the pack. This reinforces our shared commitment to ensure that the economic model for these teams and owners serves them well."
Earnhardt Jr. hopes that, at the very least, the increased payout will help participants come closer to breaking even.
"A set of tires is 600 or 800 bucks or something like that — I should know what it is — but, anyway, it's to be probably around a 10-tire race," Earnhardt Jr. said on The Download. "So two-and-a-half sets of tires is what this is going to pay for if you're going to run the event. To be able to double basically what 40th-place is going to get or take home, I think, is a great thing."
More 'blue collar' Late Models are likely in Dale Jr.'s future
While the South Carolina 400 will likely be the last race on Dale Earnhardt Jr.'s schedule for 2022, don't be surprised to find him moonlighting at quite a few Late Model events next season.
Ultimately, he just wants to have a good time and support grassroots racing — which he already does in a big way through JR Motorsports, which in addition to fielding four full-time NASCAR Xfinity Series teams, has a fleet of Late Model cars. Earnhardt Jr. will drive one of those cars at Florence just as he did at North Wilkesboro.
"The Late Model Stock car is a blue-collar race car," Earnhardt Jr. said on his podcast. "I wouldn't say it's affordable — racing is expensive — but anywhere you can try to improve the affordability and the economic model is a good thing. I want Florence Motor Speedway to survive, and hopefully this is a great way for them to end the season strong and be able to kick off next year in a big way."
Just as he stated before the event at North Wilkesboro, Earnhardt Jr. says his main focus will be finishing the race. But knowing he'll again be in quality equipment prepared out of the race shop he owns gives him hope of a strong showing akin to the one he enjoyed at North Wilkesboro.
"This is basically just to go have fun, try to do something great for Florence, which has done so many great things for me personally in my life," Earnhardt Jr. said on The Download. "I had so many amazing experiences there back in the '90s. I always said I was going to go back and race Late Models once I got done driving full time in the Cup Series.
"So here we are. It's really happening. I took my sweet-ass time getting there, but I'm excited about it."
As are a lot of folks.
Have thoughts on this topic? Keep the conversation rolling in our comments section below.