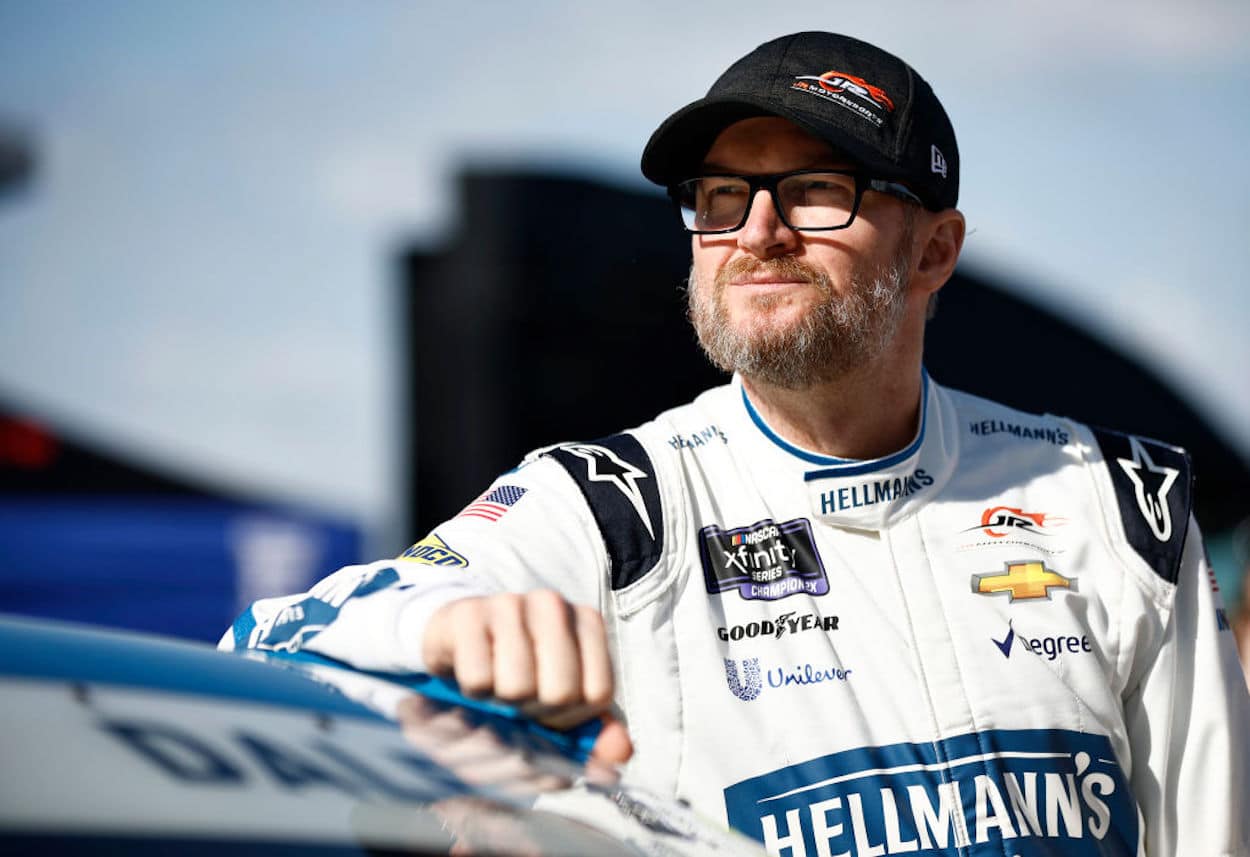 Dale Earnhardt Jr. Reveals Why He's Been Too 'Scared' to Race 1 of His Late Model Cars
Dale Earnhardt Jr. may be a modern NASCAR legend, but he's still a human being who is capable of experiencing fear.
JR Motorsports – the company co-owned by Dale Earnhardt Jr. – has been a fixture of the NASCAR Xfinity Series for more than 15 years, winning three championships and dozens of races along the way. Not as well-known is the fact that JRM has fielded Late Model Stock cars for more than 20 years, enjoying major success at short tracks throughout the Southeast.
As the co-owner of the organization he founded in 2002, Earnhardt Jr. has had plenty of opportunities to jump in a Late Model car and go racing. As the boss man, he could go run a Late Model somewhere almost every weekend if he wished.
But up until now, Earnhardt Jr. has passed on the chance, choosing to focus his efforts elsewhere and leaving the Late Model efforts up to the young drivers who've been part of JRM's stable. All that changes, however, on August 31 when Earnhardt Jr. will campaign a JR Motorsports Late Model in the CARS Tour race at recently revitalized North Wilkesboro Speedway in North Carolina. 
It'll be the first time since 1997 that Earnhardt Jr. has raced a Late Model, and his car – sporting the iconic No. 3 and splashed in Sun Drop colors – is a mirror image of the vehicle he drove in a Late Model race at North Wilkesboro in 1993 on the same weekend his legendary father was competing in a NASCAR Cup Series race at the .625-mile short track.
As much as Earnhardt Jr. is looking forward to returning to the style of racing he cut his proverbial teeth on for several years before joining the NASCAR Xfinity Series in 1998, though, he's also surprisingly nervous.
It won't be all fun and games for Dale Jr. in Late Model return
Since retiring from full-time NASCAR Cup Series competition at the end of the 2017 season, Dale Earnhardt Jr. has made five Xfinity Series starts for JR Motorsports – one per season. Although none of those appearances have resulted in a win, the first three yielded a top-five finish for Earnhardt Jr. However, the last two times Junior has hopped in an Xfinity car, he's finished 14th and 11th, respectively. 
Although those aren't terrible outcomes by any means, they suggest that Earnhardt Jr.'s skills have perhaps deteriorated ever so slightly – especially since he was in a car likely capable of going to Victory Lane, based on JRM's dominance in recent times. Like with anything, when you don't race for a while, it's easy to get rusty. Plus, Dale Jr. is almost 48 years old – several years removed from what most consider the prime driving years.
So, it's understandable that Earnhardt Jr. would have some butterflies in his stomach heading to North Wilkesboro. Especially when you consider that he hasn't raced a Late Model in a quarter of a century.
"I don't think I'll be that nervous about just driving or running well," the driver said during a media availability this past weekend at Watkins Glen International (h/t Matt Weaver). "I just want to finish all the laps. I'll be really, really nervous that I'm going to get wrecked out, or I'll wreck the car or not finish the race. Just finishing the race is really my only hope and objective. 
"My heart is in that series and that type of car, so I'm super-pumped about it, really, really excited about it. I love the Sun Drop connection and the history with the design. I'm looking forward to that. I've wanted to drive the Late Model car for a really long time; I just haven't had the guts to do it."
Dale Jr. admits why he hasn't raced a Late Model in so long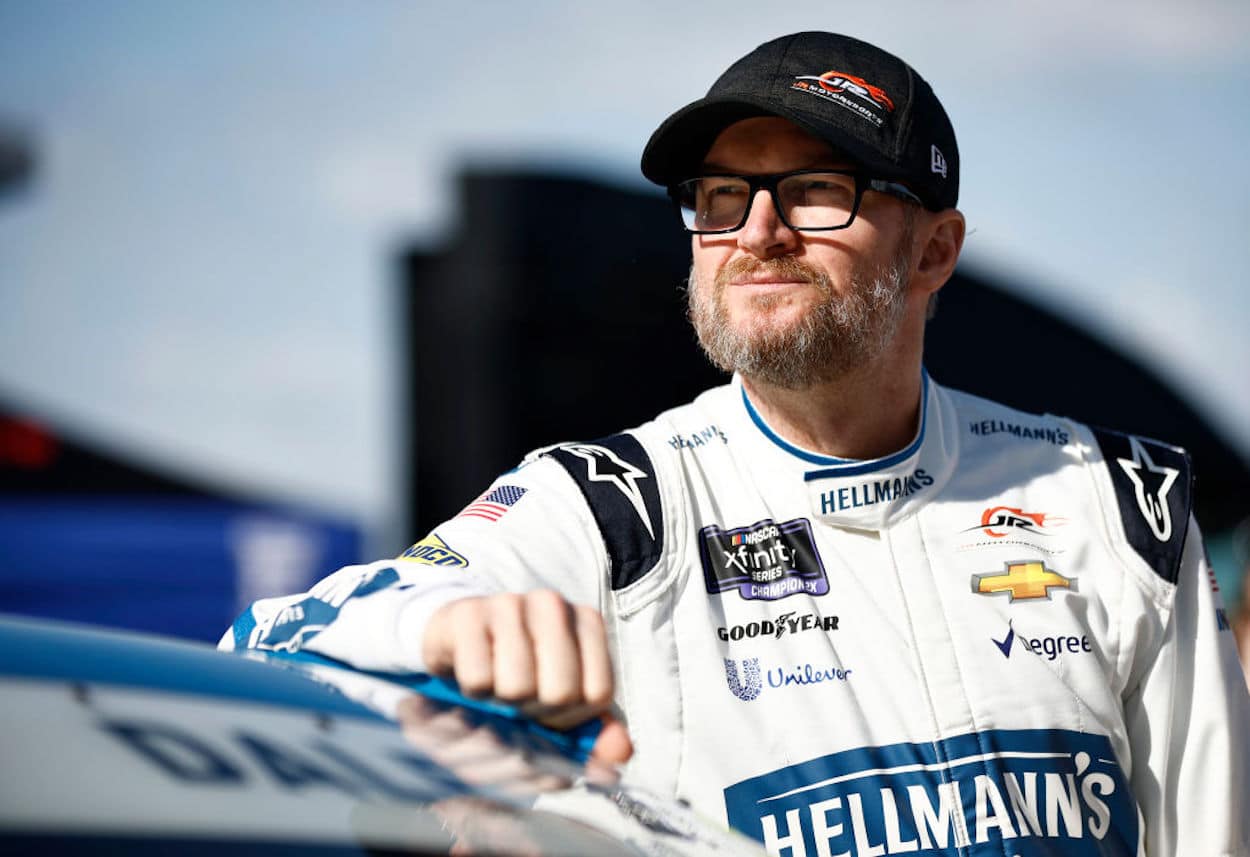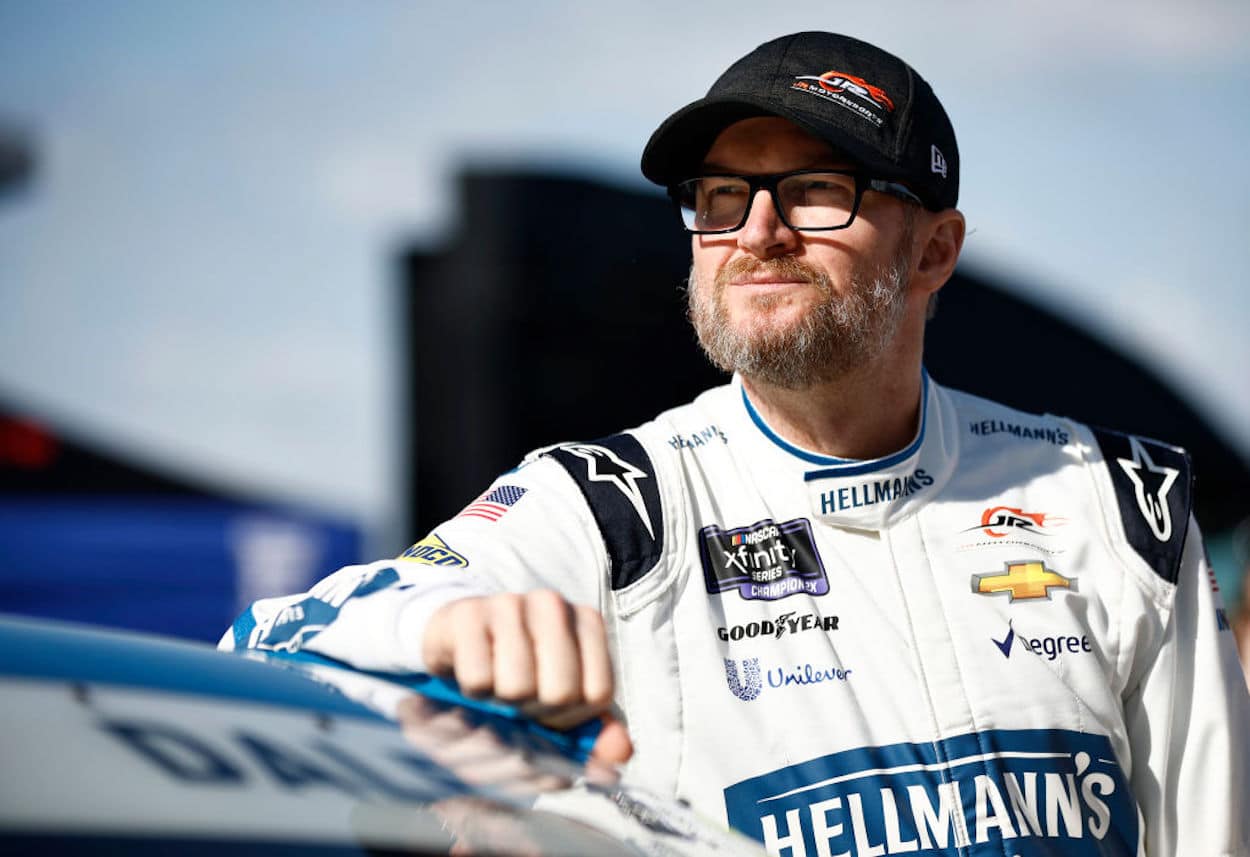 Why hasn't Dale Earnhardt Jr. had "the guts" to race a Late Model in 25 years?
We're talking about a guy who captured 26 Cup Series victories – including two Daytona 500s – over a Cup career that stretched 18 seasons. Before joining NASCAR's premier division, Earnhardt Jr. scored back-to-back championships in the NASCAR Xfinity Series, where he now owns 24 wins.
Along the way, Earnhardt Jr. was voted NASCAR's most popular driver for 15 consecutive years. How could a guy who's enjoyed so much success and popularity at NASCAR's highest levels be reluctant to go toe-to-toe with a bunch of amateur racers in a Late Model Stock car?
"I've been too scared to do it," Earnhardt Jr. admitted at Watkins Glen. "I've had opportunities – I've got cars, right? – and weeks off and just haven't went and done it, because you don't want to get beat, or you don't want to get embarrassed, or you know you might not run well. But I think Chase Elliott and other guys going and doing things outside of their comfort zone and knowing that they might not do that well has really been helpful for me to watch. [Alex] Bowman and those guys go run, knowing they're not going to be on the top of the sheet. That's helpful for me because I'll probably have a hard time being ultra-competitive, but hopefully, we'll run well.
"I've always thought that people would say, 'Oh well, when he comes [to a local short track], he should win. He's an old Cup guy or has great equipment. He should win.' And if you don't, you're afraid of getting ridiculed or criticized for it."
Dale Earnhardt Jr. is open to more Late Model races in his future
Dale Earnhardt Jr. says that depending on how things go at North Wilkesboro, he might entertain the possibility of some additional Late Model races down the road. He's also expressed an interest in having Sun Drop – a longtime partner and friend of the Earnhardt family – back on board for any future outings.
For now, though, he's just focused on North Wilkesboro – and trying not to get too caught up in the performance aspect of his appearance.
"I'm going to go have fun," Earnhardt Jr. said. "I think I'm old enough now that I can just blame being old if I don't run well. But I hope that after this race, I'll have enough fun that I want to do a few more next year. 
"I really love the Late Model series and running the local tracks, and showing up on a Friday or Saturday night somewhere unannounced would be a lot of fun."
Like Sportscasting on Facebook. Follow us on Twitter @sportscasting19 and subscribe to our YouTube channel.