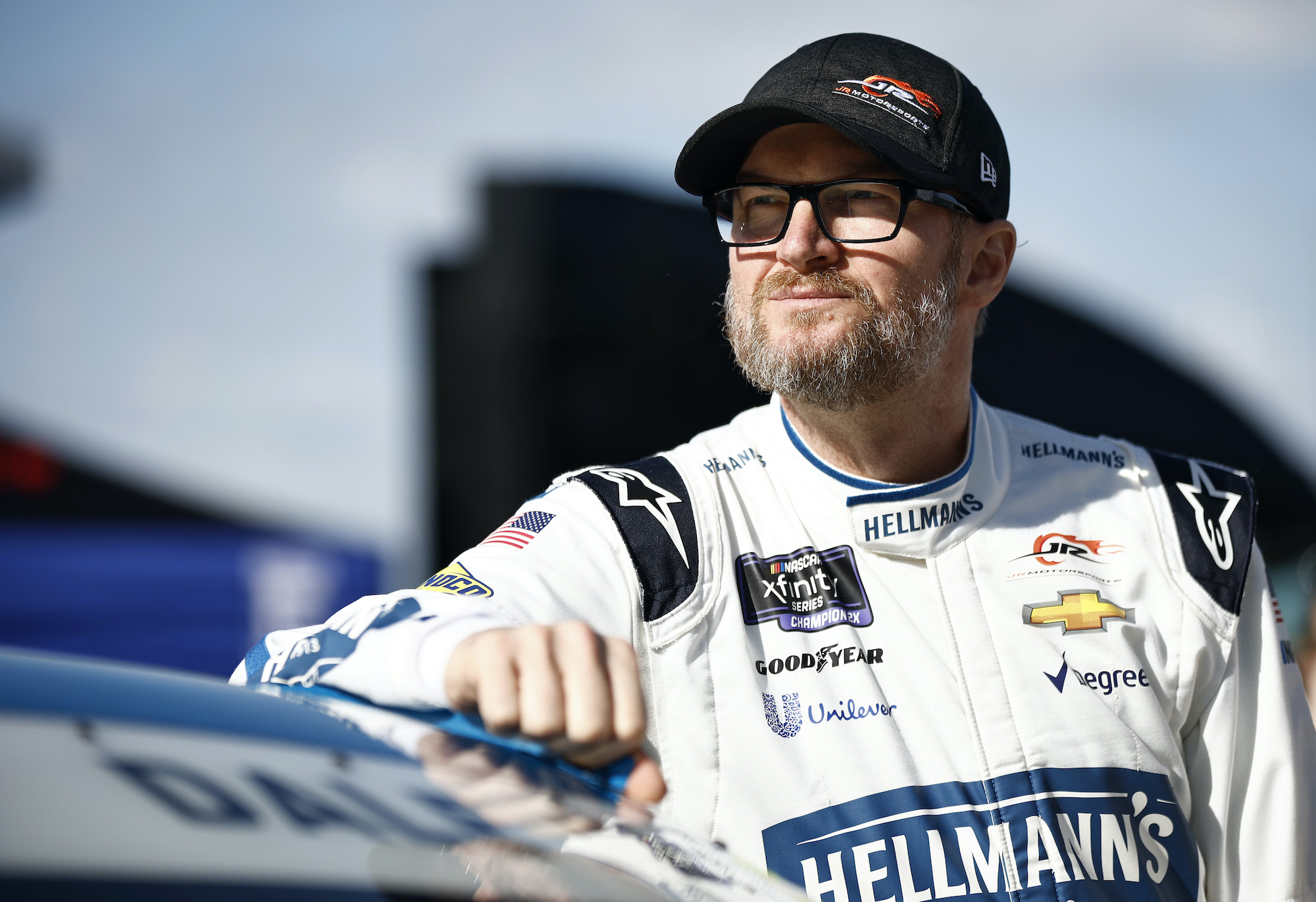 Dale Earnhardt Jr. Admits He's Found 'Perfect Chance' to Race Outside of Xfinity Series and 1 Company Can Help Make It Happen
Dale Earnhardt Jr. has been a big proponent of renovating North Wilkesboro. Now that it's returning, he might just find himself racing there this summer.
Dale Earnhardt Jr. has consistently beat the drum for the return of racing to the famed North Wilkesboro Speedway. Last weekend, the track officially received a second chance when Speedway Motorsports announced it will host a couple of months worth of racing later this year on two different surfaces before a multimillion-dollar renovation begins in 2023. 
This week on his podcast the two-time Daytona 500 winner joyfully talked about the track's return and then dropped a teaser for his fans about racing on the track as a way to show his support. He also noted one thing that he'd like to see happen that would all but confirm him racing at the historic venue.
Dale Earnhardt Jr. gets his wish and racing returns to North Wilkesboro 
Dale Earnhardt Jr. has been quite vocal on his podcast about one day seeing the return of North Wilkesboro, a track that hosted its first NASCAR Cup Series race in 1949 and saw Jeff Gordon win the last event there in 1996.
In November, the track developed a pulse when the North Carolina legislature included $18 million toward infrastructure improvements on the 75-year-old track in the state budget.  
Unsurprisingly, Earnhardt hasn't been all talk during this time. He and SMI President and CEO Marcus Smith have been among the numerous local volunteers who have spent time cleaning up around the facility.
The weekend announcement of the track's return included a specific schedule for the track. August will feature races every day of the week except Sundays on the asphalt and feature a variety of classes. After August racing is complete, officials will tear up the asphalt, and racing will return to the dirt for the month of October. 
Earnhardt wants to race on historic track
This week on the Dale Jr. Download, Earnhardt talked about the exciting news on the track and said due to his broadcast schedule at NBC, he wouldn't be able to attend features on Saturday nights but planned on visiting during the week. 
"We're working on NBC in the booth, so I can't go on the weekends," he said. "There's Wednesday features that I'm going to try and go to. There's a late model stock race that is the final three-day activity in the month of August. Last class that is going to be there is the late model stock class, which we have cars.
"Everybody knows that we've raced in the late model stock series for a long time but I'm kind of looking for the opportunity and this seems like the perfect chance, right. I can go practice. There's practice, qualifying in the race over a three-day period. Get a little bit of track time. I want to support what they're doing at North Wilkesboro because I have kind of been involved in this conversation for so long. So I want to do what I can to make what they're doing this year a success."
Wants to work with Sun Drop like he did in 1993
Earnhardt said while his decision to race isn't official and he'd likely make the announcement on a future podcast episode, if it happens, he said there's one specific thing that would likely solidify his entering to race at the track.
"It'd be cool and I teased this on Twitter if we got the Sun Drop car," Earnhardt said. "I raced the Sun Drop at North Wilkesboro in 1993. It'd be cool if Sun Drop would OK us putting their logos on the car for this event. They would definitely push me further toward getting online and logging my entry."
No pressure, Sun Drop.
Like Sportscasting on Facebook. Follow us on Twitter @sportscasting19.