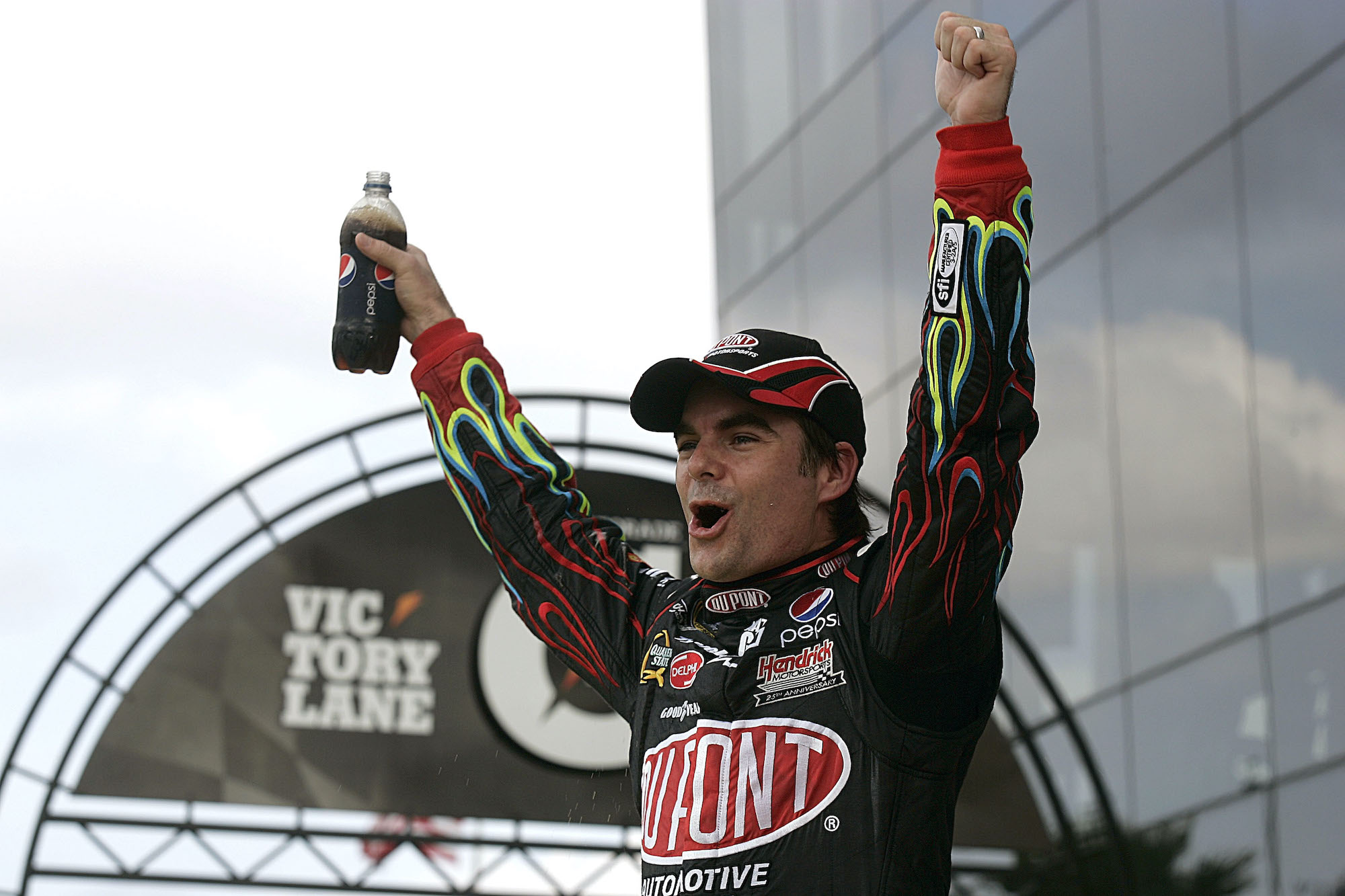 Jeff Gordon Surprisingly Admits There's a Possibility He Might Come Out of Retirement to Race in Future
Jeff Gordon last raced competitively in 2017 at the 24 Hours of Daytona and recently surprised his fans by acknowledging he might run in the 24 Hours of Le Mans in 2023.
Jeff Gordon has a long list of racing accomplishments. The four-time Cup Series champion recorded an impressive 93 wins, including three Daytona 500 victories. He last raced competitively with NASCAR in 2016.
The 2019 NASCAR Hall of Fame inductee recently appeared on SiriusXM NASCAR Radio and was asked whether he might get behind the wheel and race competitively again. Interestingly, he didn't say no. 
Jeff Gordon races to Hall of Fame career
Jeff Gordon debuted full-time with the NASCAR Cup Series in 1993 and earned a couple of runner-up finishes but failed to win a race that first season. He then reeled off 14 straight seasons with a win and did so in bunches, amassing an impressive 81 victories during that time.
The numbers declined after the 2008 season, and he won a dozen races before retiring from full-time racing in 2015. Gordon transitioned to the broadcast booth, where he worked as an analyst with Fox Sports through last season.   
He stepped away from his role with the network this year to pursue work full-time as vice chairman at Hendrick Motorsports, where he is preparing for his role to run the company once Mr. H decides to step away.
Gordon doesn't rule out return to racing
Jeff Gordon last raced with NASCAR back in 2016. His last competitive racing came in 2017 when he competed in the 24 Hours of Daytona. Last week during an appearance on the "The Morning Drive" on SiriusXM NASCAR Radio, the hosts talked with the former driver about Dale Earnhardt Jr.'s recent one-off race at Martinsville and asked if he had considered coming back for a race. 
"As far as competing, I don't know," Gordon said. "This Le Mans program looks interesting. Probably going to do a little bit of simulator work for them. My last race was the 24 Hours of Daytona. I love that event. We had good success by winning it with Wayne Taylor Racing and with Cadillac.
"And so this program is something that would be exciting to go to Le Mans. I want to be a part of it. We are a part of it with Hendrick, but I just don't know if I'll be able to get behind the wheel and drive it in that race. I'm certainly going to go play around with the car when we get it. Play around with the simulator and see if it's something that maybe is realistic."
HMS partnered with NASCAR to field Le Mans car in 2023
Last month, NASCAR made a surprising announcement that it had partnered with HMS and would be fielding a modified Next Gen Chevrolet Camaro for the 24 Hours of Le Mans in 2023. Chad Knaus, VP of competition at HMS, is in charge of overseeing the project.
Gordon's comments on SiriusXM clearly indicate that he'll be more involved than just being aware of the program. Whether that leads to him actually participating in the race is yet to be determined. If it does happen, it's a guarantee many of his fans will tune in just to see him race one more time.
Like Sportscasting on Facebook. Follow us on Twitter @sportscasting19.