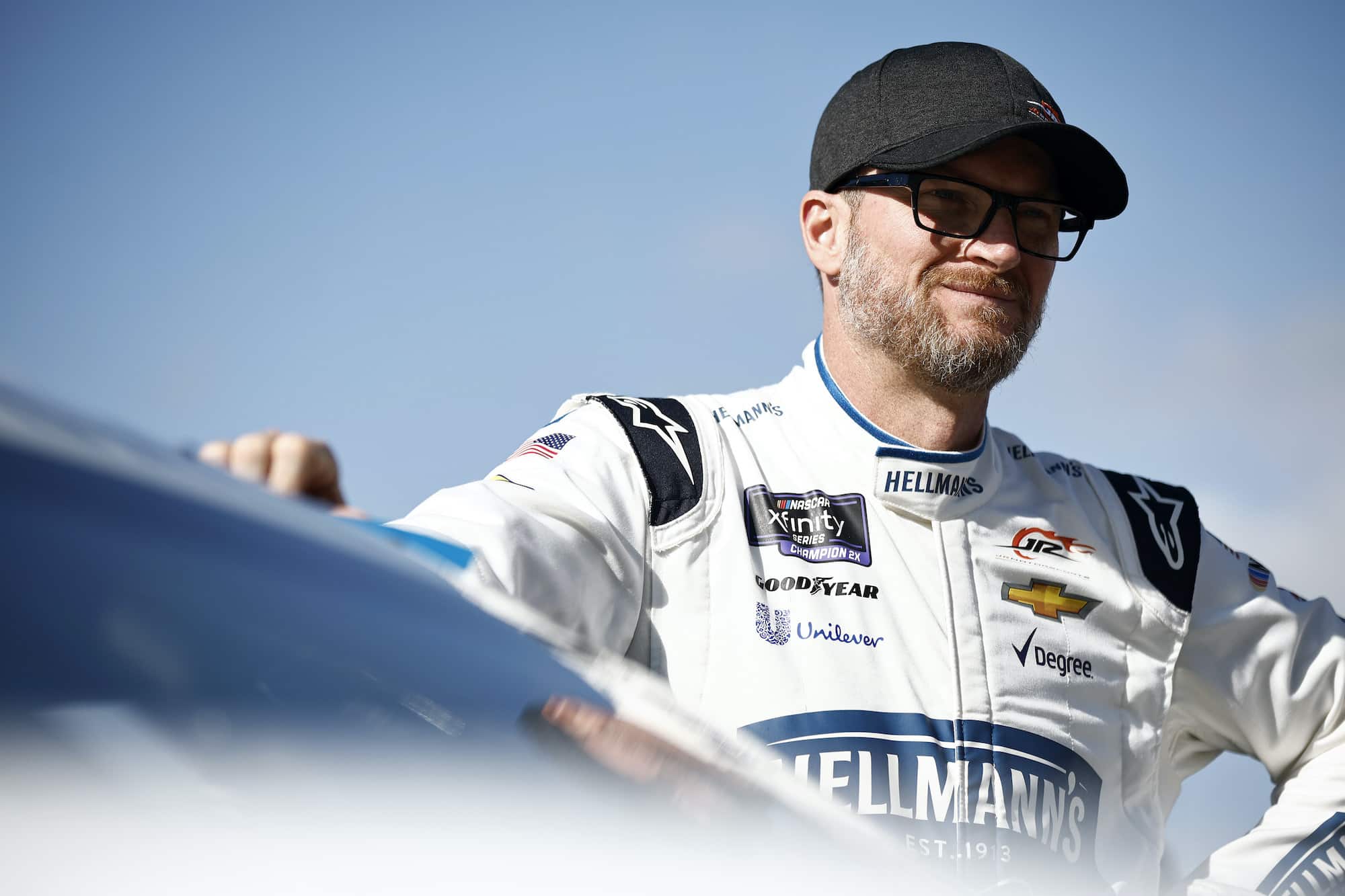 Dale Earnhardt Jr. Makes Surprise Announcement of Racing Return During Live Dale Jr. Download in Nashville
Dale Earnhardt Jr. surprisingly announced on Friday that he's making a special return behind the wheel in August for some short-track racing.
Dale Earnhardt Jr. has been outspoken for years about the return of racing to the historic North Wilkesboro Speedway, which last hosted a Cup race in 1996. Last November, things started moving in the right direction when the North Carolina legislature included funds in the budget for improving the track.
Just a few months ago, Speedway Motorsports announced it would host a couple of months of racing in August and October on a couple of different surfaces before the full-scale renovation begins in 2023. With the track coming back to life, many race fans wondered if the one person who has been so influential in bringing it back would race on it at some point. On Friday, they got their answer.
Dale Earnhardt Jr. seen practicing at North Wilkesboro this week
Dale Earnhardt Jr. caught the attention of race fans earlier this week with a video on social media showing him making laps in a late-model race car at North Wilkesboro Speedway, a track the NASCAR Hall of Famer has been instrumental in bringing about its restoration. Junior talked about what it was like returning to a track he hadn't been on in almost three decades. 
"It was a lot of fun to go around the race track again. It's been since 1995 since I've run any laps here," Earnhardt admitted. "I was really surprised at how great the track condition is. The surface of the race track is ready to rock, and they've been doing a lot of work here over the past several months and there's a lot more work to do. There's people here today working around this race track trying to get it ready for racing here." 
Dale Earnhardt Jr. announces he will be racing at North Wilkesboro in August
Naturally, Earnhardt's involvement in the track's restoration since the very beginning coupled with him turning practice laps this past week, speculation grew that he would compete on the track when the races kicked off in August. 
During a live episode of the Dale Jr. Download on Friday at Ole Red in Nashville, Earnhardt talked about his love for the Nashville Fairgrounds and hopes of racing returning to the track in the future, and then shifted his talk to what's been going on at North Wilkesboro. 
"It's been sitting there since 1996 abandoned, whatever you want to call it," Earnhardt told the crowd. "It was a lost speedway. Me and Matthew (Dilner) actually talked about doing an episode on our TV show. Through a lot of effort and a lot of interest, we've been able to bring this race track back to life and there is racing scheduled at North Wilkesboro Speedway in August. There will be races happening every single week. 
"Also in October they're going to dig the asphalt up and turn it into a dirt track. There will be races in October every week at North Wilkesboro Speedway as well. And then they'll repave it next year. This race track is getting a lot of refurbishing done to it. They're working on it every single day trying to get it ready for the races in August. I own late model stock cars. We're going to enter two cars on the 31st of August there's a race. We're going to enter two cars and I'm going to be driving one of them."
Not surprisingly, his announcement drew a big applause from those in attendance.
North Wilkesboro has a storied history
Dale Earnhardt Jr. regularly talks racing history on his podcast. North Wilkesboro has plenty of it. The track hosted its first NASCAR Cup Series race in 1949 and saw Jeff Gordon win the last event there in 1996.
For years it sat dormant.
Last November, the North Carolina legislature delivered news that Earnhardt and fans of the track wanted to hear when it included $18 million toward infrastructure improvements on the 75-year-old track in the state budget.  
Now, after years of talking about it and more recently working as a volunteer in cleaning up around the venue, Earnhardt will get to compete on the track. The only thing that could make this feel-good story better is for the two-time Daytona 500 winner to come out victorious on the short track. That would make for a fairytale ending.
Like Sportscasting on Facebook. Follow us on Twitter @sportscasting19 and subscribe to our YouTube channel.