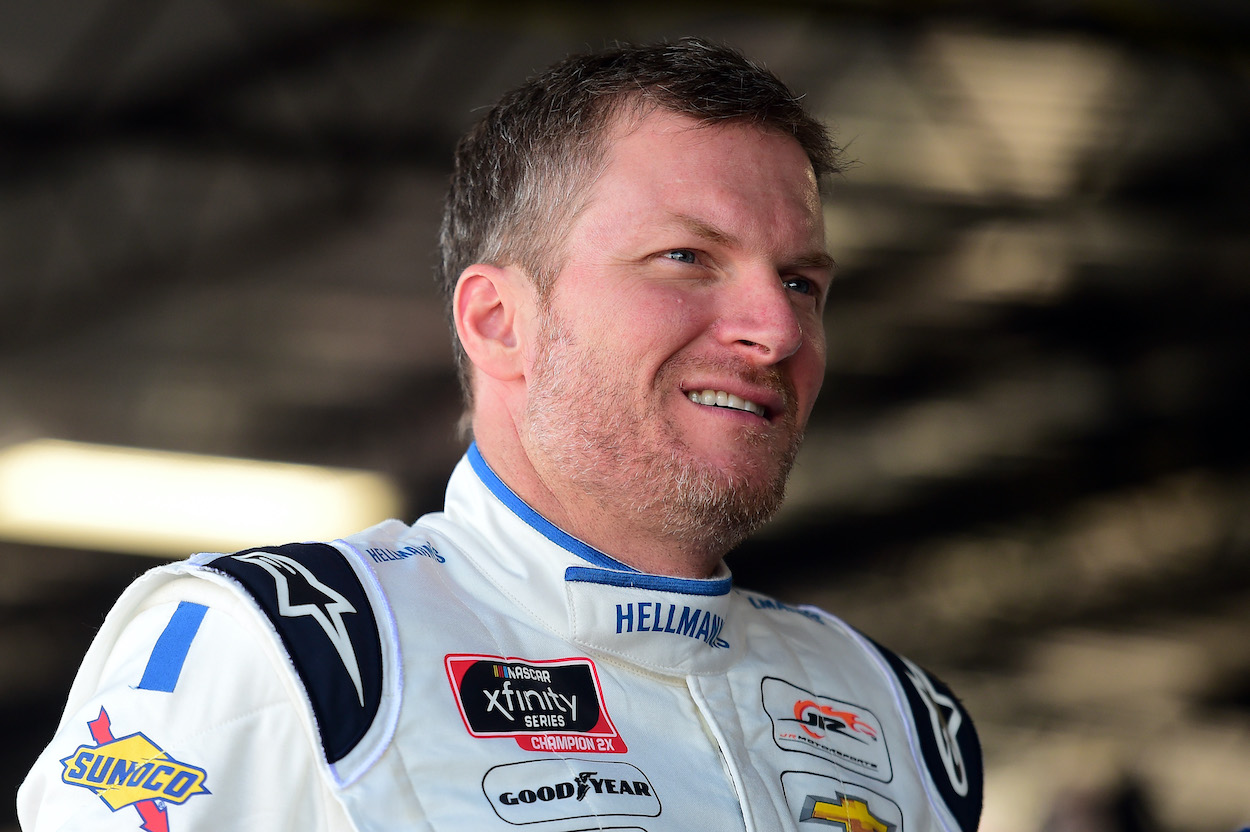 Dale Earnhardt Jr. Surprisingly Joins Bubba Wallace, Chase Elliott, and Ryan Blaney as First Drivers to Turn Laps Inside LA Coliseum
Dale Earnhardt Jr. was surprisingly one of the first drivers to run laps with the Next Gen car inside the LA Coliseum.
While Dale Earnhardt Jr. retired after the 2017 season, you certainly wouldn't know that by his recent on-track activity. Since the close of the 2021 NASCAR Cup Series season, the recent Hall of Fame inductee has strapped inside the Next Gen car for multiple testing sessions. 
On Friday, the two-time Daytona 500 winner got to do something special with the Next Gen car when he was one of the first drivers to run laps around the quarter-mile track inside the iconic LA Coliseum. Here's why it happened. 
Dale Earnhardt Jr. supportive of Clash at Coliseum when announced 
Last year when NASCAR announced the 2022 schedule for all three series, Dale Earnhardt Jr. had mixed emotions. He was less-than-thrilled about the Xfinity Series race scheduled for Portland's road course. Instead of adding more short tracks as he had suggested for years, NASCAR was taking a "gimmicky" route. 
The announcement of the Clash at the Coliseum fell somewhere in the middle. 
"Not to say that the Coliseum thing won't be great," he said on the Dale Jr. Download. "It's an exhibition. It's a test. It's a short track. It's extremely short, but it is a short track, so it should be pretty aggressive. It will really be on the drivers' shoulders. 
"When we go to the Coliseum race, that working or not working I think will be the responsibility of the drivers. They've got to go, and they've got to want to duke it out. I think the Coliseum idea is to try to force them into a position where they have to fight it out. If they do, if they're willing to go push each other around a little bit, that'll be a pretty fun deal."
Dale Earnhardt Jr. one of the first drivers to ever turn laps inside LA Coliseum
This week NASCAR has been in the LA spotlight for the Clash at the Coliseum. NASCAR Race Hub aired shows live inside the stadium all week. 
Later in the week, drivers started trickling into town and making their way to the Coliseum for a walk around the track. On Friday, several drivers had the opportunity to run laps around the track, including Bubba Wallace, Ryan Blaney, Chase Elliott, and Dale Earnhardt Jr. 
The first three drivers make sense. They're participants in this weekend's festivities. Earnhardt was a surprise and drove Alex Bowman's No. 48 Ally Chevrolet. All of the drivers were participating in a promotion being filmed for NBC to air during next week's Super Bowl pregame coverage. 
"Had some fun filming a little piece for NBC," Earnhardt tweeted. "Not lost on me was being one of the first drivers to hit the new LA Coliseum surface. It's slick. Gonna be a brawl Sunday. Appreciate @Alex_Bowman loaning me his ride."
Learned how Next Gen car will drive during Bowman Gray test
While Earnhardt will always be able to say he was one of the first drivers to turn laps on the track inside the iconic venue, he didn't get a chance to see how the track will race because the cars weren't going anywhere near actual racing speeds. 
However, Earnhardt did get an idea of that back in October when he performed his first test with the Next Gen car at Bowman Gray Stadium, a venue many suggest is comparable. After his session, the former driver had nothing but good things to say about the car.
"I think this car is a great match for this track or any track, whereas the car we have now doesn't work everywhere and is difficult in places like this," he said. "I'm sold now. I was skeptical, but I think it's going to work really well."
Even as an exhibition, the Clash at the Coliseum is one of the most anticipated NASCAR races in years. And despite being in the Hall of Fame and inactive since 2017, Earnhardt will always be able to say he was involved in the first-ever race.