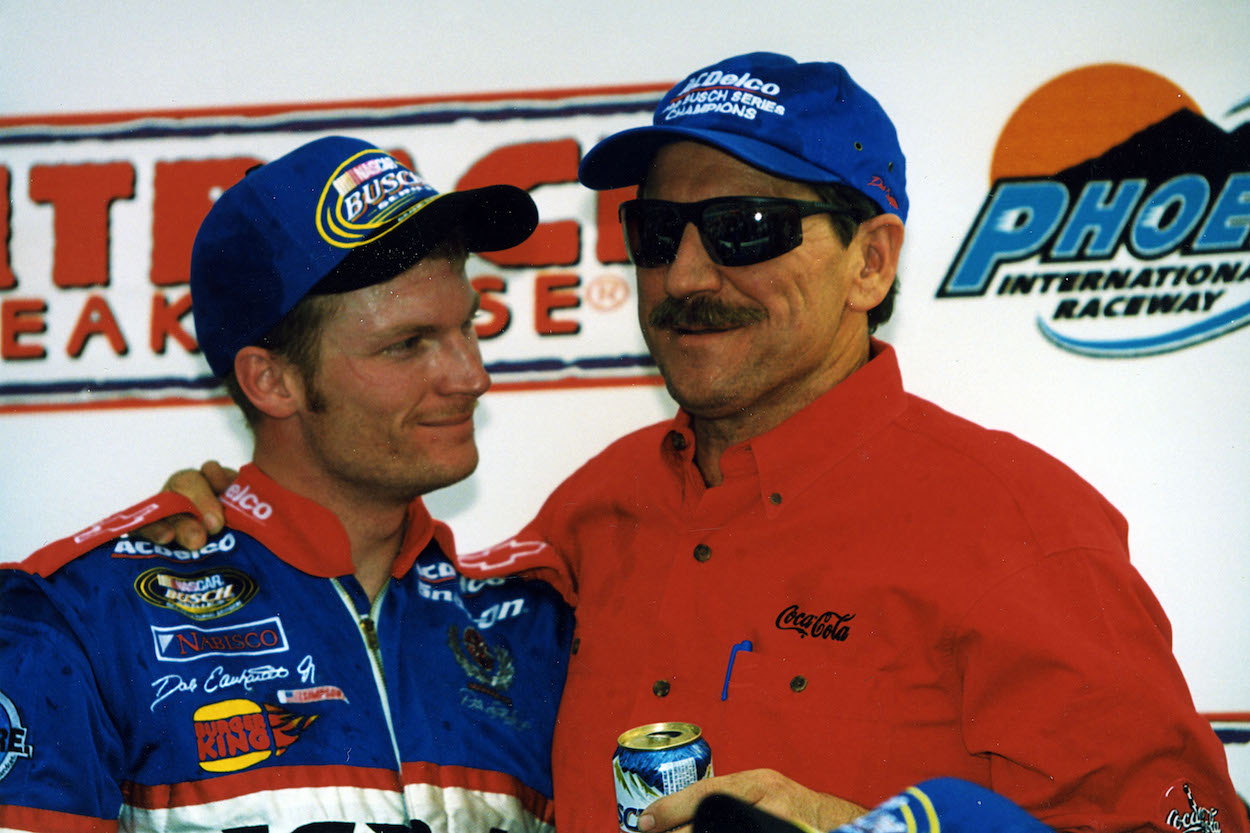 Dale Earnhardt Jr. Mourning Death of Family Member Who Served as Father Figure After Dad's Passing and Who Confirmed Several Months Ago How He Made a Single Call That Changed Junior's Racing Career
Dale Earnhardt Jr. is mourning the passing of a close family member who served as a father figure after his dad's tragic death at Daytona and who also made a phone call that changed his future in racing.
Dale Earnhardt Jr. thought fondly of his uncle Danny Earnhardt Sr., who was involved in his dad's early career and had worked at JR Motorsports for years. Just a couple of months ago Junior had him on as a guest for an intriguing Dale Jr. Download episode where they went back in time and discussed those early days of Danny growing up in the Earnhardt household, what it was like watching Dale find success on the track, and the painful memories of that fateful day in February 2001 when Senior tragically died at the Daytona 500. 
On Friday, the JR Motorsports Twitter account announced the unexpected death of Danny. While he will certainly be missed by many, his legacy lives on. And it was quite a legacy, which included serving as a father figure for Junior after his dad's death and making a phone call that would forever change the course of his nephew's career. 
Danny Earnhardt Sr. dies at 66
Late Friday, it was a simple and surprising message posted to the JR Motorsports Twitter account: "Our thoughts and prayers are with the Earnhardt family with today's passing of our friend and coworker Danny Earnhardt Sr."
Dale Earnhardt Jr. retweeted the comment as well as the post from his cousin, Danny Jr., which read: "Today has been the hardest day of my life. My dad was my hero, a person who's work ethic could never be matched. I inspired everyday to be looked at and loved like he was by the people that surrounded him. No one would go further out of there way than my dad to help you!"
NASCAR issued a statement of its own on Danny Sr.'s passing: "The Earnhardt family holds a special place in NASCAR history and Danny Earnhardt was an important part of their success. Danny worked hard behind the scenes, helping three generations of Earnhardts succeed. On behalf of the entire NASCAR industry, our thoughts are with the Earnhardt family during this difficult time."
Dale Earnhardt Jr.'s career changed with a single phone call
Dale Earnhardt Jr. raced to 24 Xfinity Series wins, and a couple of championships, plus 26 Cup wins, including a pair of Daytona 500 victories. All of it combined earned him a nod for induction into the NASCAR Hall of Fame. 
His career started innocently enough in the early 1990s racing late models at Myrtle Beach. Earnhardt's sister, Kelley, told USA Today in 2017 that her brother was "low-key" about racing even though "he had a desire to show our dad that it was something he was interested in and something he could do." She also said their "dad wasn't really doing anything to support him." However, one phone call from Dale Sr.'s brother, Danny, changed everything.
"I called his dad and told him he could drive," Danny admitted on an episode of the Dale Jr. Download in September. "When he run Myrtle Beach and I actually seen him race in the Busch car…I called Dale the next morning and I said, 'That boy can drive a race car.' He said, 'Oh you can't go by one race. What are you talking about?' I couldn't tell him nothing. But I guess the rest is history."
Despite Dale rejecting his younger brother's suggestion on the surface, his words mattered and Junior made his debut with the Xfinity Series in 1996.
"I think it actually did though make a difference," podcast co-host Mike Davis suggested to Danny. "Don't you?"
"Probably did," Danny modestly admitted. 
"I just don't think he's going to let you know that," Davis replied.
"It was his idea, not mine," Earnhardt laughed about his older brother taking credit for the move.  
Dale Earnhardt Jr. revealed how Danny served as a father figure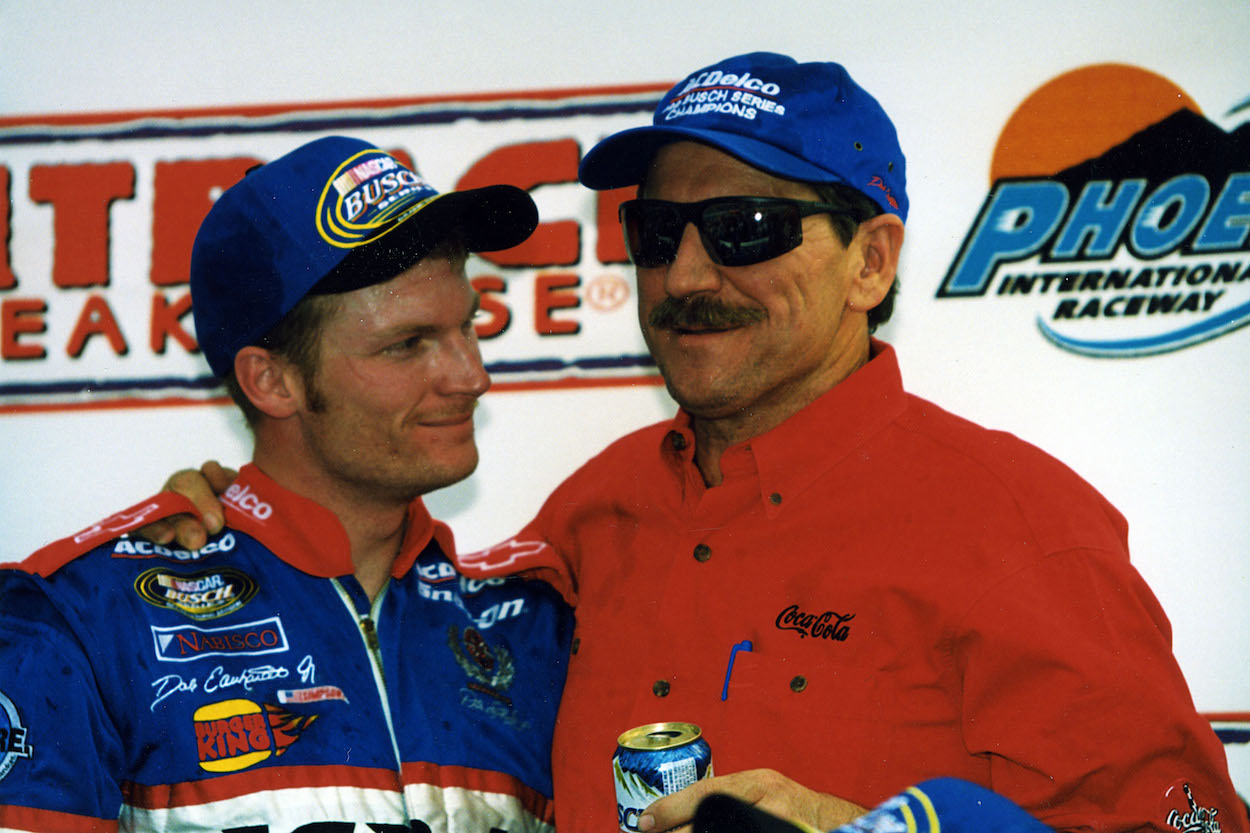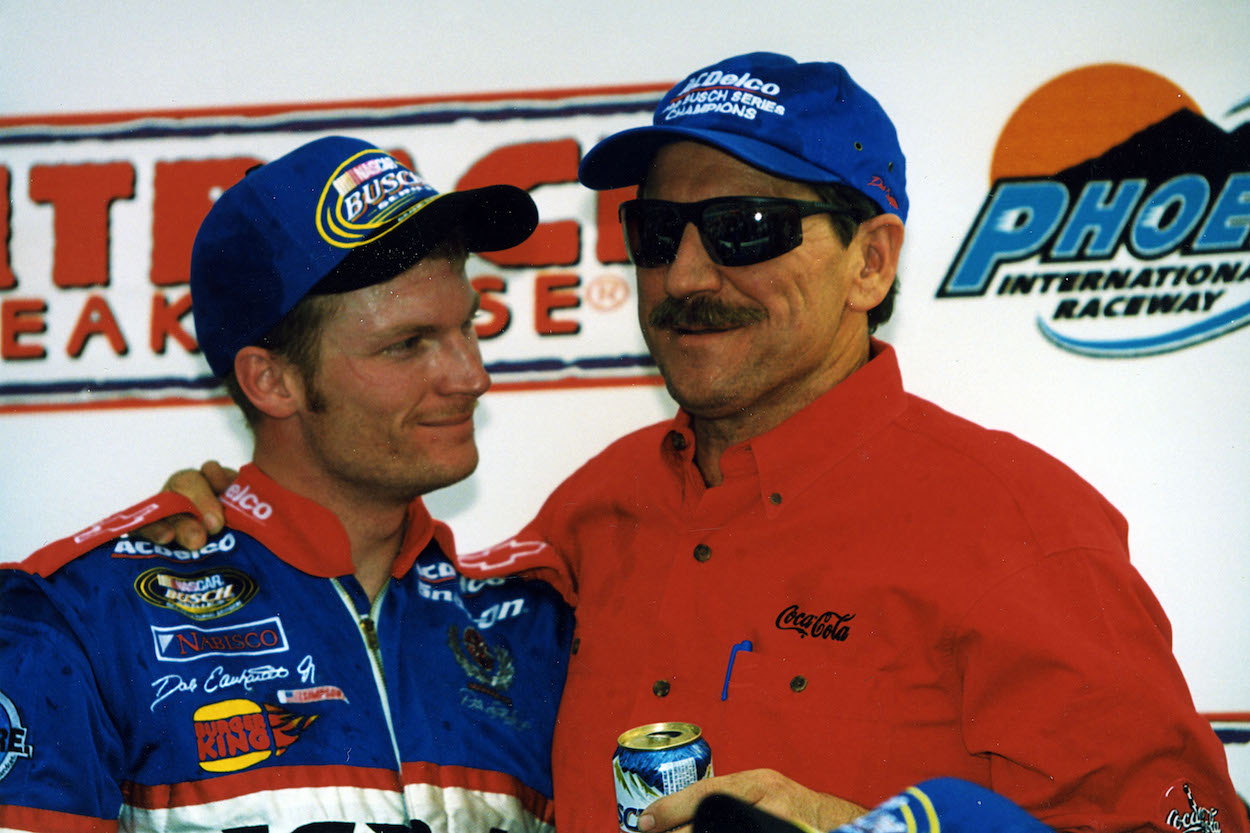 That single phone call by Danny Earnhardt Sr. was enough for Dale Jr. to be grateful for the rest of his life. But during that same Download episode, it was quite evident that Junior and his uncle had a special bond, and the former driver revealed as much toward the end of their conversation.
"I know that you approve of Amy (Earnhardt's wife) and that means a lot to me," Earnhardt said to his uncle. "Because I did want to make Daddy proud and that's kind of a big decision in life and I did want to do that one the right way and make a good choice that he would be happy with and I feel like I kind of did because of the way you feel about it."
"You did," Danny assured him. 
"I don't know man. There's just ways that I kind of lean on you and you don't even know it to get some approval on something. Get the OK," the nephew admitted. "I appreciate that and you mean the world to me. That's why I wanted you to come on here so hopefully people get to know you a little more. I can't have this podcast and have all these cool guests on here without having you on here, too." 
Dale Earnhardt's tragic death at the Daytona 500 left his son feeling lost and without someone to provide him with that fatherly guidance. His uncle stepped in and filled various roles. Like that phone call years earlier, it was just another way that Danny was always looking out for Junior. While his passing is painful for the Earnhardt family and NASCAR community, they can all take solace knowing that he made an impact in their lives in so many different ways.
Like Sportscasting on Facebook. Follow us on Twitter @sportscasting19.