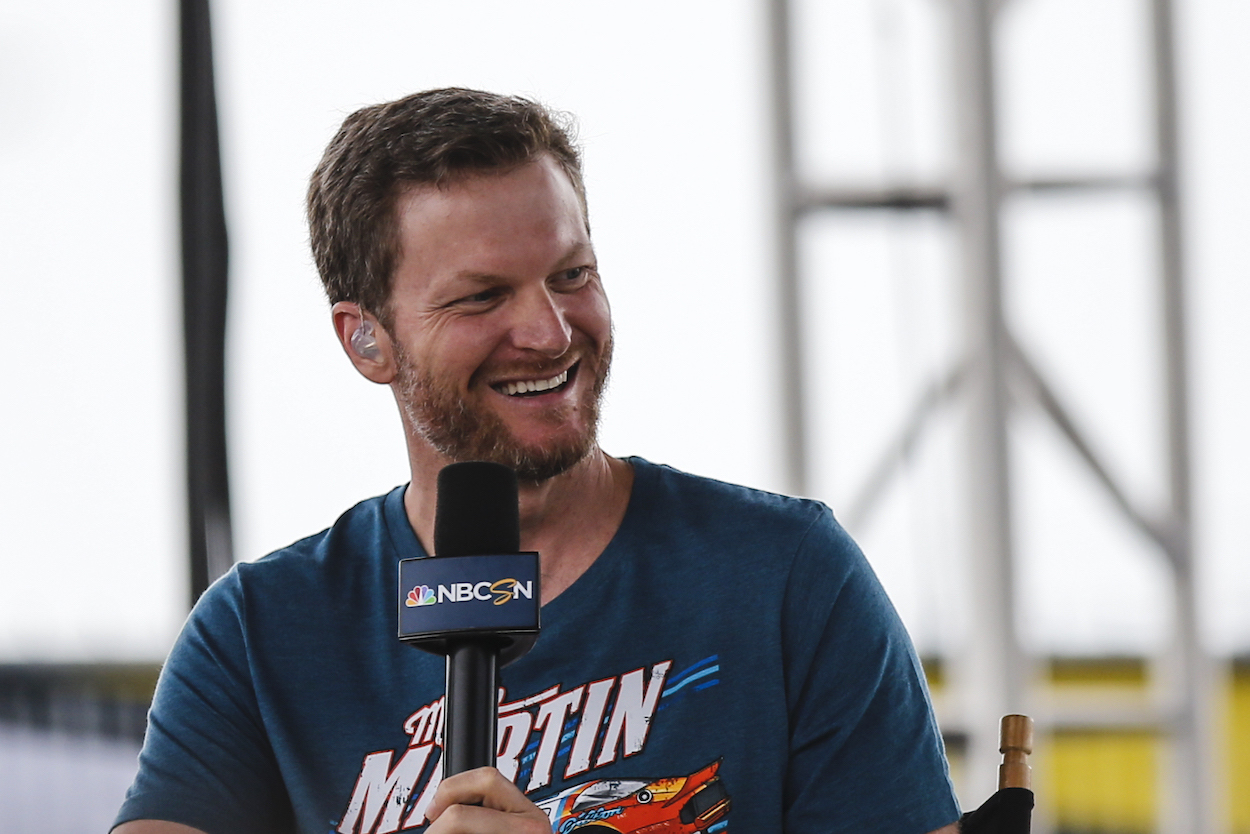 Dale Earnhardt Jr. Reveals Coolest Sponsor Perk He Ever Received, and It's Not an Unlimited Supply of Free Budweiser
Dale Earnhardt Jr. revealed on his podcast that the coolest sponsor perk he ever received was better than free Budweiser and he still has this prized possession today.
When your name is Dale Earnhardt Jr., your career included some pretty nice perks from a variety of sources. On a recent episode of the Dale Jr. Download, the two-time Daytona 500 winner revealed the coolest sponsor perk he ever received, and it wasn't free beer from Budweiser. The NASCAR Hall of Famer also admitted that it's something he still has in his possession today.
Dale Earnhardt Jr. received an unlimited supply of Budweiser
Dale Earnhardt Jr. and Budweiser were synonymous with each other early in his career. As part of the sponsorship, that meant a seemingly unending supply of free beer. Not surprisingly, the young driver took advantage of the deal to the point that the local beer distributor had some concerns and brought it up with Earnhardt's team.
Former Dale Earnhardt Inc. executive Ty Norris revealed as much during an episode of the Dale Jr. Download when he recalled a time that he received a call questioning the volume of beer being delivered to Earnhardt's house. 
"The most beer that he delivered to any retailer in the entire state of North Carolina is in Mooresville at Dale Jr.'s house. Is he selling it?" the distributor asked Norris.
"No, they are drinking it," Norris confirmed. The former driver clarified that he had plenty of help consuming the beer and admitted that he and his guests consumed around 150 cases of beer during one New Year's Eve party.
Dale Earnhardt Jr. reveals coolest sponsor perk he ever received
While receiving an unlimited supply of beer would be considered a top-of-the-line perk for a young man with lots of friends, Earnhardt admitted on a recent episode of his podcast there was an even cooler perk that he still has in his possession today.  
"The coolest one was in 1998," he said. "We won the Xfinity Series championship and Chevrolet — and it was like the middle of December, maybe a little after that. Dad called me up. It was like 10 o'clock in the morning, and he's like, 'Come over to the shop and meet me in the grand room. Put on some nice clothes. Put on a collared shirt.'
"So I go in there, and there's a red Corvette parked in the room and a couple of Chevy execs, and they were gifting me a 1999 red Corvette for winning the championship. I couldn't believe it. I was blown away."
Earnhardt said that his mom drove the car a lot and he still has it parked in her garage, which keeps it clean.  
"The thing ain't worth 20 grand today. Those cars didn't hold their value," he said. "I've gotten cool things for wins and things like that since, but that was like the first holy smokes I can't believe you're giving me this car. Unreal. That was one I'll never forget. Yeah, that was a pretty cool deal."
Favorite perk is not his favorite car
Although Earnhardt admitted the 1999 red Corvette he received from Chevrolet was his favorite perk, it's not his favorite car. In a 2014 interview with Men's Journal, he said that his favorite is a silver 1967 Camaro.
"My favorite car that I own is a '67 Camaro," he said. "It's silver and it has an aluminum head small block V8." He likes it because it's small, fast, and something more practical. "That car is reliable. Every time I get in it, it's ready to go."
During his career, Earnhardt was ready to go on and off the track. That's how he amassed 50 total NASCAR wins, drank lots of beer, and made plenty of memories.
Like Sportscasting on Facebook. Follow us on Twitter @sportscasting19.