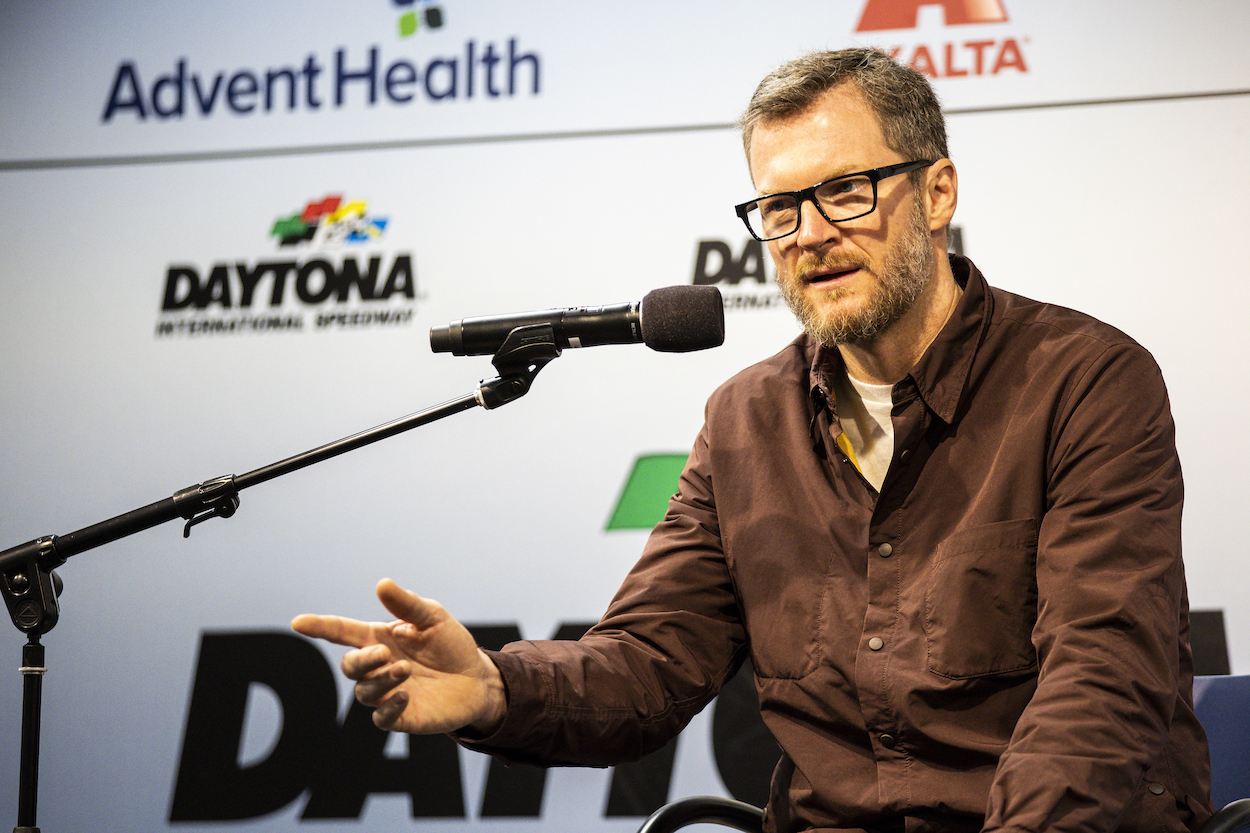 Dale Earnhardt Jr. Proven Correct in Prediction About NASCAR Handing Out Incredibly Harsh Penalties in 2022 for Cheating With Next Gen Car
Dale Earnhardt Jr. hinted at how harsh he thought NASCAR would penalize teams for cheating with the Next Gen car and this week the list of penalties came out and proved him right.
Dale Earnhardt Jr. had multiple conversations on his podcast last year about the Next Gen car and its debut in 2022. In one episode, he offered a very Dale Jr.-like honest assessment of the car and how teams would try to find any possible advantage to beat out the competition.
Depending on your perspective, some refer to it as being innovative. Others call it cheating
NASCAR refers to it as the latter. And this week, with all the teams dotting their i's and crossing their t's in final preparation just weeks before the Daytona 500, the governing body delivered a final warning to all the organizations on the importance of maintaining a level playing field by preserving the integrity of the Next Gen cars. And any team caught altering the cars will pay a harsh price, just as Junior also predicted.   
Dale Earnhardt Jr. admits cheating with Next Gen car is going to happen
There's an old saying in sports: "If you ain't cheating, you ain't trying." It's long been associated with NASCAR since the sport's early days. However, with the introduction of the Next Gen car and it being built with vendor-supplied parts, NASCAR wants to eradicate that mindset from the sport.
Dale Earnhardt Jr. may be retired, but he is a racer. He knows the mindset of the garage. Despite NASCAR's best intentions with the new car, he knows what the drivers and their teams are thinking. He said as much on his podcast last year.
"If you're not trying to figure out how to cheat, you're not going anywhere. With this new car, with new parts, new pieces, absolutely you've got to find an advantage," he bluntly admitted on the Dale Jr. Download. "You've got to be willing to take that gamble that NASCAR is probably going to come down super hard on the first guy that gets caught for messing with some of their stuff." 
And he's right. NASCAR's announcement this week on the official penalties confirmed just that. 
NASCAR warned teams about altering cars in December without specific penalties
With the NASCAR Cup Series moving into a new era with the Next Gen car, officials have made it abundantly clear for months that this is a major culture shift and they are dead set on preserving the integrity of the vehicle because its very design is intended to level the playing field and allow the driver's skill to determine the outcome of races. 
In December, during testing at Charlotte, NASCAR Executive Vice President Steve O'Donnell didn't mince words. 
"It used to be let's see what we can get away with and go racing," O'Donnell said. "That's not the case with this car. We've built this car to try and make it as fundamentally sound as possible in collaboration with the teams. And then really put it on the teams and drivers and pit crews to go out there and win races."
In no uncertain terms, O'Donnell said that any teams attempting to make unapproved adjustments would pay a stiff price. 
"Penalties will be ratcheted up," he said. "We're hopeful that we don't have to do that but we have put everybody on notice that this is a culture shift. This is why we went to this car as well and we expect everyone to get in line. We're all going to learn together."
NASCAR details harsh penalties and confirms Earnhardt's prediction
At the time, O'Donnell did not provide specifics about the penalties for the 2022 season. This week NASCAR released that information, and it includes a three-tiered system: L1, L2, and L3.
The first two levels include lesser infractions, including failure to meet minimum weight postrace, and failure to submit and receive approval of parts in accordance with the NASCAR rule book. Penalties include points deductions (up to 75 points), playoff points deductions (up to 10 points), suspensions (up to three races), and fines (up to $100,000).
The L3 penalty is the one understandably getting the most attention from the teams and media. This is the one on which NASCAR shows its teeth and how serious it is about changing the culture. The violations can include counterfeiting or modifying single-source Next Gen parts, engine infractions (i.e. cubic-inch displacement, compression ratio) and performance enhancement (nitrous oxide, vacuum leaks), Engine Control Unit or Electronic Fuel Injection infractions, altering tires or fuel, and violating the vehicle testing policy.
The maximum penalties for these types of violations are staggering and include docking the team up to 180 points and up to 50 playoff points, banning from the postseason, and levying up to a $500,000 fine. Teams guilty of repeated L3 violations could face a one-race suspension.  
The half-million-dollar fine is hefty, but the real eye-catching penalty is missing the playoffs. While Dale Earnhardt Jr. knows what's happened in the past from previous experience, penalties this harsh were never possible. It will be intriguing to see if teams are willing to, as he suggested, take a gamble and effectively risk any chances at a title or fall in line and follow the rules.
Time will tell.
Like Sportscasting on Facebook. Follow us on Twitter @sportscasting19.