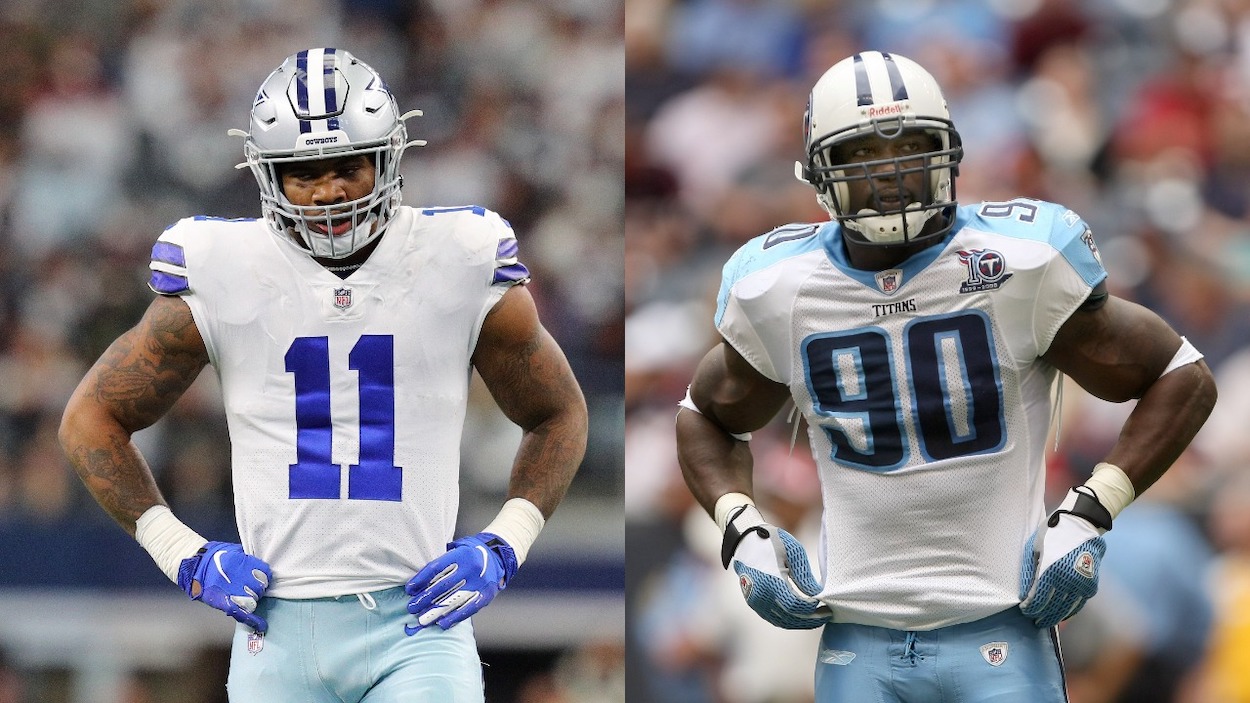 Dallas Cowboys Rookie Micah Parsons Is Doing Things the NFL Hasn't Seen Since a Future All-Pro Rookie Nicknamed 'The Freak' Roamed the Field
Dallas Cowboys rookie superstar Micah Parsons is taking aim at Jevon Kearse's rookie sack record and maybe even an MVP Award and a Super Bowl trophy.
Two decades ago, a rookie defensive end came into the NFL who was so big, so fast, so strong, so explosive, so athletic, that they called him "The Freak." Jevon Kearse terrorized QBs for 11 seasons with the Tennessee Titans and Philadelphia Eagles. However, his rookie year — with his 14.5 sacks — went down in history. Now, Dallas Cowboys athletic marvel Micah Parsons is challenging that record and so much more.
Jevon' The Freak' Kearse took the NFL by storm in 1999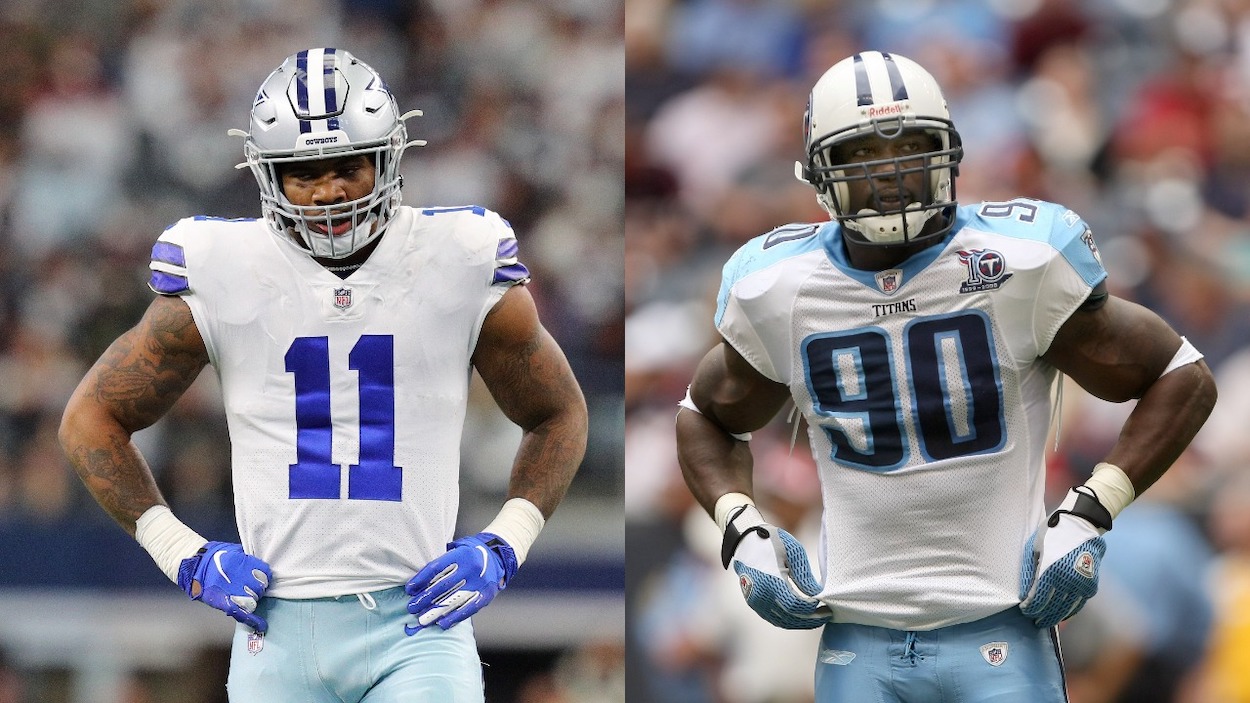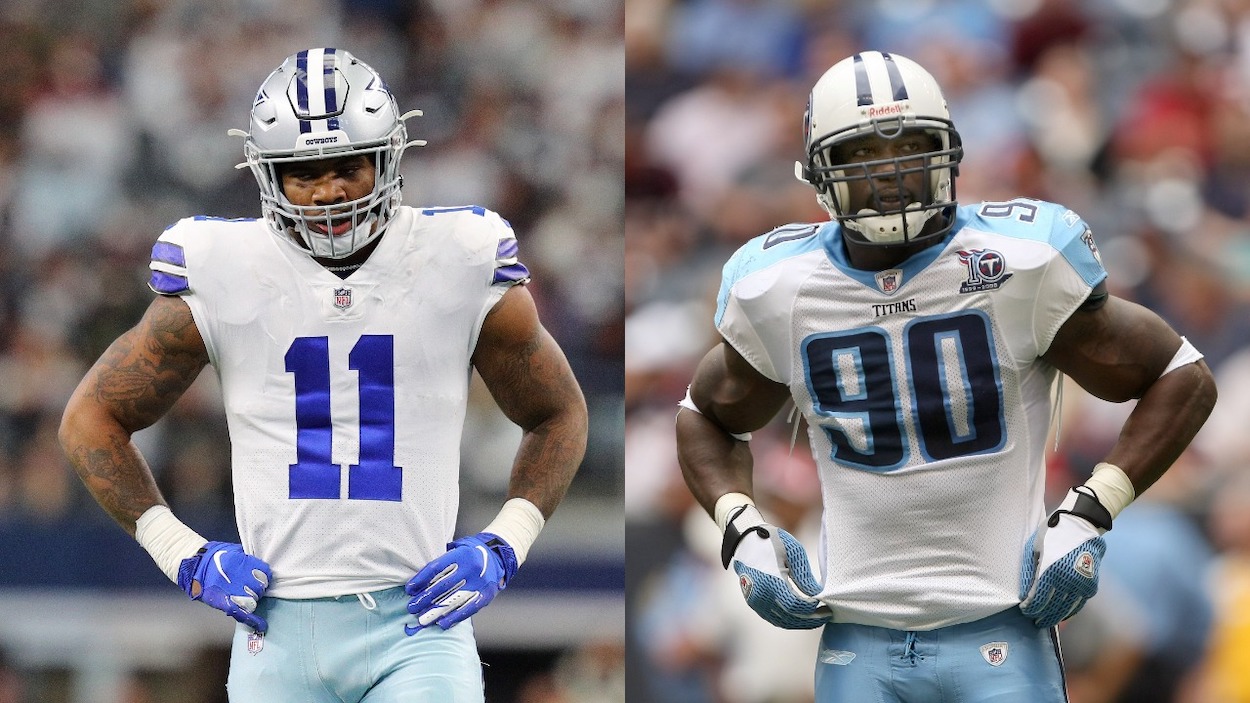 "The Freak," Jevon Kearse was 6-foot-4, 200-plus pounds while attending high school in Fort Meyers, Florida, where he played tight end and safety, per Sports Illustrated. As he grew to 260-pounds, Kearse transitioned from the defensive backfield to linebacker at the University of Florida.
As a Gator, Kearse finished his career with 145 tackles, 34.5 tackles for a loss, 16.5 sacks, six forced fumbles, one interception, one recovered fumble, and 19 pass deflections, per FloridaGators.com. He also was a two-time All-SEC player and won SEC Defensive Player of the Year in 1998.
In 1999, the Tennessee Titans drafted Kearse No. 16 overall, and he started his career as an NFL defensive end.
Kearse retired in 2009 after 11 NFL seasons after making three Pro Bowls, being named to one All-Pro team, and sacking the quarterback 74.0 times.
It was his rookie season that was truly special, though.
On his way to winning the 1999 Defensive Rookie of the Year Award, Kearse put up 58 tackles, 15 tackles for a loss, one fumble recovery, and scored a touchdown. He also led the league with eight forced fumbles and set the all-time rookie record with 14.5 sacks.
That record still stands today, but it might not for much longer if Dallas Cowboys' rookie sensation Micah Parsons has anything to say about it.
Micah Parsons is having one of the best rookie seasons of all time
Most mock drafts had the Dallas Cowboys taking a cornerback at No. 12 in the 2021 NFL Draft. However, the Carolina Panthers took Jaycee Horn at No. 8, and the Denver Broncos followed by picking Patrick Surtain II at No. 9.
Jerry Jones and son Stephen didn't panic, though. They simply took the best player left on the board, Penn State linebacker Micah Parsons.
Parsons has been nothing short of incredible thus far for the Dallas Cowboys.
From the moment he begged his coaches to let him get back on the field during an episode of Hard Knocks, NFL fans could tell Parsons was built different.
He started the year at linebacker and allowed the Cowboys to cut ties with fellow LB Jaylon Smith and decline Leighton Vander Esch's fifth-year option to give themselves more cap flexibility going forward.
Even more importantly, Parsons' athleticism and skill allowed head coach Mike McCarthy and defensive coordinator Dan Quinn to move the interior LB to DE when Pro Bowl pass-rusher DeMarcus Lawrence went out with an injury.
The former Nittany Lion responded by becoming not just the best linebacker drafted in 2021 but the best defensive end as well.
Parsons now has a sack in six straight games, tying Denver's Mike Croel from 1991 and just two behind Jevon Kearse's record of eight consecutive games with a sack (and 10 with at least a half-sack) in 1999.
Speaking of The Freak, Parsons now has 12.0 sacks, which is just 2.5 sacks behind Kearse's rookie record. The Dallas Cowboys rookie still has four games to set a new mark.   
Parsons is raising the ceiling for himself and the Dallas Cowboys
Rookie records and even the Defensive Rookie of the Year Award now seem like small potatoes with the way Micah Parsons is playing. He has the hardware for first-year defenders locked up, and now, it would be more surprising if he didn't break Jevon Kearse's record than if he did.
Parsons is playing so well and leading the Dallas D — and really the team as a whole — to such heights that pundits are now talking about Parsons for Defensive Player of the Year and even MVP.
ESPN's Ryan Clark tweeted a comparison between Khalil Mack's 2016 DPOY season and Parsons 2021 campaign. Through 13 games, the Cowboys rookie has more sacks, tackles, TFLs, and QB hits. Clark's ESPN colleague Domonique Foxworth takes it a step further and says Parsons is his MVP this season.
"Micah's stats are incredible," Foxworth noted. "But his impact is not about the statistic as much as it is about the flexibility he gives them and the resilience he gives them defensively."
With QB Dak Prescott and the Cowboys' offense inconsistency and struggles, the Dallas D is leading the team to wins while keeping it in the NFC East lead and in the mix at the top of the conference.
A DeMarcus Lawrence/Randy Gregory/Micah Parsons pass rush trio creates one of football's most dangerous defensive lines. It is also reminiscent of the Michael Strahan/Justin Tuck/Osi Umenyiora triumvirate that helped lead the 2007 New York Giants to a Super Bowl victory.
If Parsons keeps playing at this level, all the individual accolades and team accomplishments are on the table for this generational talent.
All stats courtesy of Pro Football Reference