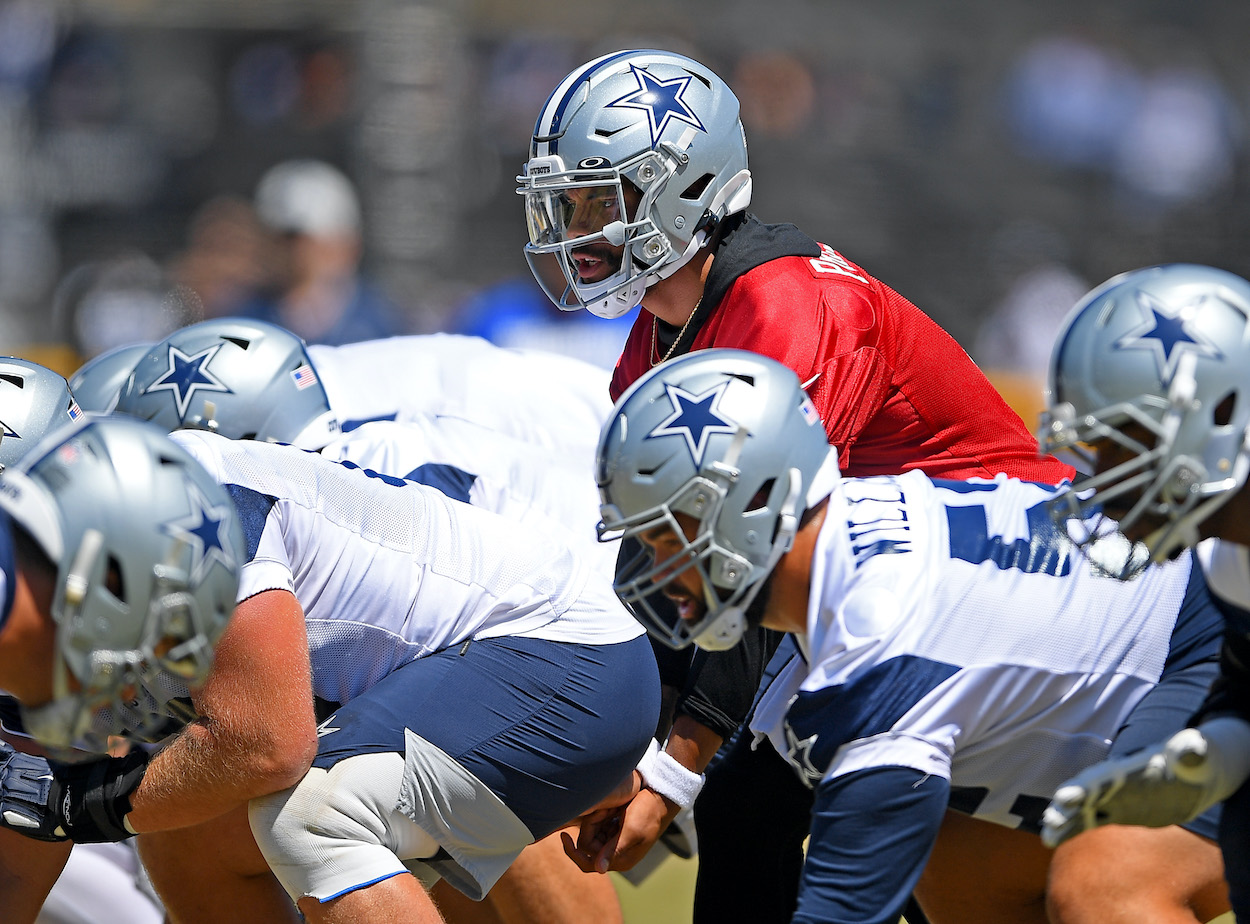 Dallas Cowboys Schedule, Record Prediction: Can Dak Prescott Lead 'America's Team' to an NFC East Title in 2021?
Dallas Cowboys schedule and record prediction for 2021.
The 2021 NFL season is finally upon us, and the Dallas Cowboys have high expectations with Dak Prescott returning from his ankle injury. Let's take a look at the full Cowboys schedule and try to predict where they finish up by the end of the year.
2021 Dallas Cowboys schedule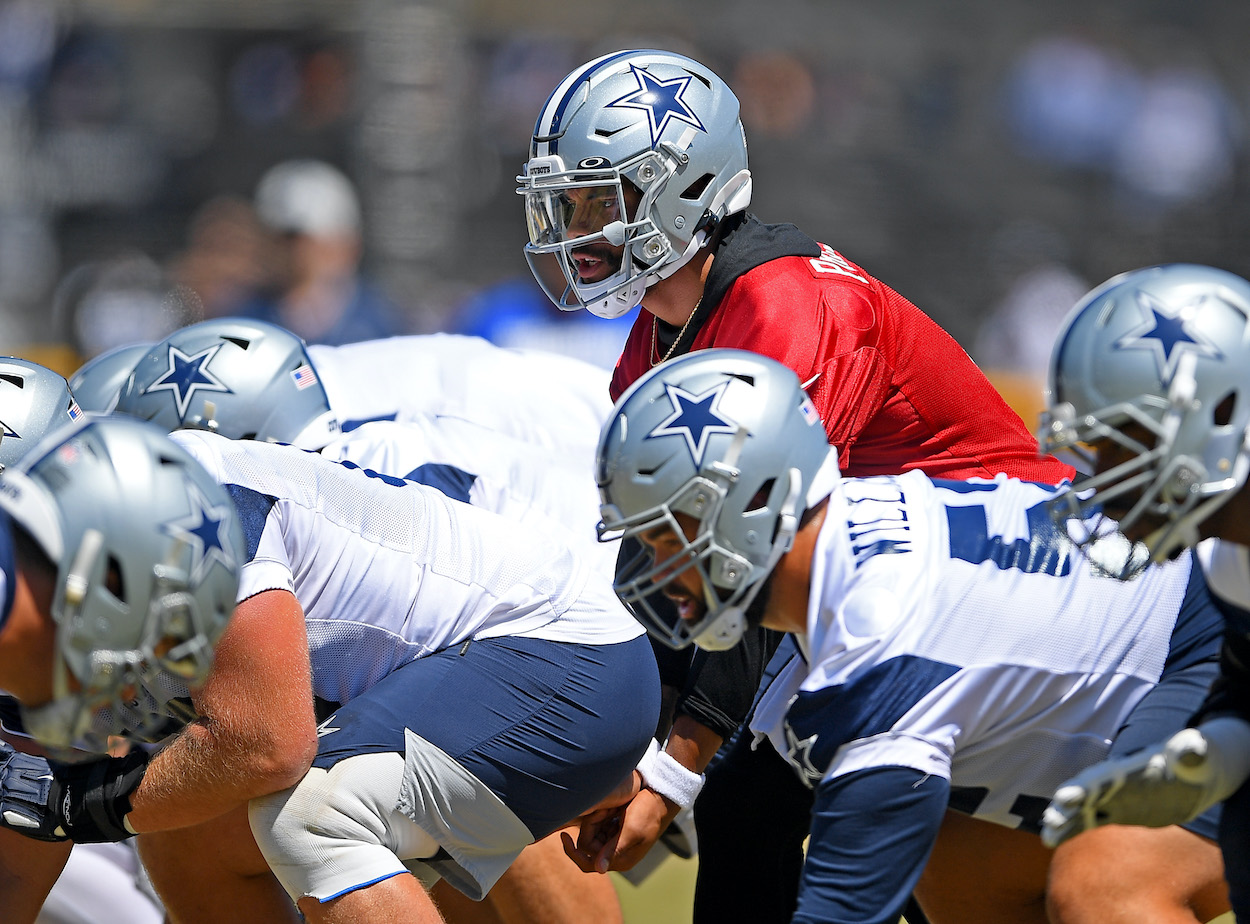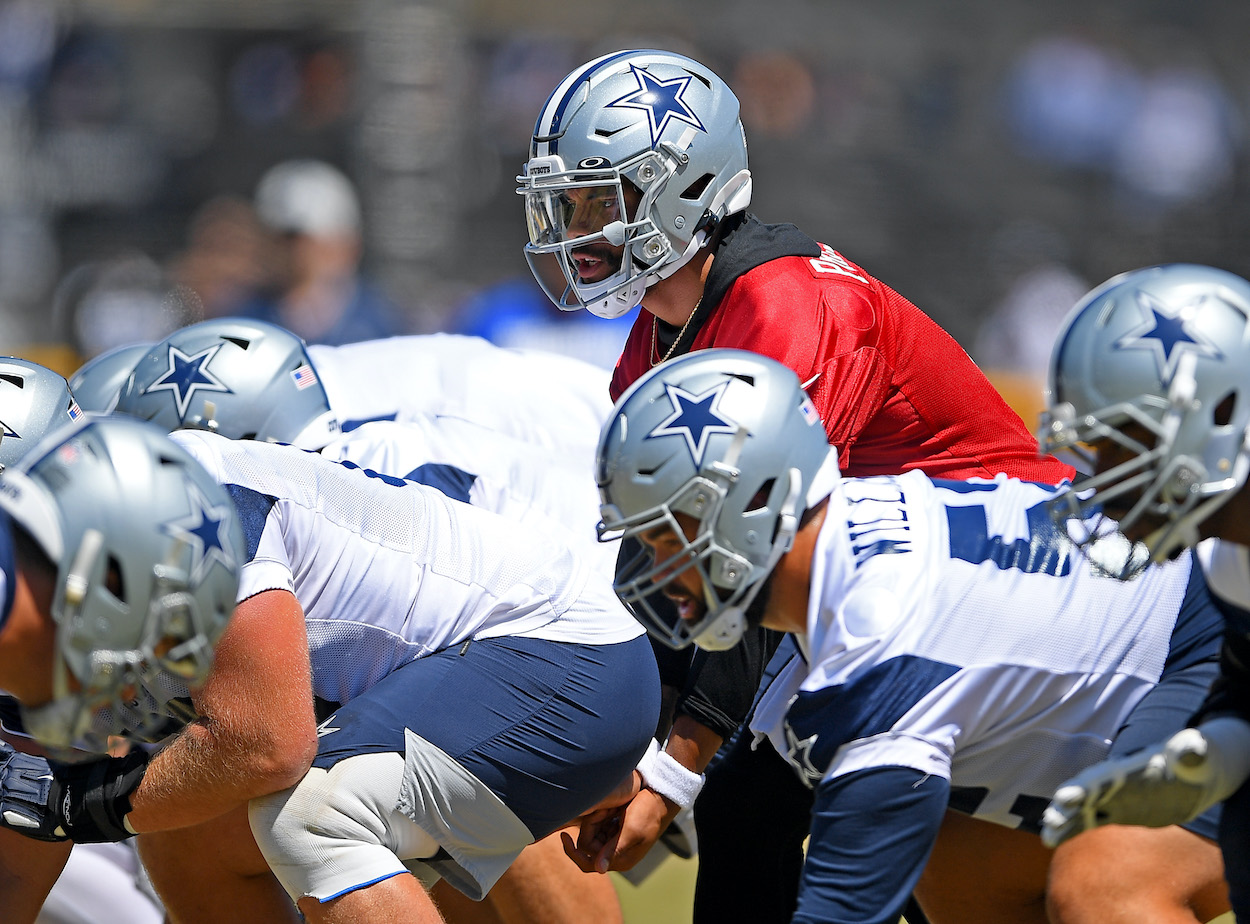 Sept. 6: at Tampa Bay Buccaneers
Sept. 19: at Los Angeles Chargers
Sept. 27: vs. Philadelphia Eagles
Oct. 3: vs. Carolina Panthers
Oct. 10: vs. New York Giants
Oct. 17: at New England Patriots
Oct. 31: at Minnesota Vikings
Nov. 7: vs. Denver Broncos
Nov. 14: vs. Atlanta Falcons
Nov. 21: at Kansas City Chiefs
Nov. 25: vs. Las Vegas Raiders
Dec. 2: at New Orleans Saints
Dec. 12: at Washington Football Team
Dec. 19: at New York Giants
Dec. 26: vs. Washington Football Team
Jan. 2: vs. Arizona Cardinals
Jan. 9: at Philadelphia Eagles
Cowboys record prediction for 2021
Week 1 at Buccaneers: Loss
The NFL schedule-makers didn't do the Cowboys any favors with their Week 1 matchup. Tampa Bay has all 22 starters returning from last year's Super Bowl roster, and Prescott will be coming into this one cold. Dallas starts the season with a decisive loss.
Week 2 at Chargers: Win
This one should be a shootout from start to finish, but the Cowboys have enough firepower to outscore the Chargers in their home stadium.
Week 3 vs. Eagles: Win
Jalen Hurts could be good enough to power the Eagles to an NFC East title, but it might take a few weeks for him to find a groove. The Cowboys should have a field day on this defense in Week 3.
Week 4 vs. Panthers: Win
Christian McCaffrey will be a nightmare for the Cowboys to contain, but hold him relatively in check, and this should be an easy victory.
Week 5 vs. Giants: Win
The Giants should be improved with Saquon Barkley back in the fold, but this offense doesn't have enough weapons to keep up with Dallas on the Jerry World turf.
Week 6 at Patriots: Loss
New England is exceptional in the trenches on both sides of the ball. They'll control the line of scrimmage all game and run Dallas to death en route to a home victory.
Week 7 BYE
Week 8 at Vikings: Loss
Justin Jefferson and Adam Theilen make up a scary WR combination for the Cowboys to defend, and Dalvin Cook should have his way against this Cowboys front. Vikings score at will and win in another shootout.
Week 9 vs. Broncos: Win
Neither Teddy Bridgewater nor Drew Lock is dangerous enough to dice up this Cowboys secondary. If Dallas can force a few turnovers in this one, it should be a wrap.
Week 10 vs. Falcons: Win
This one could get interesting, but Atlanta's defense has no answer for a healthy Cowboys offense. Dallas could score 40 in a Week 10 win.
Week 11 at Chiefs: Loss
The Cowboys might score 40 in Week 10, but they'll give up 40 in Week 11.
Week 12 vs. Raiders: Loss
Dallas has lost five of its last seven Thanksgiving games by an average of 20 points per game. The Raiders will make it six of the last eight.
Week 13 at Saints: Win
Who knows whether it will be Jameis Winston or Taysom Hill at quarterback by this point in the season, but neither option should scare this Cowboys secondary.
Week 14 at Washington: Win
The Cowboys lost both matchups against Washington last season by a combined 47 points. Revenge will be on the menu in Week 14.
Week 15 at Giants: Loss
There's bound to be a slip-up somewhere on the schedule in 2021. We'll take our chances with a divisional foe still fighting for a playoff spot in Week 15.
Week 16 vs. Washington: Win
A Washington double to atone for last season's sweep? Sure, why not?
Week 17 vs. Cardinals: Loss
With the pressure of the NFC East lead mounting, Dallas comes out shaky and can't rebound in time to catch a Cardinals team in the middle of their own heated division race.
Week 18 at Eagles: Loss
The NFC East title may very well come down to this game, and we saw what happened the last time this situation materialized in Philly.
2021 record prediction: 9-8
Dallas has a win total of 9 for this season
A 9-8 record might seem defensive for a team with such high expectations, but that's right where Vegas expects the Cowboys to be in 2021. Dallas' win total this season is set at exactly nine, which is the highest total in the NFC East.
The Cowboys are also +3500 to win the Super Bowl and +150 to win the division.
What's the best futures bet for the Cowboys in 2021?
All betting odds courtesy of DraftKings