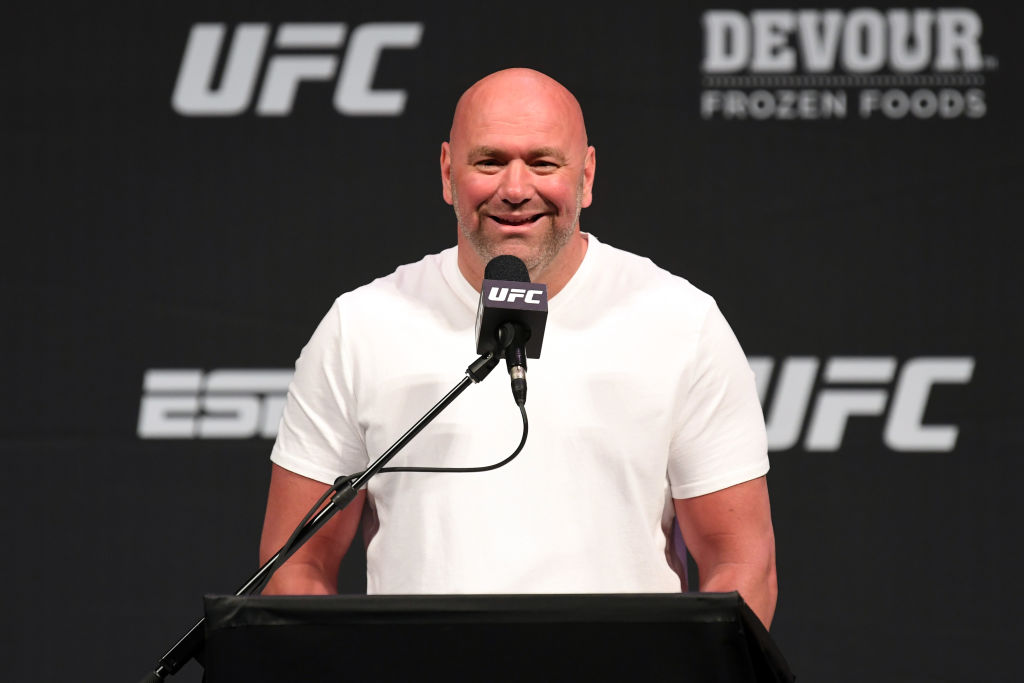 Dana White May Shut Down UFC Division If This 1 Thing Happens
UFC President Dana White made a surprising acknowledgement that if Amanda Nunes retires, it could be the end of the women's featherweight division going forward.
Just like any other fighting sport, champions come and go in the UFC. One fighter wins the title, may successfully defend it for years, then another fighter comes along and dethrones them. It's part of the business. Amanda Nunes, however, has changed the model. And quite frankly, her dominance has proven problematic for Dana White. Now, with the possibility of Nunes retiring, White is potentially facing some tough decisions for the future of one particular division.
Cris Cyborg comes to UFC
The inaugural fight for the UFC Women's Featherweight Championship happened on February 11, 2017 at UFC 208. In that contest, Germaine de Randamie defeated Holly Holm in a five-round unanimous decision. A month after the first-ever title fight, Cris Cyborg vacated her Invicta featherweight title and challenged De Randamie to a fight. De Randamie refused the fight and relinquished the belt.
Cyborg stepped up and took on Tonya Evinger for the vacant UFC featherweight title in July 2017 at UFC 214. Cyborg won in a third-round knockout. Five months later Cyborg successfully defended her title and dispatched of Holly Holm by an unanimous decision. She followed that just three months later easily disposing of Yana Kunitskaya in the first round. 
Cyborg had held the title for 517 days when she stepped inside the octagon to defend her title against Amanda Nunes. Nunes, who was also the reigning bantamweight champion, embarrassed Cyborg knocking her out in the first round. Following her first knockout loss, Cyborg fought one more time, an unanimous decision over Felicia Spencer in July 2019. After Dana White announced he would not negotiate a new contract with Cyborg, she bolted for Bellator MMA.
Amanda Nunes to potentially retire
Since defeating Cyborg, Amanda Nunes has been the reigning UFC women's featherweight champion. However, she's only defended the title once. In that fight, Nunes battered Felicia Spencer, but it went the distance and she won by unanimous decision.
After her dominating victory over Spencer, Nunes shocked the UFC and the MMA world as a whole when she announced she was considering retirement. She and her partner, Nina Ansaroff, are expecting their first child later this year, and that alone has given Nunes reason to think about calling it quits. Not to mention, there hasn't been another fighter that's challenged her recently in the octagon.
"I've achieved everything I wanted. I'm well. I can go on with my life, maybe a new step, maybe find new talents, help some girls there, maybe be a coach, too," she said on MMA Junkie's website. "I'm in a moment that I can retire, you know, and I'm in a moment that I can fight. I'm fine. There's nothing else to be done right now in the division."
Her words ring true, and Dana White knows that.
Dana White responds to Nunes and how that affects UFC women's landscape
In a press conference before the UFC on ESPN 11 weigh-in, White told reporters he hopes Nunes doesn't retire because he thinks she's still got a lot to prove. 
"She fought arguably the best female striker of all time in (Germaine) de Randamie, beat her, and she looked human in that fight, and then she came out and put a statement on her last performance. She looked incredible and put on an absolute clinic against one of the toughest women I've ever seen in my life. And after a performance like that I'd hate to think that she'd want to retire. But if that's true and that's where she's at right now, then she probably should."
With Cyborg at Bellator, and now the possibility of Nunes retiring, outside of Spencer and Megan Anderson, there aren't many other top fighters in the women's featherweight division. That poses a problem for White going forward and he admitted as much when asked whether or not the featherweight division would still be viable if Nunes retired.
"Probably not. … I literally just told the guys the other day to build that division up. Let's start signing girls, start building the division and now the girl is talking about retirement, so apparently, we gotta get on the same page and figure this thing out."
Whether the women's featherweight division is down for the count remains to be seen. It's very much dependent on Nunes and what she decides in the future. The UFC world is collectively holding its breath, waiting, and hoping this isn't the end of the women's featherweight division, and, more importantly, the end of Nunes, the greatest UFC women's fighter of all time.