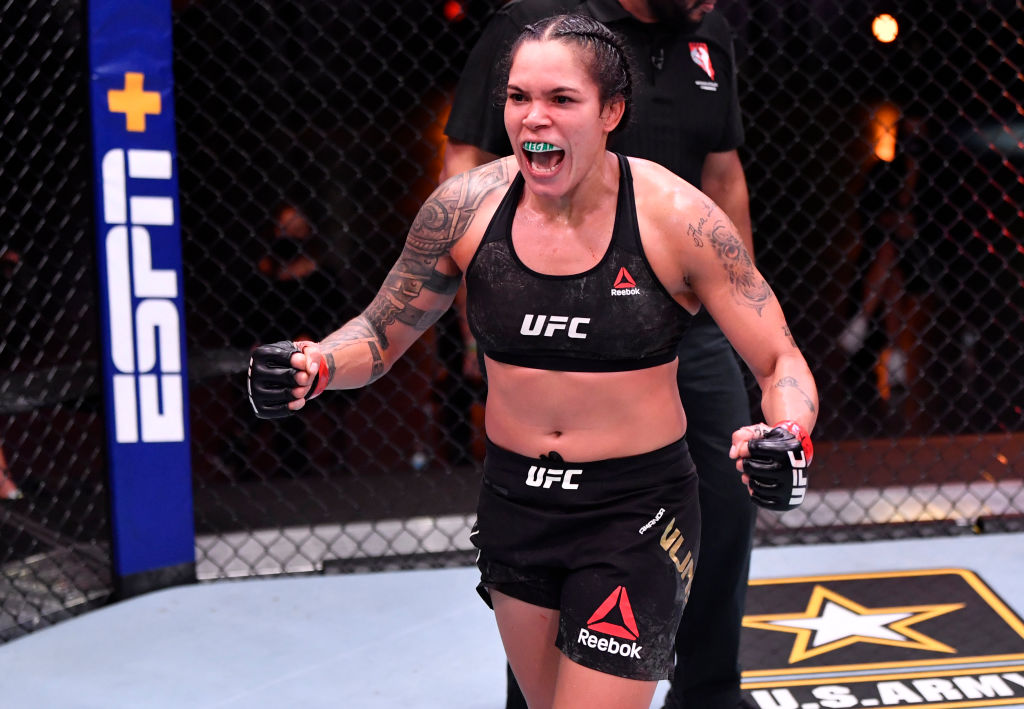 UFC Champ Amanda Nunes Is Open to a Future Run in WWE
Two-division UFC champion, fresh off a win against Felicia Spencer, is open to a future run in WWE when her MMA career is over.
Amanda Nunes impressed yet again last night at UFC 250, looking nearly flawless over five rounds as she picked apart Felicia Spencer to earn her 11th consecutive victory. The win only furthers the notion that Nunes is the greatest female fighter in MMA history and many are wondering exactly what's next for the two-division champ. She's essentially wiped out both the bantamweight and featherweight divisions and there seems to be nobody on the current UFC roster that can truly challenge her. So how about a jump to WWE? As it turns out, Amanda Nunes is actually open to it.
Amanda Nunes looked fantastic at UFC 250
Amanda Nunes came into UFC 250 on a 10-fight winning streak and extended it to 11 with an impressive five-round win over Felicia Spencer. Nunes obviously came in as a huge favorite and proved exactly why with a dominating performance that showcased every single one of her skills, of which she has many.
As usual, her hands were her primary weapon of choice and she was insanely accurate on Saturday night, hitting 124 of 214 significant strikes. But her ground game was also on display. She successfully executed six of seven takedowns and avoided all seven takedown attempts from Spencer, who fought valiantly but simply never had enough to truly challenge Nunes. The two-division champion punished Spencer for five rounds, easily defending her featherweight title. The victory moved her career record to 20-4.
Amanda Nunes is open to a future run in WWE
Since there doesn't seem to be anyone else on the UFC roster, at least not in the women's bantamweight or featherweight divisions, that would be a real threat to Amanda Nunes, nobody quite knows what's next for her. We do know that she'll welcome a child with wife Nina Ansaroff in September so there's a strong chance that we don't see "The Lioness" compete again in 2020.
Nunes, who just turned 32 on May 30, has made it clear that she's certainly not done in UFC, despite there not being many real challengers for her right now. But she also recently told Sports Illustrated that she'd be open to a run in WWE down the line, which certainly has to have Vince McMahon drooling.
"Not right now, but maybe later when I retire. I'm open to it. Why not? I could try something new."

Amanda Nunes
While certainly not sounding like it's going to happen anytime soon, just knowing that Amanda Nunes is open to a run in WWE is intriguing. She's already dismantled two former champions over there anyway.
She's already beaten two former WWE champions
Ahead of her fight with Felicia Spencer, Amanda Nunes took to Instagram to share a quick highlight of her taking out Shayna Baszler in 2015, which was what prompted the WWE question in the first place. Nunes says that the post had nothing to do with her interest in WWE but that she put it up to show how much she believes in her coach, who had told her before that fight to take her out with leg kicks, which is exactly what happened. Baszler fought just one more MMA match before turning her full attention to pro wrestling. Baszler made her WWE debut in 2017 and went on to become the first two-time NXT Women's Champion before recently joining the main roster.
But Shayna Baszler isn't the only former champion in WWE that Amanda Nunes beat in UFC. Nunes famously destroyed Ronda Rousey in 48 seconds, Rousey's final fight in the octagon, at UFC 207 in December 2016. Rousey made her WWE debut in 2018 and was a part of the first-ever women's main event at WrestleMania 35, where she lost her RAW Women's Championship to Becky Lynch. Perhaps we'll get a Ronda Rousey vs. Amanda Nunes rematch in WWE at some point.