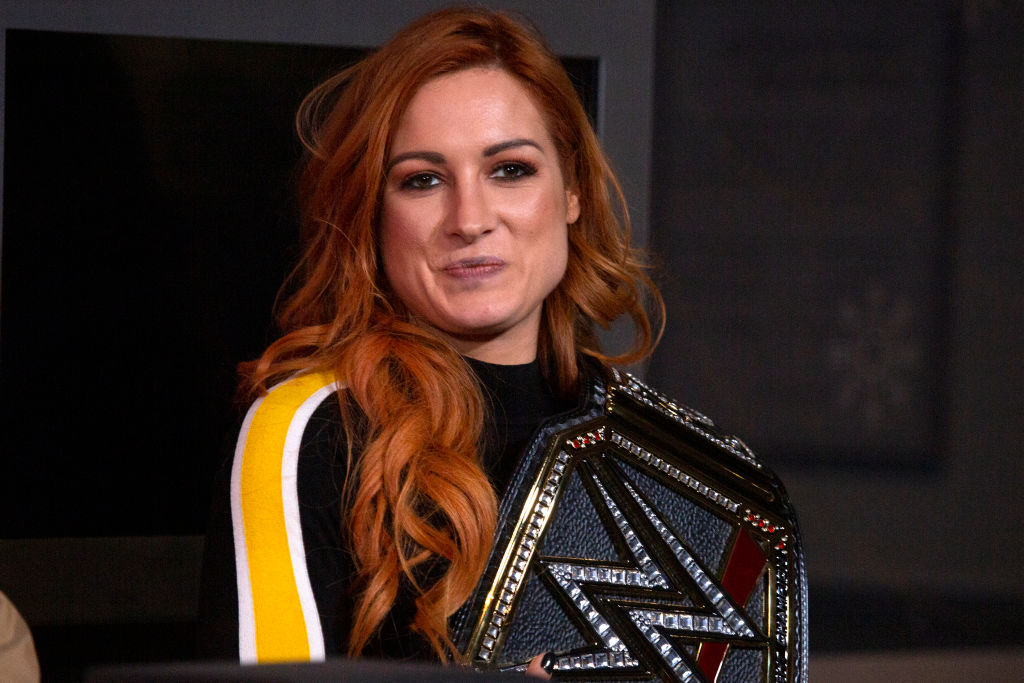 Losing Becky Lynch Comes at a Bad Time for WWE
A look at the impact that losing Becky Lynch, who on Monday announced that she's pregnant and will be leaving the ring, will have on WWE.
Well, we don't have to wonder anymore why Becky Lynch hasn't wrestled since WrestleMania, do we?
In a bombshell announcement on WWE "Monday Night RAW," Becky Lynch announced that she would be relinquishing her RAW Women's Championship due to the fact that she and fiance Seth Rollins are expecting their first child. While this is certainly wonderful news for Lynch and Rollins, it couldn't come at a worse time for Vince McMahon and WWE.
The rise of Becky Lynch
After years on the independent circuit, Becky Lynch signed with WWE in 2013 and spent two years in development at NXT before being called up to the main roster in 2015. Following the brand split in 2016, Lynch became the first SmackDown Women's Champion but she was still being overshadowed by others in the company. That all changed in 2018.
While WWE was banking on Ronda Rousey being the biggest star in the women's division, it was Becky Lynch who ended up taking that role as she became the hottest thing in professional wrestling when she went nuts on Charlotte Flair at SummerSlam. It was supposed to be a heel turn but fans went crazy for it and Lynch just took off from there.
The next six months were a whirlwind as storylines were created to set up the first-ever women's main event at WrestleMania, which saw Lynch take on Flair and Rousey with both the RAW and SmackDown Women's titles on the line. Becky Lynch won the match by pinning Rousey and while she lost the blue belt back to Flair, she held the RAW Women's Championship for a record 399 days, a reign that ended just last night.
Becky Lynch announced her pregnancy in a fantastic segment on WWE 'Monday Night RAW'
If you haven't yet watched the segment from "Monday Night RAW," do yourself a favor and watch the video above. Becky Lynch opened the show last night, walking to the ring at the empty WWE Performance Center with the Money in the Bank briefcase. Tearing up almost immediately, she looked back at her career, thanked the fans for all of their support, and said that she had to go away for a while.
Now, that usually indicates some sort of injury and seeing as how she hasn't competed since defeating Shayna Baszler at WrestleMania, it looked as if that was the direction things were headed, especially when Asuka hit the ring. Asuka had won the Money in the Bank briefcase on Sunday night, which gives her the right to face any women's champion whenever she chooses. Asuka and Becky Lynch have had some amazing matches over the years and the Empress of Tomorrow didn't look happy. But then Becky opened the briefcase and said that Sunday night's match wasn't for the briefcase but for the RAW Women's Championship.
After a hilariously awesome celebration, Asuka returned to the ring and things got real. Lynch looked at her longtime rival and then dropped the bomb.
"You are the champion and as happy as you are to be the champion I might be a little bit happier. So you go be a warrior, 'cause I'm going to go be a mother."

Becky Lynch
The two embraced and then Becky Lynch was gone. And nobody knows how long she'll be away from the ring…if she ever actually returns at all.
The loss of their biggest star comes at a bad time for WWE
Again, the news that Becky Lynch is having a baby is amazing news for her and Seth Rollins. But it's not a good time for WWE to lose one of its biggest stars.
Despite still putting on shows during the COVID-19 outbreak, which WWE has taken a lot of criticism for doing, the ratings for "Monday Night RAW" have hit historic lows. Last week's episode brought in just 1.686 million viewers, the lowest in the show's 27-year history. WWE tends to see a little bit of a dropoff the month after WrestleMania but nothing like this.
Becky Lynch has been one of the top merchandise sellers for WWE as well and those figures are bound to take a little bit of a hit, just as Roman Reigns' merch numbers did when he left the company two years ago to battle leukemia. And speaking of Reigns, WWE has suffered a bit with him being absent during the pandemic and they won't even say his name on TV right now.
WWE obviously isn't holding house shows right now, which brings in a lot of revenue, which means they're banking a lot on their TV product right now. As Becky Lynch is one of the most popular stars in the company, a lot of people tune in just to see her. And now she won't be there.
Just a few weeks after Becky Lynch won the first-ever women's main event at WrestleMania, WWE stock closed at an all-time high of $99.25 on April 27, 2019. It began this morning at $44.43. That's a pretty massive drop, although it was worse a few weeks ago and recent cost-cutting measures have helped a bit.
But WWE is certainly in a bit of trouble right now and losing Becky Lynch at this critical time certainly doesn't help.