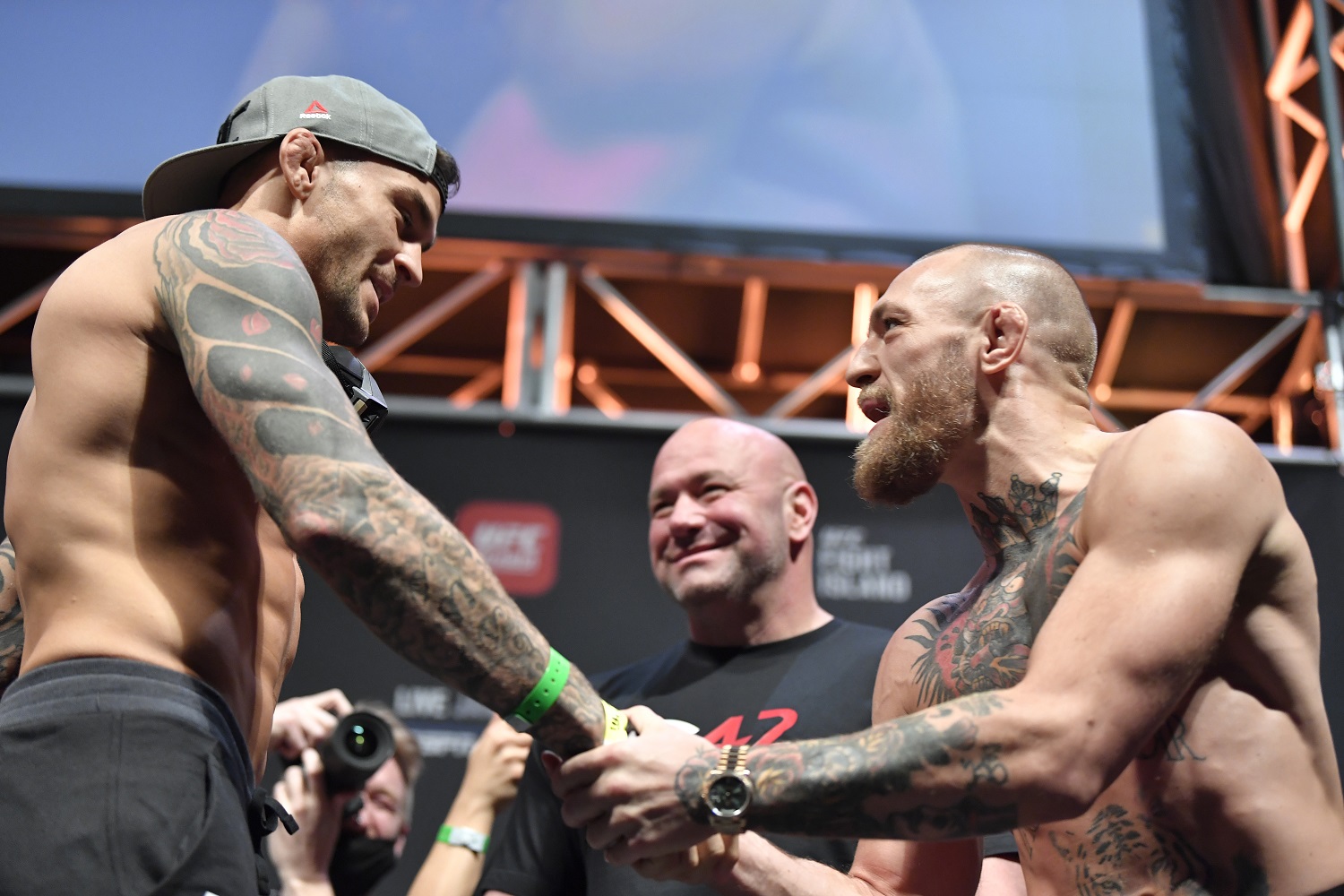 Dana White Offers Up His Prediction on Conor McGregor vs. Dustin Poirier at UFC 257
Ahead of the rematch between Conor McGregor and Dustin Poirier at UFC 257, Dana White offered up his thoughts on what he thinks will happen.
UFC 257 takes place on Saturday night in Abu Dhabi (well, it's at least night for those of us here in the U.S.) and marks the return of Conor McGregor, who will step foot in the octagon for the first time since knocking out Donald Cerrone one year and five days ago in Las Vegas at UFC 246.
McGregor was hoping to fight a few more times in 2020 but with the COVID-19 pandemic, his quarrel with Dana White, and that third retirement, which obviously didn't stick, that just didn't happen. But the 'Notorious' one seems ready to roll now and will take on former UFC interim lightweight champ Dustin Poirier for the second time in his career.
The two first met back at UFC 178 in September 2014 with Conor McGregor scoring a first-round knockout, an outcome he predicted and the result he seems to be expecting again the second time around. Dana White has also made some predictions of his own leading into UFC 257 and thinks that his biggest moneymaker is going to be quite aggressive.
Conor McGregor predicted a first-round KO of Dustin Poirier in their first UFC matchup and then did it
Ahead of UFC 178 back in September 2014, Conor McGregor, who wasn't quite yet the megastar he is today, predicted a first-round knockout of Dustin Poirier and then went out and delivered.
Poirier, who was actually the higher-ranked fighter at the time and had the most wins and most finishes in UFC featherweight history, only managed to get through one minute and 46 seconds before being brutally knocked out. McGregor wasn't overly aggressive and looked very loose in what his first appearance on a big UFC pay-per-view event. He caught Poirier with a big left hand and then pounced, which caused referee Herb Dean to jump in and stop the fight.
Conor McGregor earned Performance of the Night honors in the victory and he's looking for another one at UFC 257.
The 'Notorious' one has made a similar prediction for their fight at UFC 257
Heading into UFC 257, Conor McGregor has offered up a similar prediction for his rematch with Dustin Poirier but this prediction is even bolder than the one he made back in 2014.
McGregor says that not only will he knock out Poirier in the first round but that it will happen within the first minute of the fight (h/t DAZN).
"I like Dustin. I think he's a good fighter. He's even a great fighter. But great is still levels below me. I'll knock Dustin out inside 60 seconds."

Conor McGregor on his UFC 257 fight with Dustin Poirier
60 seconds? Okay then. So what does Dana White think is going to happen at UFC 257?
Dana White has offered up his prediction for Conor McGregor vs. Dustin Poirier 2 at UFC 257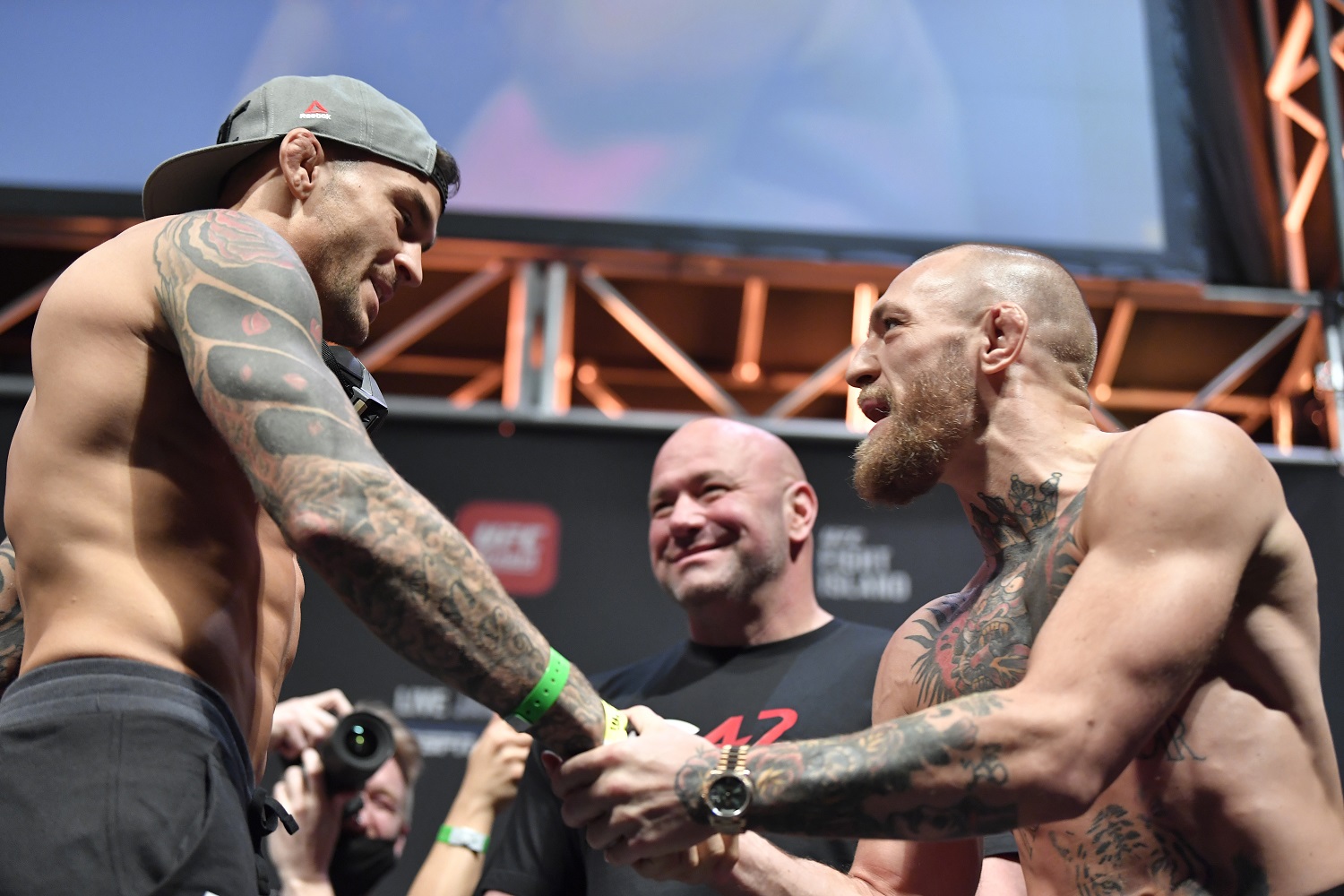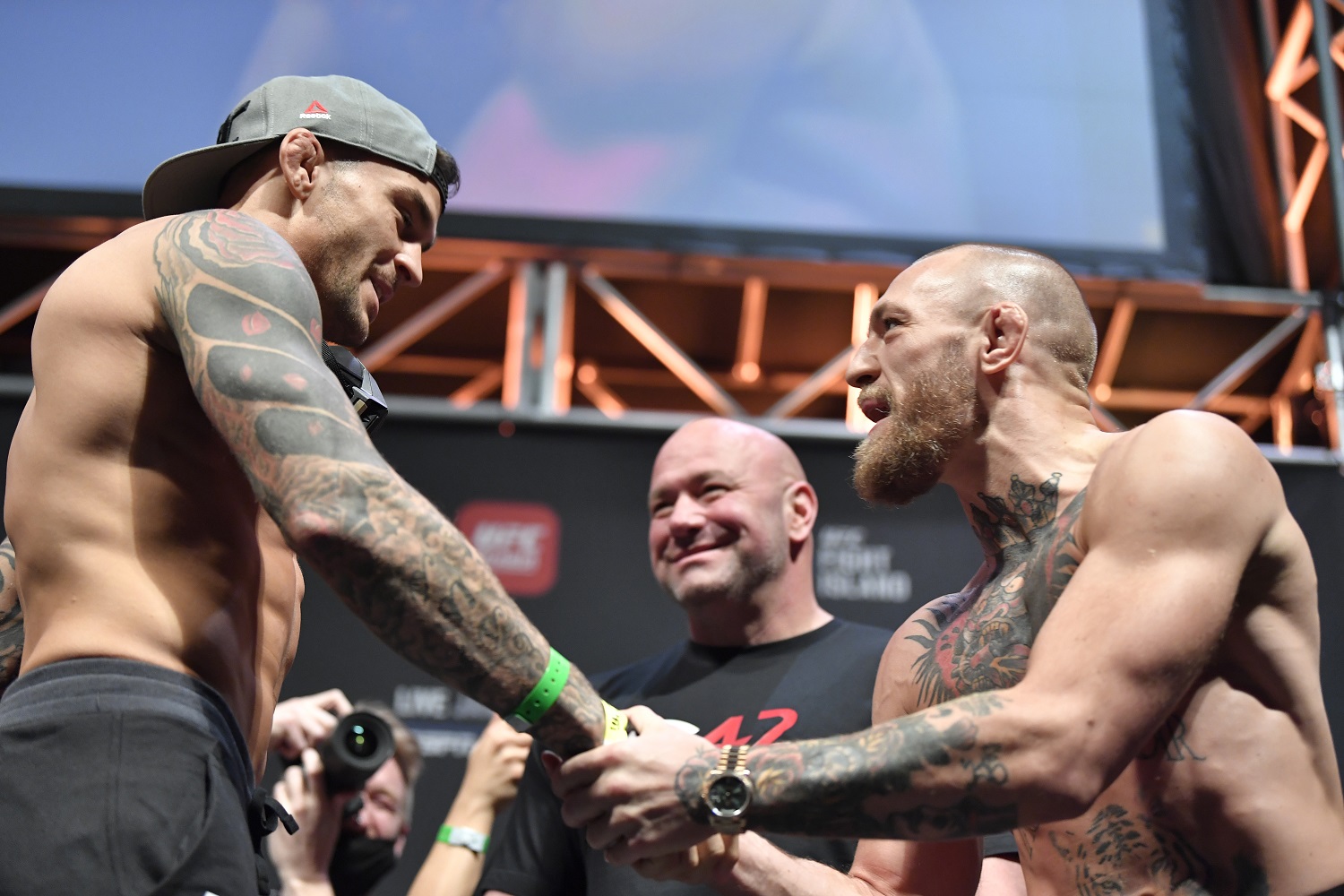 As for how UFC President Dana White thinks Conor McGregor vs. Dustin Poirier 2 will go down at UFC 257, he believes that McGregor will try to stick to his prediction of knocking Poirier out early by coming out very aggressively. While he says that McGregor's prediction might come off as a "little silly" seeing as how Poirier is the second-ranked lightweight fighter in the world, he also knows that McGregor has backed up similar predictions in the past.
However, White also seems to believe that if Poirier can make it through the first round and a half or so that he can come away with a victory, which he told Jim Rome earlier this week.
"If you talk to anybody who considers themselves an expert, they will say that Conor is going to come out fast and go after him like he did with 'Cowboy' [Donald Cerrone], and if Poirier can get through a round and a half, Conor will start to slow down. Cardio is going to become a factor."

Dana White on Conor McGregor vs. Dustin Poirier 2
Dana White wouldn't quite offer up a winner but his prediction on how the fight will go down seems to be the general consensus of most fight fans and analysts.
Conor McGregor vs. Dustin Poirier 2 is obviously the main event of UFC 257, which begins with the early prelims at 7:00 p.m. Eastern, followed by the regular prelims an hour later. The main card gets underway at 10:00 p.m. Eastern.