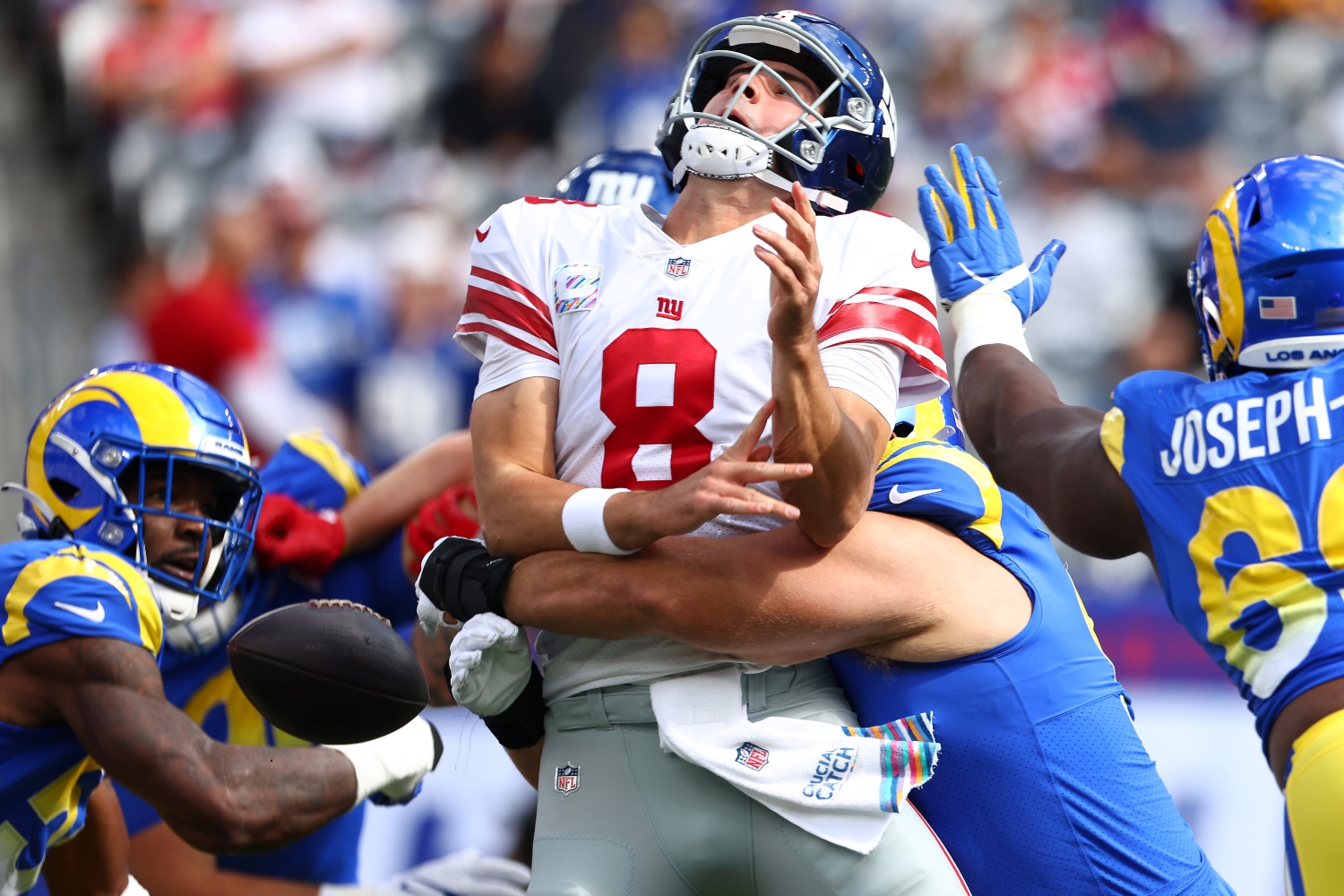 Daniel Jones is Officially in Danger of Suffering Further Damage to His Disappointing Giants Legacy Due to No Fault of His Own
It's no secret Daniel Jones hasn't lived up to expectations with the Giants. Unfortunately for the third-year quarterback, he's officially in danger of suffering further damage to his disappointing legacy through no fault of his own.
The New York Giants took a huge gamble by making Daniel Jones their top pick in the 2019 NFL Draft. More specifically, general manager Dave Gettleman made an incredibly risky decision by placing his faith in a player who completed 59.9% of his passes in three uninspiring seasons at Duke University — a school known for producing future NBA stars, not elite quarterbacks.
Unfortunately for Giants fans, the Jones selection looks like one of the biggest mistakes in franchise history. Turnover-prone and not particularly accurate, the 24-year-old signal-caller remains a lightning rod for criticism.
Then again, with a 9-23 record as a starter, Jones deserves a sizable chunk of the blame for the sorry state of the Giants.
But it'll be hard to blame the inconsistent quarterback if he experiences more struggles over the coming weeks. After all, while Jones certainly has flaws, he's officially in danger of suffering further damage to his disappointing legacy through no fault of his own.
Daniel Jones is trending in the wrong direction in his third year in New York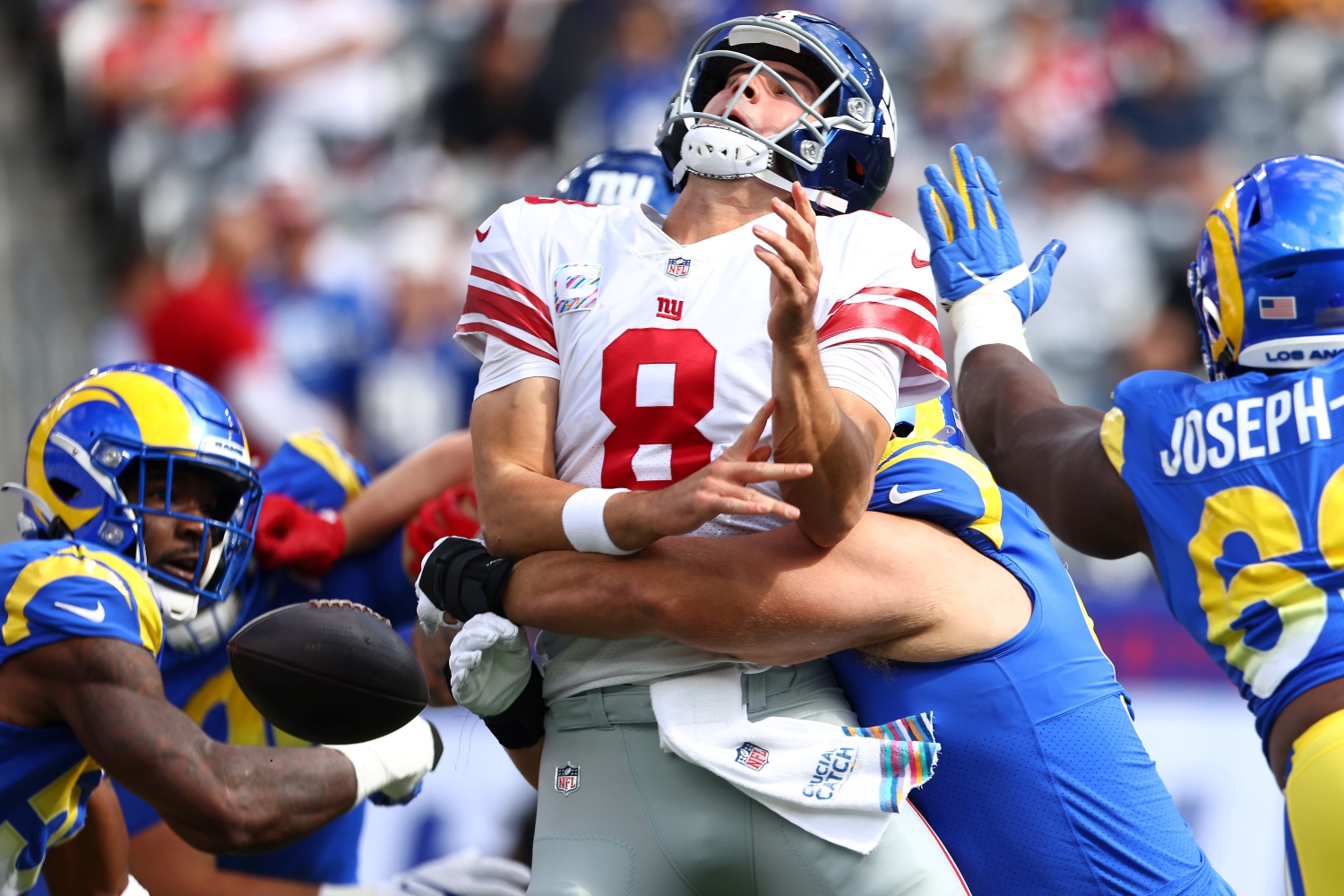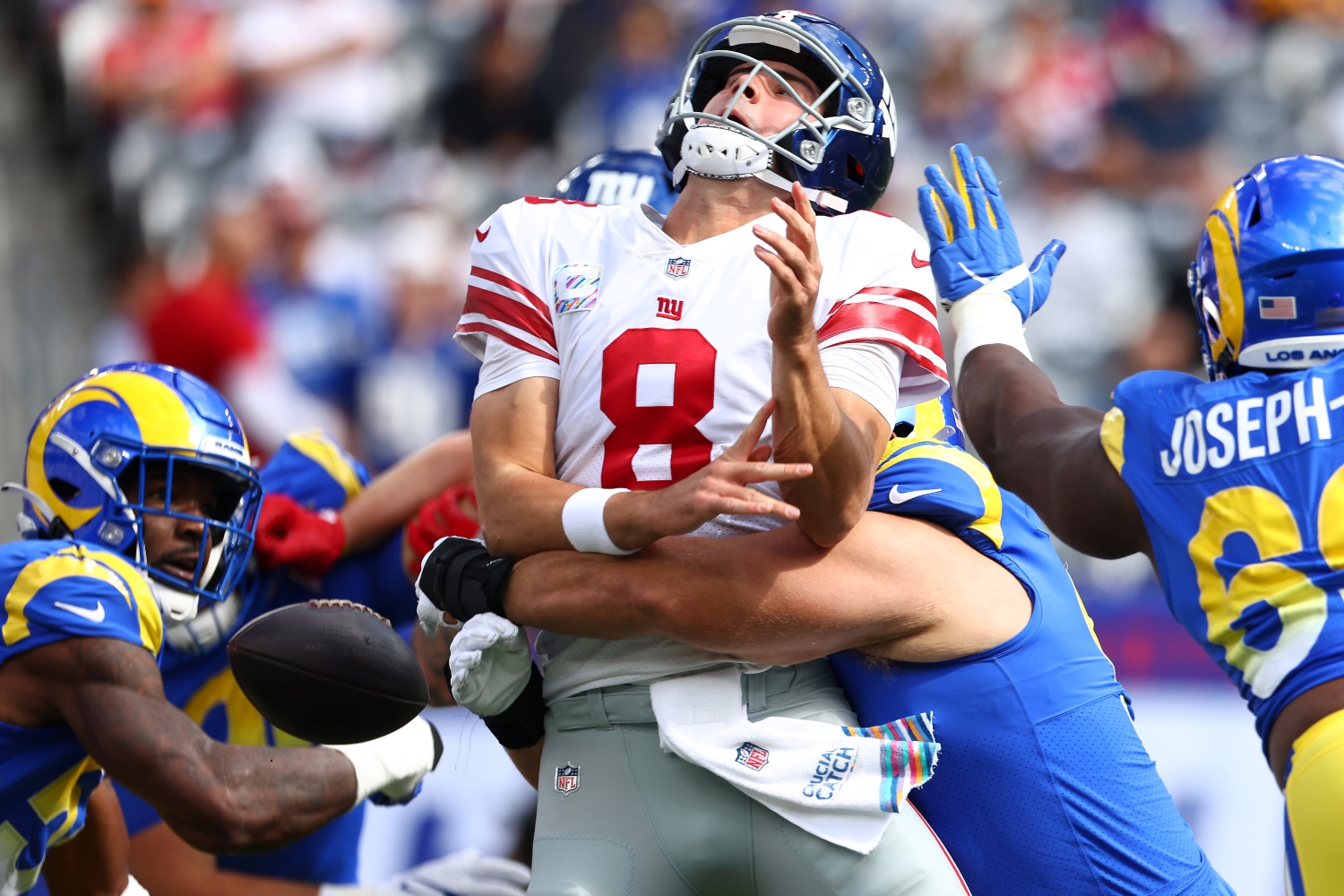 Coming off a challenging season that included an ugly 11:10 touchdown-to-interception ratio and a 5-9 record as a starter, Jones entered Week 1 facing tremendous pressure to make Giants fans forget about his dismal 2020 campaign.
To little surprise, he failed to deliver a winning performance.
However, after an unimpressive season-opening outing against the Denver Broncos, Jones rebounded with solid games against the Washington Football Team (249 passing yards, 95 rushing yards, two total touchdowns) and the New Orleans Saints (he racked up 402 yards and two touchdowns through the air in a stunning 27-21 victory).
But it hasn't taken long for the North Carolina native to revert back to his old self.
A Week 5 matchup against the Dallas Cowboys saw Jones complete 5-of-13 attempts for 98 yards before a helmet-to-helmet-hit forced him to leave the game. Considering how awful he looked in 29 snaps against the Giants' division rival, his injury may have saved him from having a multi-turnover day.
Although Jones took the field the following week, his presence ultimately proved detrimental. Facing a fast, physical Los Angeles Rams defense, he completed only 29-of-51 attempts (56.9%) for 242 yards and zero touchdowns.
He did, however, complete three passes to Rams defenders.
With a 1-5 record, a career-worst 47.8 QBR, and an equal number of passing touchdowns (four) as interceptions, Jones' stock might just be at an all-time low.
Jones is officially in danger of suffering further damage to his disappointing legacy through no fault of his own
Even though Eli Manning didn't enjoy a Tom Brady-like finish to his career, he left behind a legacy as a winner. His successor, on the other hand, has quickly established a reputation as the complete opposite.
And Jones' legacy could suffer further damage due to no fault of his own.
With a Week 7 showdown against a young, talented Carolina Panthers squad on the horizon, he will take the field without just about everyone who matters to his success. The Giants ruled out Saquon Barkley and Kadarius Toney with ankle injuries, and Kenny Golladay will also miss the matchup because of a knee issue. That means Jones won't have his No. 1 running back or two most impactful receivers available.
To make matters worse, tight end Evan Engram (calf) received the "questionable" tag. Plus, receivers John Ross, Sterling Shepard, and Darius Slayton are questionable with hamstring injuries.
Jones will face the Panthers with a razor-thin supporting cast that also won't include Andrew Thomas. The 2020 first-round pick looked much improved at left tackle before he hurt his ankle and landed on injured reserve.
How exactly do the Giants plan on winning without all those weapons or their most talented offensive lineman? Jones hasn't demonstrated the ability to carry the team on his back, so it seems all but guaranteed that he will have a rough day against a Panthers defense that ranks sixth in points allowed and has blue-chippers like star pass rusher Brian Burns, defensive tackle Derrick Brown, outside linebacker Haason Reddick, and safety Jeremy Chinn.
If injuries continue to prove problematic for the Giants' offense, Jones will inevitably add more losses to his NFL resume. Obviously, that wouldn't bode well for his chances of sticking around beyond the 2021 season. At the same time, though, he has no control over whether Barkley gets hurt (a theme throughout his pro career) or whether Golladay experiences another health setback of his own.
It isn't fair, but Jones will ultimately be the one who suffers the most since he gets judged on wins and losses.
The future looks bleak for a Giants franchise that may be forced to start from scratch again
It won't be a surprise if the Giants have a new starting quarterback in 2022. It also won't be a surprise if the organization looks completely different from the top down, either.
Will Joe Judge keep his job if his team continues to underwhelm? He may pride himself on having a discipline-oriented approach, but his way has not led to winning. If losses pile up at such a prolific rate, the Giants may have no choice but to move in a different direction at head coach.
In fact, it might be best for the organization to do a complete teardown.
Judge clearly hasn't proven capable of winning on a consistent basis. Gettleman hasn't proven capable of consistently making good personnel decisions. And Jones hasn't proven capable of playing the quarterback position with any semblance of consistency.
Meanwhile, Barkley hasn't transformed the offense like everyone expected. The line remains a major work in progress — a stunning reality given the amount of resources Gettleman invested in the unit. And while it's still early, Golladay seems like another free-agent misfire.
As for the defense?
Why should anyone get excited about a lineup that doesn't feature a single true blue-chip player? Leonard Williams certainly isn't an All-Pro, and neither is 2019 first-rounder Dexter Lawrence. The Giants don't have any stars at linebacker, and top cornerback James Bradberry only ranks 41st out of 118 players at his position in Pro Football Focus' grading system.
The roster needs serious work on both sides of the ball. And if the Mara family doesn't put the right person in charge of personnel, another Daniel Jones situation could happen again.
All statistics courtesy of Pro Football Reference.