The New York Giants Desperately Need to End an Embarrassing Experiment Before the Franchise Completely Falls Apart
As the New York Jets attempt to build around the quarterback-coach tandem of Zach Wilson and Robert Saleh, the New York Giants enter the 2021 season with the unproven duo of Daniel Jones and Joe Judge. While Bill Belichick's longtime assistant seems to have the right mindset for the job, he also has a roadblock standing his way of long-term success.
And if the Giants want to give Judge a legitimate opportunity to turn the franchise around, they need to bring an end to an embarrassing experiment before it's too late.
Giants fans haven't had much to cheer about since Dave Gettleman arrived in 2018
The Giants once ruled the NFC East with Eli Manning and Tom Coughlin. But their days of competing for Super Bowl titles and posting winning records ended long ago.
In fact, they've finished above .500 just once since 2013. Ironically, that came in 2016 — the penultimate year of Jerry Reese's tenure as general manager.
Coming off a 3-13 campaign in which they finished 31st in scoring and 27th in points allowed, the Giants had a chance to propel the franchise forward. Instead, they handed total control to a front office executive with a rather uninspiring track record and a remarkable commitment to never trading down in the NFL draft: Dave Gettleman.
To no surprise, the Giants have lost a majority of their games since the former Carolina Panthers GM took over in 2018. The team has posted a combined record of 15-33 during that stretch, which doesn't exactly speak highly of Gettleman's ability to do his job effectively.
The Giants desperately need to end an embarrassing experiment before it's too late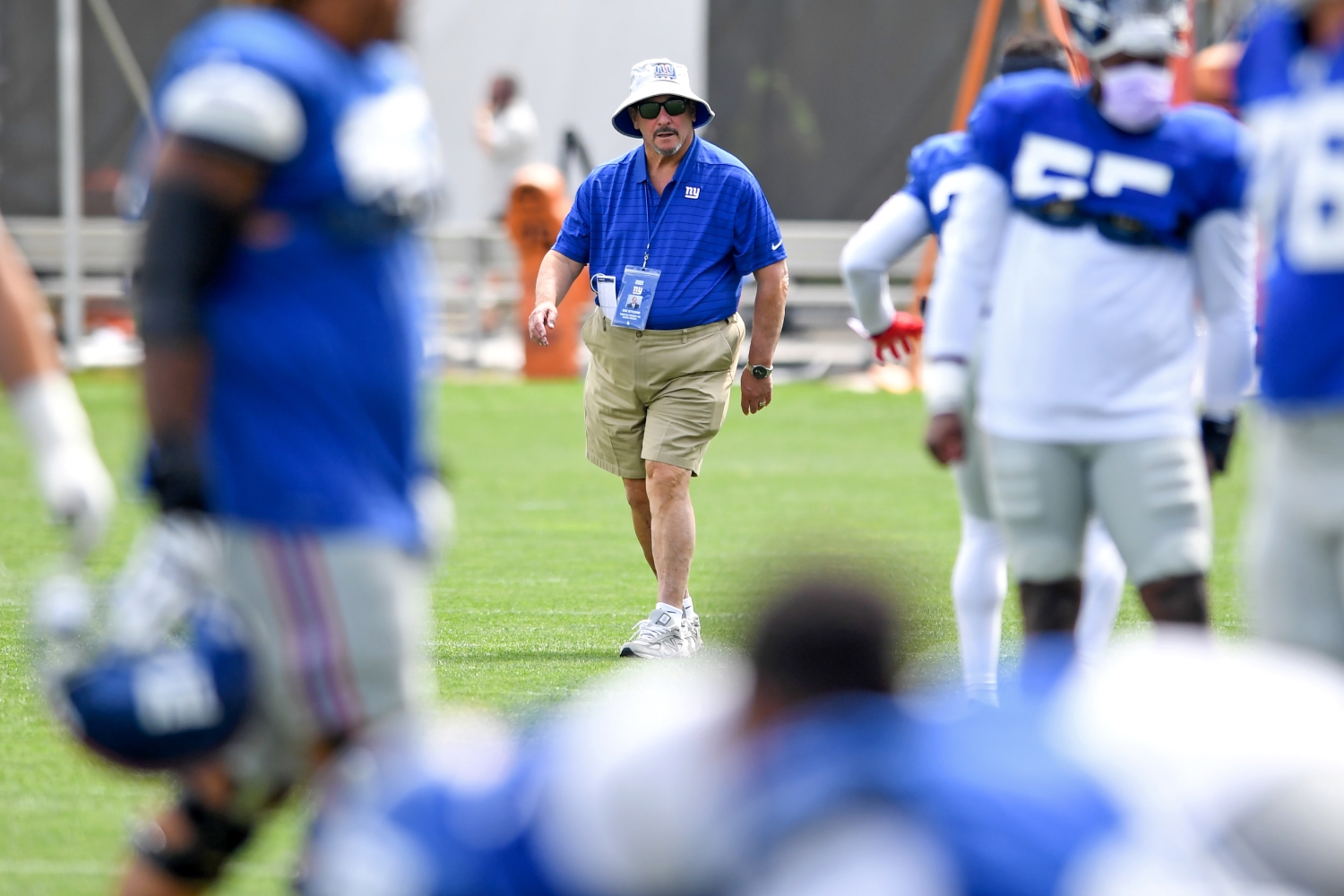 For the sake of Giants fans, players, and coaches, ownership needs to bring an end to an embarrassing experiment. At this point, it's abundantly clear Gettleman has no business running one of the NFL's most historic franchises.
Trusting him to turn the team around has undoubtedly backfired. And when you look at some of the moves Gettleman made over the last three years, it's difficult to see why he continues to hold a decision-making role with any NFL team.
Armed with the second overall pick of the 2018 NFL Draft, the Giants could have addressed their quarterback need by taking Sam Darnold or Lamar Jackson. Instead, Gettleman took former Penn State star Saquon Barkley. The running back certainly possessed the talent and game film to warrant a top-five selection, but a rebuilding team like the Giants didn't need to devote such a valuable asset on that position.
To make matters worse, Barkley has suffered several injury setbacks that have prevented him from justifying his draft pedigree.
Gettleman botched another opportunity to set the Giants up for sustained success by making Daniel Jones the sixth player off the board in the 2019 draft. The turnover-prone Duke product hasn't come close to living up to the "franchise quarterback" label since he joined the organization.
Meanwhile, the Buffalo Bills landed a franchise-altering talent one pick later by trading up to select Josh Allen.
Don't forget Gettleman also drafted Deandre Baker with the 30th overall pick that year. The talented corner lasted one season with the Giants before he got released due to off-field concerns.
As for the most disappointing aspect of the Gettleman era?
For someone who preaches about building through the trenches, he's done a fantastically bad job of building even an average offensive line. From overpaying Nate Solder to making Andrew Thomas the first offensive tackle off the board in the 2020 draft, Gettleman has burned valuable resources on players who haven't delivered.
The Giants can't afford to let this experiment continue. This team needs a fresh set of eyes and a more forward-thinking mind to run the player personnel department. Gettleman hasn't gotten the job done, and with Judge needing to prove himself outside of New England, he needs a GM who's capable of putting together a winning roster.
What does the future hold for Joe Judge's team?
Unfortunately for Giants fans, the second year of the Joe Judge era may end in the same fashion as the first one: without a playoff berth.
New York has some intriguing pieces on defense, including the big-bodied duo of Leonard Williams and Dexter Lawrence, talented cornerback James Bradberry, and reliable veteran defensive back Logan Ryan. And the offense has a decent collection of playmakers in Kenny Golladay, Sterling Sherpard, Evan Engram, and Barkley. However, those four also come with durability concerns, which makes it difficult to get overly excited about Jason Garrett's unit.
The harsh truth is that the Giants won't make the playoffs unless their offensive line and third-year signal-caller step up.
However, betting on Daniel Jones to make a substantial leap seems foolish. After all, it's not like the Giants can protect him.
Too bad Dave Gettleman's love for hog mollies hasn't helped his hand-picked "franchise quarterback" in the least bit.
All statistics courtesy of Pro Football Reference.