Jon Gruden's Failed Attempt to Atone for a Franchise-Altering Blunder Should Raise Serious Concerns for Raiders Fans
When Jon Gruden took over as head coach of the Las Vegas Raiders in 2018, he inherited a team that made one playoff appearance from 2003-17. Unfortunately for fans of the AFC West franchise, Gruden's return hasn't resulted in a single postseason berth.
Have the Raiders improved since he arrived?
From an offensive standpoint, it's fair to say Gruden has gotten better results out of Derek Carr than any of his previous coaches. However, there's no doubt the Raiders remain a work in progress on the other side of the ball.
With his defense in desperate need of some star power, Gruden tried to atone for a franchise-altering blunder this offseason. And the very fact he attempted to do business again with the Chicago Bears should raise serious concerns for Raiders fans about what lies ahead.
The Raiders have regressed mightily on defense since trading Khalil Mack
Think the Raiders regret getting rid of Khalil Mack?
Even though Gruden had an opportunity to reward one of the team's few homegrown stars with a well-deserved contract extension, he ultimately traded the explosive edge rusher to the Chicago Bears in a blockbuster deal that involved multiple first-round picks. Considering Mack racked up 40.5 sacks and earned widespread respect for his leadership and work ethic in his first four years with the team, the fact the Raiders didn't figure out a way to resolve the situation differently raised concerns about the direction of the franchise.
Unfortunately for Gruden, dealing away one of the league's top sack artists has proven to be an unwise decision.
After finishing 20th in points allowed in 2017 (Mack's final season), the Raiders plummeted to 32nd in Gruden's first year at the helm. In an effort to upgrade their middling pass rush, they selected Clelin Ferrell with the fourth overall pick of the 2019 NFL Draft.
The Clemson product has only totaled 6.5 sacks and 18 quarterback hits in 26 games.
Meanwhile, the Raiders fielded the 24th-ranked scoring defense in 2019, and they dropped to 30th during a dismal 2020 campaign that once again ended without a postseason berth.
Even though the Mack trade helped Gruden land Pro Bowl running back Josh Jacobs, there's no doubt he and general manager Mike Mayock have struggled to build a league-average defense, let alone a playoff-caliber one.
Jon Gruden's failed attempt to atone for a massive mistake should give Raiders fans serious concerns about the future of the franchise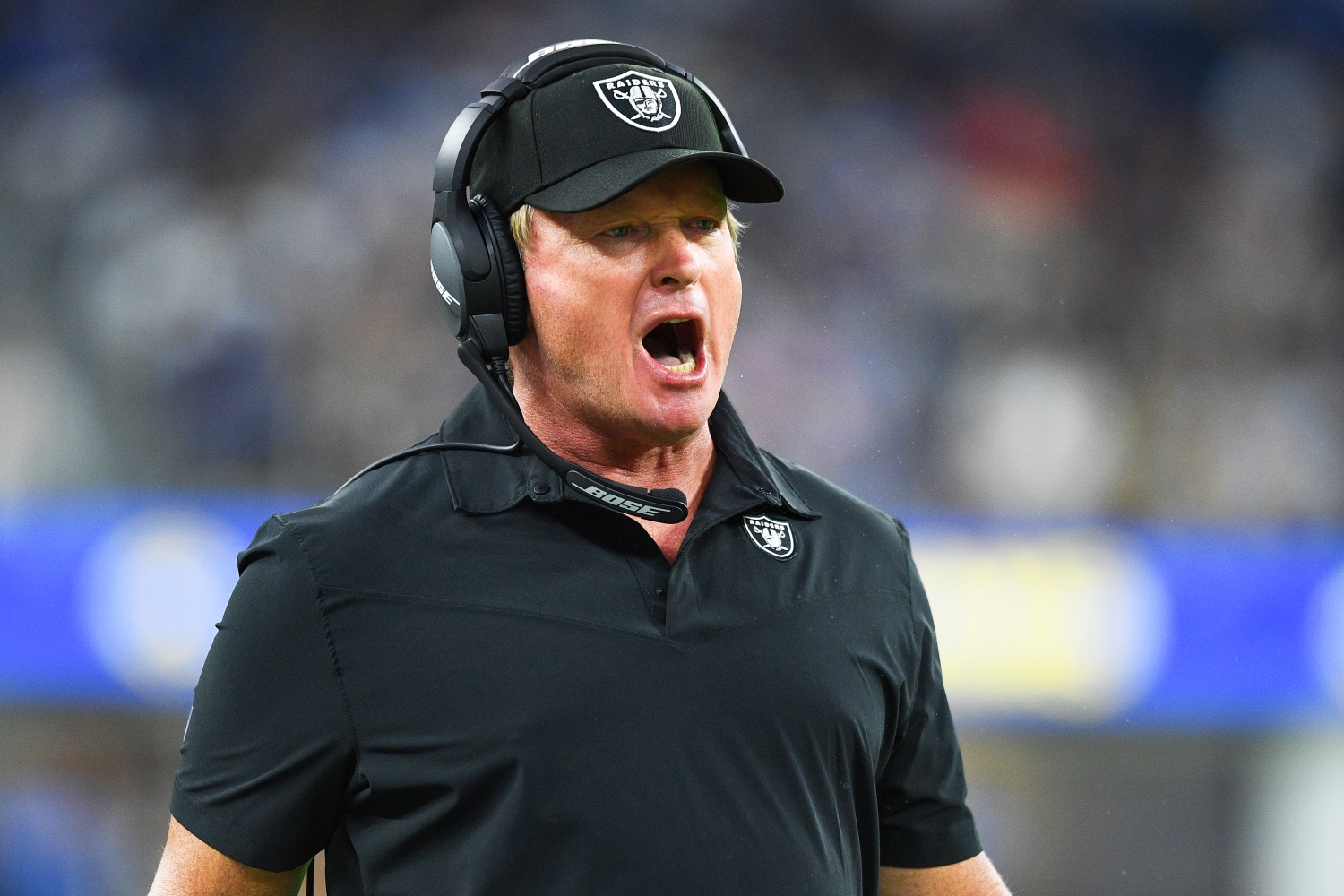 Raiders fans hoping for a return to the team's glory days have yet to experience that since Gruden came aboard in 2018. Although Las Vegas has improved in the win column every year, it's safe to say he hasn't delivered on his $100 million contract.
Perhaps that's why Gruden tried to atone for his franchise-altering mistake before free agency began. According to Vic Tafur of The Athletic, the Raiders called the Bears earlier this offseason to gauge their interest in sending Mack back to his former team.
"The Bears had significant salary-cap issues — which forced them to release All-Pro cornerback Kyle Fuller and restructure several contracts — and the Raiders thought it was worth a shot," Tafur reported. "The Bears were not interested, sources said, and the Raiders went ahead and signed Ngakoue to a two-year, $26 million contract."
Gruden's failed attempt to make up for the Mack blunder should raise serious concerns about the future of football in Las Vegas. Why give up a valuable pick (or multiple) for a player coming off back-to-back campaigns in which he failed to record double-digit sacks? How does it make sense to invest significant financial and draft resources on a 30-year-old version of Mack when the team didn't value the All-Pro pass rusher enough to meet his asking price four years ago?
The fact the Raiders even considered the idea of trading for him should also highlight how badly Gruden and Mayock botched the top of the 2019 draft. Selecting Ferrell over Brian Burns (16.5 sacks) looks like a massive mistake. So was staying at No. 4 when they could have moved down and acquired more picks.
Ultimately, this is a franchise that remains without a clear direction. And that's exactly why it's difficult to get excited about Gruden's team heading into the 2021 season.
Don't be surprised if Gruden's team continues to struggle in Las Vegas
The Raiders have a chance to field a top-10 offense. After all, Jacobs and Kenyan Drake should form a rock-solid running back duo. Darren Waller has the talent to put up 1,000 yards as one of the league's most unstoppable tight ends. And the receiving corps of Henry Ruggs III, Bryan Edwards, John Brown, and Hunter Renfrow certainly has speed and athleticism for days.
Still, you shouldn't expect to see Gruden and Co. playing in January.
The Raiders play in an incredibly tough division that includes a loaded Kansas City Chiefs squad and a promising Los Angeles Chargers team led by second-year quarterback Justin Herbert. Plus, the Denver Broncos should have a top-10 defense, and their offense has explosive potential.
Does Gruden's team have talent?
Absolutely.
But the Raiders have too many question marks on defense and along the offensive line to get on board with them taking a big leap forward in 2021.
Oh, and it's not as if they have an elite quarterback, either.
Don't be surprised if the fourth year of the Jon Gruden experience ends the same way as the previous three — with the Raiders watching the playoffs from home.
All statistics courtesy of Pro Football Reference.