The New York Jets Are in Danger of Making a Massive Mistake That Doesn't Bode Well for Zach Wilson's Future
Joe Douglas certainly didn't hold back from making bold moves this offseason. The second-year general manager used free agency to fill critical holes at key positions for a New York Jets team coming off a 2-14 season. And to no surprise, he selected former BYU star Zach Wilson with the second overall pick of the 2021 NFL Draft.
While the Jets still have a long ways to go, there's no doubt they have a better roster heading into the 2021 season than they did a year ago. However, that doesn't mean fans of the AFC East franchise should feel fully confident about the future.
In fact, the Jets are in danger of making a massive mistake that doesn't bode well for their new franchise quarterback.
Carl Lawson's injury opened a huge hole in Robert Saleh's defense
The Jets have struggled to get after the quarterback for years. With an obvious need for a No. 1 pass rusher, Joe Douglas went after a premium free agent who has a knack for putting pressure on opposing signal-callers. By signing Carl Lawson to a three-year, $45 million contract, he filled a huge hole that's existed for far too long.
Unfortunately for the Jets, their biggest offseason addition suffered a brutal setback just months after cashing in on his early-career success. Lawson tore his right Achilles in practice on Aug. 19.
The former Cincinnati Bengals standout will miss the entire 2021 season.
With the 6-foot-2, 265-pound defensive end sidelined until 2022, first-year head coach Robert Saleh faces an uphill battle to replace one of the league's most explosive edge rushers. Needless to say, the Jets' chances of taking a significant step forward on defense took a sharp nosedive once Lawson went down in practice a week ago.
The Jets are in danger of making a massive mistake that doesn't bode well for Zach Wilson's future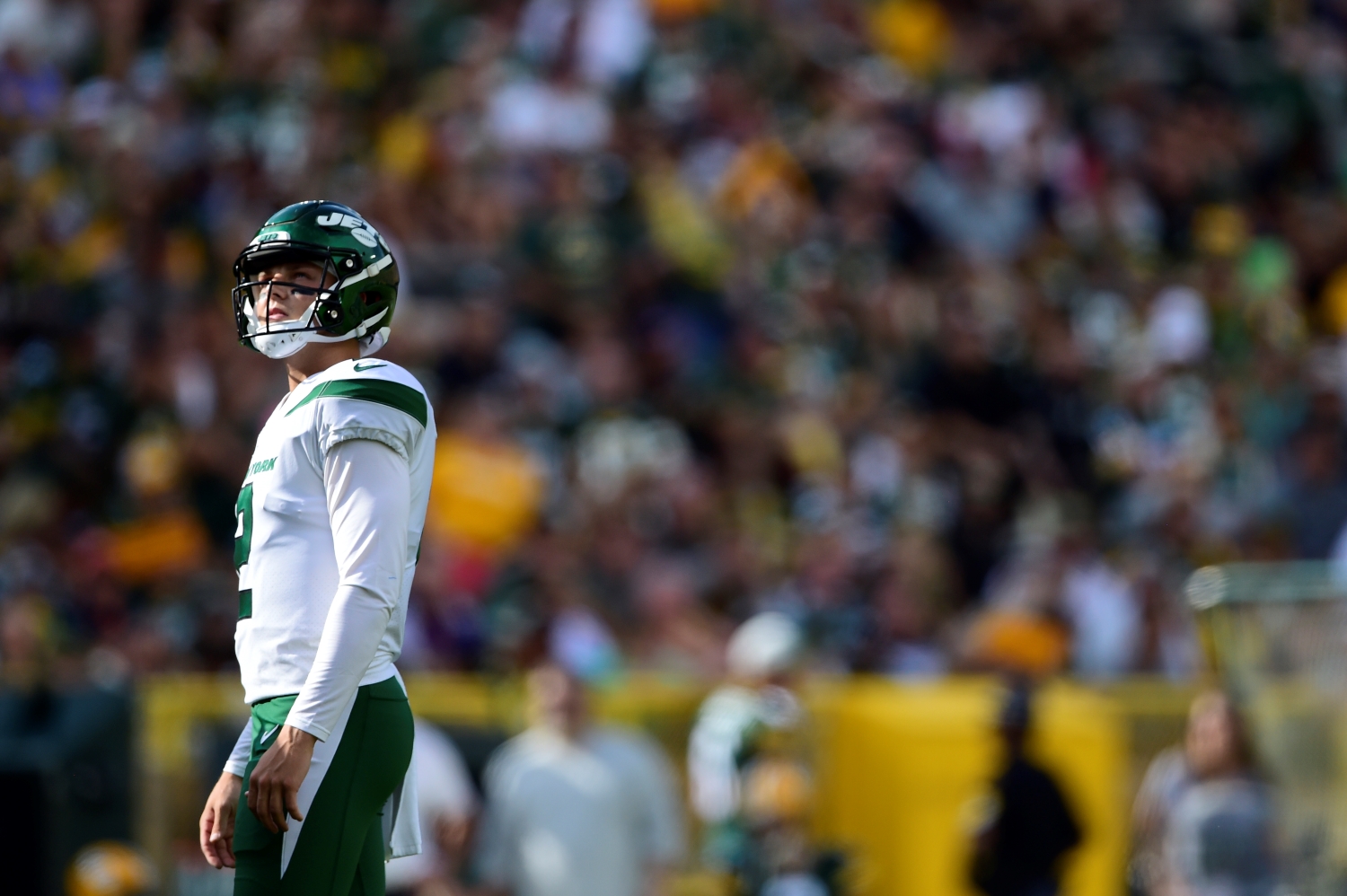 The Jets made a significant investment to land one of the top defensive players available in free agency. More importantly, they used the No. 2 overall pick in the 2021 draft to secure an exciting quarterback prospect who they hope will make fans forget about the disappointing Sam Darnold era.
And if Douglas wants to set Zach Wilson up for long-term success, he needs to take a step back and reassess his strategy before he makes a massive mistake.
On Sunday, Aug. 22, ESPN's Adam Schefter tweeted, "After losing Carl Lawson to a season-ending torn Achilles, the Jets now are looking for ways to acquire a pass rusher to help fill the void, per sources. A trade before the season is being explored."
Obviously, the Jets have to find a new starting defensive end. However, it makes little sense to replace Lawson by making a trade. After all, the Jets looked poised to have some problems on defense before he suffered a season-ending injury. Without him in the lineup, they won't have a playoff-caliber unit on that side of the ball.
Why part ways with valuable draft capital when you're almost guaranteed to finish in last place in the AFC East? Doesn't it make more sense to retain your picks so you can use them in the 2022 NFL Draft or as potential trade chips next offseason?
The Jets must think about the bigger picture. Their 2021 season will likely feature plenty of frustrating moments. That comes with the territory of a rebuilding team. Instead of trying to replace one of their few blue-chip players via trade, they should hold on to future assets that can be used to surround Wilson with better talent on offense when the team actually has a chance to earn a playoff berth.
Whether the Jets make the mistake of surrendering draft capital for Lawson's short-term replacement remains to be seen. But the fact they're exploring the idea should give fans some concerns.
Should Jets fans be concerned about what lies ahead?
The Lawson injury represented a brutal blow to a Jets team that hasn't recorded a winning season since 2015. At this point, it's impossible to make an even swap for a player whose talent and resume convinced the Jets to pay him $15 million per year.
Douglas and Saleh have to work together to figure out a solution to their newfound problem. However, it shouldn't end with the team parting ways with a draft pick.
On paper, the Jets appear well behind the rest of the teams in their division. They will start a rookie quarterback who's far from a finished product. And they have a first-year head coach who has to face Bill Belichick, Sean McDermott, and Brian Flores twice every season.
In reality, the Jets need to use the upcoming season to find out answers to some critical questions.
Does Wilson have what it takes to develop into a superstar? Is Mekhi Becton truly an elite left tackle? Can Corey Davis become a go-to playmaker in the passing game?
Jets fans should have some concerns about what lies ahead. Sure, Wilson's upside gives the organization hope for a brighter future. But with 2020 second-round pick Denzel Mims looking like a potential trade candidate, Douglas may soon part ways with a player who cost the team a valuable asset. Outside of Marcus Maye, it's hard to get excited about any member of New York's secondary. And the fact the offensive line will count on a rookie guard (Alijah Vera-Tucker) and a second-year left tackle to lead the way shows how shaky the situation is up front.
Oh, and let's not pretend like defenses should be intimidated by a skill group compromised of Davis, Jamison Crowder, Tevin Coleman, Lamical Perine, and Chris Herndon. At the very least, rookie receiver Elijah Moore looks capable of becoming a key cog in the offense.
It's not all doom and gloom with the Jets, but it's clear this team isn't contending for a Super Bowl title anytime soon.
And that's exactly why Joe Douglas needs to keep his war chest full for the future.
After all, Zach Wilson's long-term success should matter more than trying to win a handful of games in 2021.
All statistics courtesy of Pro Football Reference. All contract data courtesy of Spotrac.