Giants GM Dave Gettleman Made the Most Courageous Move in the NFL Draft
Bruce Willis and Damon Wayans made the football-themed movie of that name 30 years ago, but it's Dave Gettleman who might be The Last Boy Scout. The New York Giants general manager is one miserable Daniel Jones season from losing his job, but what he did in the first round of the 2021 NFL draft means he'd leave the figurative campsite in better shape than he found it.
What Giants GM Dave Gettleman did was courageous but personally risky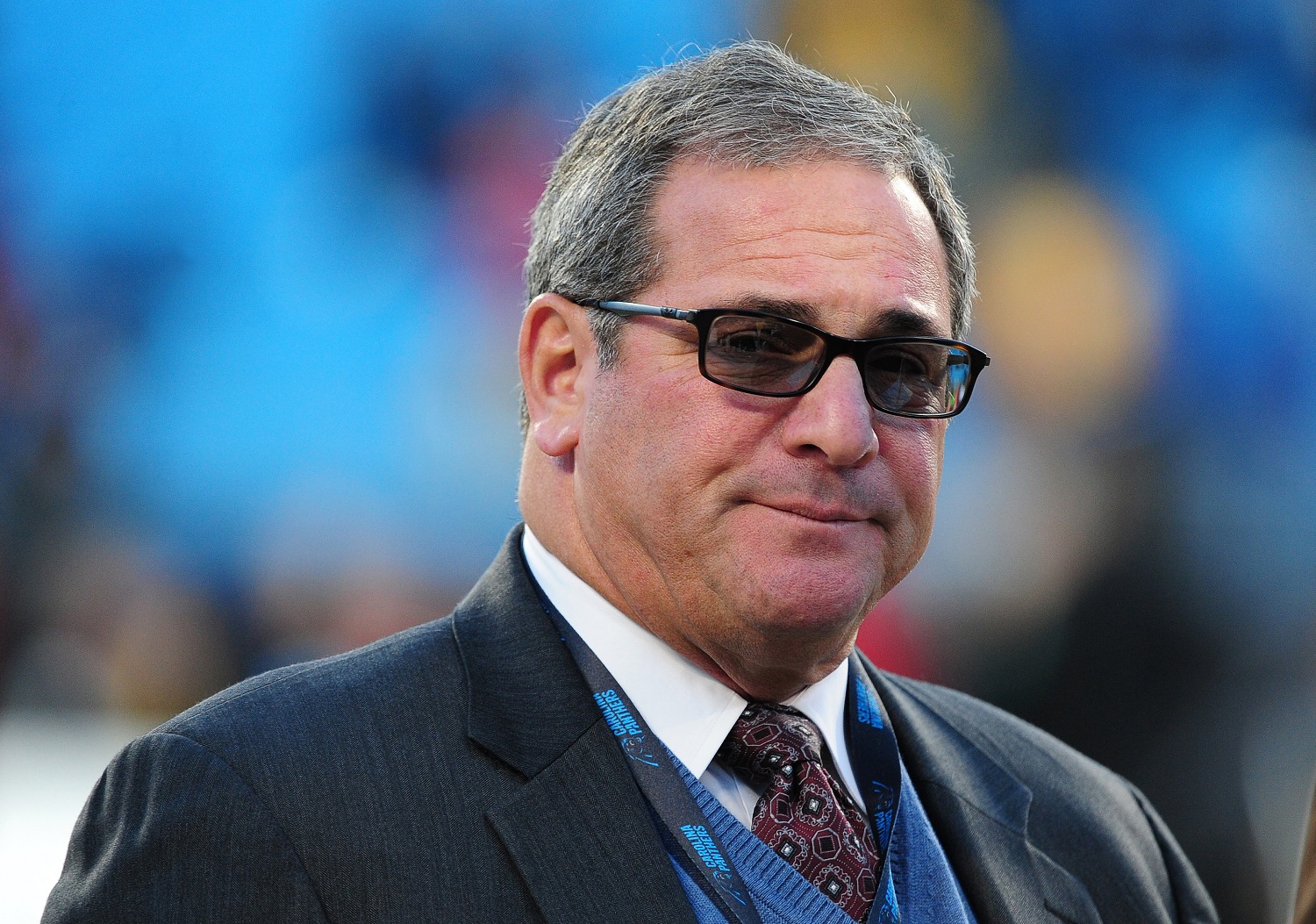 RELATED: Daniel Jones Gets Called Out by ESPN's Todd McShay After Giants' Latest Acquisition
There are three keys to remember about Gettleman and the Giants this weekend:
The Giants GM has been under fire, so all his moves are under the microscope.
The Giants have much riding on Daniel Jones and Saquon Barkley returning to their 2019 form.
If the trade with the Chicago Bears works out, the Giants can make fools of the Dallas Cowboys and Philadelphia Eagles.
The football world knew that wide receiver and the secondary sat atop Gettleman's to-do list in the draft's first round. When teams quickly snapped up wideouts Jaylen Waddle and DeVonta Smith and cornerbacks Patrick Surtain II and Jaycee Horn, Gettleman refused to overpay for what remained on his draft board.
Instead, he moved down nine spots by swapping first-round selections with Chicago so that the Bears could select quarterback Justin Fields. By doing so, Gettleman gained a fifth-round pick this weekend plus Chicago's first- and fourth-round picks in the 2022 draft. The fact that no one in between took a receiver after the Bears drafted suggests Gettleman did land his next-best wideout, Florida's Kadarius Toney, while adding three draft picks.
However, the risks are obvious. Gettleman stuck his neck out with Jones in 2019. If the quarterback doesn't show significant improvement this fall and/or Toney fails to contribute quickly, then the likelihood of Gettleman being the GM using those extra draft picks next spring is nil.
So, what he did Thursday night was the right move for the team but not necessarily for himself.
Gettleman has had to answer for some mistakes
RELATED: Victor Cruz Witnessed the New York Giants Sabotage Players on Purpose to Avoid Paying Performance Bonuses
If the Giants fire Gettleman after the upcoming season, the postmortem on his tenure will focus on the 2019 NFL draft. Critics were quick to label Duke quarterback Daniel Jones as a reach at No. 6, and then the general manager traded up to pick Georgia cornerback Deandre Baker at No. 30.
Jones looked promising as a rookie but regressed last year, throwing 11 touchdown passes and 10 interceptions in 14 games. Baker flopped as a rookie — The Athletic cited team sources saying Baker lacked commitment, leading to his benching — and later faced a criminal investigation during which the Giants released him.
Making it worse, the New York Post reported that Gettleman went against the recommendation of his own draft room by picking Baker.
"The story was he had to have his a** kicked every day to work hard at Georgia — to even go to practice," a source said. "We knew that, and we still drafted him, and from Day 1 it was like taking a guy in the first round that you had to teach nearly everything to."
The Giants hired Gettleman after a 3-13 season, and the team has posted 5-11, 4-12, and 6-10 records since. For his sake, he needs to go at least 9-8 this fall. And even that might not be enough.
The Cowboys and Eagles double-teamed the Giants
RELATED: Saquon Barkley is Rehabbing Much More Than His Knee After Devastating Injury
NFL teams routinely make draft-day trades. That being said, the Cowboys and Eagles flipping positions in the first round Thursday qualified as a strange development because it's hard to explain divisional rivals helping each other out. By moving down, Cowboys owner Jerry Jones allowed the Eagles to draft Alabama's Smith one spot ahead of where Gettleman would have grabbed him for the Giants.
That comes on the heels of the Eagles' questionable move in Week 17 last season. With the NFC East division race down to the Giants and the Washington Football Team, the Eagles benched QB Jalen Hurts in the fourth quarter of a close game. Hurts had struggled, but backup Nate Sudfield proved worse, and Washington won the division with a 20-14 victory over the Eagles.
Now, the Eagles are gloating over snatching Smith one spot before the Giants could select him.
If there's any consolation for the Giants, Smith is only useful to Philadelphia if he has the ball in his hands. With Hurts and Joe Flacco as his quarterbacks, it's fair to wonder whether the rookie will see enough catchable balls to make a difference.
Like Sportscasting on Facebook. Follow us on Twitter @sportscasting19.