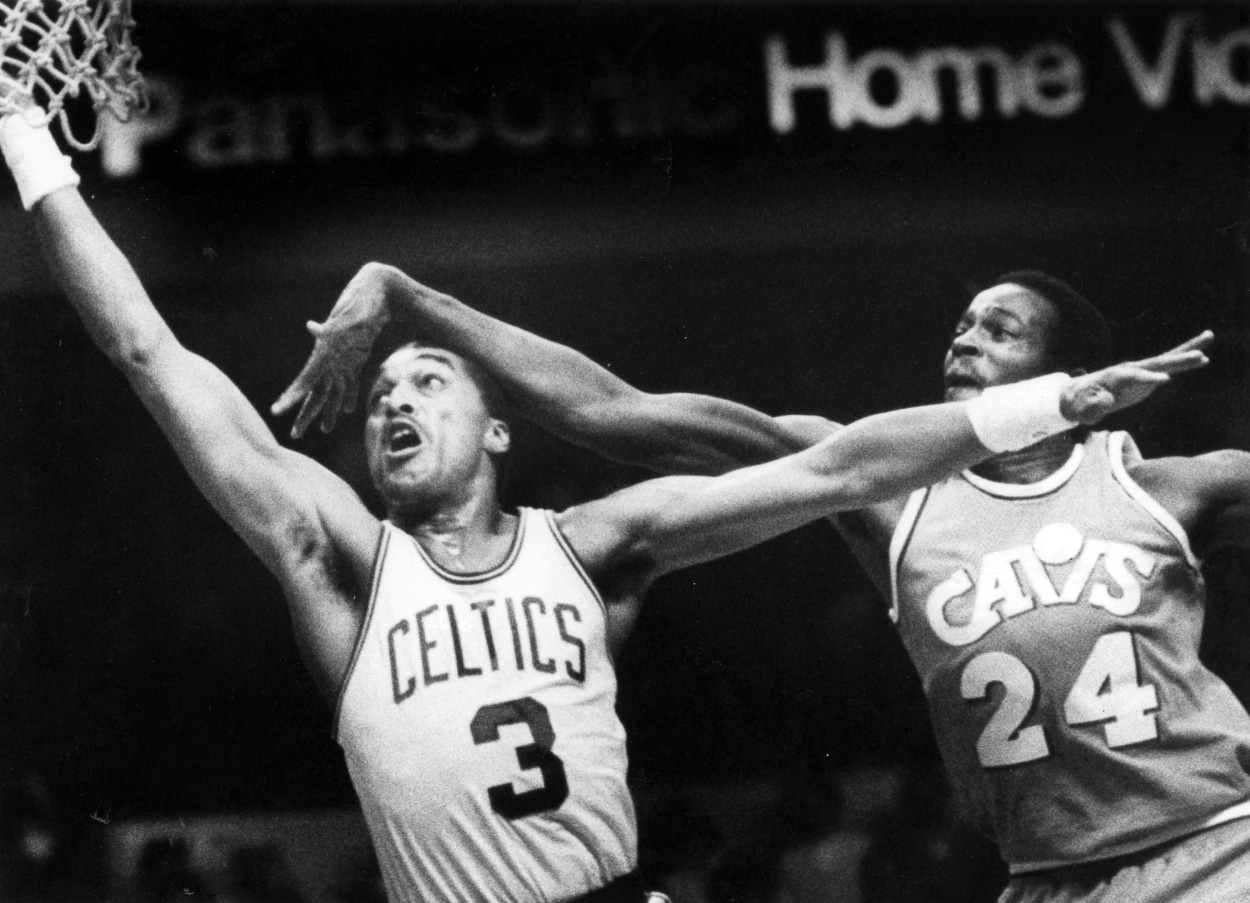 Danny Ainge Recalls the Day When Boston Celtics Teammate Dennis Johnson Was 'Livid' at Reporter Jackie MacMullan
According to Danny Ainge, former Boston Celtics teammate Dennis Johnson had some mood swings, but was one heck of a teammate.
Dennis Johnson came to the Boston Celtics with a bit of a reputation. He wore out his welcome in Seattle after clashing with head coach Lenny Wilkens. He did much of the same in Phoenix with John McLeod. The Suns eventually traded Johnson to the Celtics before the 1983-84 season.
In Boston, Johnson joined a veteran team, led by Larry Bird. Although Johnson's attitude improved with the Celtics, former teammate Danny Ainge recently recalled when D.J. was "livid" at reporter Jackie MacMullan.
Dennis Johnson helped get the Boston Celtics on the right track
The Boston Celtics were two seasons removed from their 1981 championship when they made their move to get Dennis Johnson. In 1982, the rival Philadelphia 76ers ousted Boston in the conference semifinals. The following year, the Celtics were embarrassingly swept by the Milwaukee Bucks in the Eastern Conference Semifinals. Boston desperately needed guard help, and they acquired Johnson for backup center Rick Robey.
In Boston, Johnson, a defensive-minded guard, helped clamp down on some of the tougher high-scoring guards like Philly's Andrew Toney and Milwaukee's Sidney Moncrief. During Johnson's first year with the Celtics, Boston reached the NBA Finals. In fact, the Celtics went to the championship round in the first four years D.J. was in town. They won titles in 1984 and 1986.
Johnson, however, didn't arrive without drama. According to former teammate Cedric Maxwell, D.J. clashed with head coach K.C. Jones almost immediately.
"There was an incident that happened right when (Johnson) arrived that really set the tone for how he would fit in," Maxwell wrote his book If These Walls Could Talk. "I don't remember the specifics, but he got into an argument with Jones. In this case, DJ was wrong. Usually, when a player gets pissed at his coach, he'll go to teammates, and they'll support him, no matter what. Not on this team.
"D.J. came to two or three of us and vented what he was upset about. We told him in no uncertain terms that he was wrong. He was shocked, noting that players usually stick together, but we told him he needed to apologize. D.J. had been a wild stallion, but that day he became a great teammate."
Ainge recalled how great Johnson was as a teammate, but he also remembered the day he was 'livid' at a reporter
Johnson fit in nicely with the Celtics. He was the fourth future Naismith Memorial Basketball Hall of Famer in the starting lineup on the 1985-86 team that many consider one of the best ever in the NBA. According to Ainge, he was an outstanding teammate, but every once in a while, there would be an outburst.
Ainge remembered a day when Johnson was "livid" at Celtics reporter Jackie MacMullan.
"I remember one day when I was playing with D.J. a couple of years into my career," Ainge recently said on the Knuckleheads Podcast. "D.J. and I were the starting backcourt. Jackie MacMullan, a reporter from Boston, had written, you know, 'Danny was 4-for-13 and D.J. was 5-for-13 from the field, and the Celtics guards were going to have to make their shots in order to advance to the next round.'
"D.J. was livid she had written this. It's like, 'D.J., she just put our stats in. That's OK.' He was mad that she was at practice. He was mad that she was there. D.J. was great, but he was just not happy to see her that day. That's just the world you have to learn to understand. You're gonna a get criticized. The expectations there are very, very strong. The fans and the people there in Boston are expecting championships and nothing else."
Ainge couldn't stress enough that D.J. was a great teammate and the Celtics stole him from the Suns.
"We got D.J. when he was like 31," he said, "and we don't even have to give up anything to get him. We traded Rick Robey, who was like our third-string center. I don't think he played much for Phoenix, ever. We got a starting first-ballot Hall of Famer to add to our current nucleus.
"I loved playing with D.J. You could see a little of why a coach might not like D.J. periodically — like a day every other month, where he'd kind of act out in a way that you'd say, 'You can't do that.' That's how D.J. was. He just had some moods, but 99 percent of the time, he was the most enjoyable guy to be around on the team."