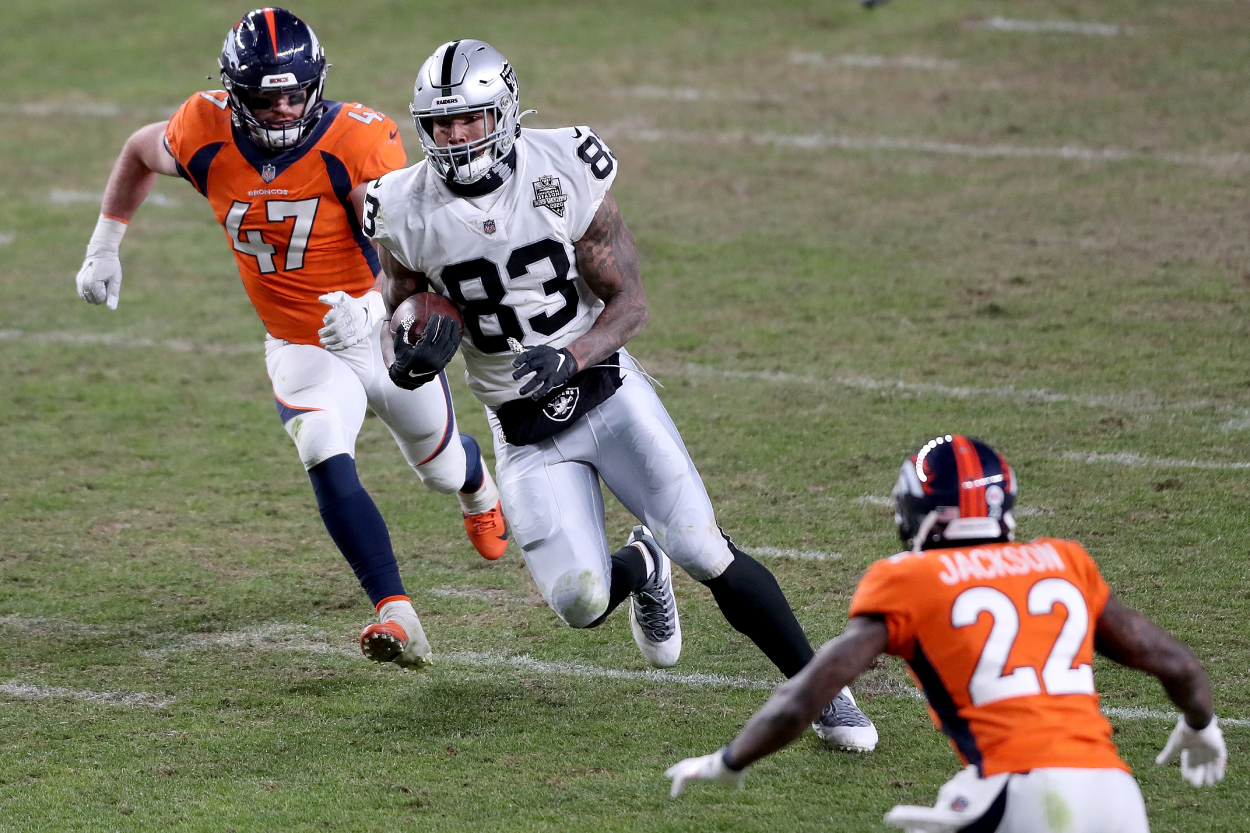 Darren Waller Still Fighting Every Day on and off the Field, According to QB Derek Carr
Raiders tight end Darren Waller is still fighting every day on and off the field, says QB Derek Carr.
Darren Waller has vaulted himself into becoming one of the NFL's top tight ends. The 6-foot-6, 255-pound Las Vegas Raiders tight end is a physical specimen and one of the hardest workers on the team. According to quarterback Derek Carr, Waller works hard at his football skills but continues to fight through and maintain his sobriety after a public substance-abuse battle that resulted in him missing the entire 2017 season.
Darren Waller had his life in the spotlight on 'Hard Knocks'
Waller was a sixth-round draft pick out of Georgia Tech back in 2015. The Baltimore Ravens took a shot on the super-athletic, then-wide receiver, and he made the team, although he was buried on the depth chart as a rookie. In October, his season was cut short as the Ravens placed him on injured reserve.
Before the 2016 season, the NFL suspended Waller for the first four games for violating the league's substance-abuse policy. Prior to the 2017 season, the league suspended him for the entire year. The NFL reinstated Waller for the 2018 season, and the Ravens placed him on the practice squad. The Oakland Raiders signed him off the practice squad in November.
With the Raiders in 2019, Waller was featured on an episode of Hard Knocks, detailing his struggles with substance abuse. He was open, honest, and proud that he was nearly two years clean. "Today is Aug. 11," Waller said at one point, according to the San Francisco Chronicle. "On the 12th, I'll be clean for two years."
He said when he was with the Ravens, he was trying to find his way out of the league.
 "I was just like a vegetable – I was getting high like literally every day," he said, admitting to using substances including opiates, Xanax, and cocaine. He said he was "plotting to sabotage my way out of the league so I didn't look like a quitter."
Derek Carr recently said Darren Waller continues his hard work on and off the field
Carr was a recent guest on the Cris Collinsworth Podcast, and he said there wasn't enough time to say all the good things about Waller.
"Honestly, I wish I had an hour just to talk about Darren Waller because he is so inspiring," Carr told Collinsworth. "He was trying to quit football. He was trying to get himself kicked out at one point, like 'I'm done with this.' To see this transformation take place in his life…
"I saw him in church the other day. He's trying to do everything he can to make sure he stays mentally right. I see him consciously trying to work toward that all the time. To see that he recognizes that he had those problems and he recognizes that, 'I don't want to go back to that.' He's fighting every day. Still fights every single day to make sure he never goes back to that, and it's the most beautiful thing I've ever seen."
Carr said Waller is an inspiration to everyone on the Raiders
Carr said everyone on the Raiders, especially the young guys, should look to Waller as a model with his newfound lifestyle. He never stops at trying to become better as a player and a person.
"If I could tell our rookies or our young guys, I'd tell them one thing," Carr said. "I'd say, 'guys, watch Darren Waller. You want to know what it takes to make it in this league? Obviously, not all of you are going to have some of the freakish talent he has, but you have enough because you're here. Just watch that man go about his business. He's the hardest worker on the practice field.'
"Again, if I had an hour, I could talk about him. I'm not going to kill the podcast like that. If you can't tell already, I'm just so proud of him. Throwing him the ball is one of the biggest joys of my life."
Waller clearly made the most of his secons chance, finishing with 1,000-plus receiving yards the last two seasons. He caught 107 passes and nine touchdown last year. He's become Carr's go-to guy in the passing game. Waller has gone from wanting to leave the game to becoming one of the most reliable players in the league.