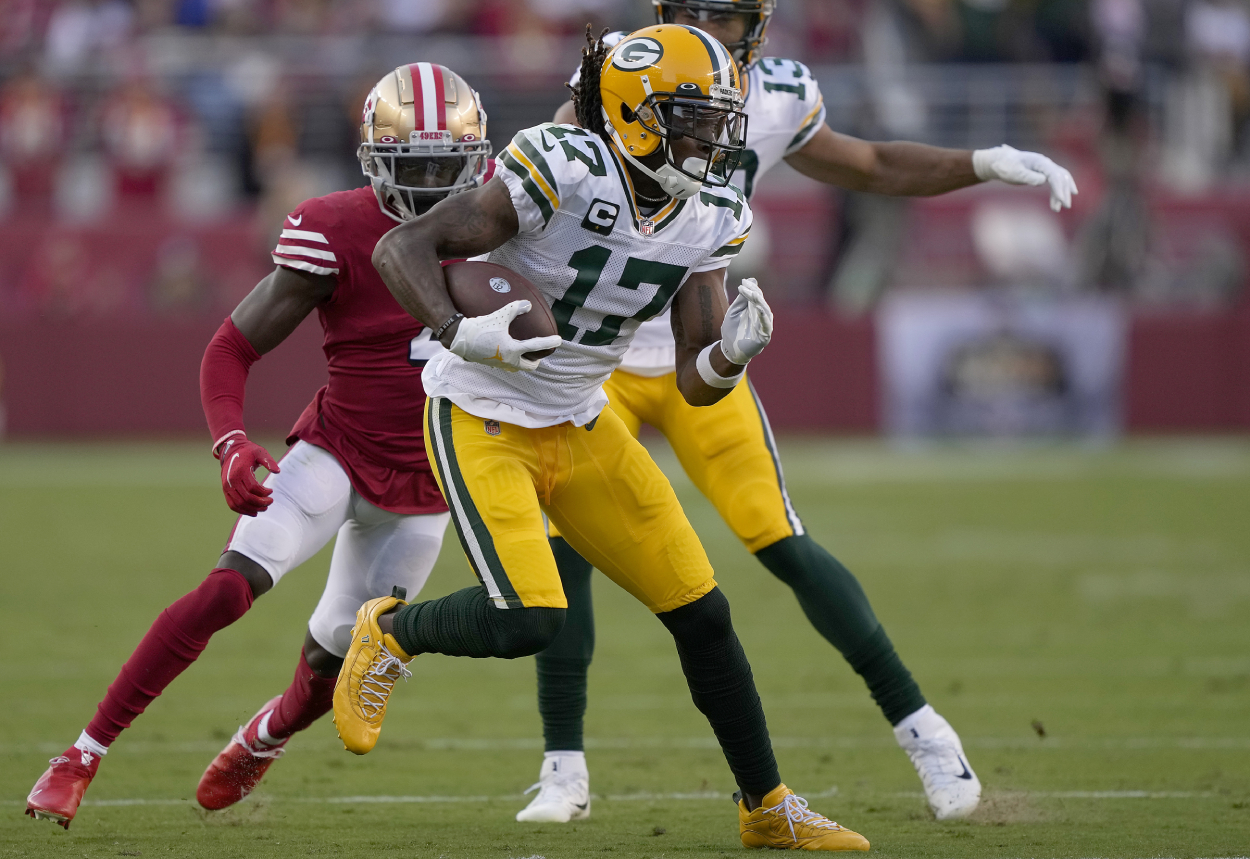 Davante Adams Says There Are Only 2 Ways to Try and Stop Him but Won't Reveal 1 of Them
Green Bay Packers Pro Bowl wide receiver Davante Adams said there are two ways teams can try to stop him. He only revealed one.
If he's not the best wide receiver in the NFL, Davante Adams is close. The Green Bay Packers wide receiver is fresh off a season where he led the league in touchdown receptions despite missing two games. He and Aaron Rodgers have developed a rapport that makes the duo difficult to stop.
In fact, Adams recently said there are only two ways he can be stopped. The San Francisco 49ers tried one of those last week, and he won't reveal the other method.
Davante Adams has become an unstoppable wide receiver for the Green Bay Packers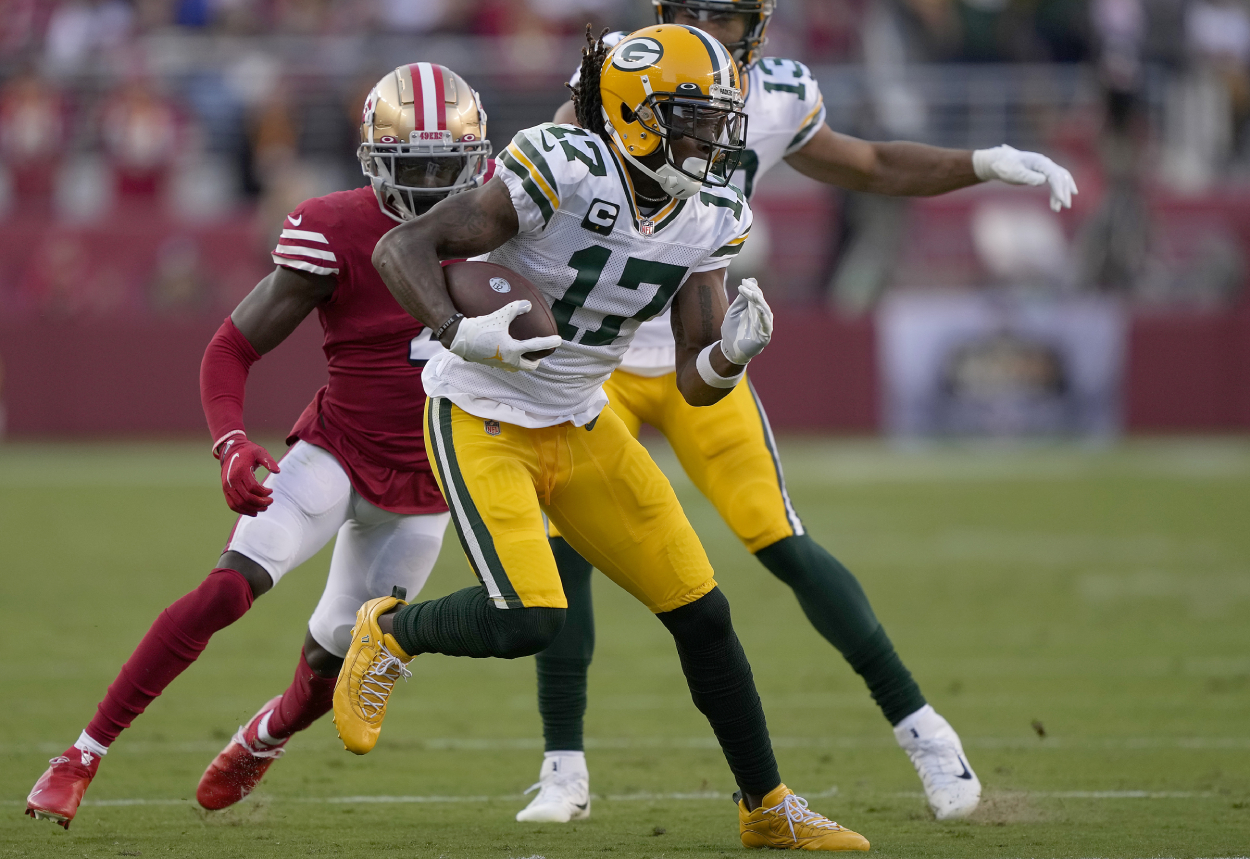 What makes Adams so special is that everyone knows he's getting the ball, and he still manages to do so. The Packers haven't had an established No. 2 receiver in years. He's put up the big numbers despite the extra attention he receives from defensive backs.
Adams also isn't lacking in the confidence department. A year ago, he racked up 1,374 receiving yards in 14 games. He collected 18 touchdowns en route to his fourth straight Pro Bowl. Last November, Adams was asked if he felt he was the best receiver in the game.
"I think that's fair to say," Adams said, according to Packers.com. "I think that's not being conceited. That's just being confident. I think obviously what I've done and what I'm going to continue to do is going to prove that to anybody who isn't on board with that.
"At the end of the day, I'll tell you yes, absolutely, I think I'm the best wide receiver in the game, but there's a lot of things that go into me being able to make that statement."
Davante Adams says there are only two ways teams can stop him, and he leaves us hanging
After a rough opening week when the Packers were embarrassed by the New Orleans Saints, Adams has come on. In his last two games combined, he has 20 catches for 253 yards and a touchdown. Last week against the 49ers, he had 12 receptions for 132 yards and a score.
Midway through the fourth quarter of that game, San Francisco's Jimmie Ward leveled Adams on what appeared to be a dirty hit, although no penalty was called. Adams remained on the turf for some time. After a trip to the medical tent, he surprisingly returned to the game and helped lead the Packers to a 30-28 come-from-behind victory.
He said him being "different" is the reason he returned to the game.
"Well, how I'm able to get through it is I'm different. That's probably the main thing," Adams said via Packers.com. "I've dealt with a lot of stuff like that and just the mental toughness to get in there. It wasn't a concussion. On the sideline, they evaluated and saw right away. I was straight. More than anything on the ground was my chest, having trouble catching a breath, but definitely good now."
According to Matt Schneidman of The Athletic, Adams spoke of the ways team can stop him. "There's two," Adams said. "They tried one in the (49ers) game, but I resurrected. There's one left."
He wouldn't elaborate.
The Packers are still looking for that No. 2 receiver behind Adams
The Packers added to their wide receiving corps by selecting Amari Rodgers in the third round of the 2021 NFL Draft. The team has typically shied away from wide receivers in the draft, but needs to give Aaron Rodgers another solid option in the passing game. They also brought back Randall Cobb as added insurance.
"When you have an elite receiver like (Adams), a legitimate, true No. 1, in my eyes the best in the business, you're always going to try and incorporate him and make him a big part of your game plan," head coach Matt LaFleur at the beginning of training camp, according to Packers.com.
"What it does is if teams want to focus on him and take him away, now you've got another guy (in Cobb) out there that knows how to create and separate, and you can kind of go in another direction. It just gives the defense one more guy to be concerned about out there."
Marquez Valdes-Scantling has had the opportunity to emerge as a solid No. 2, but has been inconsistent. Adams had 12 catches against the 49ers, Valdes-Scantling was second in receptions that night with three.
For now, there's Adams and everyone else, and there doesn't appear to be any way of stopping him. Actually, there is, but he's keeping it a secret.