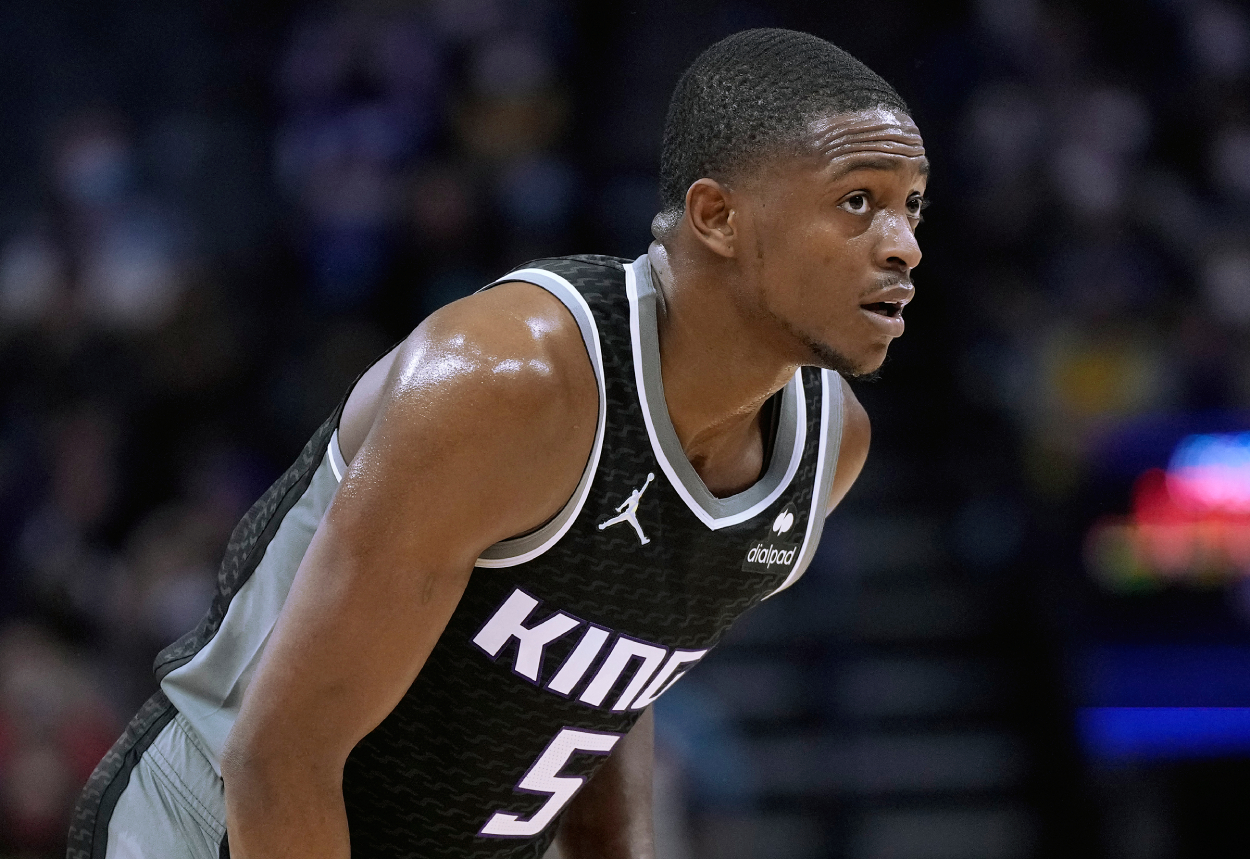 De'Aaron Fox Admits to Thinking Trade While Away From the Basketball Court
Sacramento Kings guard De'Aaron Fox just might be better off with a change of scenery.
De'Aaron Fox knows his name will be mentioned frequently over the next month. He realizes his time with the Sacramento Kings could be over soon. He doesn't dwell on that, although it bounces around in his head when he's away from the basketball court. The Kings just haven't gotten over the hump. In fact, they haven't had a winning season since the 2005-06 season. Changes may be coming in Sacramento, and Fox may be a part of those plans.
De'Aaron Fox hasn't been an All-Star but has put up All-star numbers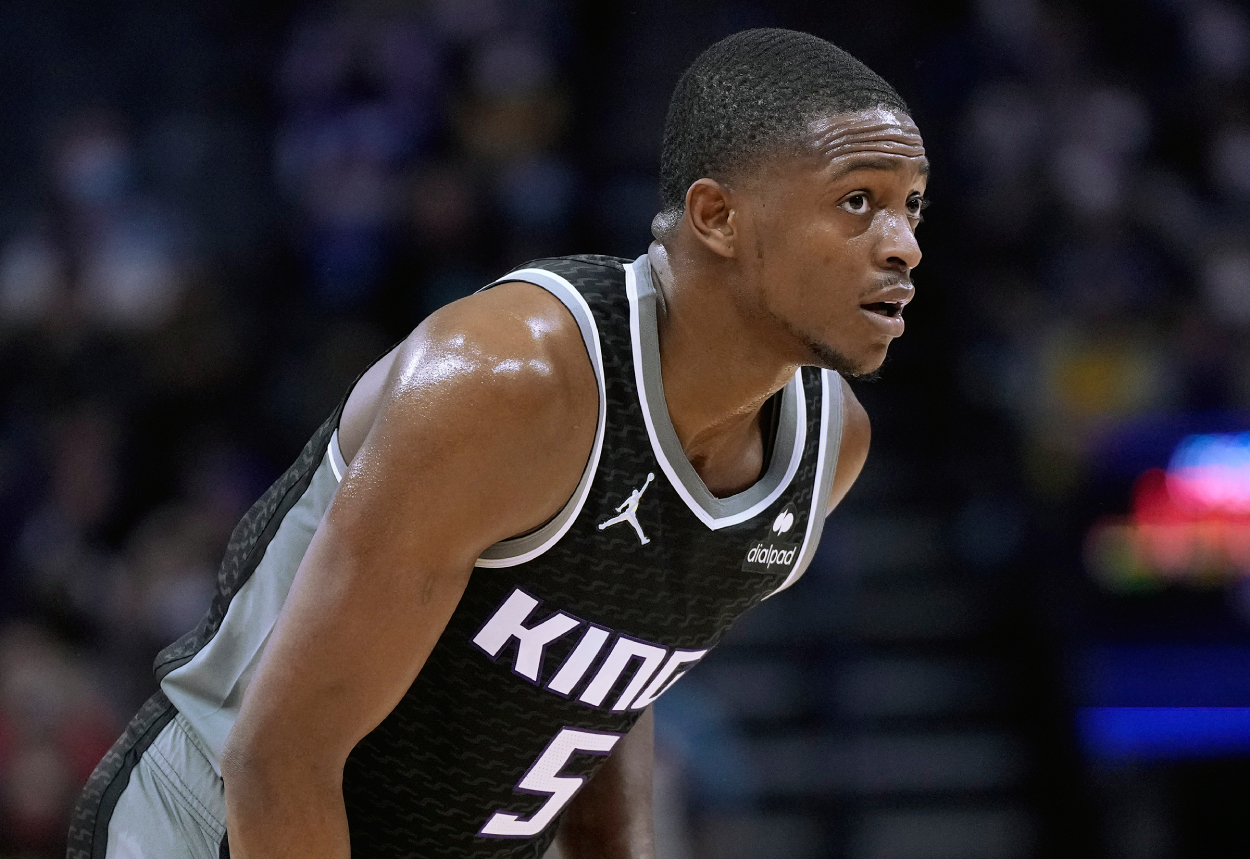 Fox might be one of the best point guards in the NBA who nobody notices. He flies under the radar mainly because he plays for the Kings. The speedy point guard is in his fifth year in the league and has never been an NBA All-Star, but that doesn't mean he's not putting up the big numbers.
Fox plays in relative obscurity in Sacramento. There isn't a whole lot of media attention given to the team, but those who know basketball know Fox can play with the best of them.
Drafted by the Kings with the fifth overall pick in the 2017 NBA Draft, Fox has come into his own as one of the top guards in the league. He's averaged better than 22 points the last three seasons, but his team has struggled mightily in each of those seasons.
Last year, Fox put up a career-high 25.2 points and averaged 7.2 assists, but the Kings finished 31-41. Sacramento hasn't hit the 40-win mark since it went 44-38 during the 2005-06 season. This season, Fox is putting up 21.0 points and 5.1 assists in 41 games.
De'Aaron Fox not concerned about the trade rumors
Fox and second-year guard Tyrese Haliburton have made some noise with the Kings this year, but not enough to change anything in the standings. After Friday's win over the Houston Rockets, the Kings find themselves at 18-27 and in 10th place in the Western Conference. As the NBA trading deadline draws closer, Fox and Haliburton have generated interest around the league.
Fox knows he could be on the move. It comes with the territory. He admitted it's on the back of his mind, but once he sets foot on the court, it's all forgotten.
"You definitely think about potentially being traded because we are struggling," Fox told Yahoo Sports on Wednesday. "If you do have a change of scenery, it changes everything.
"I've been here for five years. I've built a life here, a family here. But once I'm on the court, all that is out the window. You're not thinking about anything else that can happen outside of your control. 
"But I've been through some (trade) deadlines. I've seen people get traded at the last second. You try not to think about it, but you know it's a business and anything can happen. I'm not sure what's going to happen. Obviously, you see reports on Twitter. Am I worried about it? No. Can it happen? Yeah, it can definitely happen."
Fox would likely benefit from a change of scenery
If Fox put up similar numbers in a bigger market on a winning team, the All-star votes would pile up. He's a player who doesn't get the attention he deserves.
Until Feb. 10, 2022, expect to hear Fox's name pop up often in trade talks. He's been through it before, and he's used to it. For now, it's business as usual.
The Kings have the longest playoff drought in the NBA — 15 years. He's hoping to help the team turn it around if he's still there the second half of the year. A change of scenery would probably be the best for Fox, but he's sincere when he says he's not dwelling on it. He's also sincere when he says he loves playing for Sacramento.
"I'm not going to sit here and say I want to get traded, but anything can happen in this business," Fox said. "You've seen the best players in the league get traded. You can't think you're safe. But I love being here because for years, the Kings were the only professional team in the city. Kings fans love the Kings. That's what I've always loved about it.
"And me coming from Kentucky, that's how it was. Even when we were good at football, no one cared. It was a basketball school. This is a basketball city, and these fans have a genuine love for the Kings and the players, and it's something that I love."