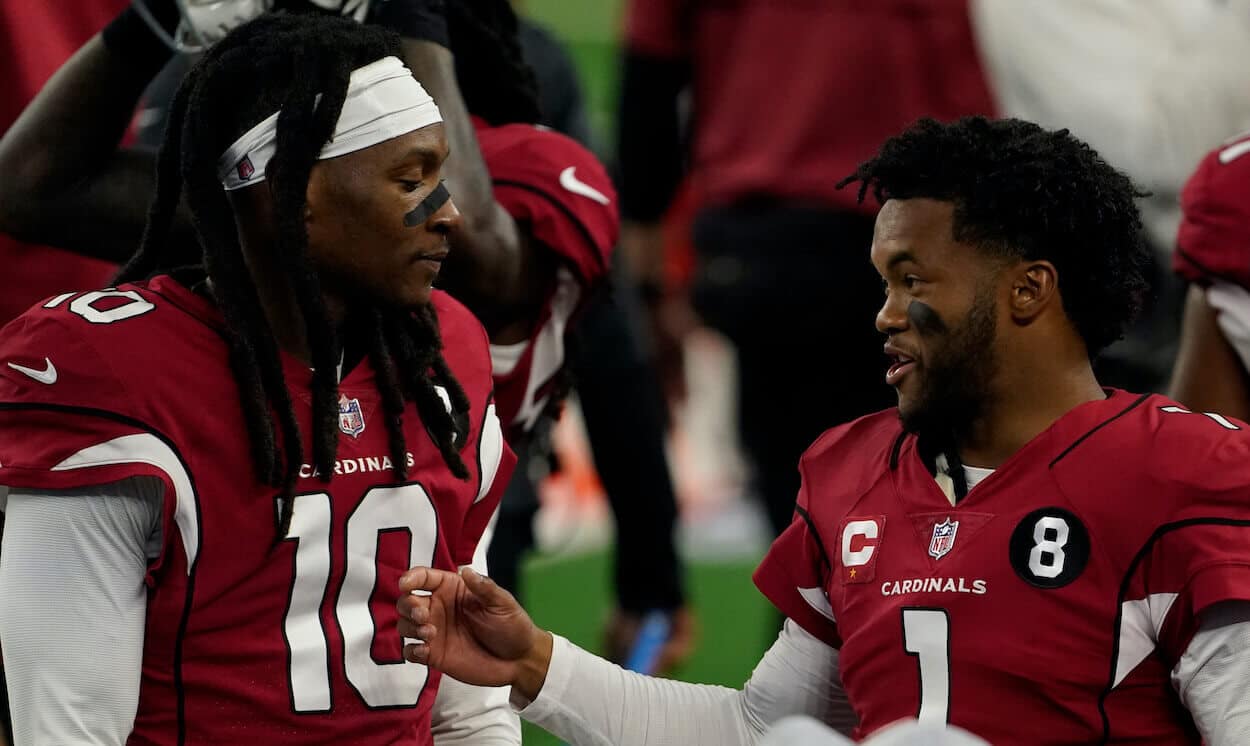 DeAndre Hopkins Lists 5 NFL QBs He'd Rather Play With Than Kyler Murray
DeAndre Hopkins chose his word carefully on 'I Am Athlete,' but it's hard not to hear his words as shots at the Cardinals and Kyler Murray.
The DeAndre Hopkins trade drama is one of the last ongoing storylines of the 2023 NFL offseason as the league approaches its only quiet period in June and early July. The Arizona Cardinals wide receiver wants out, and the team seems inclined to let him go for the right price. A Hopkins trade seems so certain at this point that even the player himself is willing to openly talk about what he wants in a new team, including the NFL quarterbacks he'd rather play with than Kyler Murray.
DeAndre Hopkins lists five NFL QBs he'd like to play with 
During an interview with the I Am Athlete show, former NFL WR Brandon Marshall asked the Cardinals wide receivers about the DeAndre Hopkins trade rumors, and Hopkins definitely talked like someone who is ready for a move.
He took some subtle and not-so-subtle jabs at his current organization and his QB, Kyler Murray (more on that below). And Marshall asked him, "What are some of the quarterbacks out there — if you had a list — you said, 'these are some dope quarterbacks that I would love to have throw me the ball the second part of my career?'"
Hopkins was quick to answer that Buffalo Bills quarterback Josh Allen was at the top of his list.
"One of my favorite quarterbacks that I've been watching since he came in the league is Josh Allen," Hopkins said. "He reminds me of a new-school Andrew Luck. I love Josh Allen."
The (current) Cardinals wideout also named Jalen Hurts because he is "a Houston kid," who Hopkins surely was aware of while spending the first seven years of his NFL career with the Houston Texans.
Hopkins continued by saying Patrick Mahomes was "obviously" on his list, as is "the underdog," Lamar Jackson, who Hopkins added, "not a lot of people respect this guy as a throwing quarterback."
To round out the list, Hopkins passed on the notion of Dak Prescott and took "my dude in San Diego, or the Chargers," meaning Justin Herbert.
As an honorable mention (and to throw more salt in the Kyler Murray wounds), Hopkins said he "heard that the quarterback we got from Houston is pretty good," referring to 2023 fifth-round Cardinals draft pick Clayton Tune.
Hopkins crushed Cardinals and Kyler Murray
Brandon Marshall also shared his own team-moving experience later in his career and asked the Cardinals WR what he is looking for in a DeAndre Hopkins trade destination.
Hopkins clearly laid out what he wants in his next organization, and it's impossible not to hear what he said and interpret it as a shot at the Cardinals organization and quarterback Kyler Murray.
First, Hopkins is looking for "stable management upstairs," which he says he hasn't had with the Texans or Cardinals in the last few years of his career.
He also wants "A QB who loves the game. A QB who brings everybody on board with him and pushes not just himself but everyone around him. I don't need a great QB. I've done it with subpar QBs. Just a QB who loves the game like I do.
Lastly, he wants to work with "a great defense."
When asked how many of these things he has in Arizona, Hopkins answered that he thinks new general manager Monti Ossenfort seems like a good hire, but he hasn't been there long enough to judge. He didn't mention anything about new head coach Jonathan Gannon.
The five-time Pro Bowl WR also noted that the Cardinals have a "good" defense, even though safety Budda Baker has requested a trade.
Finally, he did say Murray "loves the game as well," but then sent the hosts into hysterics as he struggled (and failed) to find more nice things to say about the injured Cardinals signal-caller.