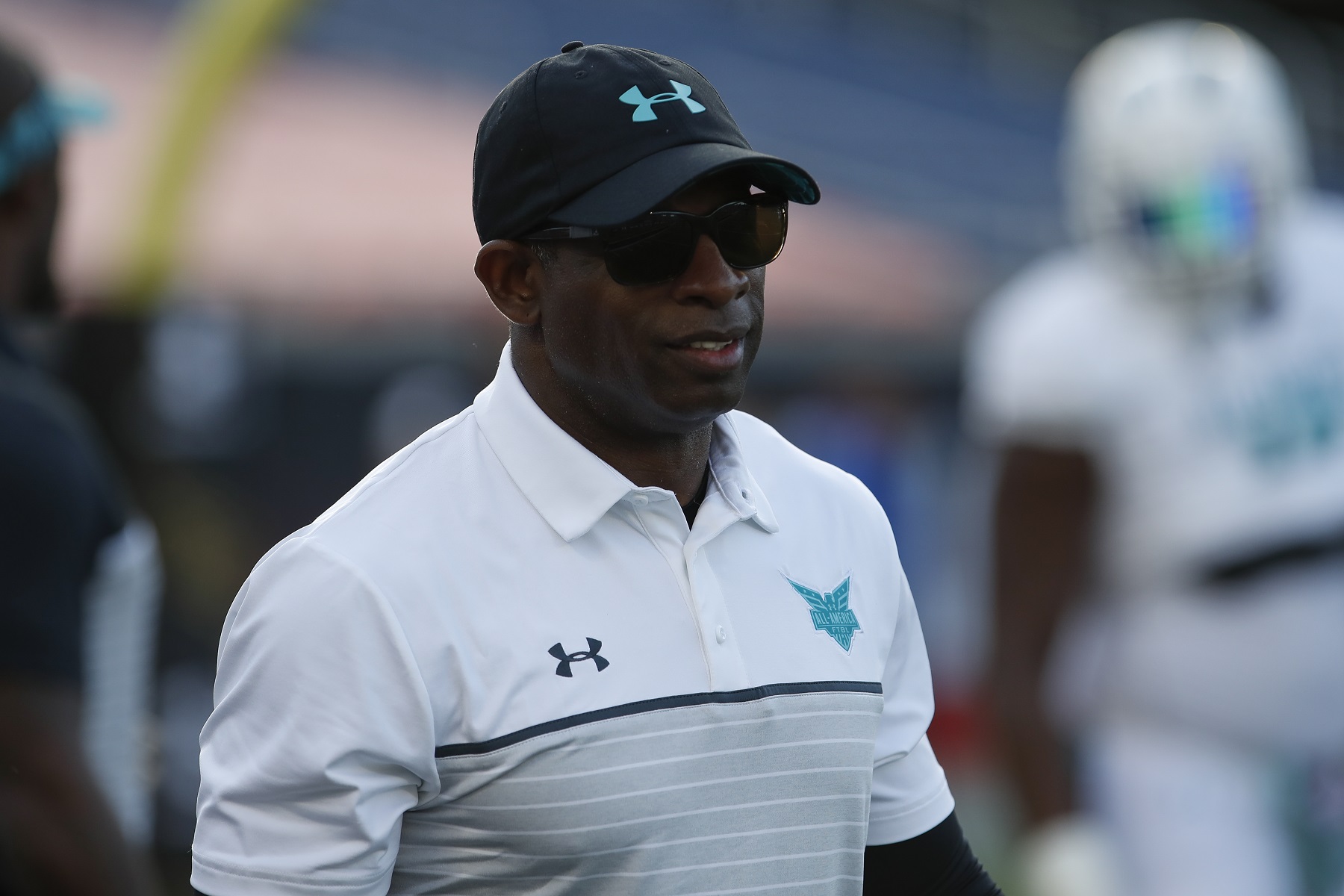 Deion Sanders Has Already Had His First Taste of NCAA Problems
Deion Sanders has been the coach at Jackson State for barely a month and must deal with NCAA violations that happened before his arrival.
Deion Sanders' first game as a Division I football coach is still four months away and he's already facing a first-and-15 situation. That's because the Pro Football Hall of Fame inductee just got his first taste of NCAA justice.
Don't pin the blame on Sanders, though. The new head coach at Jackson State in Mississippi is inheriting problems that originated before he took the helm of the FCS program. Unfortunately, he's the coach who'll have to deal with the penalties.
Deion Sanders is coaching in college for the first time
Deion Sanders, 53, was introduced in September as the 21st head coach in the history of Jackson State, which plays in the Southwestern Athletic Conference in the FCS. He hasn't made his collegiate coaching debut yet because the COVID-19 pandemic has caused FCS conferences to push their season back to the spring.
With the limitations on what he can do on campus this fall, Sanders is continuing for now in his role as offensive coordinator at Trinity Christian High in Cedar Hill, Texas, where one of his sons is the quarterback. He's also put together a staff and landed a couple of recruits in the early going while playing catch-up with Jackson State's rivals in that department.
He is replacing John Hendrick, who was 6-9 at Jackson State, which hasn't produced a winning season since 2013. The new season starts Feb. 21 against Edward Waters College from Jacksonville, Florida.
Jackson State made a statement by hiring a well-known personality, even if he's never coached at the college level before. Sanders' contract covers four seasons at $300,000 per year plus an array of potential bonuses pertaining to success on the field as well as attendance at home games in Jackson State's 60,000-seat stadium.
The NCAA addressed a slew of minor violations
On Oct. 23, 2020, the NCAA released what it termed a "negotiated resolution" with the Jackson State administration to address a series of violations that took place under previous coaching staffs at the school.
What the NCAA found was a series of relatively minor infractions. In total, however, the findings painted a picture of sloppiness and general disregard for rules that the coaches and athletic staff should have known:
Thirty-four players practiced and competed before the NCAA Eligibility Center provided certification of their eligibility.
A former staff member made a payment of $300 to a player's godmother.
There was impermissible tutoring assistance given to a transfer student to help him gain eligibility.
The violations took place between 2014 and '18, all well before the arrival of Deion Sanders as the new head coach. The school minimized the damage by uncovering the issues itself and self-reporting its findings to the NCAA.
Deion Sanders will be dealing with fewer scholarships
Although major-college football programs can have 85 players on full scholarship at any given time, the rules are different in what used to be known as Division I-AA. In the FCS, schools have up to 63 scholarships available, and partial scholarships are permitted.
It's in the scholarship department that new Jackson State coach Deion Sanders will feel the most pain. The NCAA has stripped Jackson State of 2.5% of its scholarship equivalents over the next two years. While that only works out to about 1.5 scholarships, that's money that could have been divided up between three of four players who would have provided depth as Sanders starts to reshape the program.
The other NCAA penalties:
A series of one-week fans on official visits during the upcoming spring season and a reduction of four official visits by recruits next academic year.
Two years of NCAA probation.
A $5,000 fine.
Jackson State will vacate an undetermined number of victories from past seasons after determining which games included the use of ineligible players.
"Jackson State University is committed to a culture of compliance, and the actions we took reflect that commitment," AD Ashley Robinson said in a from the school. "I will like to commend my compliance staff and let the record show we responded quickly, investigated vigorously, immediately self-reported the violations, and independently took decisive corrective steps."
Like Sportscasting on Facebook. Follow us on Twitter @sportscasting19.