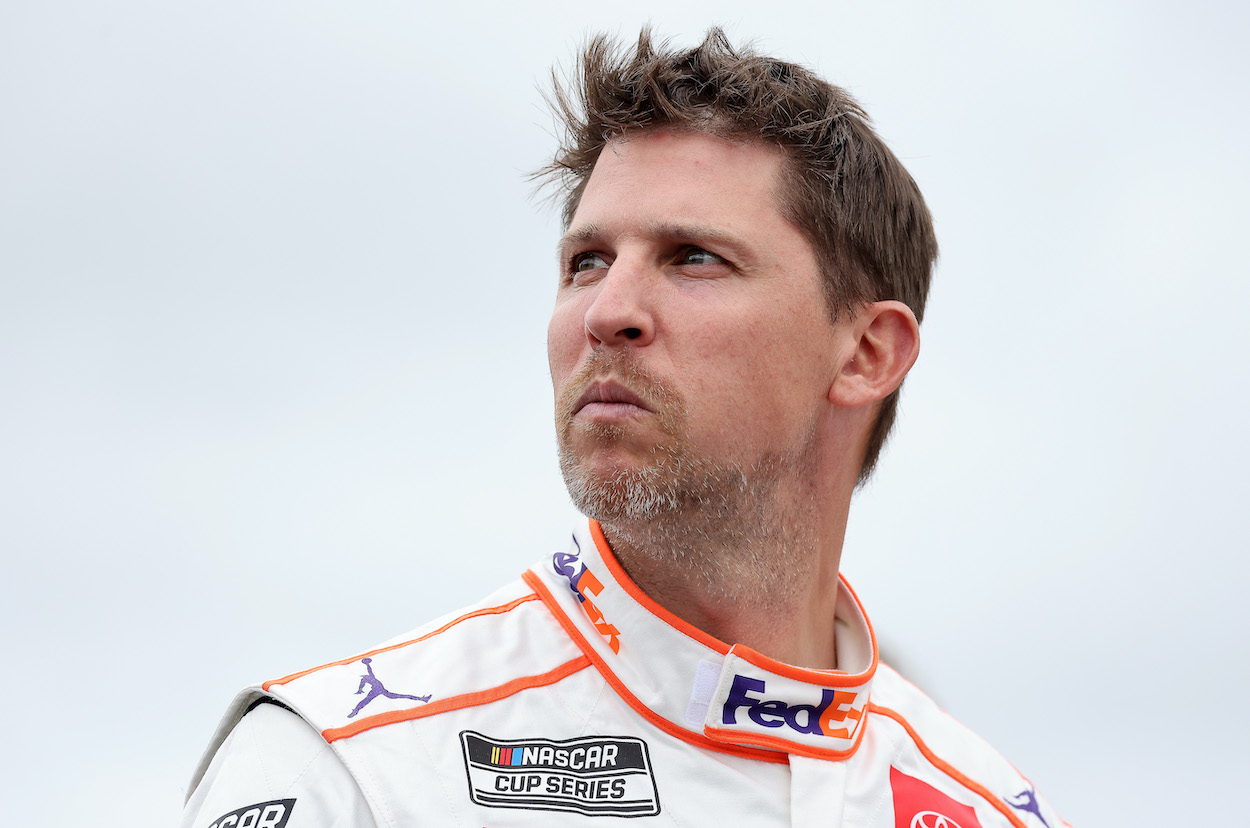 Denny Hamlin Candidly Admits He Addressed Past Beef With Kyle Petty During Nervous Conversation About Using No. 45 for 23XI Racing
Denny Hamlin visited with Kyle Petty about acquiring the number 45 for 23XI Racing and addressed the pair's past beef.
Denny Hamlin and Kyle Petty have a history together dating all the way back to a NASCAR Cup Series racing incident at Dover in 2007. Their frosty relationship got a little spark earlier this year when the NBC announcer suggested the Joe Gibbs Racing driver might be looking over his shoulder at some of the young up-and-coming drivers on the team who might be jockeying for his seat in the near future.
Hamlin understandably didn't take too kindly to the remark. Fast-forward months later and 23XI Racing was preparing to add a second driver to the team. The desired number for the new car was 45, team co-owner Michael Jordan's other number in the NBA. Hamlin asked NASCAR for the number, but the organization referred him to Petty, who had last used the number in memory of his son Adam after he tragically died in a 2000 crash. And that's when things got interesting.
23XI Racing signs Kurt Busch to No. 45
After weeks of speculation, 23XI Racing made it official last week that the team got its man in Kurt Busch. The veteran driver and 2004 Cup Series champion will join the team and Bubba Wallace in 2022.
"I cannot begin to express the gratitude for this opportunity," Busch said in a statement. "Racing to win is what I live for. Helping to continue developing a new team, alongside Michael Jordan, Denny Hamlin, and Toyota, is exactly what I want to be part of. Winning is important to 23XI, it's important to Monster Energy, and it's important to me. That is our goal." 
Team co-owner Denny Hamlin knows in Busch the team has a driver who can instantly earn wins, impart his knowledge to Wallace, and hopefully send the younger driver to victory lane for the first time.
"When we started this team, our vision was to grow a multi-car organization," Hamlin said in a statement. "To be able to expand in just our second year is a huge step for us. Kurt brings a wealth of knowledge and a championship mindset to our team and will be able to help us grow stronger and more competitive each and every week." 
Denny Hamlin details conversation with Kyle Petty about acquiring No. 45 and addressing their past beef
Before this past weekend's race at Daytona, Hamlin visited with reporters about the deal with Busch. Fox's Bob Pockrass asked the question about the process involved in acquiring the No. 45 for the car, which was last used by Kyle Petty in 2008. Petty had taken over the number in 2001 after his 19-year-old son Adam tragically died during Busch Series practice at New Hampshire. 
"My first part of worrying was when NASCAR was like, 'Yeah, that number has always just kind of been put to the side. Nobody's really touched it since Kyle and Adam so you might want to have a conversation with him,'" Hamlin said NASCAR told him. "And I'm thinking, uh-oh, how's this going to go? I need to publicly thank Kyle more about his cooperation with us and really excitement for us to bring it back. I was worried because I knew he was sentimentally tied to that number. For him to allow us to come back, because ultimately he was the guy that could say no and shut it all down. Big kudos to him for allowing us."
When Hamlin was asked a follow-up question about the pair's contentious history, he candidly admitted they addressed their past beef. 
"We had a conversation afterward, and it was like, 'Hey, I think you think I'm tough on you.' I'm like, 'No, I just want a fair shake every now and then,'" Hamlin told Petty. "But I appreciate him when we talked because he was like, 'Listen, I just hold you to a higher regard to everyone else.' I can appreciate that as well."
Hamlin and Petty's history dates back to 2007 
Denny Hamlin didn't exactly endear himself to Kyle Petty in 2007, Hamlin's second season on the Cup Series. During a race at Dover, the young driver ran into the back of Petty's lapped car. After the race, an upset Petty criticized Hamlin and then reached into his car and slapped down his helmet visor. That was just the beginning. 
There have been other run-ins through the years, including the most recent at the start of the 2021 Cup Series season when Ty Gibbs won his first-ever start in the Xfinity Series and Christopher Bell won his first-ever Cup race at the Daytona road course. Petty commented after the races that the older drivers with Joe Gibbs Racing should be paying attention. 
"You talk about [Bell] being 26, we've got Harrison Burton, you talk about Ty Gibbs," Petty said. "If I'm a veteran driver in the Gibbs organization, I'm looking over my shoulder and in the rearview mirror because I'm watching my replacement out there win race, win races at the Xfinity level, win races at the Cup level. So that's gotta light a fire under a Denny Hamlin, under a Kyle Busch."
Hamlin, who signed a multi-year contract extension with Gibbs before the start of the season, was honestly puzzled by Petty's remarks. 
"I can understand it coming from fans because they're not prefaced to information that analysts or media are," he said. "So my thing was just like, 'Have you watched one race in the last two years? Have you seen any articles about re-signing?' It just dumbfounds me." 
With the No. 45 now part of the 23XI Racing family, their past history appears to be water under the bridge. That is until Petty criticizes Hamlin again. And it's not a matter of if, but when.
Like Sportscasting on Facebook. Follow us on Twitter @sportscasting19.