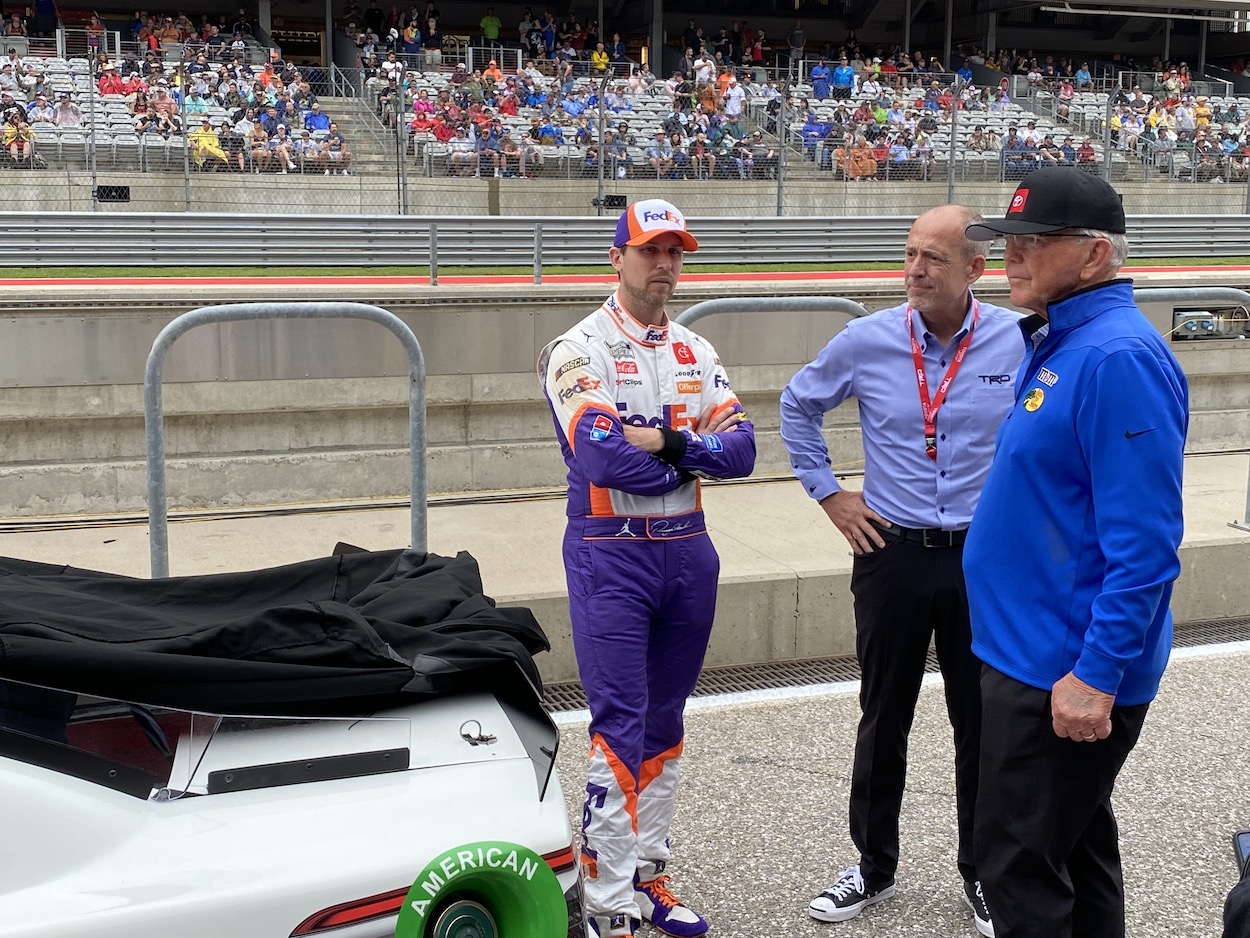 Denny Hamlin Doesn't Mince Words and Blasts Michael Waltrip on NASCAR Race Hub, Insulting Many Fans in the Process
Denny Hamlin blasted Michael Waltrip on NASCAR Race Hub and in the process insulted a lot of fans.
Like any professional athlete, Denny Hamlin is ultra-competitive. And it's not limited to the race track. Hamlin is well-known in NASCAR circles for his basketball and golf leagues. On the latest episode of NASCAR Race Hub, Hamlin appeared as a guest on the show, and the host asked him about the golf game of Michael Waltrip, who was appearing on the show as a guest co-host. The three-time Daytona 500 winner didn't mince his words and absolutely ripped Waltrip's game and insulted the game of many other sports fans in the process. 
Denny Hamlin takes shot at Michael Jordan's golf game
If anyone ever wondered how competitive Denny Hamlin is when it comes to sports outside of racing, look no further than the week before the season-opening race at the Daytona 500. Hamlin and fellow 23XI Racing co-owner Michael Jordan hit the links in Florida for a little fun in the sun. 
A few days after their round, NASCAR posted a Q&A video with Hamlin and Bubba Wallace on Twitter, which included questions about everything from who has the most Jordan shoes between the two drivers to who has the better golf game, including Jordan. Wallace willingly admitted he was third in the golf department. Hamlin struggled to concede Jordan was better.
"Me and Jordan, we used to play even. I mean, he owns a golf course now. He plays a lot of golf. Listen, I'm the workhorse on this dadgum team, so he's probably got to give me a few strokes now," Hamlin dejectedly acknowledged in the video. 
Hilariously, Hamlin readily amended his answer in a reply to NASCAR's tweet.
"I revise my final answer after the spanking I put on him in Daytona. #stillwinning," Hamlin wrote. 
Hamlin rips Waltrip's golf game and insults a large number of fans
Hamlin's ability to hang with and even beat Jordan on the golf course is impressive, considering His Airness hovers around a 1.3 handicap. With restrictions from the pandemic being lifted, Hamlin has hit the links more often this year and resumed play with the The Golf Guys Tour, a league he co-founded with Ricky Stenhouse Jr.
During the latest episode of NASCAR Race Hub, host Kaitlyn Vincie asked Hamlin about guest co-host Michael Waltrip's golf game. Hamlin provided a brutal answer.
"Michael's terrible. Yeah, he is terrible," he bluntly revealed. "He won't say any different. Actually, there was a conversation with myself and some people that I was golfing with; we were like, 'Man, I couldn't imagine shooting mid-90s everyday, golfing.' They were like, 'Michael does it every day.'"
Waltrip jumped into the conversation and asked if it surprised Hamlin that he was last in the league.
"Golf is a game that Michael loves, that just does not love him back," Hamlin responded.    
Kicked Bubba Wallace out of golf league
Hamlin's comment on how bad it must be to shoot in the mid-90s reveals how he's completely oblivious to the reality that the score for the average golfer hovers around 100 on an annual basis, according to Golfweek. 
It also reveals how seriously Hamlin takes the game. He showed as much several years ago when he kicked out his future employee, Bubba Wallace, from the basketball and golf league after the pair got into a war of words following the 2018 Daytona 500. 
"I have been removed from both," Wallace told Motor Racing Network. "Although, I didn't get the direct text. It went through like five or six people. That is classy I guess. I have been told the golf league was out. I removed myself from the basketball league just after the conversation we had that day."
This year, Hamlin re-instated Wallace, albeit as a sub for one event. Wallace won. And Hamlin had to painfully acknowledge it.
 Like Sportscasting on Facebook. Follow us on Twitter @sportscasting19.