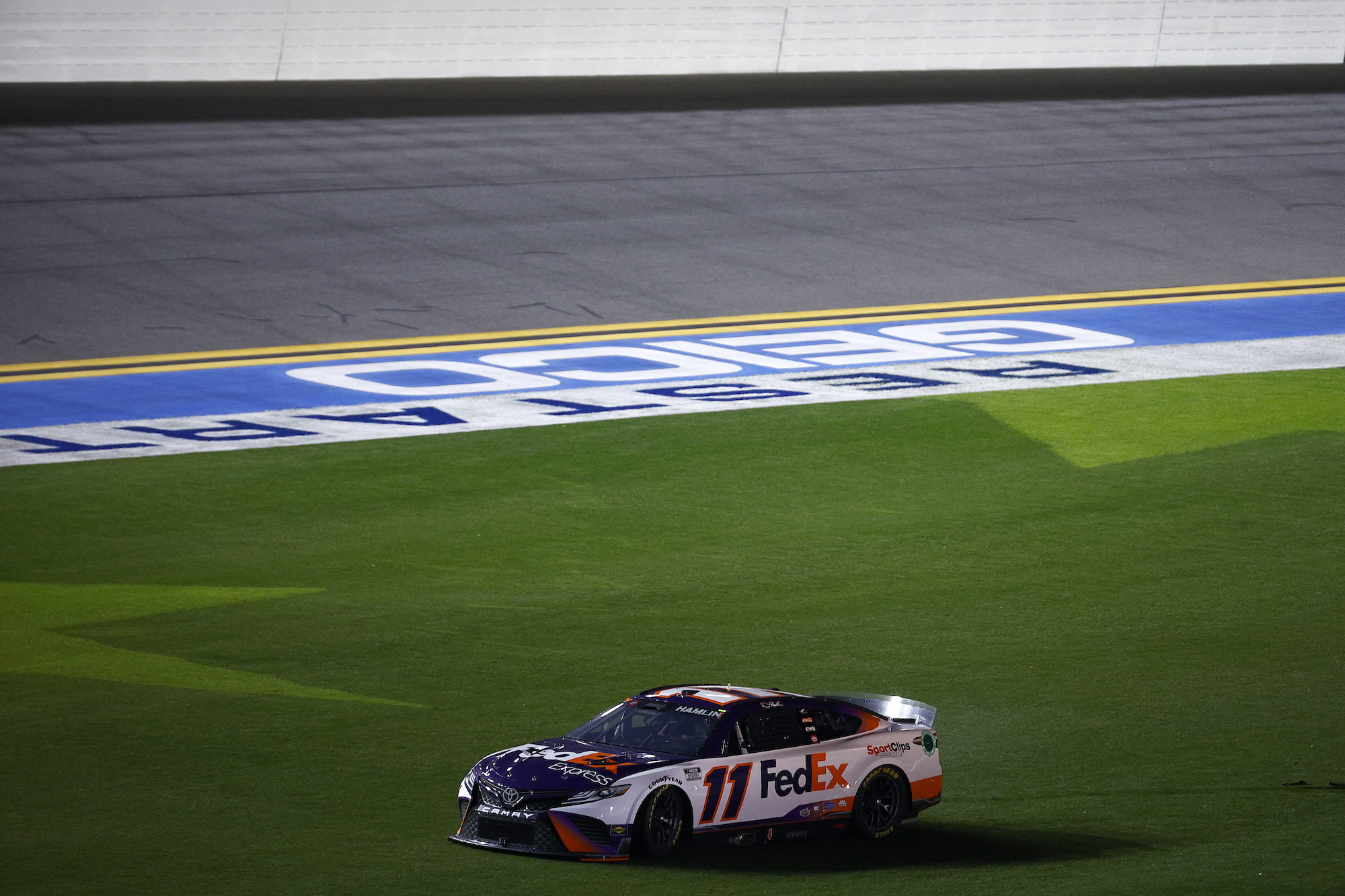 Denny Hamlin Embarrasses Himself When Routine Pit Stop in Duels Race Turns Disastrous
Denny Hamlin made an embarrassing mistake during his Duels race, spinning on pit road, and almost taking out his Toyota teammates.
Denny Hamlin has already established himself as one of the greatest NASCAR Cup Series drivers in the history of Daytona, with three wins in the sport's biggest race to his credit. His success can be attributed to a variety of factors, including circumstance, but two of the 41-year-old's main keys to multiple victories at the World Center of Racing have been, ironically enough, patience and aggression.  
The Joe Gibbs Racing driver was aggressive with the Next Gen car in testing during the offseason and brought that same mindset with the new car to the Duels in Daytona, just a few days before the Great American Race. Unfortunately, that attacking mindset came back to bite him during his race when he embarrassed himself on what should have been a routine pit stop. 
Denny Hamlin aggressive during Daytona Next Gen testing 
Denny Hamlin knows precisely what it takes to win at Daytona. At least he did. That was in the last generation of cars. The Next Gen car, which has been years in the making, will make its official points race debut this Sunday at the Daytona 500.
Months before its much-anticipated debut, NASCAR dramatically increased the number of testing sessions with the new car at various tracks with numerous different drivers. Hamlin was involved in multiple tests at Daytona, including one in September 2021 and another last month. 
During the most recent round of testing, Hamlin said he used the session to learn about the car and how it handled on the superspeedway, but, more importantly, to plan for the future and run a mock race. 
"I stayed pretty aggressive. This is going to be pretty much my only practice for the 500," Hamlin said. "One where it was kind of a freebie where it was 50-50 whether we thought we were going to bring this car back in one piece or not. We just can't get that aggressive on race week with our practices. We're here. He (crew chief Chris Gabehart) just thought he'd kind of let me go and get aggressive. I was pretty happy with it all."
Inexplicably spins in Duels race
Interestingly, Hamlin mentioned how he wouldn't get aggressive with practice for the 500, but didn't include the Duels. That's what happened Thursday night. 
In Duel 2, just under halfway through the race, the Toyotas began to cycle through for their first and only pit stops. Kyle Busch led the pack down pit road, followed by Bubba Wallace and Christopher Bell, who were two-wide, and Hamlin, who was fourth, on the outside of the No. 23 car, with Martin Truex Jr. behind him. 
As the cars rapidly decelerated, it appeared that Hamlin locked up the new more-sensitive brake package, with smoke billowing out from his left front tire. He swerved to the left, narrowly missing the car that he co-owns with Michael Jordan, before spinning his wheels and overcorrecting, which then whipped the rear of the vehicle back around and sent him into the infield grass, where he gassed it and made a complete 360, before finally making it to his stall. 
The spin separated Hamlin from his Toyota teammates and effectively ended any chances at a fourth Duel win. He previously won in 2008, 2014, and 2017. Instead, he finished 15th, with Wallace finishing closest to him in eighth. 
Hamlin reveals embarrassing reason he spun in Charlotte
Hamlin's spin going onto pit road at Daytona was embarrassing and a result of being too aggressive. However, it wasn't his first spin in the new car. In mid-November, he spun the Next Gen car during a testing session at Charlotte and it wasn't because he was being too aggressive. In fact, it wasn't his fault at all. 
Hamlin revealed what happened during a visit with Racing Spaces on Twitter. 
"The manual that they actually give you to put the car together has the left rear control arm upside down. So that's a problem," Hamlin said. "So my rear end was actually skewed to the wrong side because the manual. I mean, we triple-checked. The manual has it wrong. It's upside down. We got that fixed. 
"I told them, 'Man this thing is driving sideways. I don't understand.' It has no sideforce to begin with. Why am I on edge so bad? And then I spun out. But then they're like, 'Oh we've got an issue with the left rear there. They fixed that.'"  
Hamlin's won three Daytona 500s by being aggressive and patient. But his patience must be wearing thin with these spins. Nothing a win on Sunday wouldn't help him forget about it.
Like Sportscasting on Facebook. Follow us on Twitter @sportscasting19.