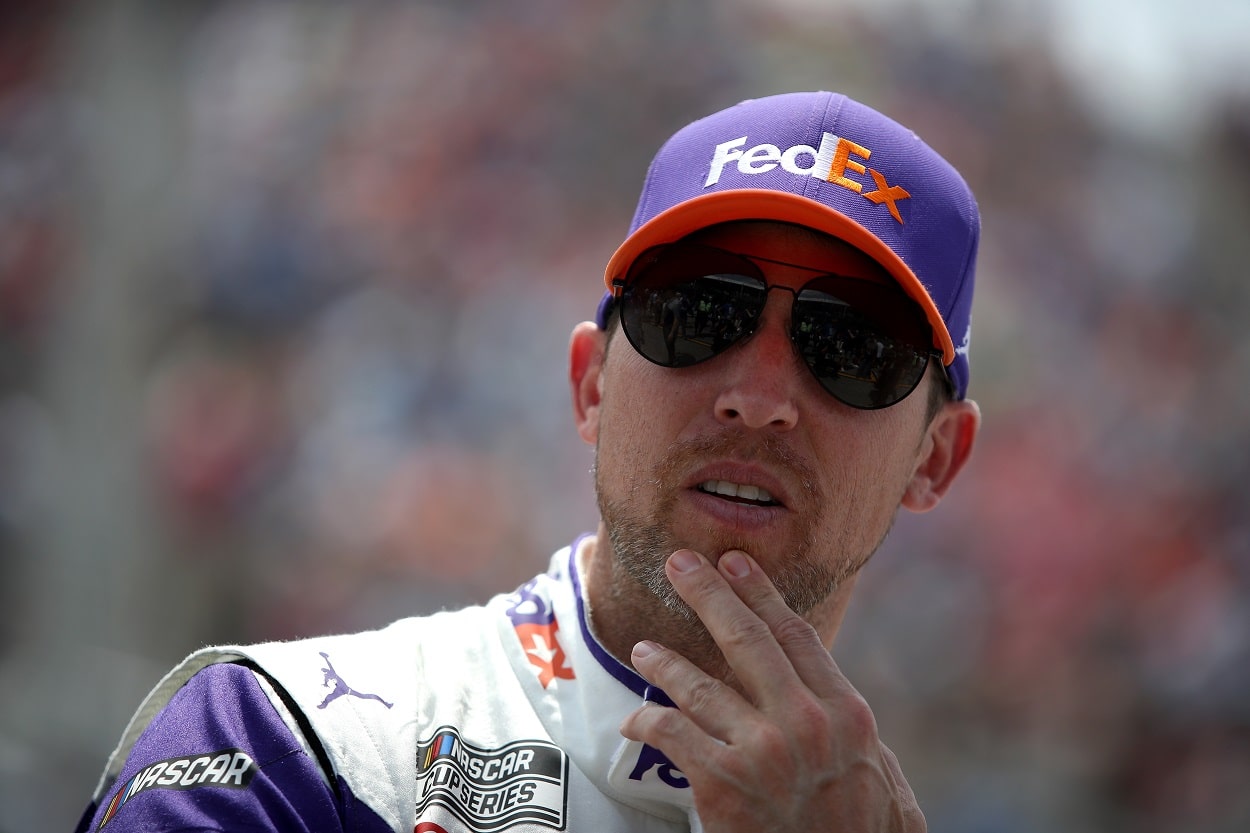 Denny Hamlin Finding Out He May Not Have Meant What He Said About Alex Bowman Last Year
Denny Hamlin is living the kind of season he essentially said he didn't want a year ago.
Denny Hamlin is only one playoff point shy of the top spot in the NASCAR Playoffs grid as the 2022 season approaches the overall halfwaypoint. But he might still consider that a disappointment given the statement he made about another driver's season a year ago.
Hamlin won the pole award and led a race-high 114 laps en route to a sixth-place finish Sunday at Nashville Superspeedway, which was only his fourth top-10 of the season. He is 20th in the overall points standings but is fifth in the playoff standings because he has managed to win two of the first 17 races this year. He won at Richmond Raceway on a tire strategy call and won the Coca-Cola 600 from the pole at Charlotte Motor Speedway.
Those victories plus a pair of stage wins along the way have garnered him 12 playoff points, one fewer than the 13 points Chase Elliott, Ross Chastain, and William Byron have amassed. Hamlin nearly gained more playoff points Sunday with the single tallies stage wins offer, but finished second to Joe Gibbs Racing teammate Martin Truex Jr. in both of the first two stages.
Denny Hamlin is stuck in the type of season he didn't want to have a year ago
It turns out Hamlin is having a season quite similar to the campaign Hendrick Motorsports driver Alex Bowman had in 2021. Bowman had seven finishes outside the top 15 through the first 13 events last year, but he was near the top of the playoff grid because he was one of only two drivers with multiple wins. Truex had three victories at that point, and Bowman had scored a win at Richmond and Dover Motor Speedway.
A late-race tire strategy call boosted Bowman to the win at Richmond as he powered around Hamlin, who finished second and had won both stages earlier in the event.
Hamlin had not won a race at that point in the season and actually went winless through the entire regular season. However, he had a top-five finish in eight of the first nine races and led the points standings after the Richmond race Bowman won.
After that race, Hamlin said he preferred the consistency his team had shown that season compared to Bowman's year, which included a win to qualify for a playoff spot but lacked consistent week-to-week performance.
"It's frustrating for sure," Hamlin said after the Richmond race. "But honestly, I'd rather be where I am than Alex Bowman. I don't care that he's got a win; we're smashing everyone. I'd still rather be where I'm at."
Bowman and Hamlin have flipped roles this season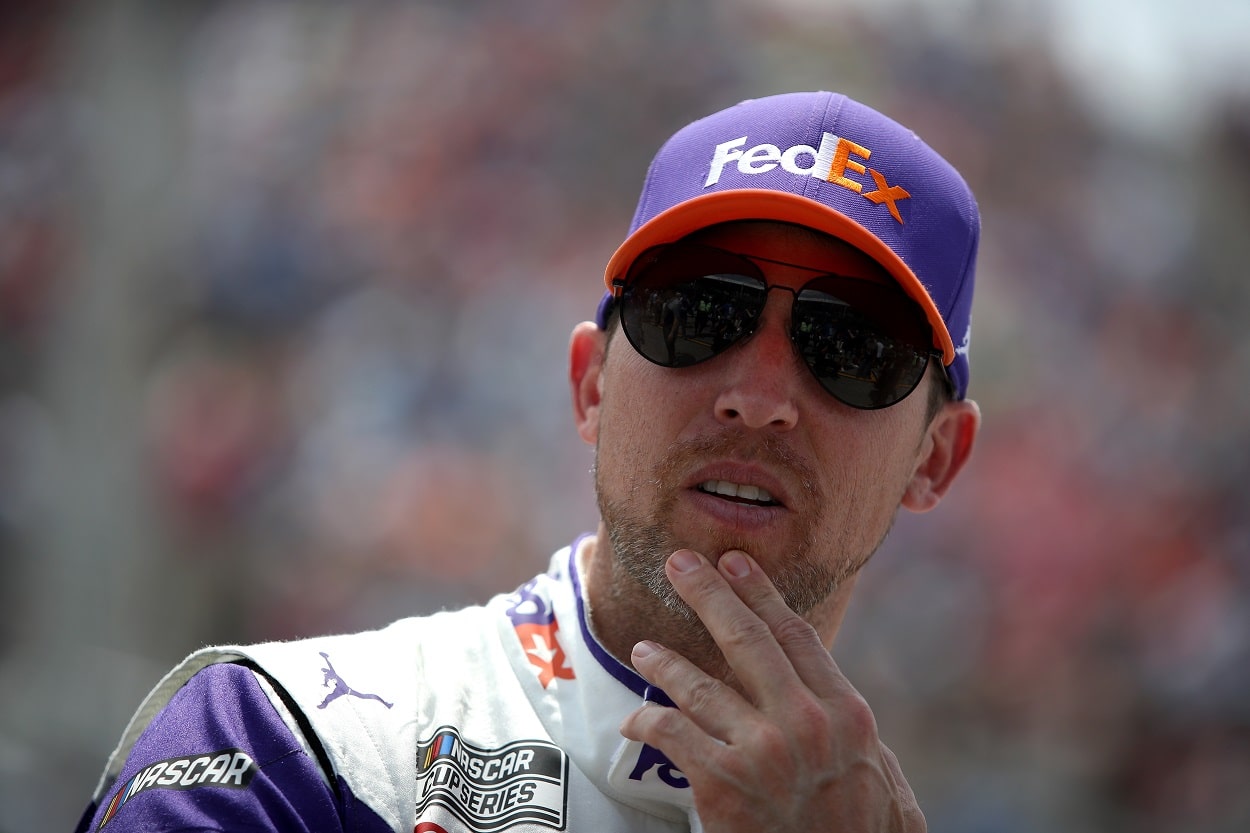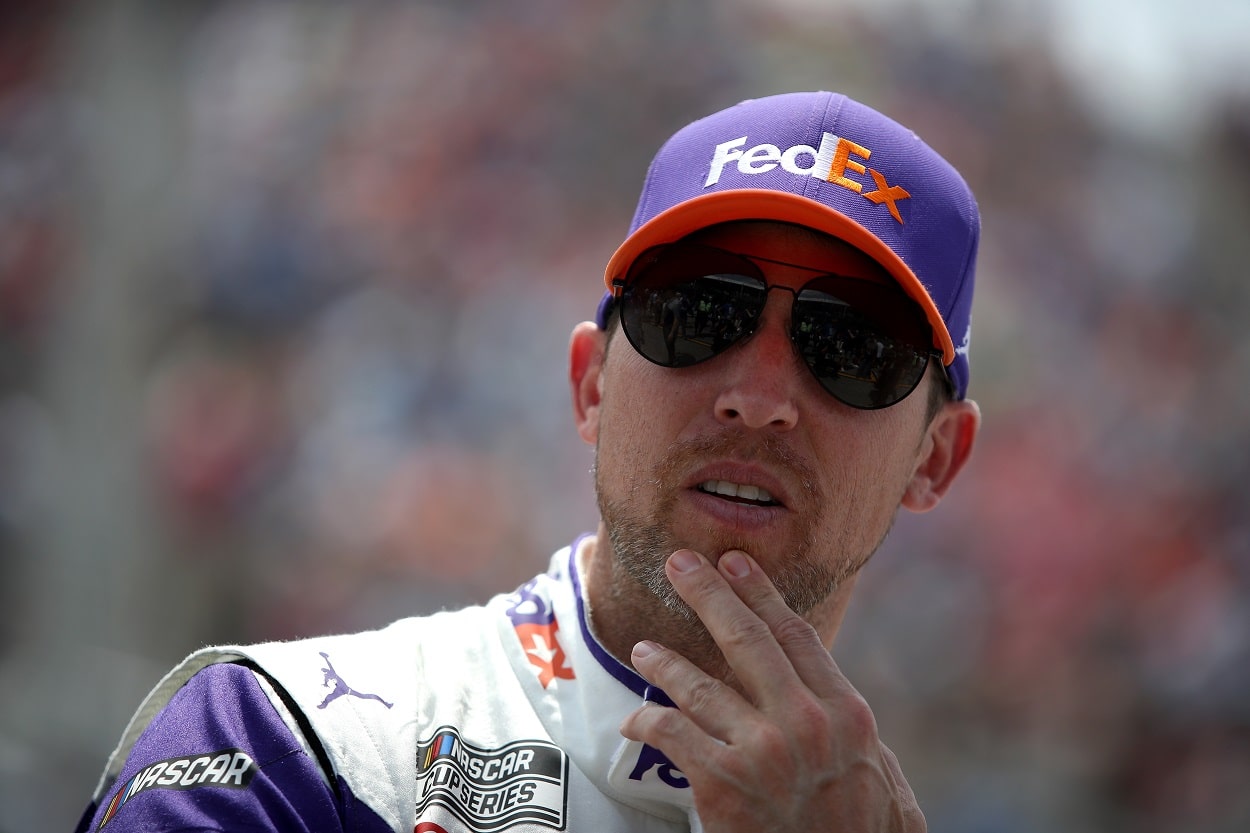 A year later, Bowman ranks fifth in the series with nine top-10 finishes and sixth with a 13.5 average finishing position while Hamlin struggles through mostly poor finishes with a few flashes of brilliance with one of them being a win at Richmond on a strategy call – how appropriate.
Both are solidly in the playoff picture again this season, and Bowman already has the regular-season win Hamlin did not a year ago with his triumph in the third race of the season at Las Vegas Motor Speedway.
Hamlin realizes the strange nature of this season and the anxiety that comes with up-and-down performance.
"It's crazy, considering our season, but it shows when we're up front we get it done, and when we are bad, we're fully bad, so I'm excited to see where it goes, but I'm also nervous that we better get our s— together at every race track here in the next 10 weeks," Hamlin said after he won the pole at Nashville.
The two have a controversial history
The respective 2021 seasons for Hamlin and Bowman ultimately clashed in the semifinal race a year ago at Martinsville Speedway when Bowman moved Hamlin out of the lead and into the Turn 4 wall with seven laps to go.
Bowman went on to win the race despite already being out of championship contention. Hamlin then interrupted Bowman's frontstretch burnout and famously called Bowman "an absolute hack" in his post-race interview.
Bowman is the one with the consistency, and Hamlin has multiple victories despite more bad races than good. The consistent good finishes won out last year as Hamlin qualified for the Championship 4 while Bowman was eliminated after the second round of the playoffs.
Perhaps Hamlin was right to want a consistent season rather than the rollercoaster ride he has been on this year. Either way, it's a trend he knows he and the No. 11 team will have to correct by the time the playoffs start in September, when only one bad finish can severely hurt a driver's championship chances.
He might also need a chat with the racing gods, as he now is faced with a season eerily similar to the one he dismissed as not good enough a year ago.
Stats courtesy of Racing Reference
Like Sportscasting on Facebook. Follow us on Twitter @sportscasting19 and subscribe to our YouTube channel.