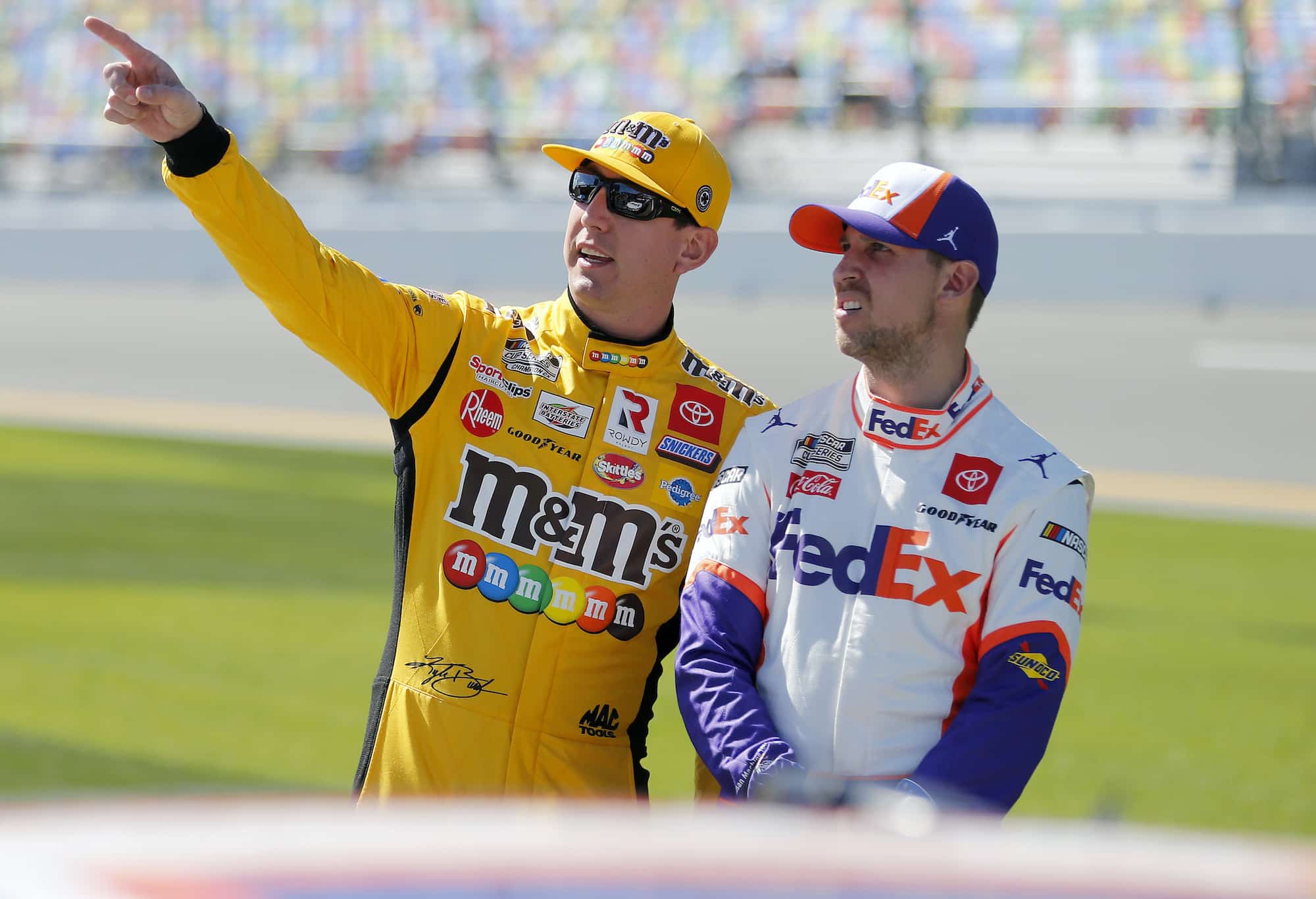 Denny Hamlin Goes Behind the Scenes at JGR and Makes Eye-Opening Remarks About Kyle Busch's Unrealistic Monetary Demands in 2022: 'That Company Would Cease to Exist if They Had to Pay Kyle What He Was Demanding'
Denny Hamlin took fans behind the Joe Gibbs Racing curtain this week on his podcast, revealing Kyle Busch's unreasonable financial demands last year and how they would have put the team out of business.
Denny Hamlin and Kyle Busch were teammates at Joe Gibbs Racing for 15 seasons. Busch's relationship with the organization came to an unexpected end after last year when the two-time champion couldn't agree to terms with JGR and bolted for Richard Childress Racing in 2023. 
M&M's leaving the sport as a sponsor was the main reason for the move, but details about other possible financial options to keep the driver in the fold have remained foggy. This week on Hamlin's podcast, he provided clarity in some rather eye-opening remarks about how the 37-year-old driver placed massive financial demands on JGR that were simply impossible to meet.  
Denny Hamlin makes eye-opening remark about Kyle Busch's monetary demands
Denny Hamlin and the rest of the Cup Series competition were helpless on Sunday at Fontana against Kyle Busch and the No. 8 team. The future NASCAR Hall of Famer took his RCR car to Victory Lane for his first win in just his second race, and sent a message to the rest of the competition and his former team in the process. 
Unsurprisingly, Rowdy Nation took to social media to brag about its driver's win and rub it into the face of the Gibbs organization. It didn't go unnoticed. Hamlin admitted as much this week on his Actions Detrimental podcast when he also took a step back in time to last year and made some eye-opening remarks about the circumstances that ultimately led to Busch's departure.
"I see y'all are dragging JGR," Hamlin said. "Even if I'm unbiased here, this was a tough situation where they wanted him back. That company would cease to exist if they had to pay Kyle what he was demanding, especially after losing Mars. 
"It would just be impossible. It would be a detriment to all the JGR teams if he had to say, 'Alright, well you have to pay me this,' which is what he said, 'or else I'm leaving.' They had to make a business decision to stay in business. It's unfortunate. Kyle was a great teammate." 
Hamlin revealed last year Busch leaving wasn't all about the money
While the loss of the M&M's sponsorship was the catalyst for Busch's departure, Hamlin admitted last year during an appearance on Danica Patrick's Pretty Intense podcast that there was another component to the decision that no one had really talked about.
"No one hates Kyle on the race track. No one is like, 'He's a dirty driver.' Everyone loves Kyle and what he brings to our sport on the race track," Hamlin told Patrick. "It's just off the race track that has been challenging for Kyle.
"I think that, honestly, this is why he's making probably another team move. The relationship with Hendrick and then with Gibbs didn't end because of his on-track performance. It really started to take its toll off the race track, I think for the race teams. It was tough." 
2023 off to a great start at RCR 
According to Hamlin and previous reports, Busch took a pay cut to join RCR. But, as the driver mentioned last year, he's got plenty of money in the bank.
While he might not have received the money he wanted or thought he deserved, Busch has shown just two races into the 2023 season that his move was the right one from a competitive standpoint. His win on Sunday at Auto Club Speedway, in the track's final race on the two-mile configuration, was his first on an asphalt surface since Pocono in 2021. His lone win in 2022 only happened when Chase Briscoe dumped Tyler Reddick on the Bristol dirt, allowing the No. 18 car, which was running third, to sneak in for the win. 
Time will tell how it works out for all parties, but by the looks of it early in 2023, Busch's decision could allow him to do something much more important than adding dollars to his already overflowing bank account, and that's winning more Cup championships.