Brad Keselowski, Kyle Larson, and Others Outspoken About NASCAR Converting Auto Club Speedway to Short Track, but Ryan Blaney Most Critical and Says It's Repeating a Pattern of Past Mistakes 
Ryan Blaney loves racing the two-mile track at Auto Club Speedway in Fontana. So does his friend Bubba Wallace. Kyle Larson, Brad Keselowski, and all of the other drivers universally agree that it's one of the most enjoyable race tracks to compete on each year. 
Today's race will be the last on the track in its current configuration, as it is expected to be converted into a short track in the future. How do the drivers feel about the change? They're less than enthusiastic about NASCAR's decision, and the Team Penske driver was most critical, suggesting it's repeating a pattern of mistakes made in the past.   
Auto Club Speedway opened in 1997 and has aged like a fine wine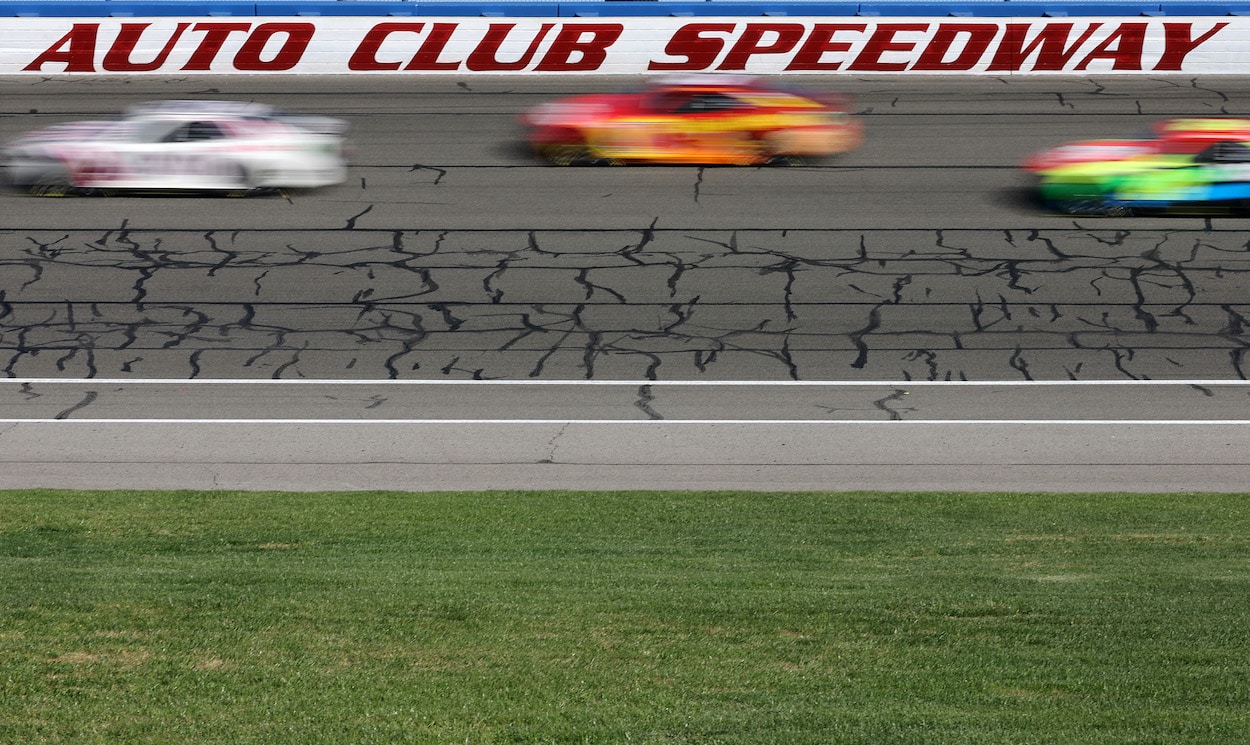 California Speedway opened in 1997. Jeff Gordon won the first NASCAR Cup Series race there and added a couple more trophies in the track's first decade. However, his Hendrick Motorsports teammate Jimmie Johnson will go down as the most successful, visiting Victory Lane an impressive six times. 
While winning makes the experience of racing there more enjoyable, drivers have consistently suggested throughout the years that the track is one they look forward to competing on because of its slick surface and width, which allows drivers to go five-wide and put on a quality race for the fans. 
Kyle Larson, who's won twice, including last year's race, said as much to reporters last week when asked about the track before the Daytona 500.
"I love that race track as is," the 2021 champ said. "I feel like it races amazing racing."
Auto Club Speedway changing to short track and drivers aren't fans
In late 2020 the first reports came out, indicating that the NASCAR-owned track would be converted into a half-mile high-banked oval. Those plans were put on hold in early 2022. However, earlier this year, the track's future came into question yet again, and just this past week, the Sports Business Journal confirmed that the sanctioning body had closed on sale for the land of the speedway for around $544 million. 
With the 2023 edition the last time on the two-mile circuit, drivers were asked their thoughts about the upcoming change last week before the Daytona 500. They all agreed it was something they didn't want to see.
"Move it somewhere where we could go race weekly," Bubba Wallace said. "It's that type of race track. It's so fun. It's wore out, bumpy. Provides great racing, I feel like. You just slip and slide, and it's just a bigger Homestead."
"Right now, I think the Fontana race is going to be one of the best races of the year," Brad Keselowski said. "And I think we're going to leave that race track going, 'Don't tear it up.'"
Keselowski's former Penske teammate Ryan Blaney offered the most critical remarks on the change and said it brought flashbacks of mistakes made in the past. 
"I wish they'd leave it," Blaney admitted. "I think you talk to any driver who's going to come through there and they're going to say the same thing. That place is one of the funnest, coolest race tracks we go to. 
"We all said the same about Atlanta. We all said the same about Chicago and Texas and they've evolved and changed. I hate to see that place go. I'm sure the half-mile is going to be fun. It'll be different but that place is so unique and the drivers have so much fun there. It puts on great racing. It's just a shame something like that is going to have its last year next week."
What is future as a short track?
While Kyle Larson loves the current configuration, he also said that he understood the reason for the decision.
"I think we need more short tracks," he said. "I feel like sitting in the stands, it's hard to view a two-mile track or even the mile-and-a-halves. They're so big. I think short tracks produce exciting racing, exciting finishes, tempers, stuff like that. I'm a proponent of making it a short track. I think we need more of them."
Larson is right. Most drivers and fans agree that more short tracks are good for NASCAR for all the reasons stated. That said, the way the Next Gen car performed in its first year on the short tracks left a lot to be desired, with little to no passing and a lot of fans justifiably complaining of a boring product in what was typically viewed as one of the most entertaining types of racing in years past.
If NASCAR can find the right package for the shorter circuits this year that remedies those problems, then maybe racing on a short track at Fontana in the future will be a good decision. But until that happens, drivers like Blaney and Keselowski, and the fans, will feel like officials have attempted to fix a problem that never existed.