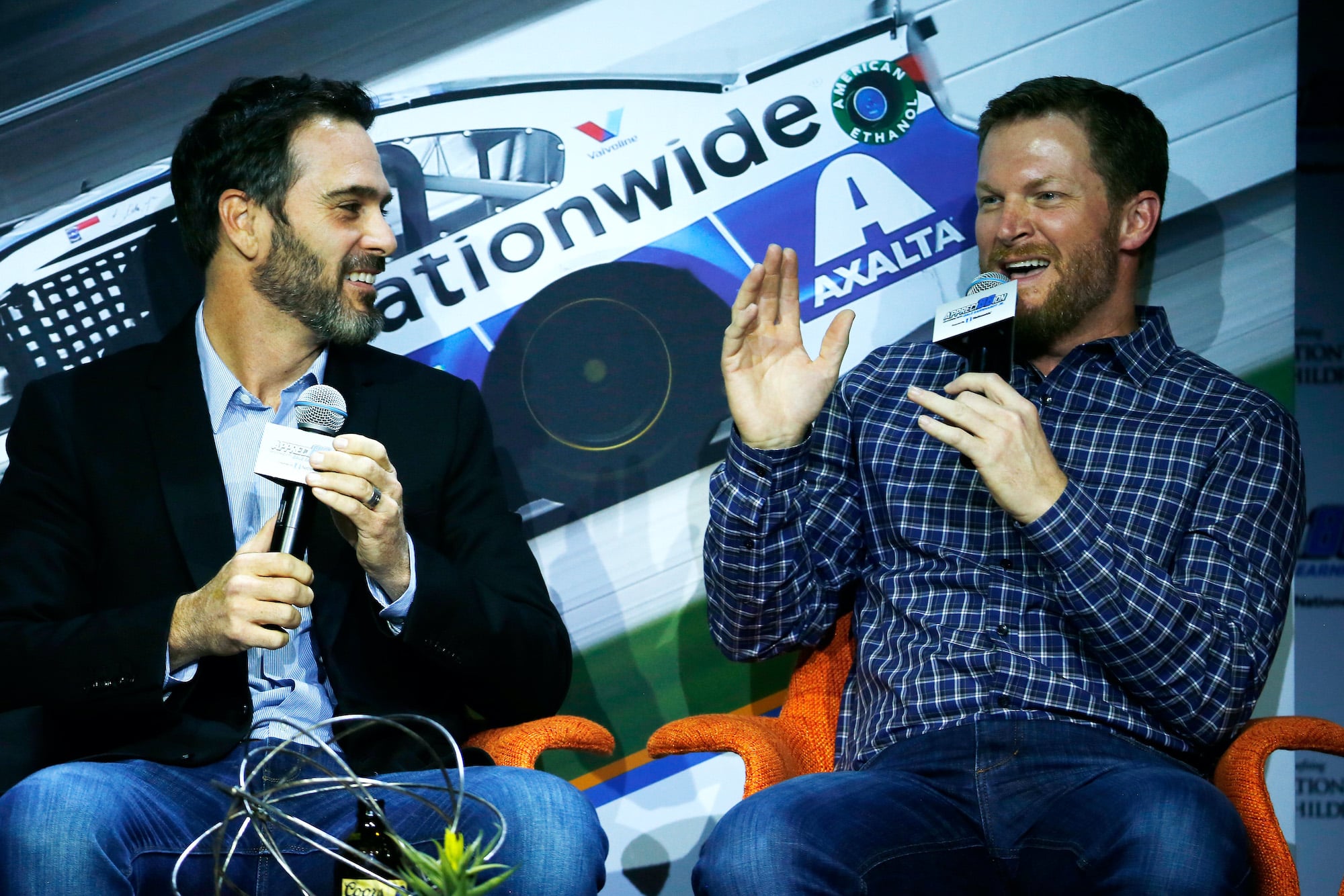 Dale Earnhardt Jr. Calls Out Jimmie Johnson for Dropping Unexpected F-Bomb in Twitter Video
Dale Earnhardt Jr. called out his friend Jimmie Johnson for unexpectedly dropping an f-bomb in a video on Twitter where the IndyCar drive was "fighting off tears."
Dale Earnhardt Jr. and Jimmie Johnson have a lengthy history together. The pair were teammates for years at Hendrick Motorsports. Naturally, two of NASCAR's biggest stars formed a friendship off the track.
While Earnhardt has retired from racing and moved on to broadcasting, Johnson has moved on from NASCAR and is racing with IndyCar. This week, Junior showed how solid their friendship is when he called out his buddy for the use of foul language in a video on Twitter. 
Dale Earnhardt Jr. and Jimmie Johnson enjoy Kentucky Derby together
Several weeks ago, during the running of the Kentucky Derby, Dale Earnhardt Jr. got out of his comfort zone and worked the NBC broadcast. While he had a viral moment with Rutledge Wood and their interview with Jack Harlow and an inebriated Drake, the NASCAR Hall of Famer and his wife Amy also had an enjoyable time with Johnson and his wife Chandra.
Earnhardt shared a photo on Twitter of the couples dressed to the nines and enjoying some cold beverages. 
"What a fun day working the @KentuckyDerby for my @NBCSports family," he wrote. "Got to see my pal @JimmieJohnson before he runs the #Indy500 later this month. Great working with @RutledgeWood as usual. Dudes a total pro."
Dale Earnhardt Jr. calls out Jimmie Johnson for dropping f-bomb on Twitter
This week as Johnson prepares for his first Indianapolis 500, he and Tony Kanaan, who won the prestigious race in 2013, were working out together at the gym. Kanaan had apparently discovered one of the filters that converts any face into a sad face and recorded a hilarious video with him and Johnson.  
"So this morning we woke up, we came to the gym. I'm excited to be here," Kanaan said, laughing, which was made even funnier with both of their faces appearing extremely sad. 
"I'm wonderful. I'm so happy to be here," Johnson said. "I really am."
Lots of fans commented, including Earnhardt. He pointed out something in the video that most people didn't even realize. A second before Johnson appeared in the video, and unfamiliar with what Kanaan was doing on his phone, the seven-time Cup Series champion asked, "What the f*** is that?" The video included just the very end of what he said. 
"F (bomb emoji)," Earnhardt responded, calling out his friend for the blue language.
Johnson showed his true friendship early on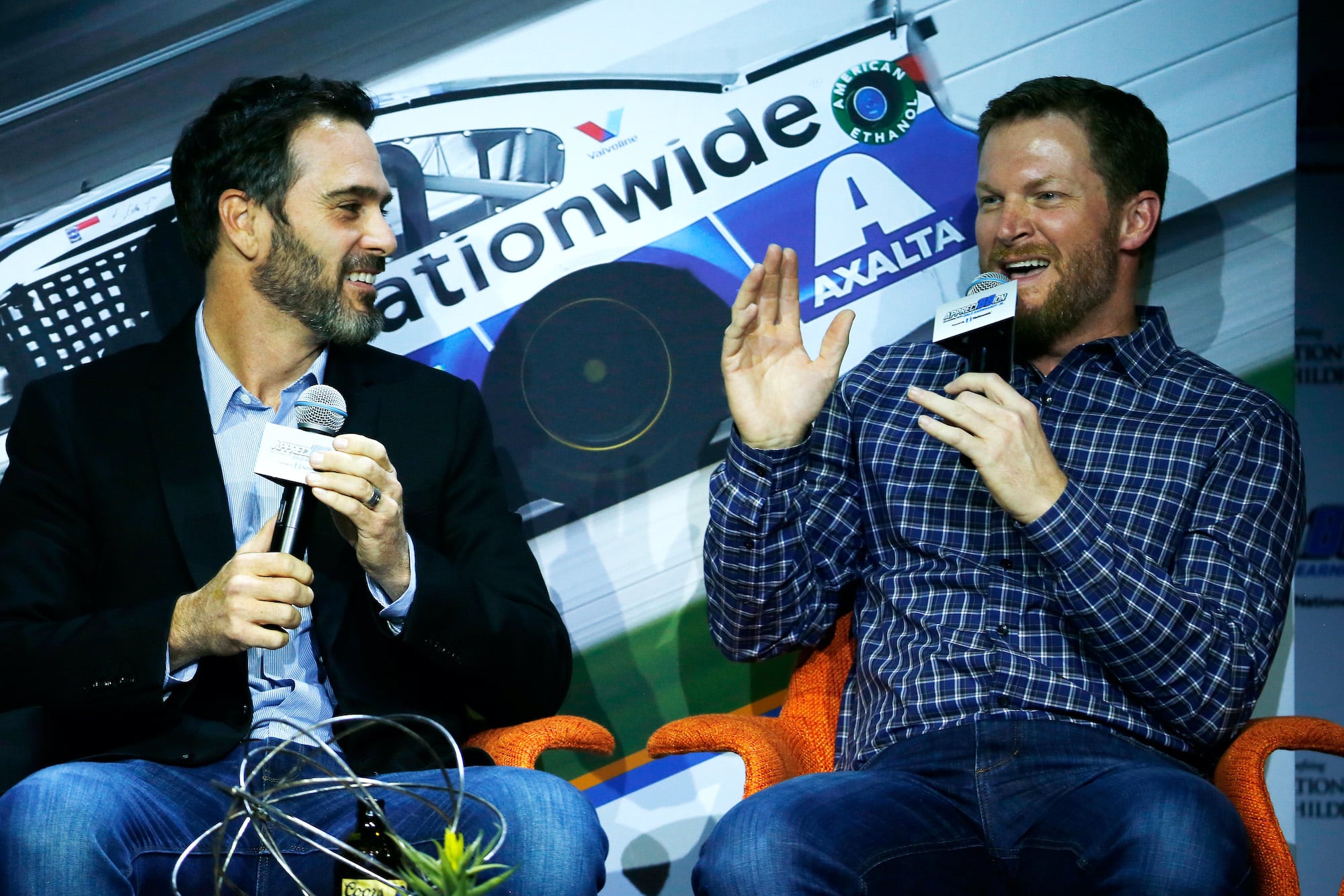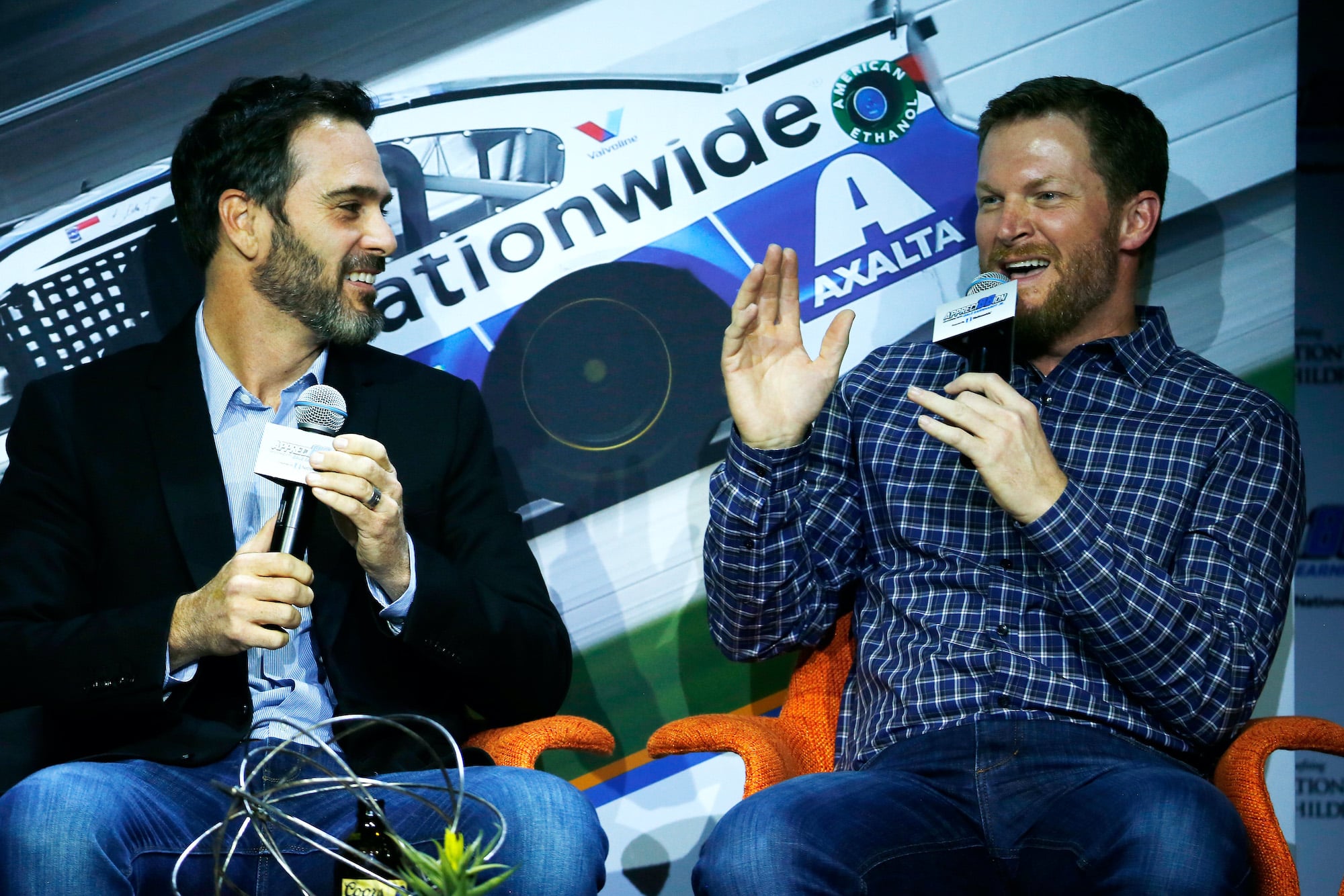 Everyone knows that Dale Earnhardt Jr. and Jimmie Johnson were teammates at HMS and worked together on the track. Most don't know about the story when both were still early in the careers and Johnson showed what kind of a friend he was by driving his friend to get medical care in the wee hours of the morning.
It happened when the two drivers joined others at Ricky Hendrick's house for some late-night fun. The fun turned serious in the early-morning hours when Earnhardt jumped into a swimming pool full of bubbles, miscalculated the depth, hit the bottom, and split open his head. Johnson came to the rescue. 
"Jimmie says, 'Don't worry, Hendrick has a doctor, and we're going to call him and we're going to be at his office," Earnhardt Jr. recalled to USA Today. "So I get in the car as a passenger, and he's the driver. And he drove me about a 15-minute trip over to this office in the middle of the night and sat in the room while the guy sewed my forehead up, talking to me and just laughing and joking." 
Earnhardt and Johnson's lengthy friendship has included a lot of laughs and jokes through the years. Sometimes that includes publicly calling out the other for using inappropriate language.  
Like Sportscasting on Facebook. Follow us on Twitter @sportscasting19 and subscribe to our YouTube channel.