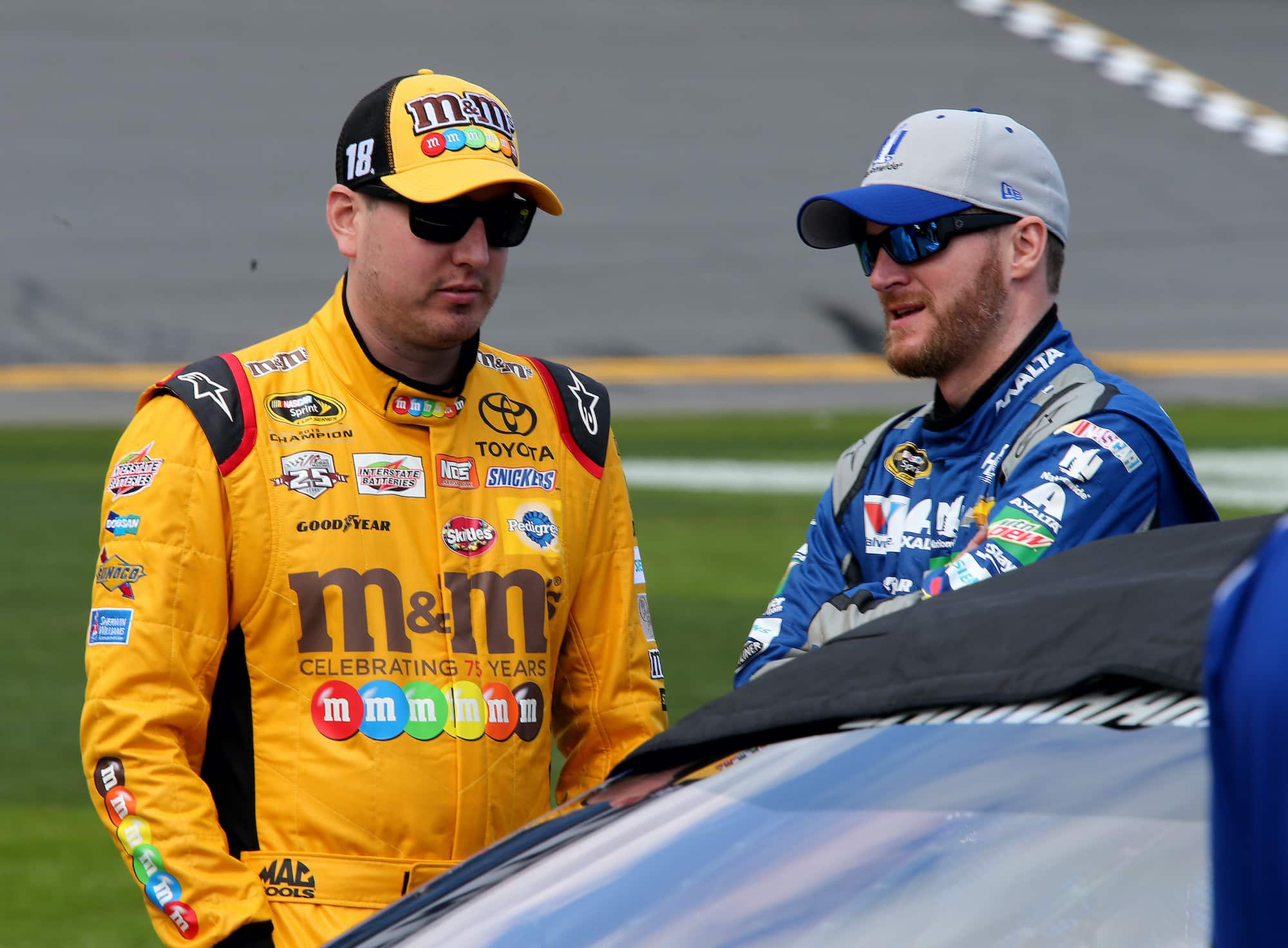 Dale Earnhardt Jr. Defends Kyle Busch for Darlington Move but Then Calls Him Out for Creating Clickbait Controversy
Dale Earnhardt Jr. surprisingly sided with Kyle Busch for parking on pit road at Darlington but then turned around and called him out for his recent behavior with the media.
Dale Earnhardt Jr. calls 'em like he sees 'em. Sometimes, however, his takes aren't the most popular, even among those he considers his closest allies. That happened this week on the Dale Jr. Download when the NASCAR Hall of Famer defended Kyle Busch's move at Darlington for parking his car on pit road much to the surprise of others in the studio. 
The two-time Daytona 500 winner then suggested nothing Busch does surprises him anymore and the media is largely to blame for the driver's sometimes petulant behavior. He interestingly then turned the tables and called out the two-time Cup Series champion for a controversial incident with the media a few weeks ago.   
Kyle Busch parks car on pit road at Darlington
During the last visit to Darlington in 2021, Kyle Busch got wrecked, hurriedly drove down pit road before making a hard left turn into the garage, running over a barricade of cones and sending various workers scrambling for safety. NASCAR fined him $50,000 for the dangerous behavior.
On Sunday at Darlington, he wasn't about to make the same mistake. After getting collected in a crash with Brad Keselowski, the Joe Gibbs Racing driver headed down pit road and at the same entrance he blew through in the fall, he started to turn, then stopped. He parked the car, got out, and walked to his hauler.
A few minutes later, when Fox's Jamie Little caught up with him to ask what happened, the driver responded, "I just couldn't make the corner." 
Dale Earnhardt Jr. defends Busch's move
Only Busch truly knows whether or not he could make the corner and get his car into the garage. During the latest Dale Jr. Download, Dale Earnhardt Jr. excused the driver's move for a couple of very different reasons.
"We don't know really how badly damaged Kyle's car was," Earnhardt said. "Maybe he knew that he was not going to be able to make the turn in the garage without doing a seven-point turn. So he decided just to leave it right there and get out. I feel like big freakin' deal. He parked his car on pit road and got out."
Realizing those in the studio didn't agree with his remarks and thought it was just Busch misbehaving, Junior further explained why he felt that way.
"He has a track record of doing things, making some bad choices," he said. "I think that absolutely he could have tried to get his car into the garage but he decided I'm going to have back up, turn, back up, turn because maybe he had one tire that wasn't cooperating, a toe link that was broken and decided I'm not going to do that so that's somebody else's problem. 
"I don't think it's crazier than anything else he's ever done. This is kind of the norm. I'm kind of used to. This doesn't affect me. This doesn't bother me. You've come to expect it."
Earnhardt calls out Busch for creating clickbait controversy 
In the same conversation, Earnhardt said the media was partially to blame for Busch's often immature behavior, not holding him accountable throughout his career and justifying his actions because he was "passionate." Interestingly, the 47-year-old then flipped the script and referenced a recent incident between the driver and the media where he noted that the driver was out of line.
It started when Busch told reporters that he wasn't sure about his future with JGR, and when asked if he was getting antsy about finding a new sponsor, he said, "If it happens, it happens. If it don't, it don't. Goodbye."
"He gives a soundbite," Earnhardt said. "They ask him what happens. He goes, 'Bye.' And then everybody writes about that, and then he goes and makes a shirt that says clickbait. It's like, wait, man; you can't have it both ways. You said something quite profound. You can't say that that's clickbait. You're the one that said it. You are the one that made it clickbait."
Dale Earnhardt Jr. calls 'em like he sees 'em. And he's calling a foul on Busch.
Like Sportscasting on Facebook. Follow us on Twitter @sportscasting19 and subscribe to our YouTube channel.