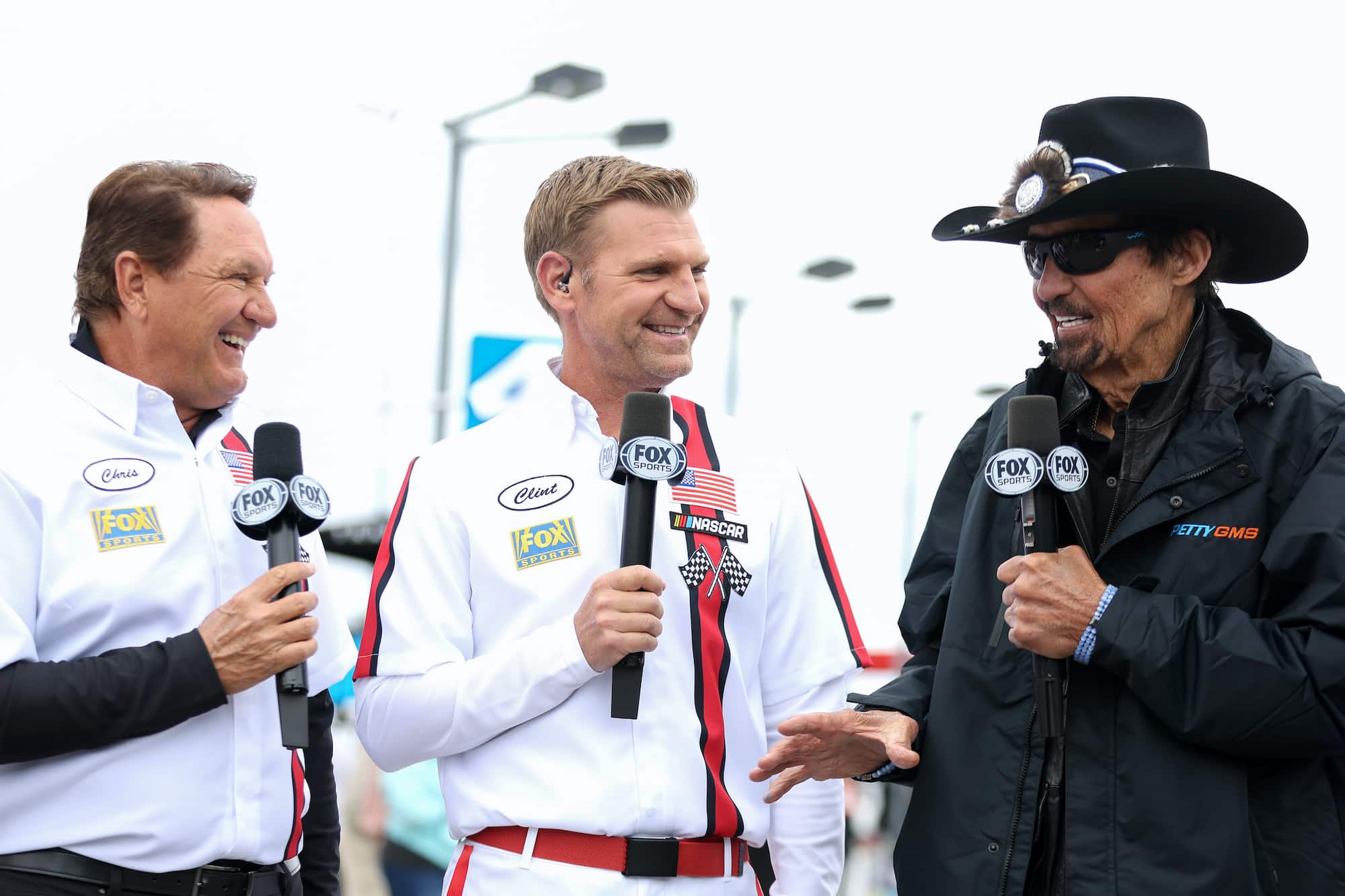 Clint Bowyer Takes Serious Tone and Calls Out Kyle Busch for Petulant Behavior at Darlington
Clint Bowyer didn't hold back what he thought about Kyle Busch's behavior following his accident at Darlington and called out the two-time champ.
Clint Bowyer and Kyle Busch battled each other for years on the track. In recent years, they've become friends off it. On Sunday, Bowyer, who is known for cracking jokes at the expense of others in the Fox broadcast booth, didn't have anything funny to say at Darlington when the Joe Gibbs Racing driver wrecked and parked his car on pit road at the entry to the garage before getting out and walking to his hauler. 
Clint Bowyer and Kyle Busch have a history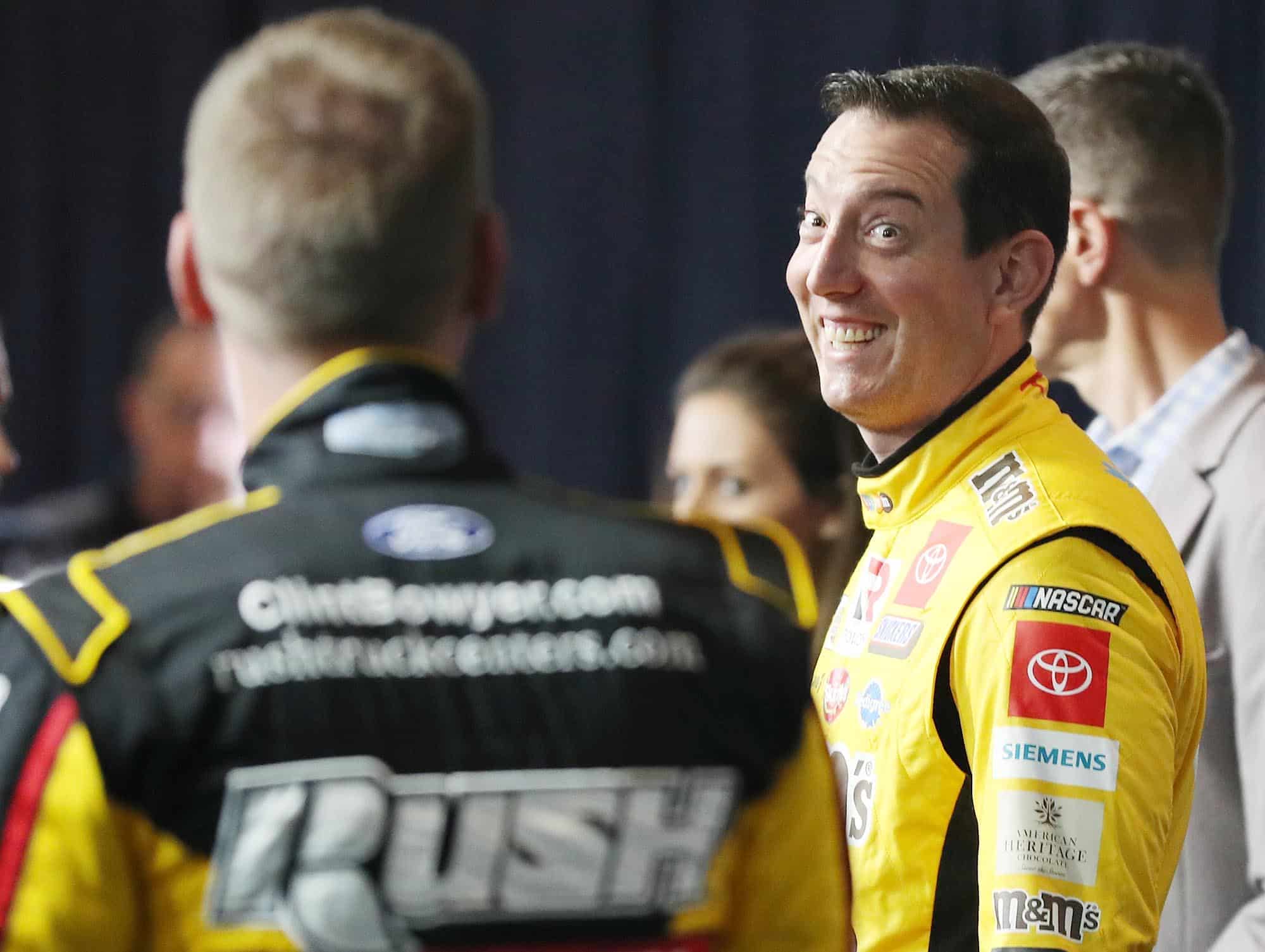 Clint Bowyer and Kyle Busch have shown multiple times since the former Stewart-Haas driver retired that the two have a good relationship. Fox knows this. That's why the network has paired them together for multiple conversations, including before this year's Daytona 500 when the former driver interviewed the current driver sitting in a pair of lawn chairs at the beach. 
That relationship has led to some humorous conversations and shown a lighthearted side to the two-time Cup Series champion. One such exchange occurred last year during the prerace show at Sonoma, when Busch appeared as a guest with Chris Myers, Jeff Gordon, and Bowyer. 
At the interview's conclusion, Myers pointed out how it was Fox's last points race broadcast of the season before NBC took over and thanked Busch for always being cooperative and entertaining during his appearances.
"I'm glad to see this guy doesn't get on TV anymore," Busch said, pointing at Bowyer, which produced laughs from Gordon and Myers. 
"Just try to do something on the race track where we can talk about you, alright? And no pouting on the radio this week," Bowyer replied, referencing Busch's inclination to complain over his team radio. 
"Maybe he can actually get his kid to the race track now," Busch said, firing one final shot. 
Clint Bowyer calls out Busch for behavior at Darlington
On Sunday at Darlington, neither Busch nor Bowyer were in a joking mood late in the second stage when the No. 18 car got caught up in a wreck with Brad Keselowski that ended the days for both cars. An unhappy Busch drove the M&M's Toyota down pit road and then parked at the entrance to the garage before getting out and walking to his hauler. 
Bowyer didn't hold back on what he thought about his friend's decision.
"I don't like that at all," the announcer said. "He could have done a better job of getting that out of the way. Now it's in the way of the 24. Just got out and walked off. I know the frustration, and I get it, but you've got to do a little better job than that."
Threw temper tantrum last year at Darlington
Clint Bowyer wasn't around in September when NBC broadcast the last time Kyle Busch and the Cup Series raced at Darlington. That's when, ironically enough, late in Stage 2, the JGR driver was involved in an incident with Austin Dillon, went into the outside fence, severely damaged his car, and headed down pit road.
This time around, the No. 18 car drove down pit road and made a sharp left turn toward the garage — where he stopped on Sunday — ran through a barricade of four orange cones, with one of them lodging under the front of his car. 
His aggressive driving sent numerous race personnel scampering to the side and out of the car's path. He drove straight to the rear of his hauler and exited his car to the cheers of many fans. A few days later, he received a $50,000 fine.
It's hard to imagine NASCAR doesn't have a conversation with the driver about his latest behavior. If it was big enough for his friend to call him out, it's something the governing body will also likely have an opinion. 
Like Sportscasting on Facebook. Follow us on Twitter @sportscasting19 and subscribe to our YouTube channel.