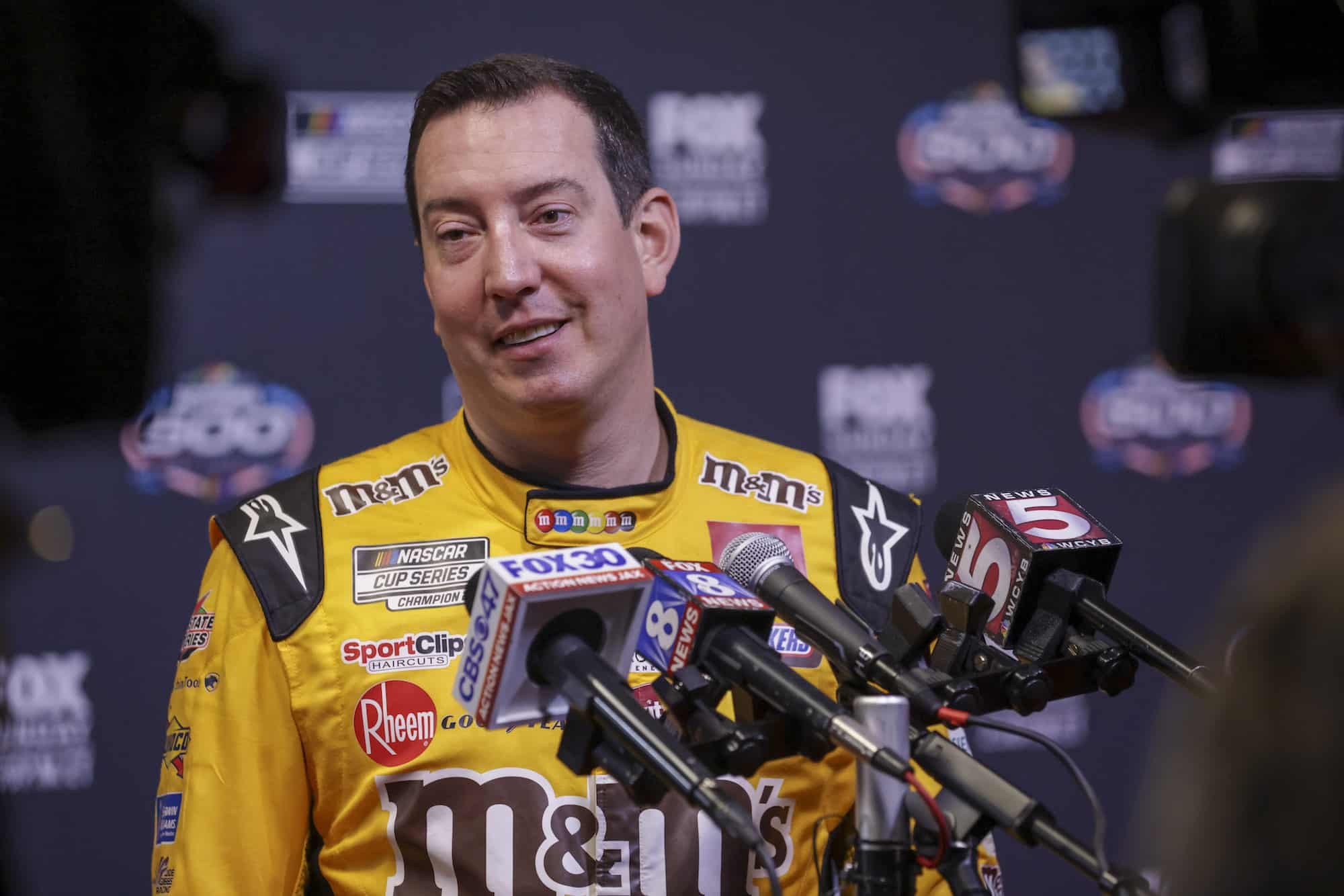 Kyle Busch Bluntly Calls Out Reporter for 'Clickbait' and Blatantly Tries to Turn a Profit at the Same Time
Kyle Busch took to Twitter where he took a swipe at a reporter for "clickbait" and tried to profit off it at the same time.
Kyle Busch has periodically had an adversarial relationship with the media, dating back to his rookie season when he walked out of the media center after winning at Phoenix because he didn't like the line of questioning following his brother Kurt's run-in with police to his "everything is great" meeting with reporters in 2017 at the same track.
In the last few weeks, the two-time Cup Series champion has made it clear on multiple occasions that he's not a fan of some of his recent news coverage. The latest came this week on Twitter when the driver took aim at one specific reporter and called her out for "clickbait."
Frustrated Kyle Busch rolls eyes at reporter's question
Kyle Busch made headlines a few weeks ago at Talladega when he visited with reporters and addressed his future at Joe Gibbs Racing, revealing how he wished the organization had found a new sponsorship to replace M&M's "yesterday." He was then asked if the situation made him antsy.
"I'm not getting antsy about it. If it happens, it happens. If it don't, it don't. Goodbye," Busch said matter-of-factly. 
"So goodbye is an option?" the AP's Jenna Fryer asked.
"Ask Joe Gibbs," Busch responded.
After a couple of other questions and answers, Fox's Bob Pockrass asked the driver if he didn't get a deal done with Gibbs, would he possibly find a new team.
"Probably not," the driver surprisingly replied. 
SiriusXM NASCAR Radio's Claire B. Lang suggested JGR wouldn't let him go. The driver again referred to the team owner: "Ask Joe Gibbs."
Fryer asked if he would rather retire than leave JGR, and the driver got visibly frustrated, closed his eyes and shook his head before responding. "Really? I mean, what are we doing?" he asked.
The AP reporter responded, saying she was looking for clarification on his comment to Pockrass and didn't want it misconstrued. 
"I would say I lost my ride," he answered.
Busch wears 'Clickbait' shirt 
Last weekend at Dover, Busch again met with the media and wore a t-shirt that read "Clickbait" to the press briefing. After acknowledging there had been discussions with JGR about his future, he also told reporters how he was annoyed by stories during the previous week and made a not-so-subtle reference to his attire.
"It frustrates me that short comments are sometimes taken out of context," Busch said. "I answered the question, you know, questions and didn't elaborate, and it takes elaboration to kind of fully tell a story. And so you can tell the story as you want with less words."
"A lot of stories this week," Busch said unprompted seconds later, mockingly clearing his throat and rubbing the shirt around the word. He later tweeted out a link for fans to purchase the shirt on his website.
Calls out reporter for clickbait
This week Fryer reported on Twitter how Kyle Larson and Chase Elliott, who, as past champions, were allowed to vote on the 2023 Hall of Fame class, were both not in attendance for the event. She also noted how no driver had skipped out on the honor since it started in 2014. 
When Larson's PR representative pointed out that the 2021 champion had a previous commitment and was at Arlington National Cemetery laying a wreath at the Tomb of the Unknown Soldier, the reporter sent out a new tweet, including the explanation for the driver's absence. 
However, Busch replied to the tweet from Larson's PR rep referencing his whereabouts, and took a shot at Fryer in the process.
"I got clickbait shirts for sale if u guys r interested," he wrote. 
"There was nothing to click," the reporter responded. 
A day later, the veteran reporter followed up with another tweet directed at those who suggested her initial tweet was an attack on drivers by providing a link to an article on NASCAR.com from Tuesday that played up the fact that both drivers would be participating in voting day.
Kyle Busch and reporter have recent history
Busch calling out reporters for taking things out of context and producing clickbait articles after Talladega was plainly incorrect. There was nothing taken out of context. It's all on video. He said that he was unclear about his future at JGR (referencing Joe Gibbs twice), he didn't think he would land with another organization, and he might lose his ride. Those are all facts.
However, all that said, his taking issue with Fryer specifically can more than likely be linked back to a story just a few weeks ago when the reporter wrote about the driver's Bristol win and included the headline: "Kyle Busch steadily cementing a Hall of Fame NASCAR career." 
That wording implied the 37-year-old is still in the process of solidifying his place in the Hall of Fame, which everyone, including the reporter who noted it in the actual story, agrees has already happened. 
Brad Keselowski, who hasn't always agreed with Busch, defended the driver's track record and replied to the tweet. "I think that was cemented at 100 wins and 10 years ago," he wrote.
Kyle Busch may have a future in the Hall but his immediate future is still unclear. One thing, however, that is clear is as long as he's racing and meeting with reporters, he's going to find some questions to be off-putting. And in typical Kyle Busch-fashion, he won't let them go without some kind of response, even if sometimes he's incorrect in doing so.
Like Sportscasting on Facebook. Follow us on Twitter @sportscasting19.