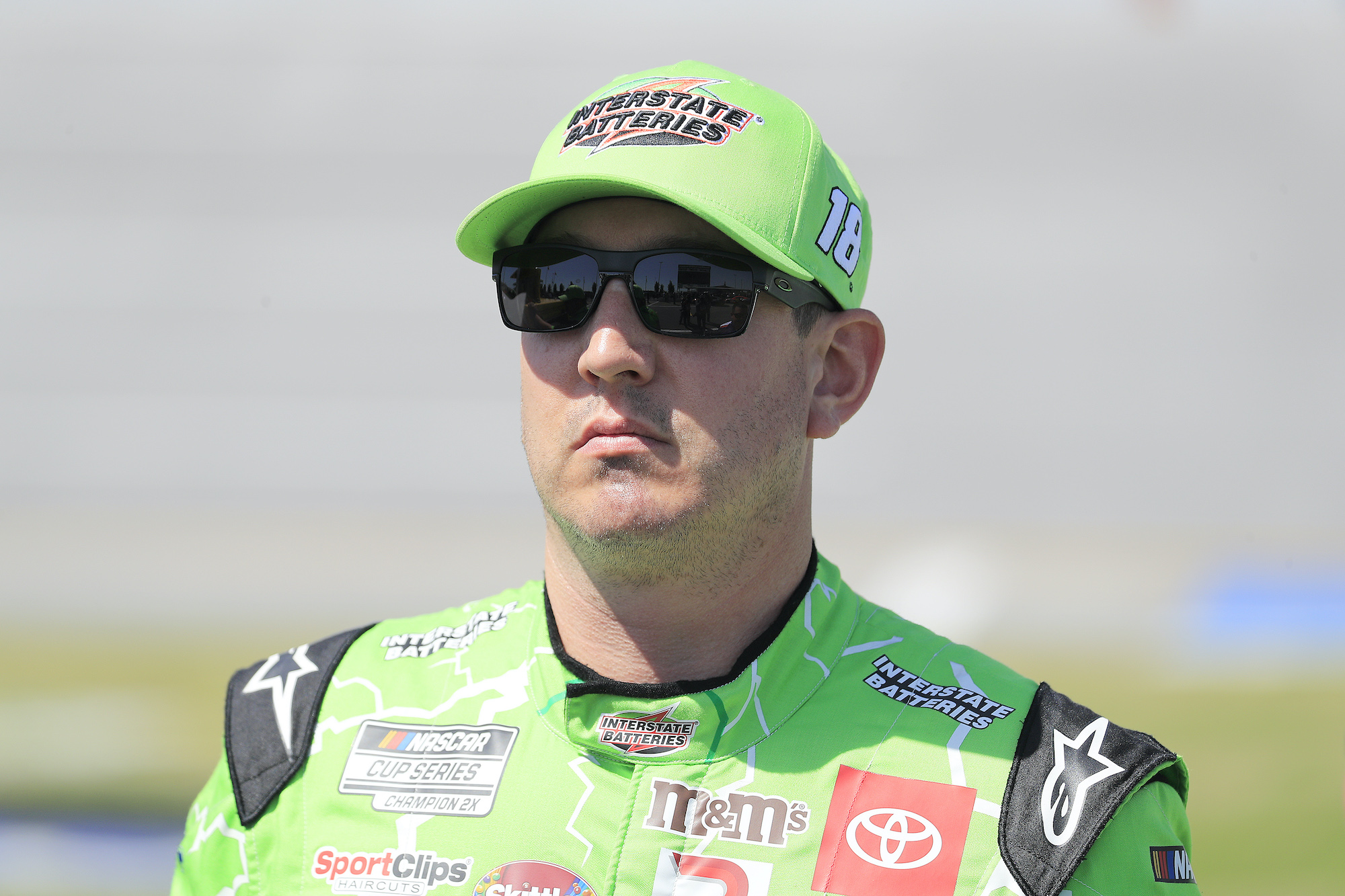 Kyle Busch Makes Statement With 1 Word on T-Shirt, Sharing What He Thinks About Last Week's Reports on His Future at Joe Gibbs Racing
Kyle Busch met with the media and wore a shirt with one word that made a statement about last week's firestorm on his future at Joe Gibbs Racing.
Last week, Kyle Busch made headlines for his surprising comments regarding his NASCAR future with Joe Gibbs Racing. He made it abundantly clear how murky the situation was by twice-referring reporters to ask the team owner.  
A week later, Busch wore a t-shirt to his media session that read, "Clickbait" and made several not-so-subtle references to it when answering questions about last week's remarks. Interestingly, it was available for purchase on his website just hours later.
Kyle Busch makes surprising remarks about his future
Before the start of the 2022 Cup Series season, Kyle Busch addressed the situation with JGR and losing his M&M's sponsorship. He hadn't revisited the topic since until a reporter asked him about it last week at Talladega. 
Unsurprisingly, Busch wished that a new deal was done "yesterday" and offered some interesting remarks when asked if he was getting antsy about finding a new partner.
"I'm not getting antsy about it. If it happens, it happens. If it don't, it don't. Goodbye," Busch curtly answered. 
"So goodbye is an option?" the AP's Jenna Fryer asked.
"Ask Joe Gibbs," Busch responded.
"Have you been knocking on his door about it?" SiriusXM's Claire B. Lang asked him.
"Not my problem," the driver replied. 
Busch wears 'Clickbait' t-shirt
This week Busch visited with the media and was asked again about his future. He acknowledged that there were discussions this past week with JGR officials about his situation.
He also admitted how he was annoyed by a lot of the stories last week being "taken out of context" and made a not-so-subtle reference to the t-shirt he was wearing that read "Clickbait."
"It frustrates me that short comments are sometimes taken out of context," Busch said. "I answered the question, you know, questions and didn't elaborate, and it takes elaboration to kind of fully tell a story. And so you can tell the story as you want with less words."
"A lot of stories this week," Busch said unprompted seconds later, mockingly clearing his throat and rubbing the shirt around the word.
Selling shirt on website hours later
Busch might be sincere in his remarks, suggesting that some of what he said last week about his future was taken out of context and turned into "clickbait" articles. However, it's hard to fully accept that explanation when several hours later he tweeted a link where fans could purchase the shirt on his website.
"Read all about it Get urs here #RowdyNation (haters welcome too):," he wrote. 
Did he really think his words were taken out of context and turned into clickbait stories? Or was the shirt a ploy to make a quick buck? Maybe both? Only the JGR driver knows those answers. 
There's no denying Busch will go down as one of the greatest Cup Series drivers, and easily one of its most polarizing, including a sometimes adversarial relationship with the media. He'll also be known as a savvy businessman. He proved that on Saturday by turning a news story about him into a profit.
Like Sportscasting on Facebook. Follow us on Twitter @sportscasting19.